Thule's luggage is as hard wearing and effortless as the roof racks and carriers that the brand is famous for, and the new Revolve collection has a number of nifty features to make family travel easier. Family Traveller's Digital Editor Amy Hopkins took the 75cm Revolve Spinner case for spin.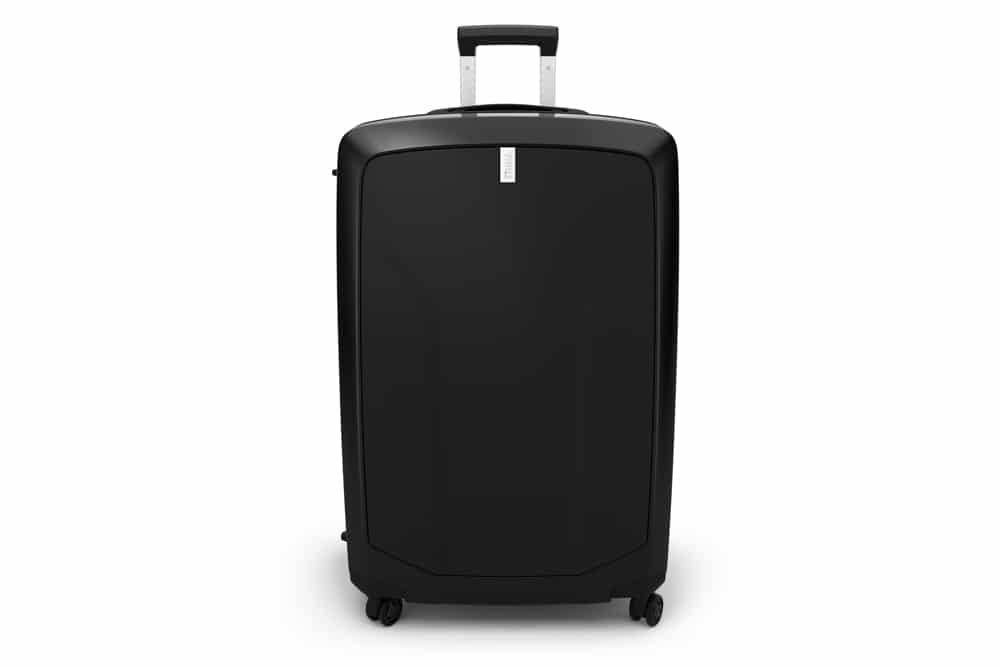 If you're familiar with Thule, the name probably brings to mind serious looking roof racks and bike carriers, but the Swedish brand also has some pretty stylish luggage ranges. To prove that Thule isn't just for people whose favourite shop is Halfords, they've launched their latest luggage collection, Revolve, in the luxury department store Harrods. 
Despite being a travel writer, I've never quite got the hang of packing light. In fact when I travel with my family we usually end up taking an assortment of medium and small cases, plus a small army of tote bags. I've often wondered, as I shove case after case into my boot and roof box, wouldn't it be great if we could travel with just one case? 
Step forward the 75cm Thule Revolve Spinner. Thule's slogan is 'bring your life', and with the largest of the Revolve collection, you can. The recessed wheels really maximise the packing space and when I tested this reassuringly huge case on a family trip to Norfolk, it was a revelation to be able to pack for me, my husband and our toddler in one case – and without having to sit on it to zip it up.
Once everything was inside (including a bottle warming machine, toys and several pairs of shoes) there was room to spare and our belongings were held in place by the adjustable compression system. While there really is room for the kitchen sink in the 75cm Revolve, I would prefer if the interior had a few separate compartments. Inside, both sides are lined with a soft felt liner, which minimises the noise of items moving around as you travel and gives the case a luxury feel (at least until my daughter emptied a box of Wheatabix into it).
Getting the packed case down the narrow winding stairs in our Victorian terrace house without scuffing the walls wasn't easy. It took two of us to manoeuvre it around our newly painted bannisters and as we did so, my husband bellowed that it would be helpful if the case had a handle on the bottom, to aid horizontal lifting. On the plus side, I was pleased to discover it fitted (just) in the boot of our saloon car. 
I met Thule's CEO, Magnus Welander, and he told me that his habit of being late for flights means he personally tests all Thule cases by sprinting through airports with them. Luckily I haven't had to run with my case yet (it's only a matter of time), but generally I've found it handles very well for such a large case. The telescopic handle stops it swaying and the large rear wheels make light work of most terrains.
The side of the case has integrated feet so the case can rest on its side, though that didn't stop my husband knocking it over onto the pavement while he leaned over to wrestle with a car seat. The case's hard polycarbonate exterior handled the knock well, but it does now bear a few scratches. As you'd expect with Thule, this case is serious about security, with locks and a puncture-proof zip. 
To mark their launch in Harrods, Thule have added an exclusive limited-edition carry-on case on their Revolve range. The Global Carry-On, white and high-gloss – show below – is available exclusively in Harrods from July 2019, priced £349.

The Lowdown: Thule's 75cm Revolve Spinner Suitcase
Pros
Robust and reasonably scratch resistant

Recessed wheels maximise packing space  

High quality finish and interior 

Handles well 

Adjustable handle for easy handing at an angle or on all four wheels

Looks sleek and smart

Secure 
Cons
Lid can catch and be a bit fiddly when closing 

No interior compartments/dividers 

Would benefit from secondary handle for horizontal lifting

Pricey, but a lifetime investment 
Dimensions: 31 x 51 x 75cm | Weight: 5.7kg; Volume: 97L
Colour: Raven, Black or Blackest Blue| Material: Polycarbonate
Price: £499