Family Traveller's Amy Hopkins takes her toddler for a beach hike in Osprey's Poco Plus, the new infant carrier made from recycled material
For parents who like to get out and about with their little ones, there are some occasions when even the most hardcore off-road pushchair isn't going to cut it. Slings and wraps are great for strapping tiny infants to your body, but once your baby morphs into a fully-fledged walking, talking mini human, the best way to enjoy life off the beaten track is with a backpack-style carrier. 
Best known for high quality backpacks, Osprey is a brand dedicated to encouraging kids and adults to explore the great outdoors. In spring 2020, Osprey will launch a new child carrier made from recycled material and using sustainable manufacturing methods, the Poco Plus.
A winter weekend walking on the beaches of north Norfolk with my 21-month-old daughter, Annie, presented an ideal opportunity for my husband Nick and me to try Osprey's latest carrier.
Features 
Max weight 18kg

Adjustable suspended mesh back system

Adjustable child safety harness, seat and foot stirrups

Removable and washable drool pad

Integrated & detachable raincover/sunshade

Integrated kickstand keeps pack upright when standing on the ground

Multiple zipped pockets, including waist strap pockets 

Foldaway design for travel and storage

Toy loops

Integrated mirror

Made from certified recycled materials
How is it for parents?
Before taking the Poco Plus to the beach, I tried it on at home (sans passenger) and was surprised at how light and comfortable it is. It's easily adjustable, especially the waist strap, which is handy when it's being shared between two parents of different builds or heights.
Getting Annie in and out of the Poco is refreshingly easy. Even when she's bundled up in a rain suit and wellies, it opens wide enough to slip her inside with minimum fuss. The harness that holds Annie in place is as simple to use as a car seat belt, but I find the red clips that fasten the carrier at each side tricky to pull together and lock. 
When it comes to taking Annie out of the carrier, the side handles make it easy for the wearer to remove the backpack and place it on the ground in one smooth motion. The kickstand springs out easily so the carrier stands securely on the ground (or in a huge puddle, which is where I managed to land it the first time I put it down).
I haven't tried the Poco Plus on a warm day yet, but the back panel is ventilated, to prevent parents getting overheated on hikes. I counted six pockets, so there are plenty of places to store keys, phones and water bottles, but this is a carrier rather than a backpack, so you'll still need to take a separate bag your passenger's nappies, snacks and change of clothes. The two easily accessible pockets on the waist strap are a nice touch. One even contains a little mirror, presumably for keeping an eye on (or making funny faces at) your cargo.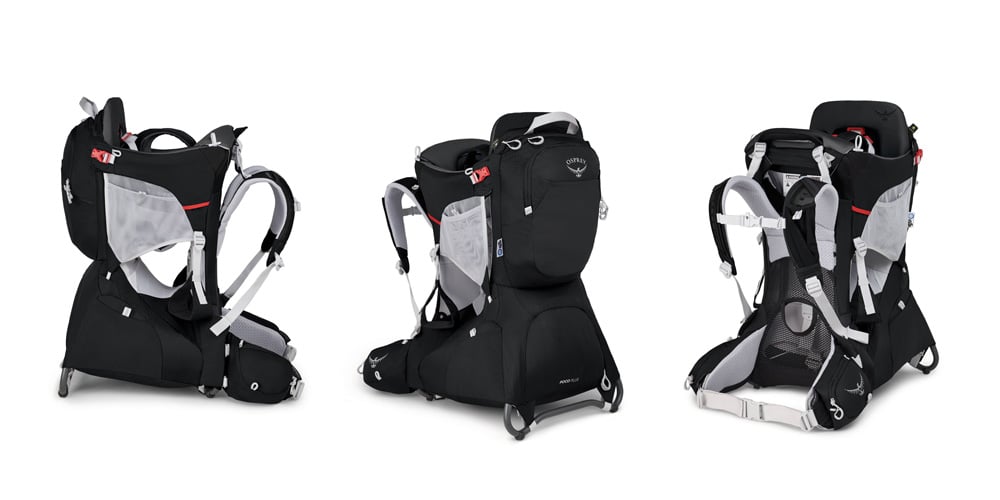 How is it for children?
The carrier is padded with soft material and Annie seems comfortable inside sitting inside. Held in place by the padded shoulder harness, she sits facing forwards in an upright position with a good view over her mummy or daddy's head. The carrier features built-in foot straps for infants, but Annie prefers to have her legs free and kicking. 
The side panels are ventilated, meaning she is secure but in no danger of overheating. We didn't have cause to use the built-in sunshade/rain cover on our winter walk, but I notice that it slips easily out of the top pocket and provides good coverage as well as reassuring SPF 50+ protection.
Despite appearing very comfortable in the carrier, Annie only lasted about 20 minutes before she started protesting and squirming to get out, but this says less about the Poco Plus and more about my headstrong little girl, who would always rather walk than be carried (she reacts the same way to car seats, highchairs and pushchairs). However, if your little one is content in carriers, I'm sure they will happily ride in the Poco Plus for miles. 
Summary 
Osprey's 40 years of backpack expertise shine through in this lightweight, sturdy and easily adjustable carrier, best suited to parents with an adventurous spirit and to children who tolerate being carried. The Poco Plus isn't cheap but, if you buy one when your baby is young, you'll enjoy years of use. 
The lowdown: Osprey Poco Plus
Colours: Starry Black or Blue Sky
Sizes: Original or Small
Price: £320
Find out more and buy the Osprey Poco Plus