Responsive touch screen, hands-free assistance, child-friendly features – the Fire HD 10 has well and truly earned its status as the perfect holiday companion for adults and children. And, with a renewed focus on controlling and monitoring the content kids are consuming, parents can rest easy knowing that their little ones are in safe hands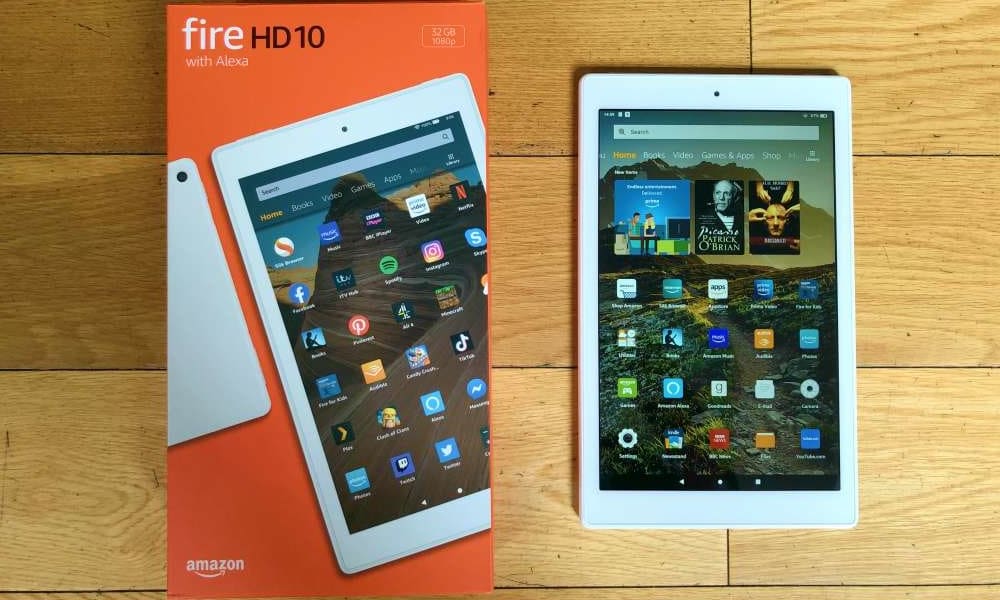 Whether used for completing homework, long journeys in the car or days spent lounging by the pool, having a family tablet that works for everyone is just as important as any other spec. When you have kids, there is no use having flashy features such as a retina screen or a 12-megapixel camera if there's no easy way to set child filters.
The Fire HD 10, therefore, is the ultimate family-friendly device. It has all the mod cons you'd expect from a mid-range tablet – slick interface, long battery life, fast processor, good sound and video quality – yet with a unique focus on making it just as handy for adults as it is for kids.
This much is obvious right from the off. During the set-up, there is an option to 'Make this Fire child-friendly', allowing you to create a personalised experience for each member of the family. This includes setting custom home screens, blocking in-app purchases, setting educational goals, implementing time limits and devising a 'Parent Dashboard' to keep an eye on what your children are using the device for.
By having separate profiles for children and parents, you are able to use the tablet in the way you like without having to worry about adding filters and deleting apps whenever your kids want to use it.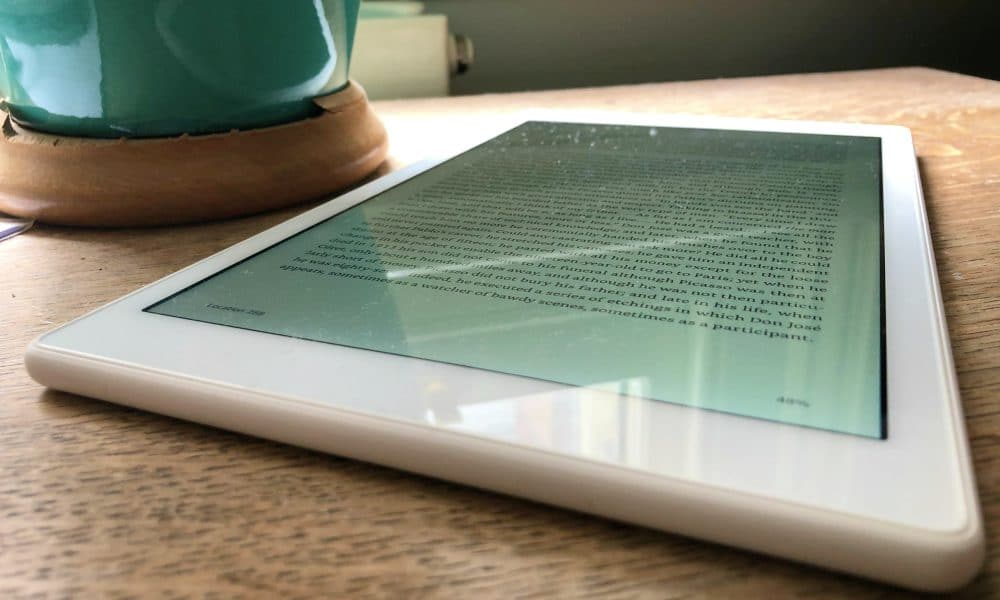 Screen
It may not be the retina display found on the iPad but the Fire HD 10's 1080p screen provides everything you'd ever want from a tablet. Watching films and TV shows is a joy, with the ability to quickly and easily adapt the screen's brightness to suit your needs from a swipe down menu. The Fire's lightweight design – just over 500g – means that even if you don't have a stand, you don't have to worry about aching arms.
The touch screen is smooth and responsive, having long ago moved away from the clunky and jittery feel of the first Fire tablets.
Having a screen that doesn't cause strain to young eyes is vital
However, where the screen really comes into its own is when reading text, be it a quick scroll through the news, reading aloud from a children's book or hours spent poring over a best-selling novel.
The letters are crisp without being harsh on the eyes and you can effortlessly change the text size from the within settings. The blue shade cancelling setting removes the blue backlight glow and replaces it with a warmer tone for nighttime use. With increasing concerns over the health of children's eyes, having a screen that doesn't require them to strain their eyes is vital and the Fire checks this box with a big green tick.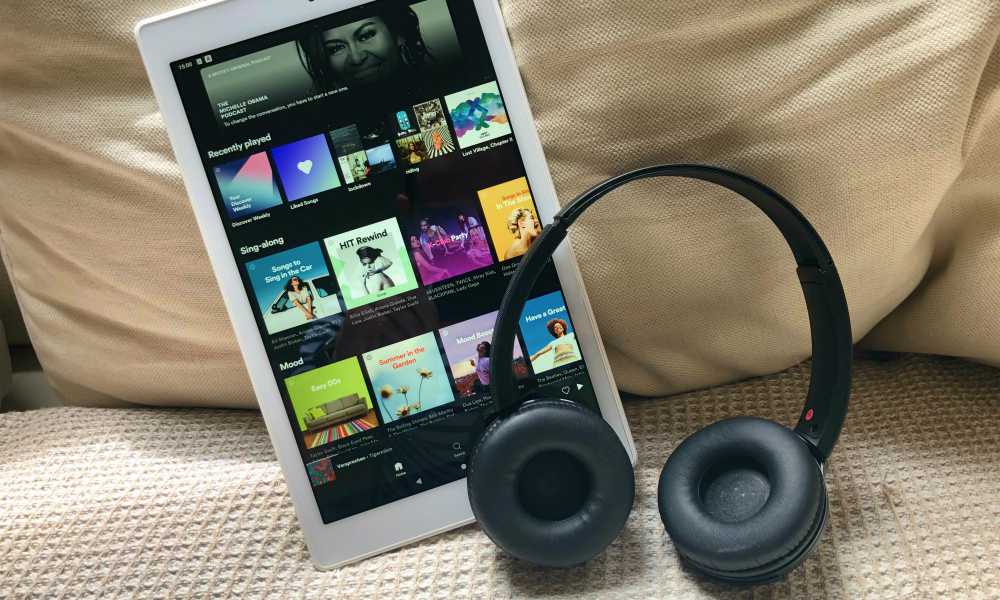 Sound
Whether watching a film, playing a game or blasting out music, the speakers on the Fire HD 10 are capable of cutting through background noise in places such as the car and busy households. There is a slight tinniness to the sound at full volume, but this can easily be rectified by connecting to Bluetooth speakers.
The addition of a headphone jack allows you to charge the device while continuing to listen using headphones, a luxury that has been overlooked by some competitors.
Usability
A simple menu at the top allows for easy navigation, where you can shift between reading a book, playing a game, downloading a new app or browsing the magazine newsstand. There is also an infinitely helpful 'For You' tab, featuring a curated selection of content that may interest you based on your previous downloads and searches.
Those familiar with the Amazon Echo will already know about Alexa, a cloud-based voice assistant triggered by the calling out of 'Alexa!', and the Fire has integrated the same service into its tablet device. You can search for recipes, ask questions, play music, launch apps and even get it to read out stories, making the whole usability of the Fire both effortless and fun.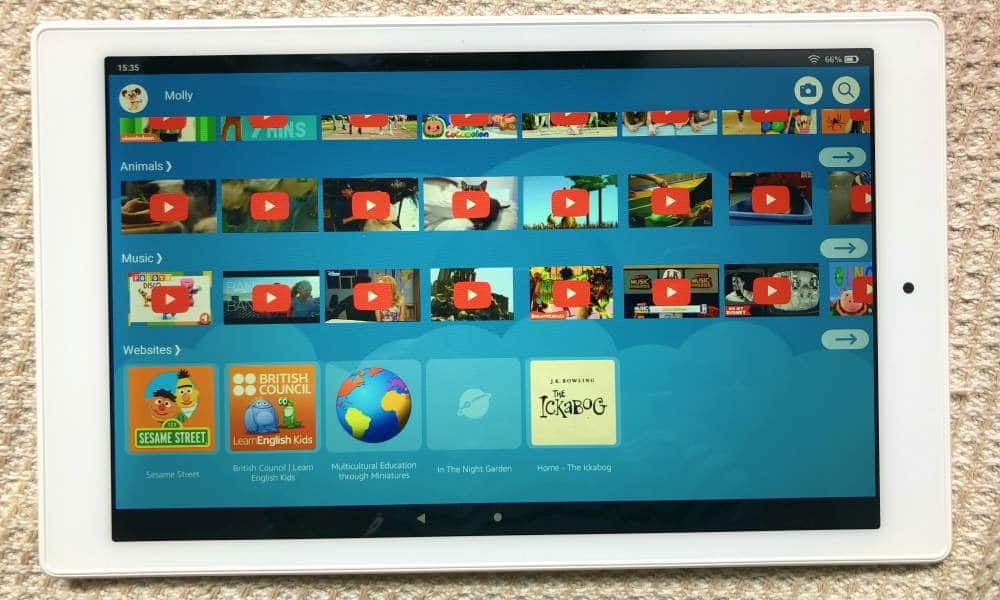 Child-friendly features
Amazon Fire for Kids is an innovative hallmark of the Fire HD 10, allowing parents to create specific profiles for their children that tailor content to their age group. A 'Parent Dashboard' allows adults to control settings remotely, where you can set age restraints, time limits and the blocking of in-app purchases. The option to 'Add content' provides the flexibility to introduce apps and videos to the preloaded compendium of educational and informative content.
Another tick for families with little ones is the automatic email notification received directly to your email each time a new app is downloaded. An alert is immediately sent to your inbox, meaning if an app that doesn't seem appropriate is found by your kids, then you'll know about it without having the device in front of you.
Camera
The quality of the camera on the Fire HD 10 probably won't be better or even match the one you have on your phone, for the simple reason that it was never intended to be a photo-taking device. Having said that, for video calls and quick snaps, it serves its purpose.
Value
For £149.99 (or a third of the price of an iPad), you can't beat the Fire HD 10 on value.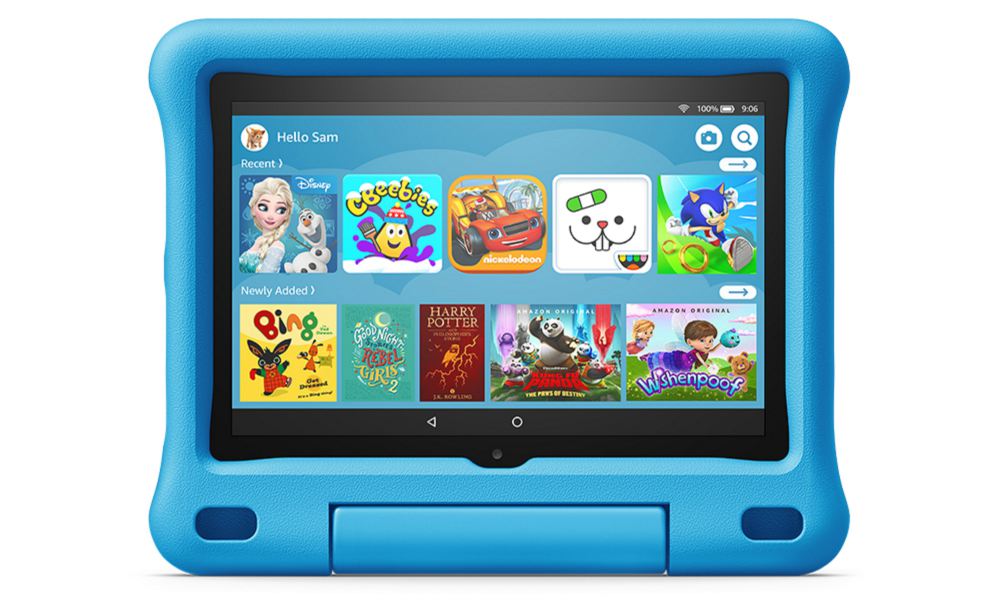 Family Traveller top tip
For adults…
While the Fire HD 10 comes loaded with up to 64gb storage (depending on which model you opt for), there is the option to add even more space thanks to the microSD card slot located at the top right of the device. You can find them for a reasonable price online and it means that you don't have to worry about staying under the limit with regards to photos, videos and books.
For kids…
If you're worried about handing over your cherished tablet to your less dextrous little ones, then you can pick up the Fire Kids' Edition, built specifically with small hands in mind. The tablet can do everything the regular Fire can do with the addition of a resilient rubber case that keeps it safe from bumps and bangs.
Specifications
Screen: 10.1in 1920×1200 LCD (224ppi)
Processor: 2GHz octa-core
RAM: 2GB
Storage: 32 or 64GB plus microSD card slot
Operating system: Fire OS 7 based on Android 9
Camera: 2MP rear and front-facing cameras
Connectivity: Wi-Fi ac, Bluetooth, USB-C
Dimensions: 262 x 159 x 9.8 mm
Weight: 504g
Conclusion
Lightweight, good quality, reasonably priced and child-friendly, the Fire HD 10 is the ideal companion for parents and kids – both on holiday and at home. In a single day, it can be used for entertaining youngsters in the car, reading a best-selling book on the beach, video chatting with relatives and providing the sound system for the evening. It comes in four different colours – black, white, plum and twilight blue – and has its very own kids' edition with a robust case. In sum, once the family gets their hands on one, you'll wonder how you ever managed without.