Mother's Day is the perfect time to spend a day with Mum and show your appreciation for everything that she does. Head to one of these special afternoon teas, suitable for a range of budgets, for a sumptuous treat that you can enjoy together.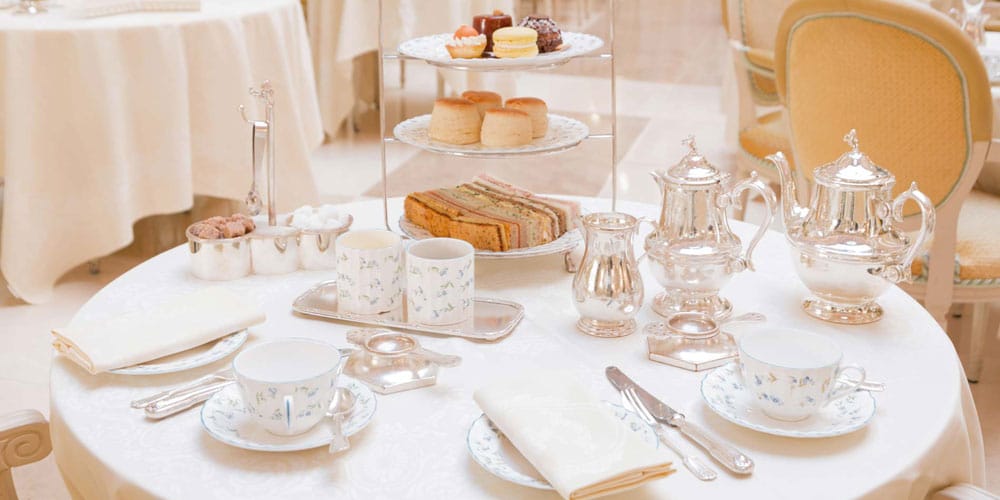 1/11

The Ritz, London, £90

The iconic afternoon tea destination offers a bespoke menu just for Mother's Day. Start with a chilled glass of Ritz Rose Champagne while enjoying the melodies of the resident pianist who has been with the hotel since 1995. Tuck into dainty finger sandwiches with a range of traditional fillings, followed by warm scones with Ritz strawberry preserve and clotted cream. Waiters re-fill the sandwiches and scones as quickly as you can eat them, but be sure to leave room for the assortment of tea pastries and freshly baked cakes too! Of course the Ritz has its own tea sommelier who can advise on which of the 18 tea varieties will suit you best.

Price: £90 per person
Book The Ritz afternoon tea here
2/11

Floral afternoon tea with workshop at The Connaught, London, £150

In collaboration with the McQueen's florist school, the Connaught hotel has created a floral-inspired tea especially for Mother's Day. Mums and their offspring can enjoy a two-hour floristry workshop together before sitting down to a spring-themed selection of sandwiches and sweet treats. Sample fluffy eclairs, gourmet Connaught candyfloss, soft scones and cakes including hazelnut praline and milk chocolate rocher. This is ideal for gift-givers looking to spend the day out with Mum on Mother's Day.

Price: £150 per person
Book the Connaught afternoon tea here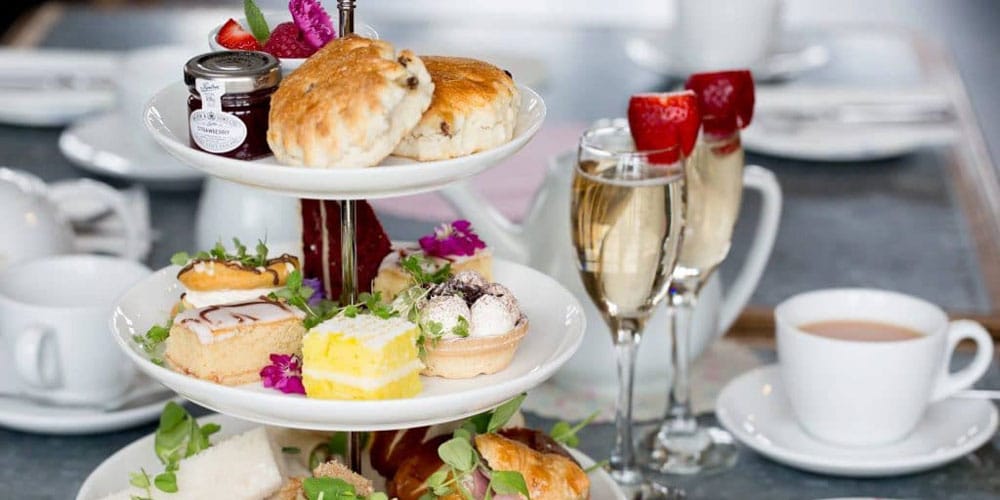 3/11

'Swing' afternoon tea, Liverpool, £29.95

Located in the gorgeous Garden of Eden at the Shankly Hotel, this Mother's Day afternoon tea has a lively ambience with the appearance of a swing singer to jazz up the atmosphere. Enjoy your afternoon tea served on rustic wooden benches while listening to old favourites. The tea includes finger sandwiches, fresh croissant and pastries, warm scones and huge slabs of cake such as red velvet and lemon drizzle. A great opportunity to enjoy a traditional afternoon tea in a fun and relaxed setting.

Price: £29.95 per person
Book the Shankly Hotel afternoon tea here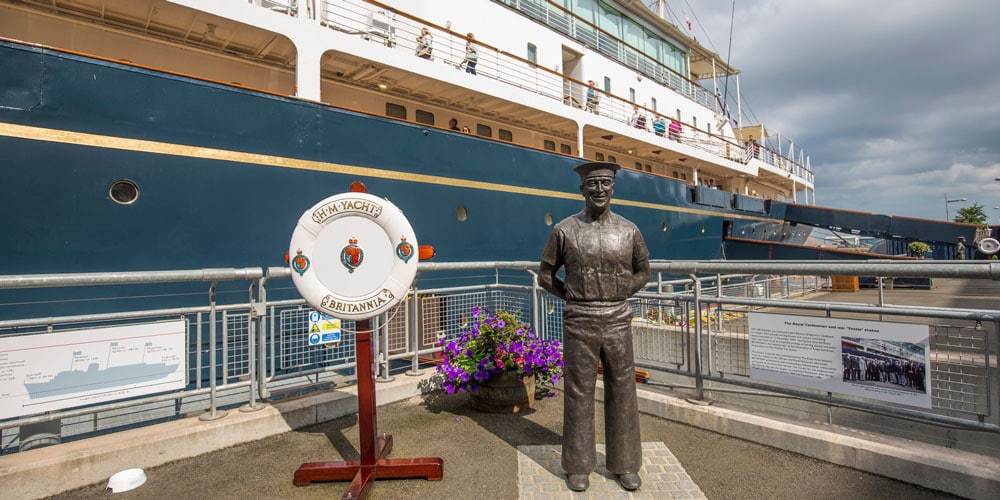 Photo: VisitScotland/ Kenny Lam
4/11

Royal Yacht afternoon tea, Edinburgh, £38

Step aboard the majestic Royal Yacht Britannia and enjoy stunning views across the Firth of Forth from the Royal Deck Tea Room. Guests can choose from the extensive menu of sandwiches including oak-smoked salmon, Ayrshire honey-roasted ham and cheddar with homemade tomato relish. Cake offerings include salted caramel and praline, carrot cake with nutmeg and dense chocolate fudge cake. Entry to the Royal Yacht is £16 per person and the afternoon tea menu is £22 per person, including a glass of Les Chaberts Sparkling Britannia Rosé from France.

Price: £38 per person
Book the Royal Yacht afternoon tea here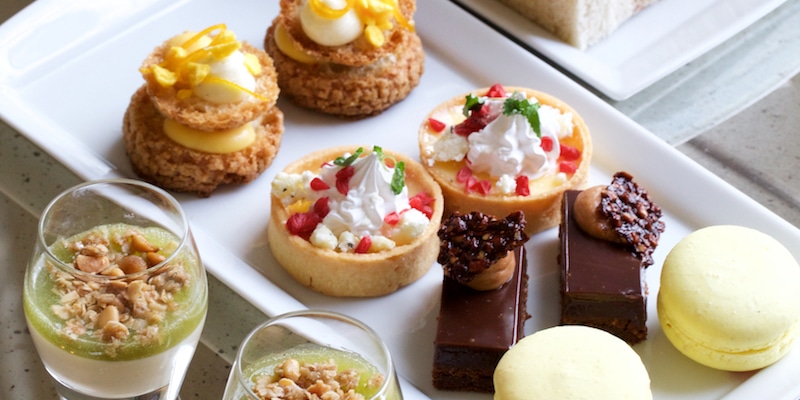 5/11

Indulgent afternoon tea with a view, Storrs Hall, Windermere, £24

Nestled into one of the most beautiful areas of England, Storrs hall hosts afternoon tea in the Tower Bar, the conservatory and the Drawing Room, each of which has spectacular views across the lake. It's an indulgent feast, with a selection of sandwiches, savouries, pastries, freshly baked scones, clotted cream and strawberry preserve. Choose one of their many teas to accompany or go luxe and treat yourself to a flute of Champagne.

Price: £24 per person or £32 for Champagne option
Book the Storrs Hall afternoon tea here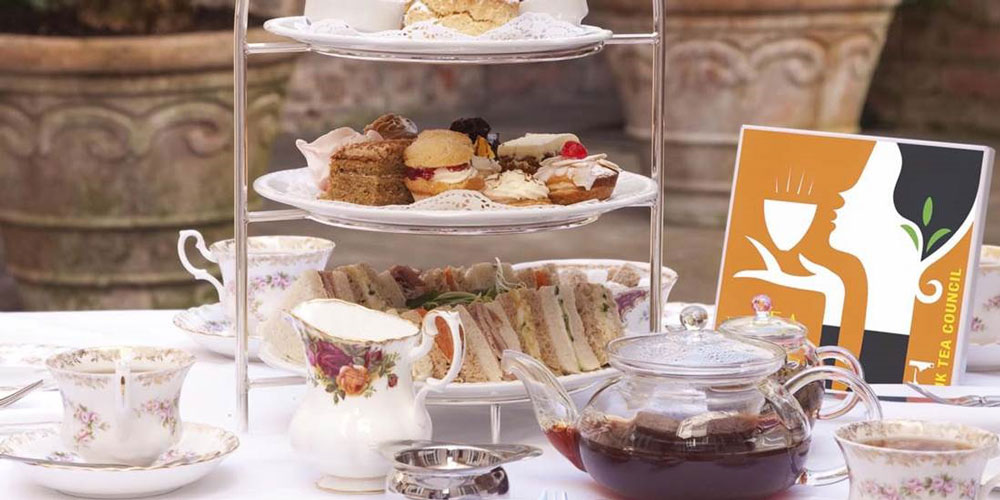 6/11

High tea at the Angel Hotel, Abergavenny, Wales, £30

The Angel Hotel has been awarded a Tea Guild Award of Excellence so guests can be sure of a top-quality experience when they visit for the famous high tea. Each morning the resident baker Sally Harris prepares sandwiches, savouries, scones and cakes for the freshest possible taste, and a selection of house speciality cocktails are also available for a little extra sparkle. The Angel Hotel has an extensive menu of teas to accompany the food including black, white, oolong and green teas.

Price: £30 per person
Book The Angel Hotel afternoon tea here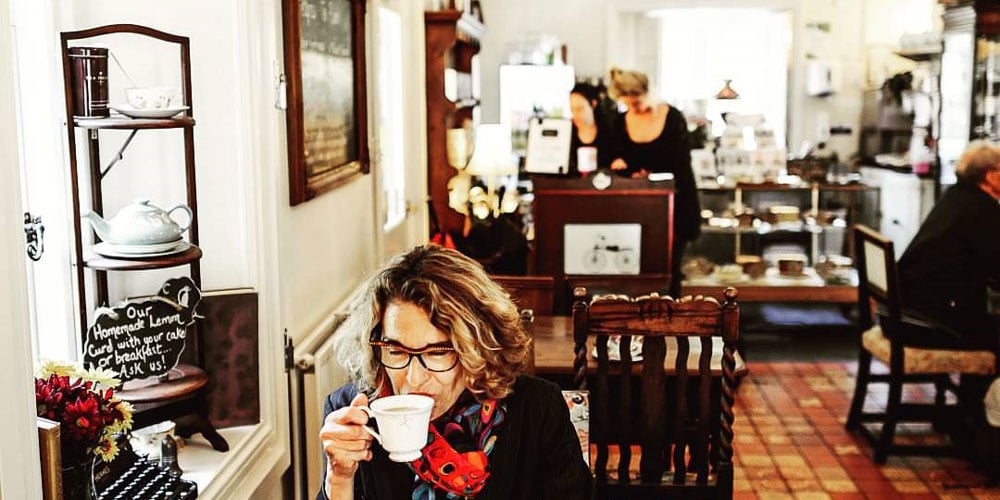 7/11

Welsh afternoon tea, Cardiff, £16.95

Visit the sweet Pettigrew Tea Rooms in Cardiff city centre and enjoy a top quality afternoon tea made with love from fresh local ingredients. Try loose leaf teas along with deep-filled sandwiches such as cucumber and cream cheese, Welsh brie and fruit chutney and carved beef with horseradish. Freshly baked scones made with Welsh butter are served with lashings of clotted cream and local strawberry preserve, and accompany large slices of cake.

Price: £16.95 per person or £30 for two sharing
Book the Pettigrew Tea Rooms afternoon tea here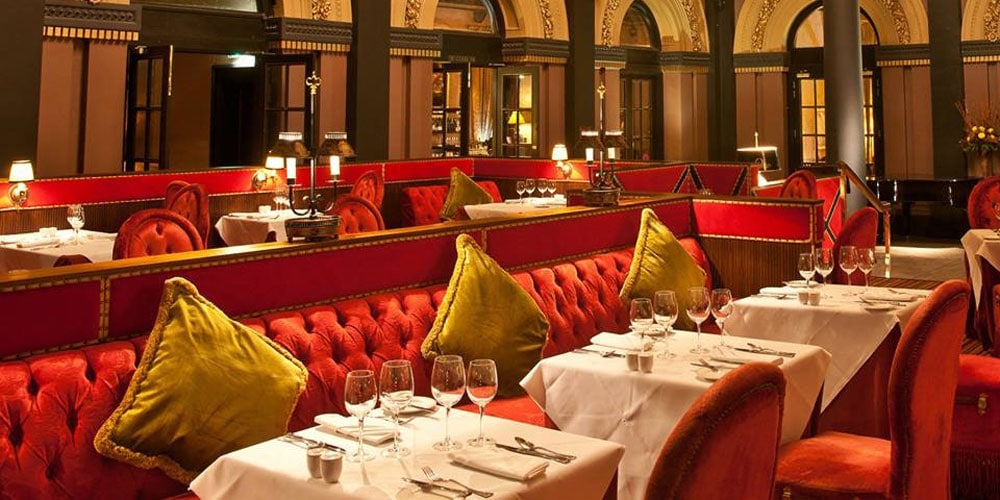 8/11

Caviar and champagne afternoon tea, Belfast, £275 for two

Enjoy the heights of luxury at The Merchant Hotel in Belfast's city centre with this Krug afternoon tea. Guests will sit down to a chilled bottle of sparkling Krug champagne and can whet their appetites with Royal Beluga caviar, buckwheat blinis and melba toast. Moving on to the more traditional fare visitors will enjoy carrot cake, banana bread and warm scones with clotted cream and jam. If you have room for more there are stacks of cakes to sample including vanilla macaroons, tonka bean and white chocolate patisserie, passion fruit tartlets and coffee and chocolate spheres.

Price: £275 for two people
Book The Merchant Hotel afternoon tea here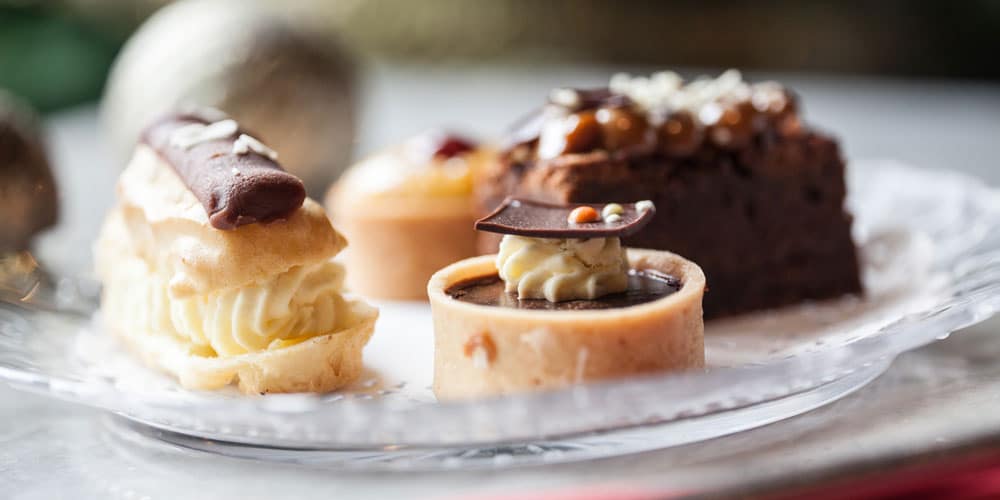 9/11

French patisserie afternoon tea, Belfast, £21.95

Known for its decadent creations and as the first licensed patisserie in Northern Ireland, Miel et Moi is a great choice for a Mother's Day afternoon tea. Sip on a glass of Prosecco before sitting down to feast on chicken, bacon and avocado sandwiches, roast beef sandwiches and egg or ham salad. Sweet treats include red velvet cake, indulgent chocolate brownies, french fancies and lemon meringue pies as well as the usual fluffy scones with accompaniments.

Price: £21.95 per person
Book the Miel et Moi afternoon tea here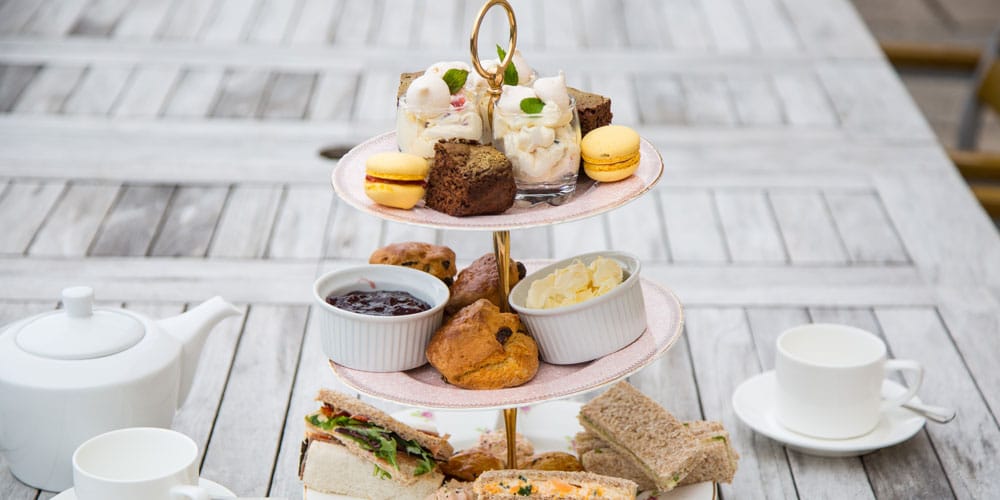 10/11

Afternoon tea in a castle, Cornwall, £19.50

Enjoy the views of Pentillie castle grounds as you tuck into this afternoon tea in the heart of Cornwall. Try alternatives to the usual tea sandwiches with savoury treats such as salmon rilletes on wholemeal bread and quirky sweet treats like the Chef's special dark chocolate and orange eclairs. Of course the traditional favourites are still available so guests can enjoy home made sandwiches, cakes and scones too!

Price: £19.50 per person or £26 per person to include a glass of Prosecco
Book the Pentillie afternoon tea here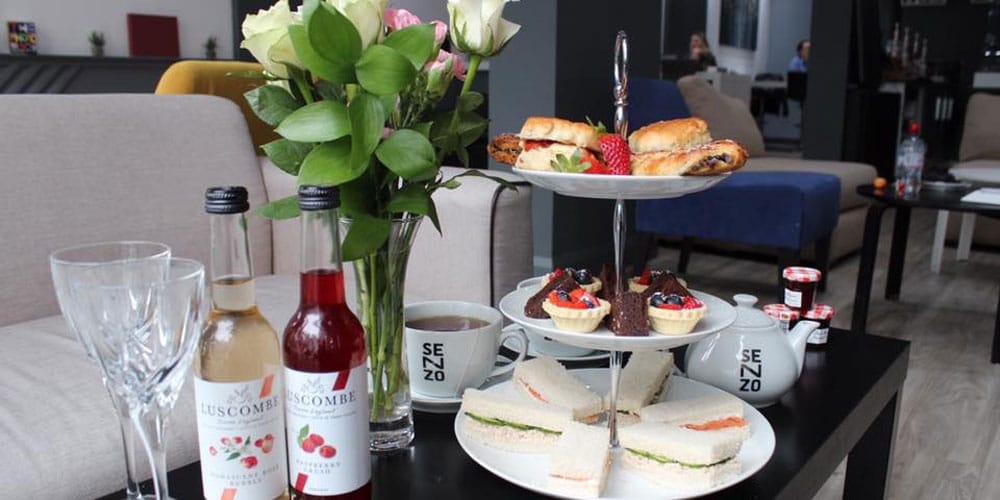 11/11

Child-friendly afternoon tea, Surrey, £12.50 per person

Mums who can't leave their little ones at home will love this afternoon tea in the Senzo cafe in Epsom. A soft play area will keep the kids busy while Mums tuck into soft finger sandwiches, sweet treats such as fruit tarts and chocolate brownies, warm scones with jam and more. Add a bottle of non-alcoholic Luscombe bubbles for a really special treat, or simply relax as your teapot is refilled again and again throughout the afternoon. Regulars love Senzo for its friendly and helpful staff and chilled atmosphere.

Price: £12.50 per person
Book the Senzo cafe afternoon tea here
Want to pamper your mum on Mother's Day? Here's our handpicked Mother's Day Gifts Guide 2018 to sort you out.