Sponsored Content
Get a head start on back-to-school plans and save 20% on personalised labels from Stuck On You, the innovative Australian brand that always says 'Labelling Costs You Less' because you aren't constantly replacing lost stuff.
For two decades, Stuck On You have been responsible for sticking kids' names, firmly, on everything from school backpacks and water bottles to coats and cardies. Since you're never too young to lose things, their cute and colourful personalised labels are great for pre-schoolers as well. And they might be from Australia originally, but they happily give you free delivery worldwide on orders of £35 or more.
So even if it's a little early to be ticking items off your back-to-school list, take a look at what's new and great value right now from Stuck On You. And don't forget, place an order before 01 September 2019 and you automatically save 20%.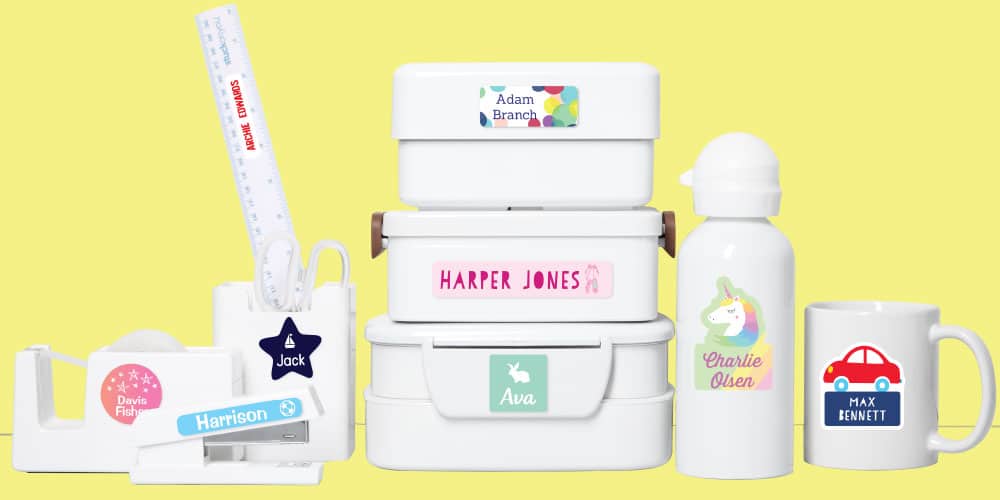 1/5

Personalised Labels – keep track of stuff, even when kids don't
Stuck On You personalised labels get kids involved in everything from choosing colours and designs to picking their favourite font, which is a great way to give them ownership and possibly even make sure they bring their personally labelled school kit home for a change. And even if they forget occasionally, there's still a good chance you'll get mislaid stuff back, and fast.
In other good news, all Stuck On You labels are tried and tested for powerful stickability, so when they're on, they stay on. Their scratch-resistant coating keeps type true and clear. And every single label is waterproof, washable and dishwasher and microwave-safe.
Think of anything from water bottles and lunchboxes to all sorts of stationery and Stuck On You will have the right label. And, if not replacing lost items constantly doesn't save you enough money, they also have a huge range of excellent Value Packs available to save you even more.
Personalised Labels from £7.99
Personalised name labels in a variety of shapes and mini, small, medium and large sizes.
Personalised iron-on clothing labels in a range of sizes and styles from classic to designer.
Personalised label Value Packs from £10.99.
Wide choice of specialist labels ranging from allergy labels to mini-me labels.
Various quantity options available on all labels.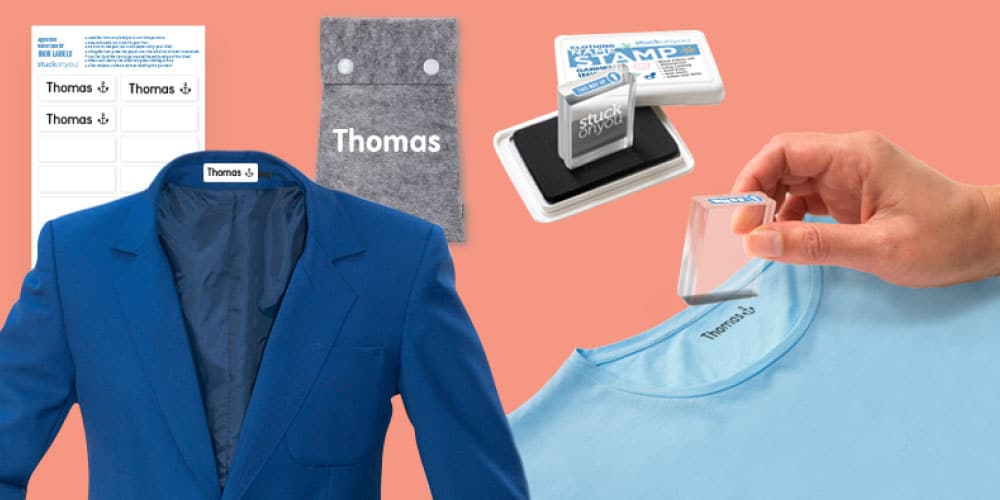 2/5

Name Stamp Pack – easy, all-in-one labelling
All-in-one Name Stamps are another one of those brilliant ideas that makes you wonder, 'why didn't I think of that?' Never mind, just be grateful Stuck On You did, because they're a game changer: great for powering through piles of back-to-school stuff in no time; perfect for last-minute labelling and – take a moment – they're kind of fun to use too. If that's hard to believe, put it to the test and get kids to help label some of their own kit this summer.
Name Stamp Pack £26.99
Fast, easy to use, all-in-one solution for labelling clothes, sports kits and just about anything else you don't want kids to lose.
Instant-drying ink is also waterproof; washable; long-lasting; non-toxic and acid-free.
Stamp directly onto lighter coloured fabrics or included iron-on blank labels.
Design your own name style with eight different typefaces and 16 graphic icons.
Full kit contains Name Stamp, reusable Ink Pad, 12 blank iron-on labels and comes in a handy felt bag which can also be personalised.
Find out more about the Name Stamp Pack from Stuck On You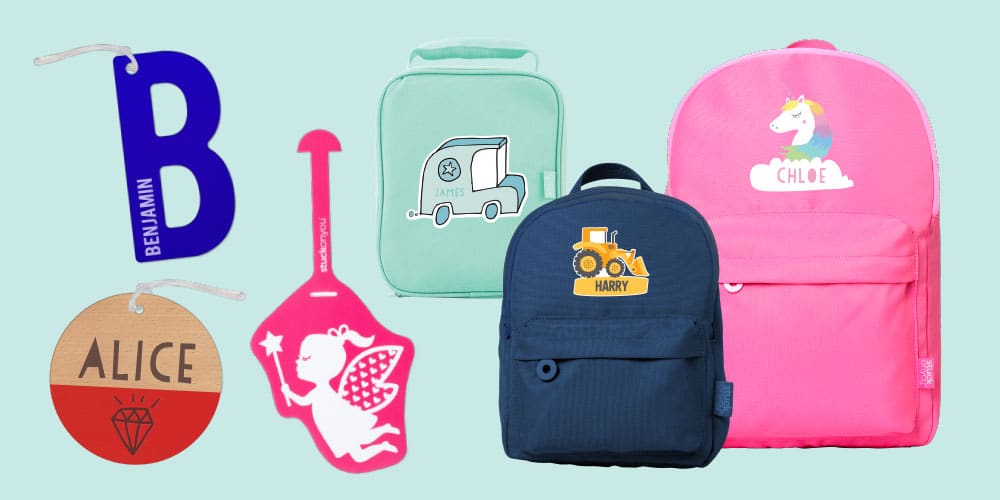 3/5

Personalised Bags and Bag Tags – the cute way to keep it together
Nearly every kid has a talent for losing things, and nearly every parent knows exactly how much it costs to replace lost stuff throughout the school year. Obviously buying a good bag helps to keep everything together in one place. That's the theory at least. But what happens when the bag itself gets left behind?
Pick a personalised bag from the cute and colourful Stuck On You range and the risk of it being mislaid is significantly reduced. And, even if it does occasionally go astray, there's a good chance you'll get it back. The same thinking applies to Stuck On You personalised bag tags which come in a choice of 10 original designs, attach securely to most schoolbags and are made especially bold and bright to stand out in a crowd.
Bags and Bag Tags from £2.99
Backpacks from mini to large in a choice of six colours.
Choice of duffle/sports bags in five colours.
Backpacks offer 22 different graphic design options.
Monograms and names available in a choice of up to nine fonts.
Large, classic and mini Bag Tags available in beechwood or plastic.
Personalised gym bags are also available.
Find out more about Bags and Bag Tags from Stuck On You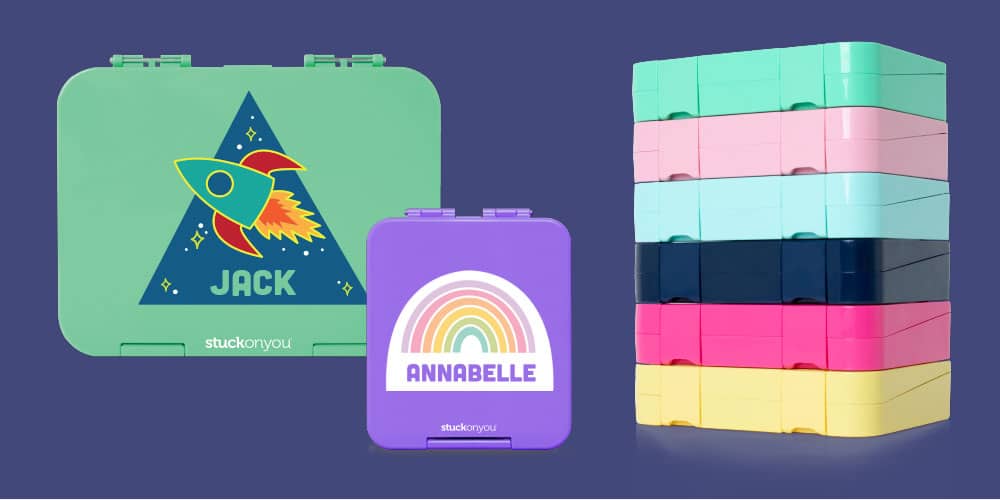 4/5

Bento Boxes – just like lunchboxes, only much better
If you've managed to resist swapping out standard lunchboxes for Bento Boxes so far, be warned, what follows is serious temptation.
Not only are Stuck On You Bento Boxes beautifully designed, they're the perfect size to inspire creative lunch making and, best of all, kids love them. And the classic compartmentalised design gives picky eaters plenty of choice and makes it easier to balance healthy options with treats and get portion sizes spot on too. All of which is great news for parents, as few things are more demoralising than a lovingly packed lunch coming home soggy and uneaten at the end of the day.
Personalised Bento Boxes from £20.99
Large six-compartment Bento Box available in a choice of six colours and 38 graphic designs.
Mini four-compartment Bento Box available in eight colours and five graphic design options.
Personalised in a choice of fonts, all Bento Boxes have a silicone lid and are leakproof and dishwasher-safe.
Stuck On You Bento Boxes are also BPA and phthalates-free.
Find out more about Personalised Bento Boxes from Stuck On You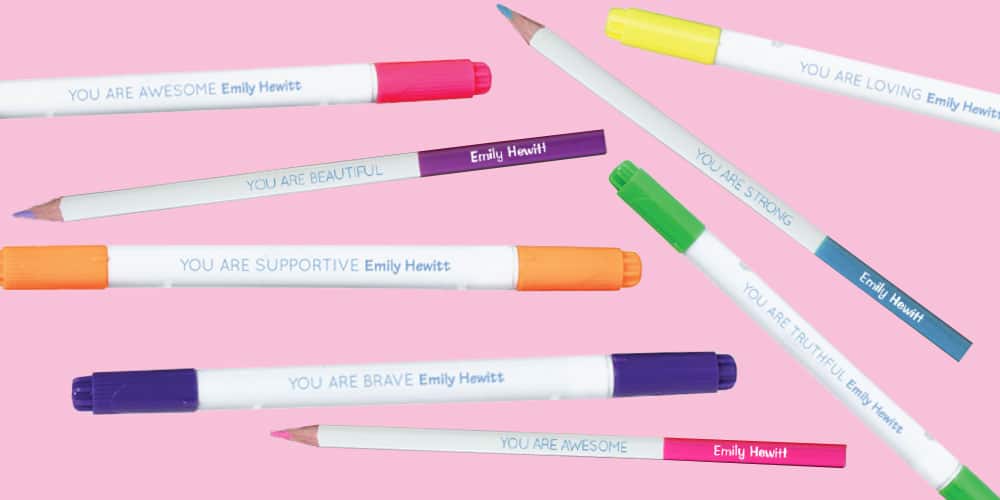 5/5

Positivity Colouring Pencils – any time motivation for little creatives
Another inspired design from Stuck On You, Positivity Pencils give kids a little confidence boost whether they're creating mini-masterpieces, indulging in a bit of freeform doodling or just starting with some colouring-in.
They're a lovely gift idea and motivational messages like 'you are awesome' and 'you are brave' are ideal for calming those first-day-back fears. And of course, all pencils can be personalised for a little extra individual encouragement any time it's needed.
12 x Personalised Positivity Colouring Pencils £7.99
Pack of 12 colouring pencils personalised with child's name.
Positivity messages include: You are beautiful; You are supportive; You are unique;
You are helpful; You are forgiving; You are truthful; You are loving; You are awesome;
You are loved; You are strong; You are kind; You are brave.
Find out more about Positivity Colouring Pencils from Stuck On You
Place an order with Stuck On You before 1 September 2019, enter offer code TRAVELLER19 and save 20%.