Save 20% on personalised back-to-school labels
Get a head start on back-to-school plans and save 20% on personalised labels from Stuck On You, the innovative Australian brand that always says 'Labelling Costs You Less' because you aren't constantly replacing lost stuff.
For two decades, Stuck On You have been responsible for sticking kids' names, firmly, on everything from school backpacks and water bottles to coats and cardies. Since you're never too young to lose things, their cute and colourful personalised labels are great for pre-schoolers as well. And they might be from Australia originally, but they happily give you free delivery worldwide on orders of £35 or more.
So even if it's a little early to be ticking items off your back-to-school list, take a look at what's new and great value right now from Stuck On You. And don't forget, place an order before 01 September 2019 and you automatically save 20%.
---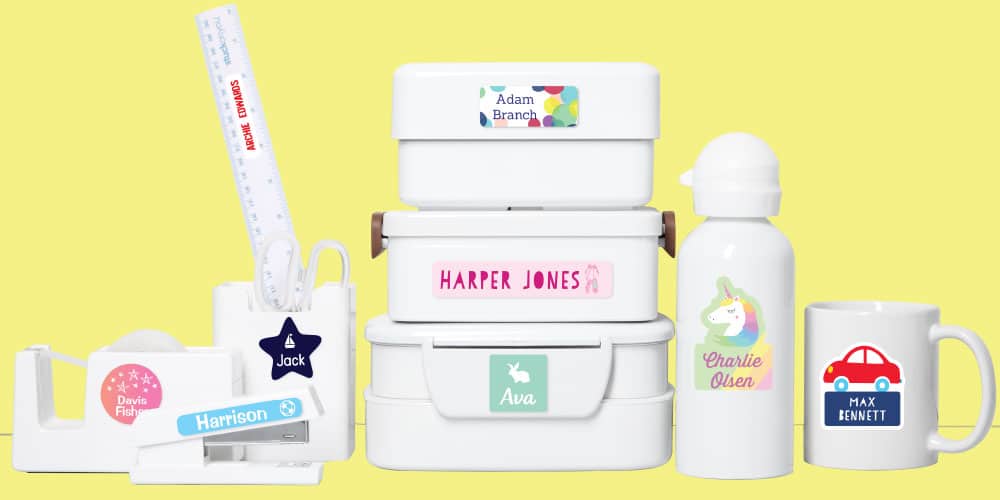 1/5

Personalised Labels – keep track of stuff, even when kids don't
Stuck On You personalised labels get kids involved in everything from choosing colours and designs to picking their favourite font, which is a great way to give them ownership and possibly even make sure they bring their personally labelled school kit home for a change. And even if they forget occasionally, there's still a good chance you'll get mislaid stuff back, and fast.
In other good news, all Stuck On You labels are tried and tested for powerful stickability, so when they're on, they stay on. Their scratch-resistant coating keeps type true and clear. And every single label is waterproof, washable and dishwasher and microwave-safe.
Think of anything from water bottles and lunchboxes to all sorts of stationery and Stuck On You will have the right label. And, if not replacing lost items constantly doesn't save you enough money, they also have a huge range of excellent Value Packs available to save you even more.
Personalised Labels from £7.99
Personalised name labels in a variety of shapes and mini, small, medium and large sizes.
Personalised iron-on clothing labels in a range of sizes and styles from classic to designer.
Personalised label Value Packs from £10.99.
Wide choice of specialist labels ranging from allergy labels to mini-me labels.
Various quantity options available on all labels.