Whether you're preparing for your own new arrival (congratulations!) or you're on the lookout for the perfect gift for new parents, our one-stop shopping list contains everything a little bundle of joy could possibly need.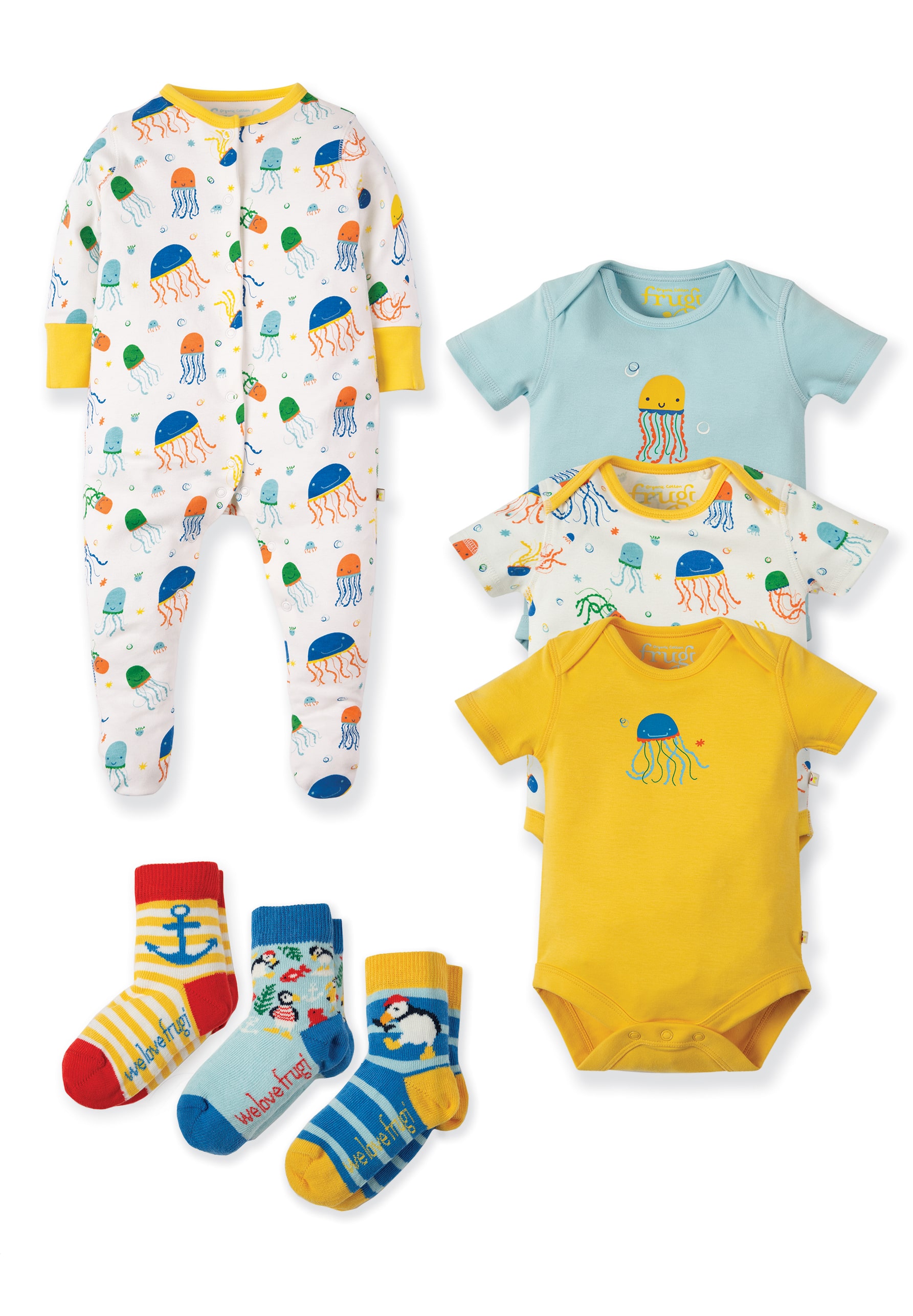 New Baby Gift Set 
Frugi's New Baby Gift Set is perfect for celebrating a new arrival and contains Frugi's most loved newborn pieces. The long-sleeved babygrow is fully poppered for easy dressing, with one handy coloured popper to help parents spot where to pop. In a colourful Jazzy Jellies print, this all-in-one has fab fold-back scratch mitts on the cuffs to help stop scrapes on little noses. The coordinating three pack of bodies feature clever envelope necklines that easily open up so that it can be pulled down baby's body instead of over the head, making mucky messes more manageable.
Price: £45
Buy the New Baby Gift Set here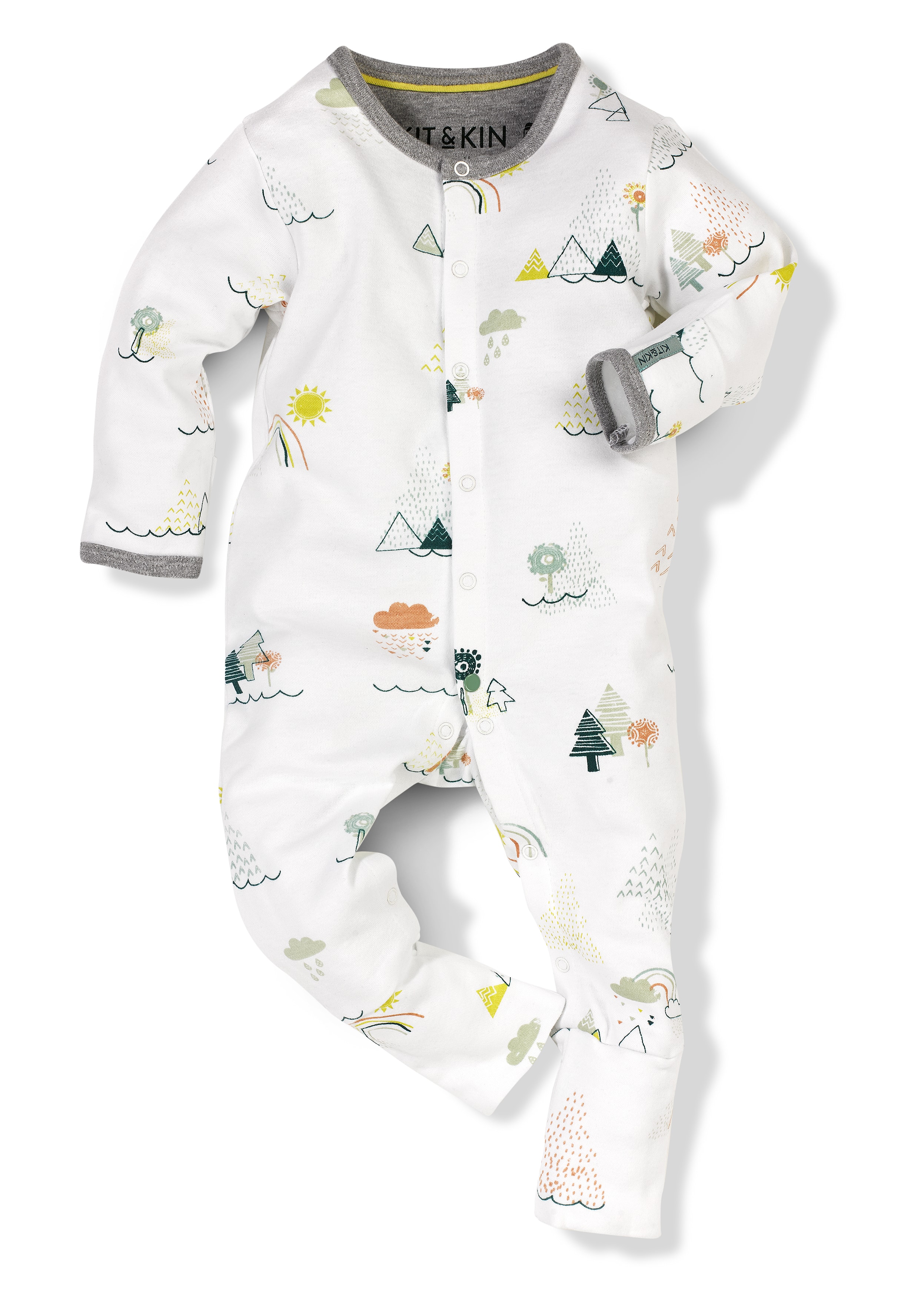 Sleepsuit
Kit & Kin all-in-ones are made from sustainable 100% organic cotton. These super soft and durable onesie keeps your little one comfy and cosy and is extra gentle on their skin. Delicately designed with an easy zip up front and wide safety placket to protect against the skin for quick changing, this stylish all-in-one is the perfect day and night wear for baby. The design also features fold over mitts to make sure your little one doesn't wake themselves up with an accidental scratch, as well as fold over feet for extended wear and an easy transition from day to night. 
Price: £21.99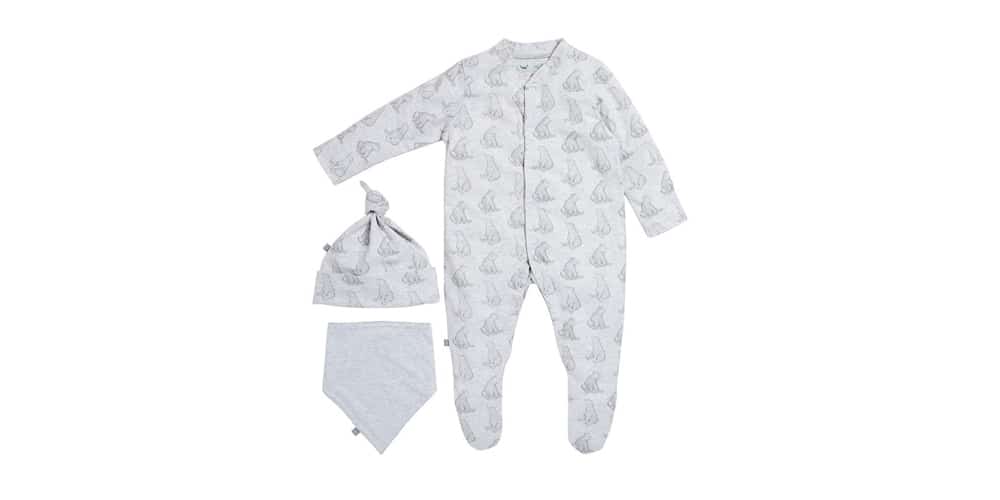 Sleepsuit set
The Little Green Sheep's pastel-toned sleepsuit sets are decorated with animal motifs and are made from super soft 100% organic brushed cotton, ideal for your baby's delicate skin.
Price: £20.61 for a set including hat and bib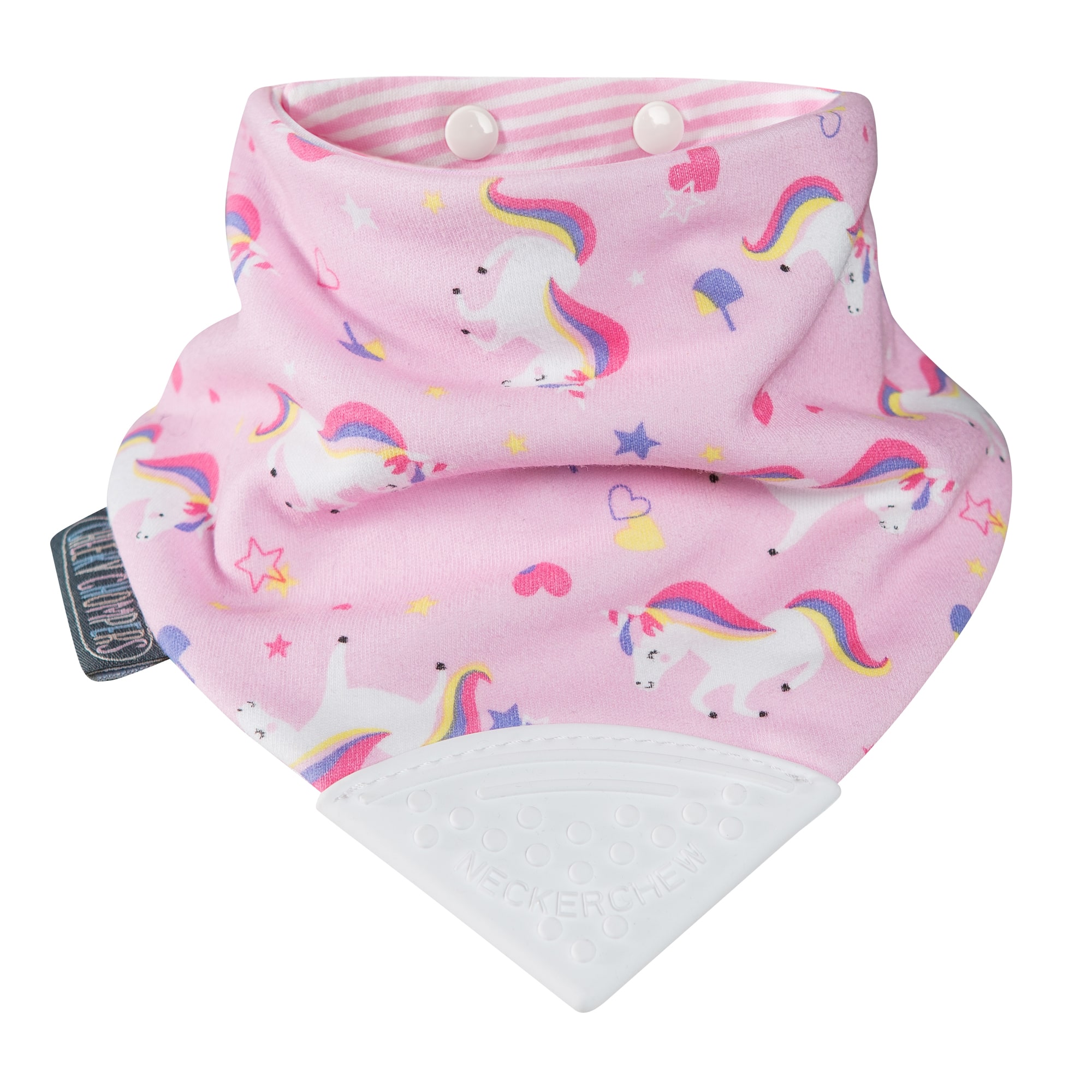 Bibs
Cheeky Chompers, the award-winning brand behind the iconic Neckerchew, have just launched two gorgeous designs for this spring including Fox & Friends and Unicorn Love. If you haven't quite heard of the multi-award winning Neckerchew before, it is a super absorbent bandana bib, with the brands signature chewy teether attached – meaning no more lost teethers. The Comfortchew features the print on one side, with a snuggly fleece on the reverse. With stimulating ribbon tags and an elasticated link for attaching to baby's wrist, cot, car seat, buggy or dummy, it provides comfort at all times.
Price: Unicorn Love Neckerchew £11.99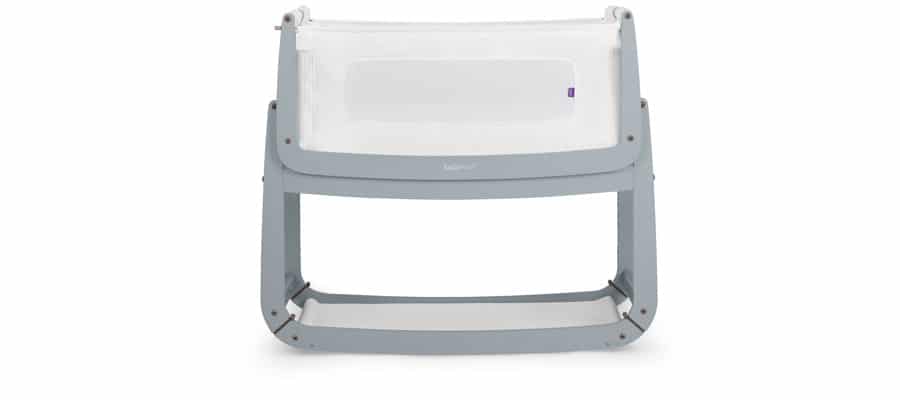 Bedside Crib
SnüzPod3 bedside crib has been expertly designed to make the UK's favourite bedside crib even better. Boasting a stunning new look and brand-new features, the all-new SnüzPod3 includes a reflux incline, wider and lighter lift-off bassinet for use around the home and dual-view breathable mesh sides, making it the perfect sleep solution from newborn to 6 months.
Price: £199.95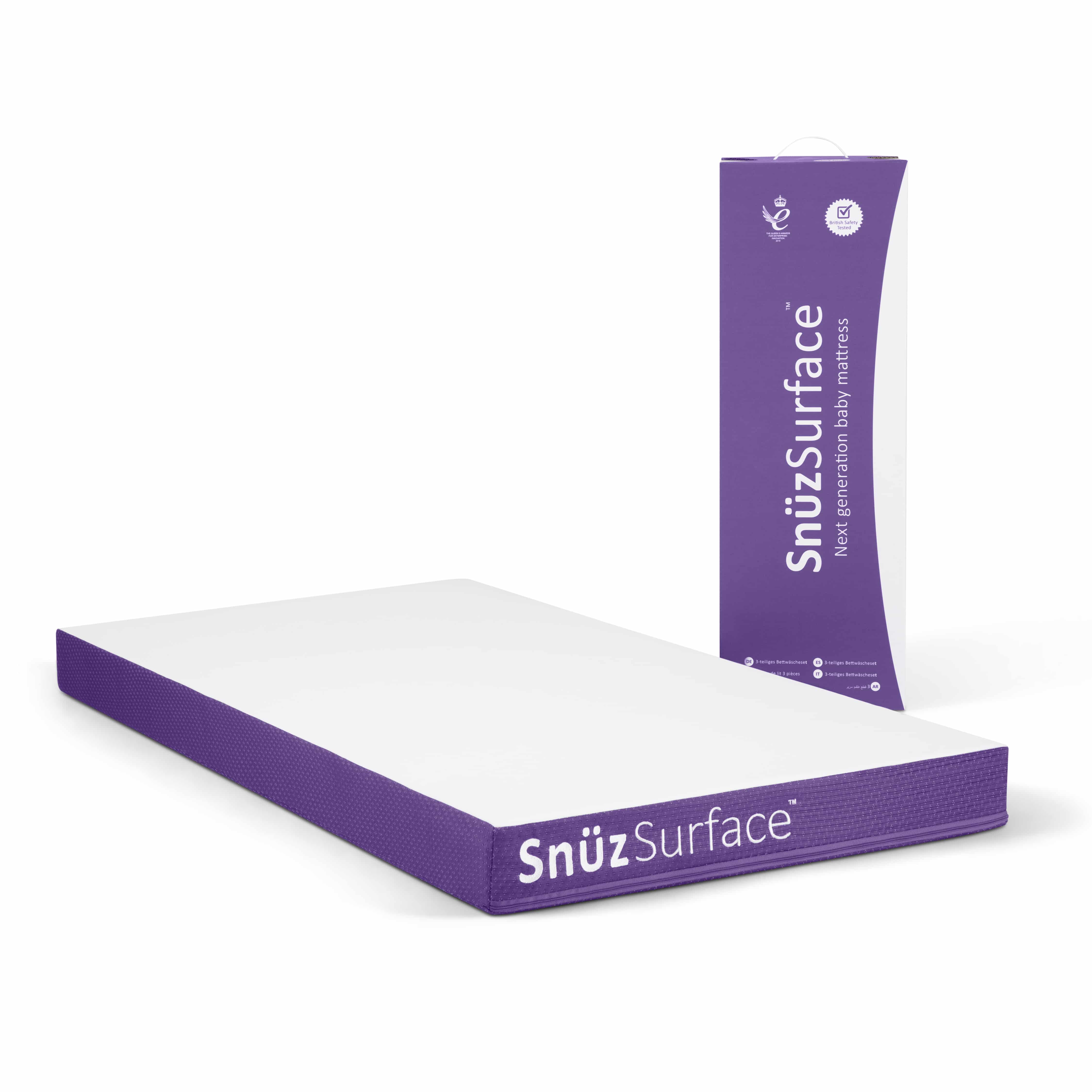 New mattress
SnüzSurface the ingenious brand behind the SnüzPod is thrilled to unveil a world first Sleep Solution, suitable from birth to seven years. SnüzSurface is the first ever adaptable baby mattress that provides the optimal level of support for every little sleeper, as they grow from baby to child. Following research, the team at Snüz, created TripleCore™ technology, a ground-breaking system that allows parents to easily adapt their children's mattress to create the perfect firmness, as their little ones develop. Starting with stage 1 that offers a firm support as recommended for babies (0m-12m), then stage 2, which provides a softer medium-level support for added comfort for toddlers (12m-3yrs). The final stage for children is a more durable surface to account for their changing size and weight, suitable up to 7 years.
Price: £149.95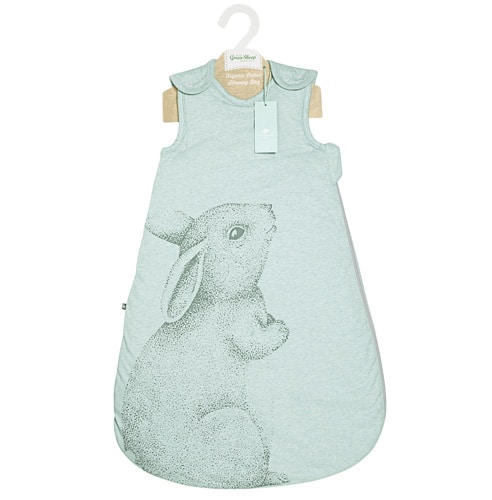 Baby sleep bag
Little Green Sheep Wild Cotton Organic Sleeping Bag: Your little one will feel comfy and secure in The Little Green Sheep's Sleeping Bag, featuring a beautifully illustrated rabbit from the Wild Cotton collection. Super soft and created with 100% organic brushed cotton in mint melange, it is ideal for your baby's delicate skin. 2.5 Tog, suitable for all-year-round sleep.
Price: £29.95
Swaddle + Sleep Bag
Cocoon Swaddle + Sleeping Bags from ErgoPouch are designed to be easy for mum and dad to use, and difficult for baby to escape from! The simple zip-up design keeps baby snug and swaddled, without the need for complicated wrapping. Cocoons are made from organic cotton and have poppers in the armholes to help baby transition to arms-free. Cocoon Swaddle + Sleeping Bags come in a range of togs to suit different temperatures. 2.5 tog (above left) is designed for winter months, and 0.2 tog (above right) is ideal for summer temperatures.
Price: 2.5 tog in Triangle Pops (above left) £47.99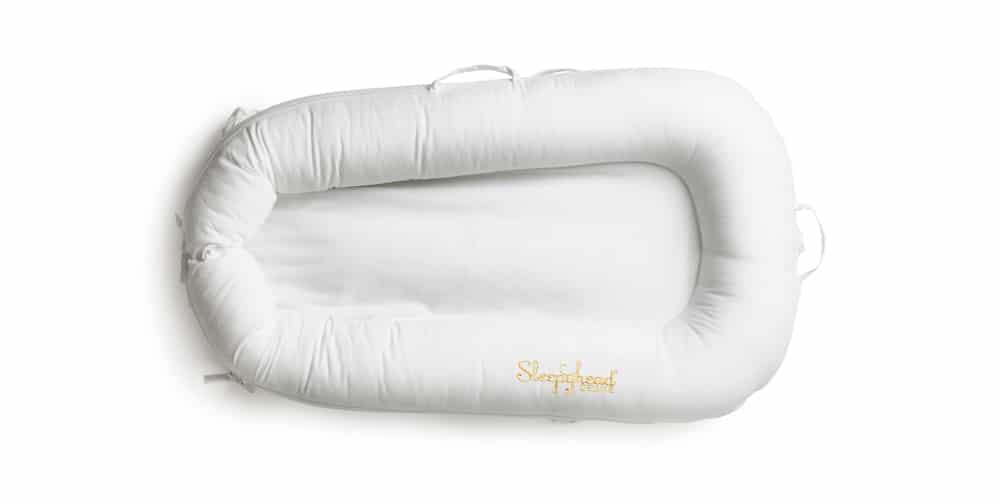 Sleepyhead Deluxe+ Pod 0-8 months
New parents rave about the Sleepyhead Deluxe+ pod. Multi-functional and multitasking, the pod provides baby with a safe and comfy place to sleep or co-sleep, play, cuddle, do tummy time and get his or her nappy changed. Deluxe+ pods are light and portable, meaning they're easy to move from room to room, or take away with you. All materials are breathable, washable and hypoallergenic. Sleepyhead Deluxe+ pods are available in white, as well as a range of stylish colours and patterns.
Price: £130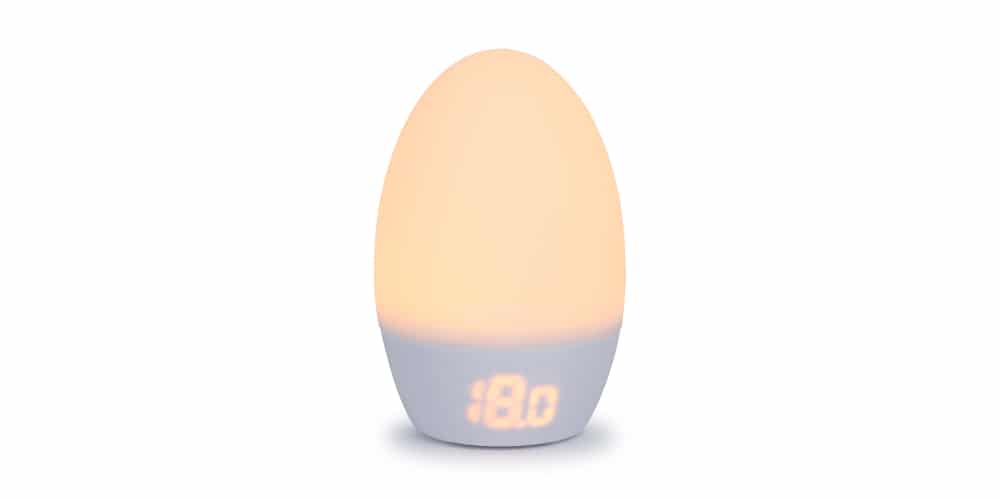 Room thermometer
Groegg 2 from The Gro Company has a large, bright design which makes it easy to see at a glance whether your little one is resting at a safe temperature. A yellow glow suggests the temperature is comfortable, whereas a blue shade shows it's too cold and a red glow suggests it's too warm.
Price: £22.99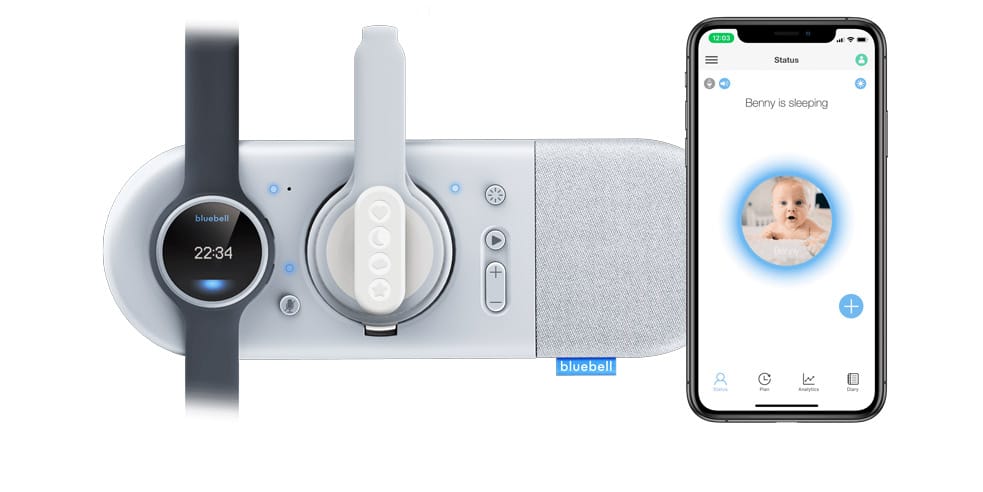 Baby monitor
Bluebell is the next generation support system for parents that not only delivers the most comprehensive baby monitoring, but also supports and monitors parents wellbeing. The unique system introduces advanced wearable technology for both parent and baby that connects seamlessly to the Smart hub as well as the Bluebell Mobile app. The Bluebell baby monitor easily attaches to baby's clothes and silently observes baby's breathing, skin temperature, crying, activity level, sleep/awake status and also will alert if no breathing or movement is detected and if baby rolls onto their tummy. For the parent, it monitors sleep tracking, step counting, activity levels and mood mapping – something that Meghan is sure to enjoy. Bluebell also helps you follow a good routine for you and your baby by allowing you to easily track feeding, sleep, changing, bath time, medications, milestones and memories.
Price: £299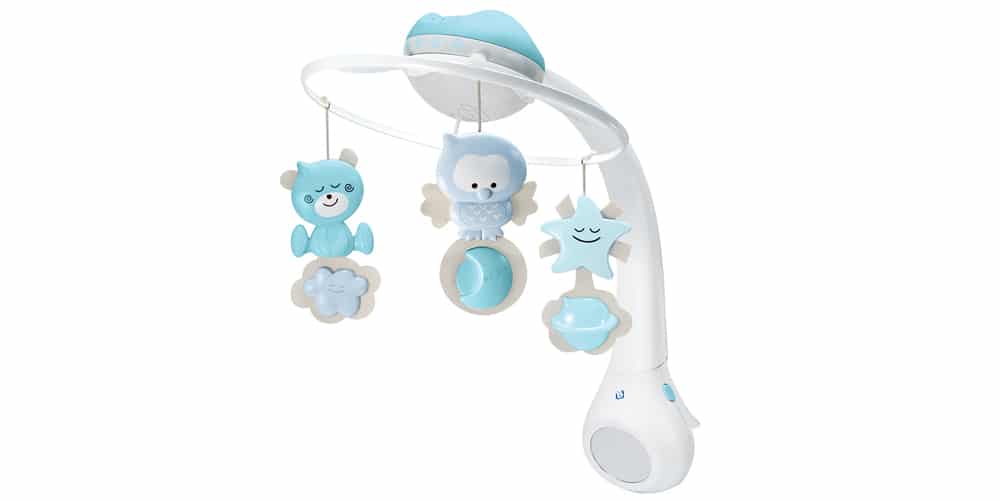 Crib mobile
Infantino 3 in 1 Mobile will help your little sleepyhead snooze through the night. The mobile plays soothing music while the star projector illuminates the room. It has an auto shut-off timer and can be used three ways: as a mobile, as a projector mounted onto the crib and as a bedside projector. Sleep mode is designed to soothe baby to sleep and fade out.
Price: £29.99
[soliloquy id="33355″]
Portable blackout blind
Gro Anywhere Blind will help you create a perfect snoozy sleeping environment for your little one, even when natural light is flooding in. It can be put up in minutes, attaching directly to glass with suction cups. The Velcro fastening is easy and quick to adjust.
Price: £34.99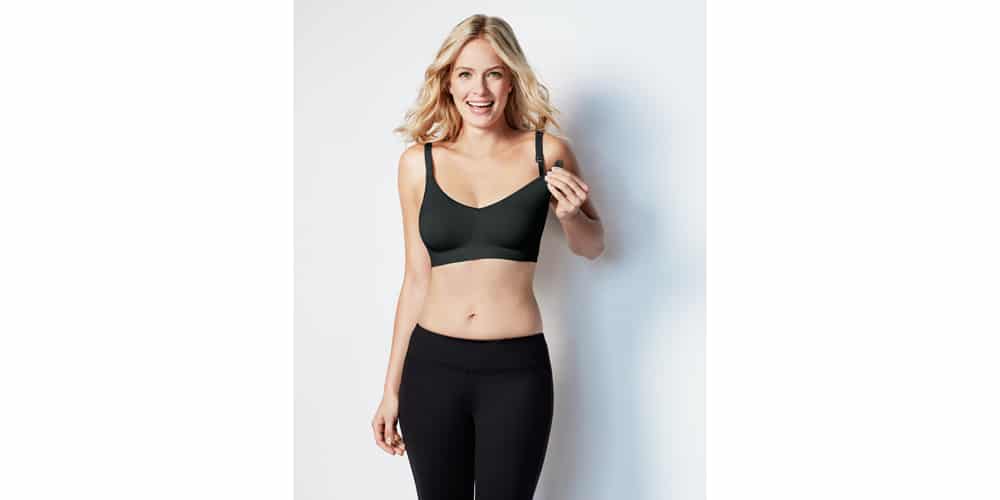 Nursing bras
Bravado's Body Silk Seamless Nursing Bra is an attractive and comfortable seamless nursing bra, for any occasion. The luxurious, soft fabric moulds to mum's changing shape, and will take her from bump to baby and beyond. Nine colours to choose from.
Price: From £24.99
[soliloquy id="33288″]
Breast care
Medela Disposable Nursing Pads, from £4.19, provide excellent absorbency and leak protection, day and night. Buy Medela Disposable Nursing Pads
Medela Contact Nipple Shields with Case, from £8.99, help women with flat, inverted or sore nipples. Buy Medela Contact Nipple Shields with Case
PureLan 100 Nipple Cream, from £4.99, helps soothe sensitive or dry nipples and provides a protective barrier during breastfeeding. Buy Medela PureLan 100 Nipple Cream
Medela's Calma Bottle, from £15.99, is designed for breastfed babies. It doesn't interfere with breastfeeding. Buy Calma bottles
Quick Clean Microwave Bags (x5) from Medela, £12.99, are a safe, quick and practical way to disinfect breastfeeding accessories in three minutes. Buy Quick Clean Microwave Bags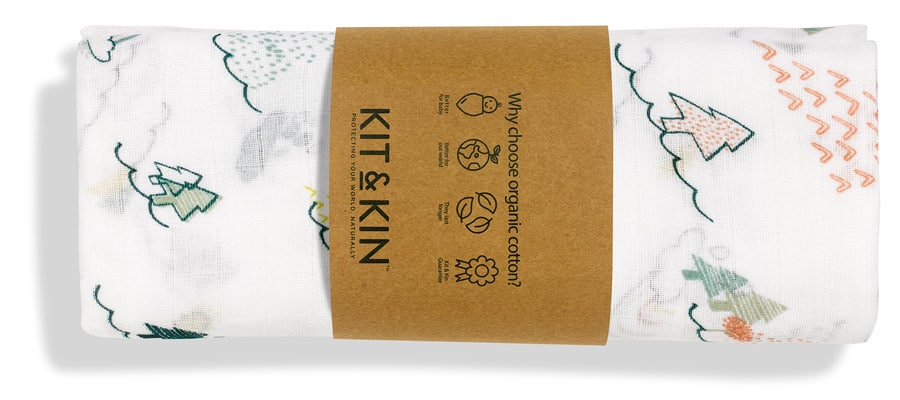 Muslin cloths
Kit & Kin Muslin Bundle features super soft extra-large muslins, crafted from sustainable 100% organic cotton and are an absolute must-have for baby. Amazingly versatile, durable and breathable, the large design is perfect for every type of use and our three gorgeously stylish unisex prints make this bundle the ideal gift.
Price: £59.97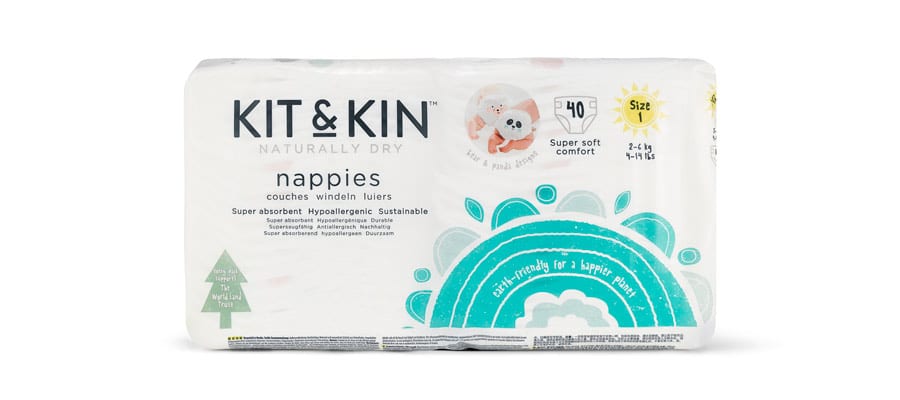 Kit & Kin Echo Nappies
are hypoallergenic nappies with premium performance. Featuring a part natural high-tech absorbent core that uses significantly fewer chemicals than standard nappies, Kit & Kin helps protect your baby's soft delicate skin and safeguard it from sensitive skin problems like eczema and nappy rash. Kit & Kin, the natural choice. They also protect the environment too, using sustainable materials to help end our dependency on non-renewable resources and protect the future resources of your baby's world. Their super absorbent core contains chlorine-free fluff pulp harvested from sustainably managed forests and our front panels, tapes, anti-leak barriers and packaging are all made from an oxo-biodegradable material. The best bit is that for every 10 subscriptions they get they buy an acre of rainforest to ensure they are giving back too!
Price: £8
Buy the Kit & Kin Echo Nappies 
[soliloquy id="33342″]
Baby wipes and baby lotion
Pampers Baby Wipes Tub Fresh Baby, £9.69, are fresh scented wipes that clean gently like a baby washcloth. Thicker than regular wipes, they lift away mess and care for baby's skin. Buy Pampers Baby Wipes Tub.
Johnson's Baby Lotion (500ml), £3.53, is paraben free and clinically proven to be mild when cleansing and moisturising baby's skin. Buy Johnson's Baby Lotion.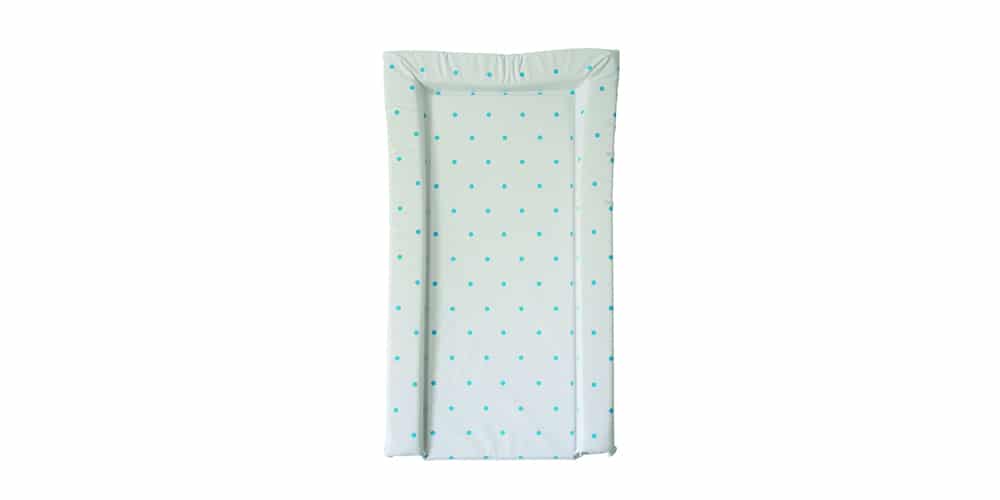 Changing mat
East Coast Nursery Essential Changing Mat is softly padded with foam for optimum comfort. It's also waterproof and can be easily wiped clean with a cloth.
Price: £13.99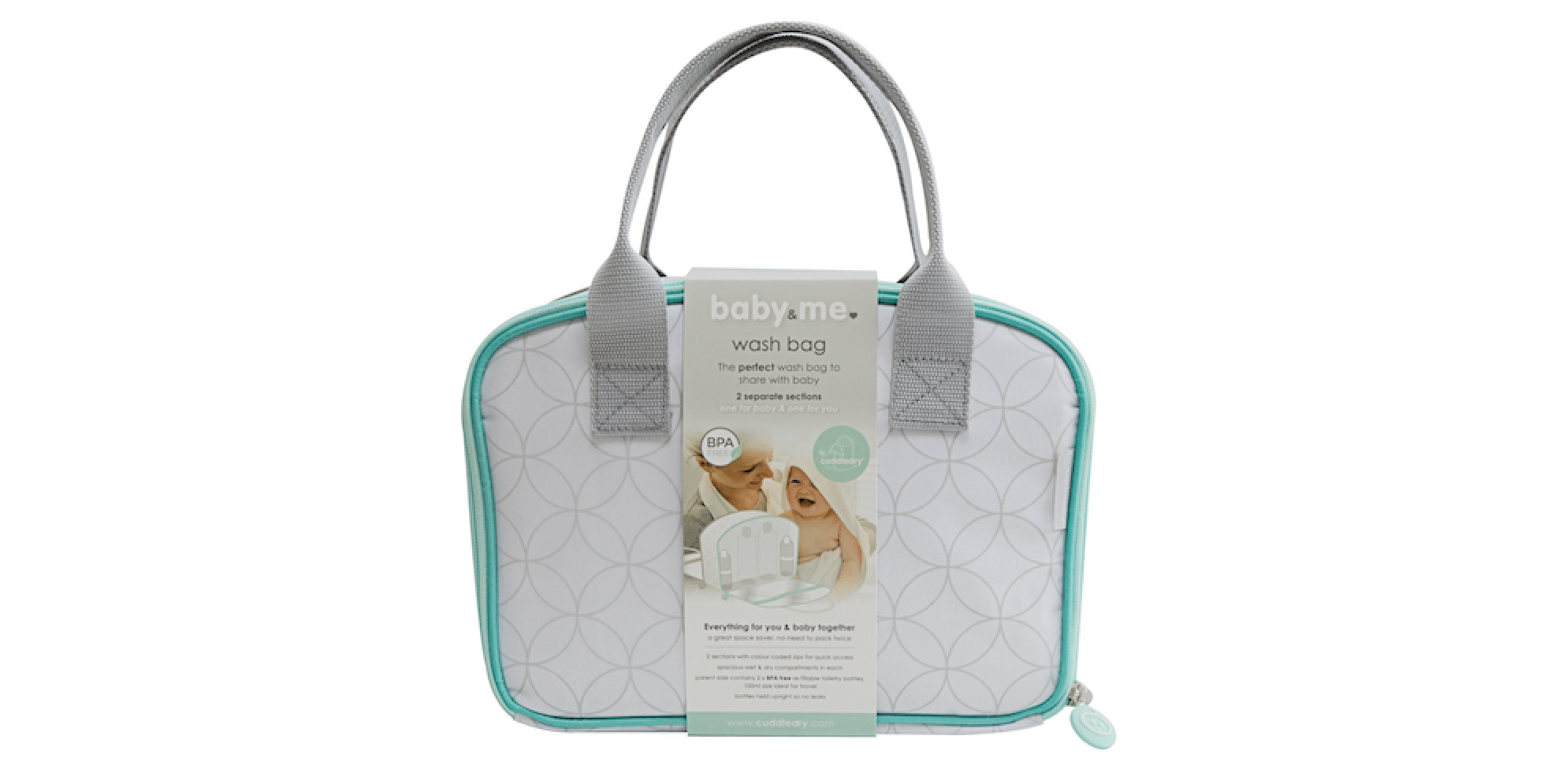 Baby washbag
Cuddledry Baby & Me washbag has been cleverly designed to share with your baby, so no need to pack twice. The spacious bag has two separate wipe clean sections, one for parents and one for baby, clearly colour coded, with plenty of room for all the different toiletries you might need. Each compartment features a wet and dry section, and the parent compartment includes two refillable BPA free 100ml toiletry bottles – perfect for travel.
Price: £24.99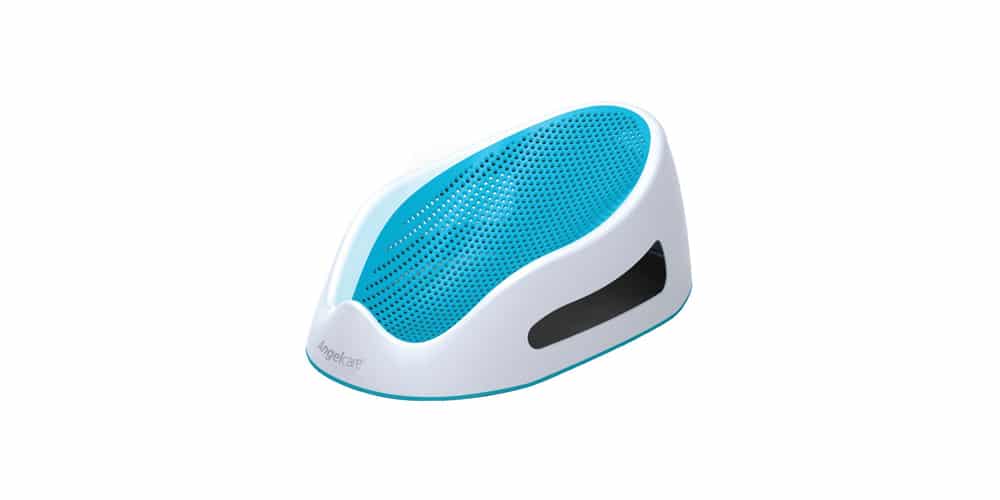 Baby bath
Angelcare Soft Touch Bath Support is an ergonomically designed bath support, offering support, comfort and safety for babies up to six months of age. (Note, never leave a child unattended while bathing). The bath support is strong, but light with an anti-slip base.
Price: £25.00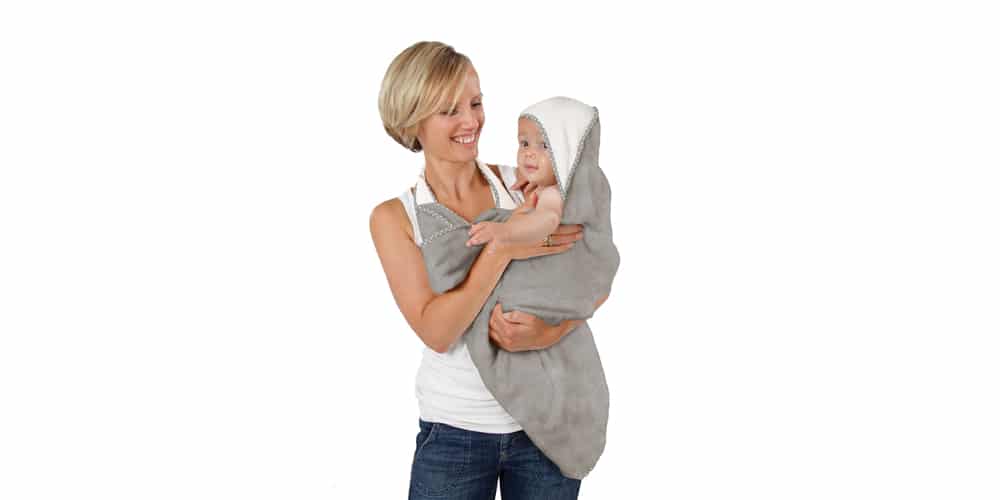 Baby towels
Cuddledry hands-free baby towel helps mums and dads stay stress-free at bath time. The multi-award winning original Cuddledry hands-free towel has been a favourite with parents for nearly ten years, stopping parents getting splashed and leaving them with both hands free to bath, wash and lift baby with no fuss. The towel is made of a soft blend of natural cotton and bamboo. When bath time is over, baby will snuggle on your chest in their fluffy towel cocoon.
Price: £29.99

Bath thermometer
Vital Baby's Nurture Digital Bath and Room Thermometer provides accurate, fast and reliable measurements on an easy-to-read screen. The built-in warning light makes it obvious when the bath temperature is too hot for the baby.
Price: £11.99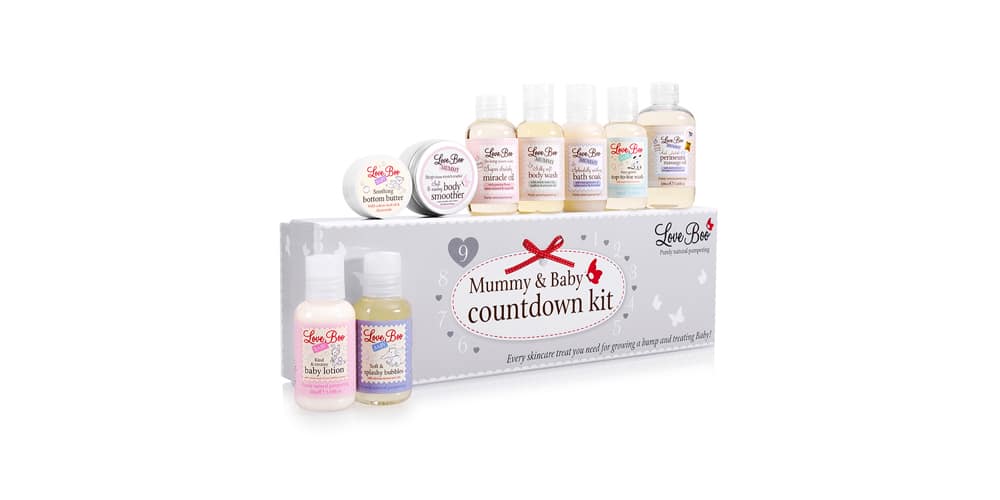 Natural skincare
Love Boo Mummy and Baby Countdown Kit is a gorgeous selection of award-winning natural skincare treats to pamper mum and baby. It's the perfect gift for new mums. For mum, the pampering box contains silky soft body wash, bath soak, 100% natural miracle oil, creamy body soother and all-important perineum oil. For baby, there's an ultra mild top-to-toe wash for delicate skin, creamy baby lotion, soft and splashy bath bubbles and soothing bottom butter. All products are safe to use when pregnant and nursing and all the products for baby are safe to use from birth.
Price: £60
Baby gym
Infantino Grow-with-me Activity Gym and Ball Pit is a colourful baby activity gym with pop-up mesh sides. When your little one is older, it converts into a toddler's ball pit, complete with 40 balls that are stored inside the turtle's head. 
Price: £34.99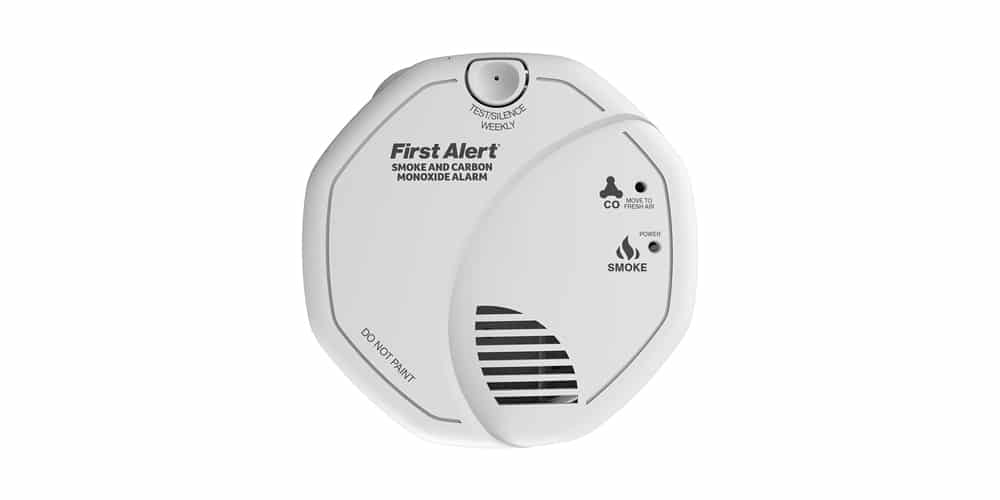 Carbon monoxide detector
First Alert Combination Alarm warns of two deadly threats – smoke and carbon monoxide. It has two different alarms and indicator lights, as well as test button for weekly testing.
Price: £26.00

Changing bag
Kerikit Thor leather changing backpack will keep every chic mother effortlessly organised without sacrificing her style. The backpack has two separate internal compartments and a secret zip pocket for important possessions that sits close to the wearer's body. Inside are four bottle holders and a washable lined food bag, and a washable changing mat.
Price: £275
Wrap style baby sling
Cheeky Rascals Izmi Baby Carrier combines the simplicity and intimacy of a wrap with the ergonomic support and comfort of a structured baby carrier. Multiple carrying positions are available, so parents can find the one that works for them and their baby. The supportive design cleverly keeps the pressure off the wearer's back and distributes weight as baby grows.
Price: £79.99
Ergonomic hooded baby carrier
Infantino Cuddle Up Ergonomic Hoodie Carrier is for when baby weighs 12-40 lbs and provides your little one with a comfortable, ergonomic seat. The detachable canopy hood keeps baby in full sight and happily covered. The carrier has a hoodie-style pocket for parents' hands and can be worn on the front or back. It's also machine washable.
Price: £34.99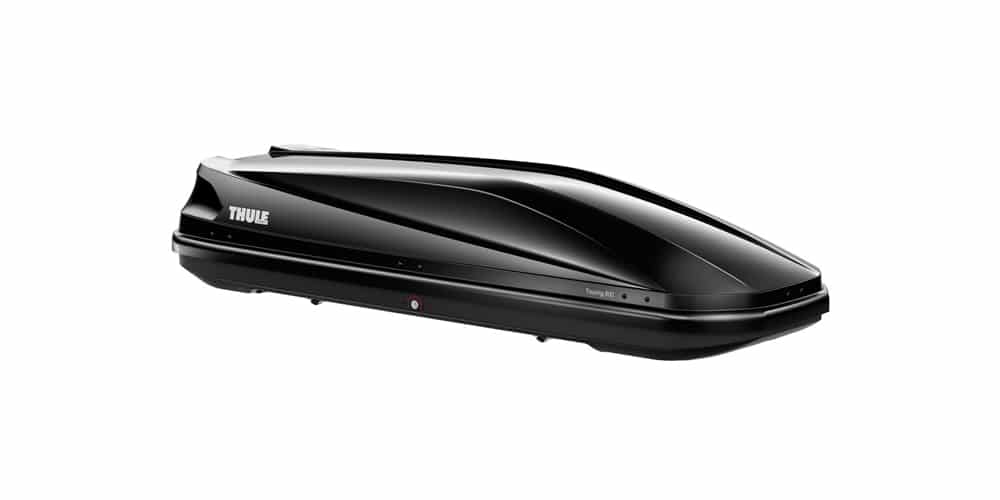 Roof box
The Thule Touring Sport 600 Roof Box is stylish, functional, easy-to-use and safe, making it the ideal storage solution for a growing family on the move. With plenty of space for things like travel cots, fold-up pushchairs and other new baby clobber, the Thule roof box means you won't have to upgrade to a bigger car once the little one arrives. Thule's Rapid System is a smart, universal roof rack foot for cars with pre-installed fixation points, and the Thule Touring Sport fits easily to your roof with the Thule WingBar, a silent and safe load bar.
Thule's CentralLocking system ensures maximum safety and the key can only be removed if all the locking points are securely closed. Plus, with a load capacity of 50kg and a 300 litre volume, this is  a roof box that will grow with your family's changing travel needs. It can even carry up to five pairs of skis, making it the perfect companion for adventurous road trips when baby grows up.
190 x 63 x 39cm
Price: From £299.95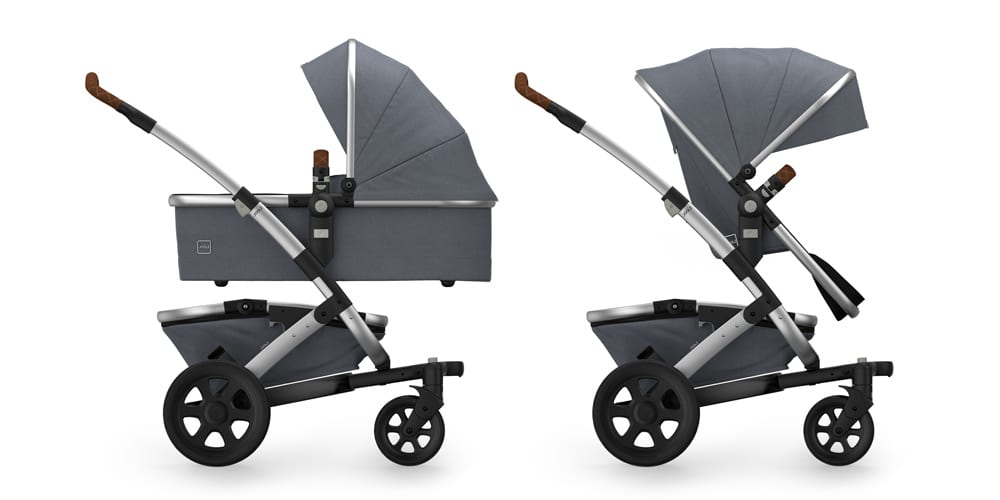 Joolz Geo2 Pushchair
When you're preparing for your new arrival, the pushchair is one of the most important purchases you'll make. Not only is it a significant financial investment, buy you'll want to choose one that perfectly suits your lifestyle and living space. If you're looking for something stylish, compact and extremely manoeuvrable, you can't wrong with with Joolz Geo2.This all-terrain pushchair is designed to work effortlessly on all surfaces and the extra-large basket provides all the storage you'll need. The Joolz Geo2 offers three configurations: mono, duo and twin, as well as handy one-motion folding.
Price: £849
2-in-1 car seat and stroller
Doona Group 0+ Car Seat is the world's first infant car seat with a built-in mobility solution. With the push of a button, this nifty car seat transforms into a stroller in a matter of seconds. Forget having to lug around your car seat and the hassle of struggling to open and close a pushchair – this revolutionary design is changing the way parents get around with their little ones. Suitable from birth up to 13kg.
Price: £299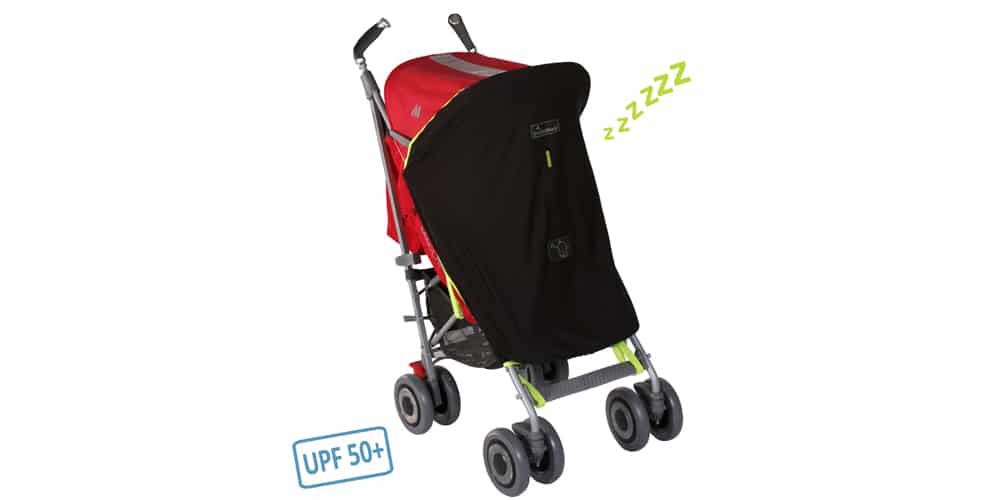 Sunshade
SnoozeShade Original is Britain's best-selling sunshade and baby sleep aid that fits all prams, buggies and pushchairs.
Price: From £19.99