Add a little luxury to baby's ride with Mountain Buggy®
Sponsored
Award winning Mountain Buggy® might be 25 years old this year just don't go looking for any signs of age in the New Zealand brand's designs. They're as fresh, bold and original as ever and no surprise to find a whole new generation of fan-parents are head over heels for the go-anywhere attitude that's been built into every Mountain Buggy® since 1994.
Quick bit of history here, because it's too endearing to ignore: the prototype Mountain Buggy was designed by a doting New Zealand dad who didn't want to deprive himself of the great outdoors or his kids' company. Hard as it is to believe now, the first incarnation was a golf cart and car seat combo. Baby, you have indeed come a long way in 25 years.
And of course you can't reach a Silver Anniversary without celebrating and Mountain Buggy® have gone all out with the launch of The Luxury Collection which brings a new level of aesthetic to the already gorgeous good looks of the brand's best loved three-wheel buggies. The three-wheeler's rugged strength, outdoorsy sensibilities and spirit of adventure are all still intact, only now they come with added lux elements you normally associate only with modular four-wheelers. And if your babies don't deserve that kind of luxury, who does?
---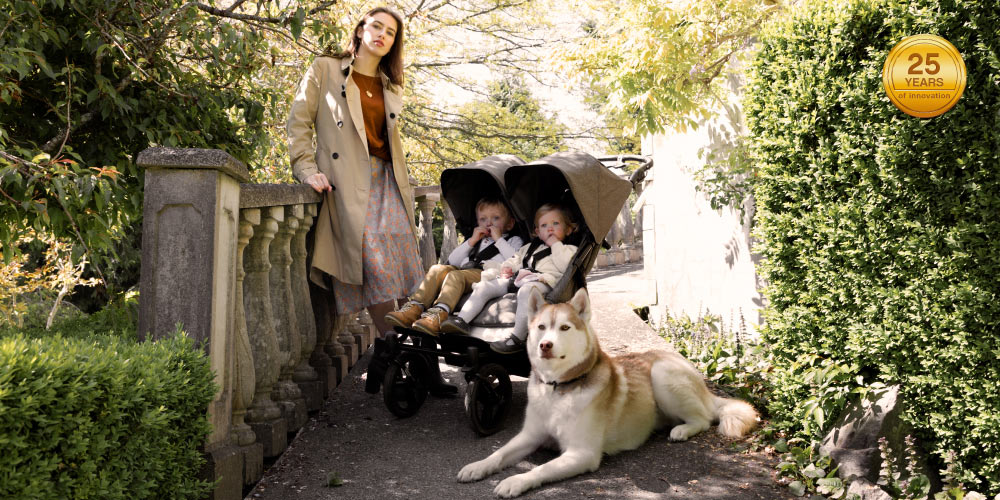 1/6

duet – the ultimate double buggy from The Luxury Collection

No other side-by-side double buggy is as compact, versatile and tough as the all-terrain duet. And now as part of the Mountain Buggy® Luxury Collection it scores exceptionally well in the aesthetic stakes too. Its bespoke tailored herringbone broken twill fabric comes in subtle charcoal tones to co-ordinate with a black, anodised frame and black leather accents.
Available from the Luxury Collection in herringbone broken twill with black leather trim.
Side-by-side double buggy with single buggy footprint – 63cm wide wheelbase.
Four, all-terrain, puncture-proof aeromaxx tyres.
Easy to use hand-operated brake for controlled slowing down.
One-hand fold action, from standing.
Available with matching satchel, changing mat and bag clips.
Total double buggy weight 14.7kg.
Suitable from birth to age four years.
Twin sun hoods with peek-a-boo windows.
Take a closer look at duet from the new Mountain Buggy® Luxury Collection
Celebrate 25 years of design excellence with the innovative new Luxury Collection from Mountain Buggy®. Built with care and precision in New Zealand but now  available to buy in the UK.