Pouting is way up there, quality wise. It's buttery, flaky, juicy and a wonderful carrier of flavours. It's from the same family as cod so makes a great alternative to its overfished cousin. Use it in place of more traditional white fish in any of your favourite recipes. I've done whole fillets here, but you could easily cut them lengthways into chunky pieces for proper fish fingers.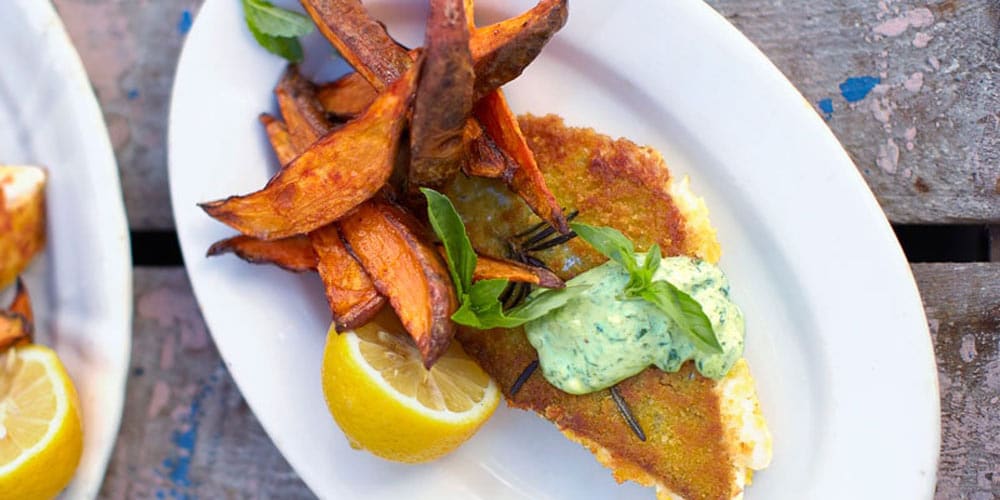 Pouting fish fingers & sweet potato chips | Serves 2
Ingredients:
2 x 130g pouting or whiting fillets, skin on, scaled and pin-boned
2 heaped tbsp plain flour
1 egg, beaten
50g fresh breadcrumbs
1 garlic clove, crushed
A couple of rosemary sprigs
½ a lemon, cut into wedges
Sweet potato chips:
2 medium sweet potatoes, scrubbed and cut lengthways into 8 wedges
½ tsp sweet smoked paprika
Olive oil
Basil mayo:
4 basil sprigs
2 heaped tbsp good-quality mayonnaise
Juice of ½ a lemon
Method:
1 For the sweet potato chips, preheat the oven to 200C/gas 6. Toss the sweet potato wedges in a roasting tray with a pinch of salt and pepper, the paprika and a glug of olive oil. Cook in the oven for 35–40 minutes or until golden and cooked through.
2 Scatter the fillets with flour, making sure they're well coated, then season. Dunk the fillets in egg and transfer to the breadcrumbs and push them down until well coated on all sides.
3 Put a large frying pan on a medium heat. Add a good glug of olive oil along with the garlic and rosemary to flavour the oil. When the garlic sizzles, shake the fillets to get rid of any excess breadcrumbs then add them to the pan, skin-side down. If you're cooking fishfingers, they'll need 5–6 minutes; a whole fillet will take 7–8 minutes. Don't be tempted to touch the fish – use your instincts and let it cook until golden on the underside, then flip it over and reduce the heat while it finishes cooking.
4 Meanwhile, for the mayo, get rid of the tough ends of the basil stalks then pound the rest of it with a pinch of salt using a pestle and mortar until you've got a paste. Add the mayonnaise and lemon juice and muddle it together.
5 Serve the pouting with a portion of sweet potato chips, a good dollop of basil mayo and a wedge of lemon. Delicious with a crisp green salad or hot buttered peas.
Per serving 1,031 cals, 46.7g fat (7.3g saturated), 35.7g protein, 63.6g carbs, 10.4g sugars
Want more Jamie Oliver sustainable fish recipes?
Harissa sardines and couscous salad