Sardines, also known as pilchards, are cheap, really good for you and great at taking on bold flavours like this spicy harissa. There's something really exciting about grilled or barbecued fish. I think sardines sometimes get overlooked because of all their little bones, but when you cook them whole like this, you can strip out the bones in one piece.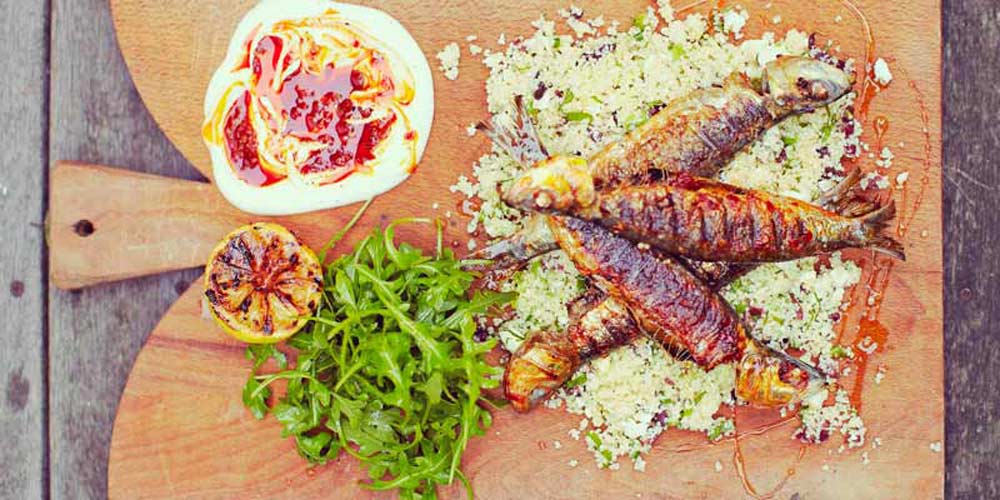 Harissa sardines with couscous salad | Serves 4
Ingredients: 
Olive oil
8 x 60g sardines, gills removed, scaled and gutted
1 heaped tbsp harissa paste
Extra-virgin olive oil
Juice of 2 lemons
Natural yoghurt, to serve
4 handfuls of rocket, washed and spun dry, to serve
Couscous:
200g couscous
2 spring onions, finely sliced
A few black olives, stone in, crushed and finely chopped
A few mint sprigs, leaves picked and finely sliced
100g feta cheese, crumbled
Method: 
1 For the couscous, put it in a bowl and pour over 300ml boiling water. Cover and leave to do its thing.
2 Put a griddle pan on a high heat to get nice and hot. Once it's ready, rub a tiny bit of oil into the sardines and add them to the pan. Sprinkle with a little salt and cook for about 5 minutes.
3 Meanwhile, mix the harissa in a bowl with a glug of extra-virgin olive oil and the juice of 1 lemon. Turn the sardines over in the pan then brush them lightly with harissa sauce. Pop a lemon half, cut-side down, at the edge of the pan.
4 Fluff up your couscous with a fork then add the spring onions, olives, mint and feta. Add a good glug of extra-virgin olive oil and the juice of your remaining lemon half. Gently mix it all together then have a taste to check the balance of flavours.
5 To check your fish is cooked, go to the thickest part of the flesh and it should pinch away easily. You'll also be able to cleanly pull the bone away. Pile the couscous on a board or on your plates and top with the sardines. Dollop a bit of yoghurt on the side, topped with some of that fiery harissa sauce. Pop the rocket on the side, squeeze a little of the caramelised lemon over each portion and tuck in.
Per serving 462 cals, 22.9g fat (8.2g saturated), 30.3g protein, 32.3g carbs, 7.9g sugars
Want more sustainable fish recipes from Jamie Oliver?
Recipe: Pouting fishfingers & sweet potato chips