Fish pie is one of the cornerstones of British cooking. Crispy golden mash topping a creamy sauce and balanced out by smoky fish – happy blooming days. Fish is a moving target, and as delicious and fairly famous as some of my pies have been, this is what puts a smile on my face now. It's quick, and with a mix of lesser-known fish going in, it's the happiest fish pie you'll ever eat. For a bit of fun, ask your fishmonger for a good-looking tail of trout to pop in the top of the pie before cooking.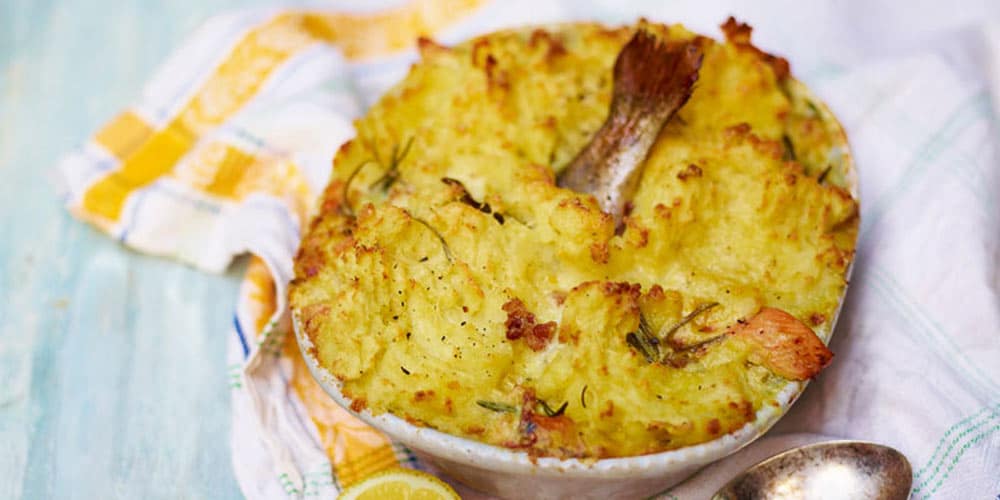 The happiest fish pie | Serves 6
Ingredients: 
Olive oil
2 rashers smoked streaky bacon, sliced 1cm thick
2 large leeks, halved and finely sliced
2 large carrots, roughly chopped
2 sticks celery, roughly chopped
2 knobs of butter
½ rosemary sprig, leaves picked
2 bay leaves
1.5kg maris piper potatoes, roughly chopped
Pinch of grated nutmeg, to taste
200ml single cream
2 tsp English mustard
2 large handfuls grated mild cheddar
Juice and grated zest of 1 lemon
1kg mixed fish fillets (gurnard, coley, pouting and trout would be lovely), scaled, pin-boned, cut into chunks
Method: 
1 Preheat the oven to 200C/gas 6. If you have a pie dish that can go on the hob and in the oven, use that and save on washing up. Otherwise, heat the oil in a large pan over a medium heat and fry the bacon for 1–2 minutes. Add the leeks, carrots, celery and 1 knob of butter. Season and add the rosemary and bay leaves. Cover and cook for 20 minutes, stirring every few minutes.
2 Meanwhile, place the potatoes in a large saucespan, cover with boiling water and cook until just tender. Allow to steam dry, then add a drizzle of olive oil and the remaining knob of butter and mash with a potato masher. Season with salt, white pepper and nutmeg. Don't mash too much or it will be gluey rather than light and crisp.
3 Taste the leek mixture; when it is delicious and sweet, cook for a few more minutes with the lid off to intensify the flavour. Add the cream and mustard, simmer for a few seconds, then turn off the heat and add half the cheese. Season then add the lemon juice and zest and stir.
4 Remove the bay leaves, then pour the leek mixture into an ovenproof dish. Add the chunks of fish and submerge them in the beautiful sauce. Sprinkle over the remaining cheese.
5 Dot the potato over the top then either whip it up with a fork or flatten it out. Sit the dish near the top of the oven and cook for 50 minutes or until golden and crisp on top.
Per serving 604cals, 26.3g fat (11.2g saturated), 43.3g protein, 44.8g carbs, 5.5g sugars
Want more sustainable fish recipes from Jamie Oliver?
Recipe: Pouting fish fingers & sweet potato chips
Recipe: Harissa sardines with couscous salad