1/10

 The Big Easy

King's Road Stalwart The Big Easy is the go-to place for finger-licking meal for all ages. Kids are catered for, there's often live music and plates pilled high with surf and turf. On Thursday, it is offering a traditional Thanksgiving menu featuring all the favourites from hearty butternut squash soup to a scrumptious pit smoked turkey.

Price: £29.50 per person, served family style
2/10  

Cut at 45 Park lane

Normally known for its award-winning steak dishes, bird replaces beef at Thanksgiving time at CUT. Tucked away from traffic in the plush 45 Park Lane Hotel on Hyde Park Corner, CUT delights visitors with a three-course meal of American holiday classics such as roasted baby beets and, of course, turkey. It's well worth it to save room for dessert if you can: the pecan pie and pumpkin ginger cheesecake are showstoppers.

Price: £110 per person

3/10

 Christopher's

Housing all things American under one very swanky room, this Covent Garden restaurant will appeal to grown-ups and children alike. Celeriac chorizo chowder, butternut squash and sage soufflé, Maryland crab cakes, slow-cooked ballotine of turkey, seared wild bass, Rib-eye Steak, and pumpkin pie are among the mouth-watering menu.

Price: £65 per person for three courses
4/10  

Bread Street Kitchen
This year, have a Thanksgiving meal inspired by famous chef Gordan Ramsay. At his award-winning restaurant, this special meal includes kid's favourites such as Mac and cheese bites as well as festive classics like confit turkey legs, corn bread, cranberry sauce, and pumpkin pie for dessert.
Price: £50 per person for a three-course meal. A fine wine pairing is an additional £30.

5/10

 Hard Rock Cafe

It's an oldy but a goody, and you can't go wrong with a trip to Hard Rock Café. Its  three-course menu features classic turkey with all the trimmings and is being served on 22 November, from 11.30am. Distracted guests, less interested in the food, will have plenty to look at with all the musical memorabilia lining the walls.

Price: £29.95 for three courses and a welcome drink
6/10

  Red Rooster, Shoreditch

Go for lunch or dinner to celebrate Thanksgiving with dishes that will have you wanting seconds. Enjoy a three-course meal complete with a Pumpkin spice espresso martini. Some of the menu's highlights include devilled eggs, roasted turkey breast, Bourbon-glazed ham, butternut squash gnocchi, and pecan pie.

Price: £55 per person for three courses and a complementary drink
Book: redroosterldn.com or call +44 (0) 203 146 4545

7/10

 JW Steakhouse

The all-American restaurant in 86 Park Lane, Mayfair, has gained cult status, not only for its prime cuts but for the cheesecake – some say it is the best this side of the pond. Its Thanksgiving menu is served family-style, with sharing portions of roasted potatoes, creamed spinach and red cabbage, to accompany traditional turkey and clam chowder.

Price: £39 per person for lunch and £59 per person for dinner
Book: call 020 7399 8460 or email info@jwsteakhouse.co.uk
8/10

 The Northall

The grand dining room at The Corinthia Hotel is as family-friendly as it is stylish, and its Thanksgiving menu is suitably elaborate. There's soft shell crab with southern spices; free range bronze turkey with sourdough, apple and golden raisin stuffing, roast sweet potato mash with raisins and marshmallow, and lemon meringue pie for dessert.

Price: £65 per person with a glass of champagne
Book: email christmas.london@corinthia.com or call  +44 (0) 20 7321 3072
9/10

 Riding House Cafe

This Soho fan favourite offers all of the usual American fixings from cornbread and sausage stuffing and sprouts with bacon to updated classics such as the pumpkin brûlée pie. The Riding House's multitude of dining room options — giving guests either a private dining experience or a group dining experience in the restaurant's main hall.

Price: £40 per person.
Book: email events@ridinghousecafe.co.uk for availability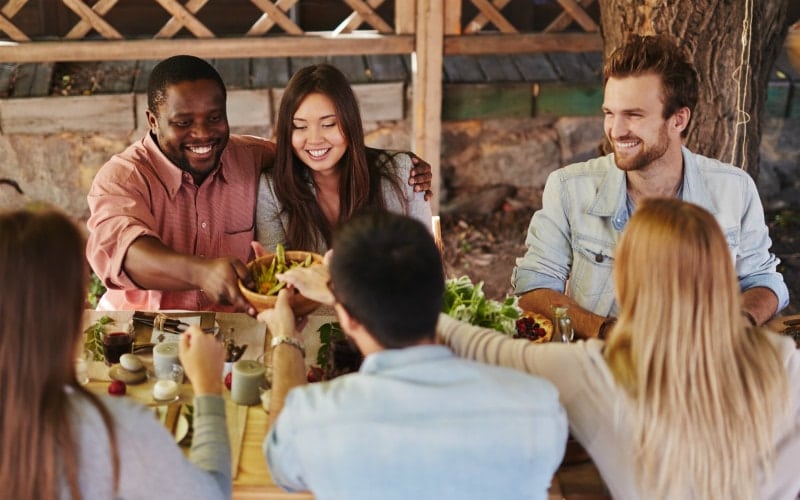 10/10

 Balthazar

Russell Streets most popular restaurant, Balthazar has pulled off al the stops for their Thanksgiving menu offering; kale salad, traditional turkey will all the trimmings, and a delicious helping of pumpkin cheesecake for desert – you'll definitely want to savour every bite. A new and exciting addition included in the set menu is a Gingerbread Fizz cocktail.

Price: £55 per person