Chloe Daykin, author of Fire Girl, Forest Boy, winner of the Gandys Children's Travel Book of the Year at the Edward Stanford Travel Writing Awards 2020 talks to Family Traveller editor, Jane Anderson, about her travel-inspired kids' books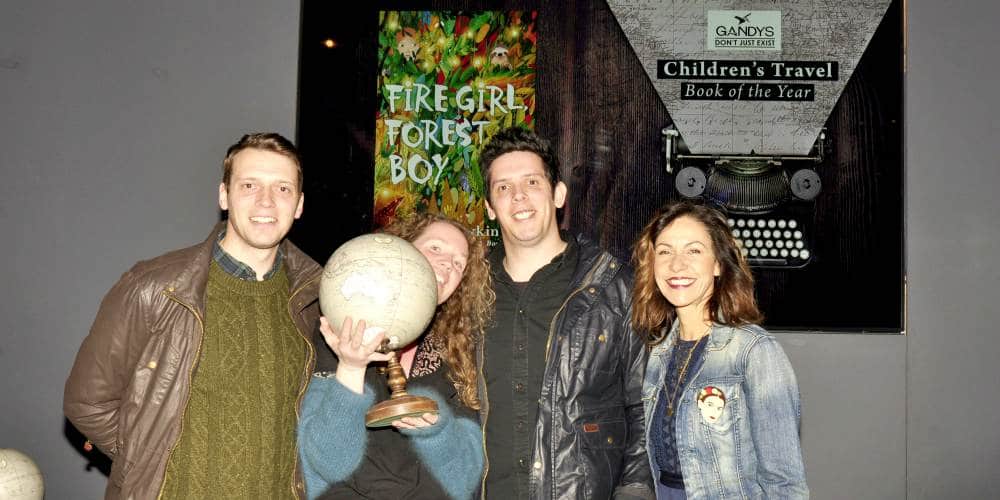 I spent my childhood running wild in the countryside of County Durham. It was a very special time with a lot of freedom. And my parents are very passionate travellers who passed that love of exploration and many travelling experiences on to me. 
I moved to Sheffield when I was a teenager and came back to the northeast to do my degree at Newcastle University and now, I live in nearby Hexham with my two boys aged 13 and 15. 

I loved writing as a kid and always wanted to be an author, but didn't come back to the idea till later. After having my two boys I had a revelatory armchair moment of looking out the window and thinking what did I want to do with my life? Ah yes, I wanted to write! And so began this journey.

I won an AHRC studentship to do my Creative Writing MA at Newcastle University and whilst on the course, I tried writing the beginning of a children's book, a teenagers book and an adult book and then I picked the one I wanted to finish. The children's one was the one I felt really excited about. I feel I'm quite childlike, I love playing games and am passionate about children's fiction. I won a Northern Writers Award to write it, then met my agent in London at a Northern Talent party organised by New Writing North in the summer and then the book went on to auction amongst publishers in the spring where I chose Faber! They sent me the most wonderful heartfelt proposal and a special pair of fish shoes! And gave me the chance to be a full-time author. The book became Fish Boy and was wonderfully critically acclaimed and supported by the amazing author David Almond, which was fantastic! And also shortlisted for the Branford Boase Children's debut of the year.
For my second novel The Boy Who Hit Play, I won the Julia Darling Travel Award which enabled me to travel around Norway researching and finding inspiration. That's when I realized that writing about travel allows children to travel to places they might not be able to get to. My books are all set in different countries and I work with a lot of kids whose families don't have a lot of money and will probably never travel abroad. I feel that children's literature is a brilliant way of transporting young people to places they don't have the power or capacity to get to and it's a passion of mine now to get them there through literature.

The power of literature to enable children to travel in their minds is so freeing and empowering. They can think, ok I might never be able to go on holiday, but I can pick up that book and go. And I can go as many times as I like if I want to pick up that book and read it again. It's very liberating. 
I received an Arts Council award to go travelling to Peru. When I was little I thought the jungle was really exciting so I thought it would be a great setting for a book. Before setting off, I worked with two schools in Cramlington here in the North East where the kids set me quests to do things when I was travelling which led to discoveries. And when I came back we made pop up 'museum of discovery' books filled with invented magical objects and wrote exciting stories of what happened when the magic was released.

"Children's literature is a brilliant way of transporting young people to places they don't have the power or capacity to get to."
From the travelling and working with them and finding out what they were excited about, I came up with the idea for Fire Girl, Forest Boy which is aimed at kids aged 8-12 years.
I travelled around Peru for three weeks. For me, the most important part was meeting people because that's what gives you a genuine feel for the place. You can interpret the landscape that is lovely to see, but meeting the people and eating the food are the most important.
The environmental aspect of the destination was also key. I knew the book had to be about trees. The deforestation of Peru is a really big deal but it's quite under-represented so it felt very important to raise awareness.
Maya and Raul, my two main characters in Fire Girl, Forest Boy, have little bits of people I met on the trip in them. Gaspar, our trip leader, had quite a few attributes that went into Raul. He talked a lot about when he was a kid in Peru. 
With the amount climate awareness has now grown and the wonderful impact Greta Thunberg has made, the book does feel quite timely. I think it's important for kids to see the impact of deforestation in real-life actions and the impact that has on people's lives. That's easier to do sometimes through stories as you feel quite attached to the characters. You learn the facts as well but you're on a journey with the characters and you get to see the impact. 
The supernatural elements of the book came from a few different places. I'm a big fan of Studio Ghibli, the Japanese anime films and so the magical elements in them influenced me. My character Maya is able to conjure fireballs. I think its empowering, especially for girls, to learn how to harness your powers and say, 'Yes, I am a powerful being! I also love the magic realism of David Almond's novels, especially Skellig. And Keeper by Mal Peet, which is also set in the South American jungle was another big influence on me.
I've taken this book around schools.  When I talk about the logging and the environment, kids are always really interested in that and they are always quite shocked about how much money that industry makes. We also talk about cute animals and more freaky ones like howler monkeys and tarantulas, and we play a fireball conga game with balloons and generally have fun.
I'm currently writing my next book which is set in Venice. Again it's about two kids, Flora a kitchen hand and Nico, a firebox boy on the Orient Express, whose lives are thrown together when they discover a body in an iceberg sailing down the Grand Canal. It's a book about death and secrets and running across the most magical city on earth. So I'm still following my passion of taking children to interesting places. 
When I travel with my boys, I've tried to show them different parts of the world and I love looking for wild spots. I'm also a real nature lover. Wild swimming and the sea are my passions. When I won the Julia Darling Travel Fellowship Award, we travelled all over Norway and up to the Lofoten Islands on the sleeper train. I also love the Scottish Highlands and its islands too. 
You find wildness wherever you can. It could just be camping by the seaside or taking a fun little trip to different places.  Wherever you go, you discover something new wherever you are. 
Justifying flying and its impact on the environment is on my mind and it's so hard because, on the one hand, you want to give children the opportunity to see the world, on the other hand, you want to protect the planet. I love trains and ferry holidays. We've done many camping holidays around Europe and had a great time. Trains and ferries are exciting and sleeper trains are so great! 
Whatever happens in the future and however we travel, I hope children keep being transported through literature and finding the magic around them whenever and where ever they can.
Fire Girl, Forest Boy
Chloe Daykin
Discover the other finalists in the Gandys Children's Travel Book of the Year at the Edward Stanford Travel Writing Awards 2020