Easter is the perfect time to forget those well-intended new year's resolutions and indulge in tasty treats. Join us we tuck into the best Easter eggs of 2018, for little ones and sweet-toothed adults.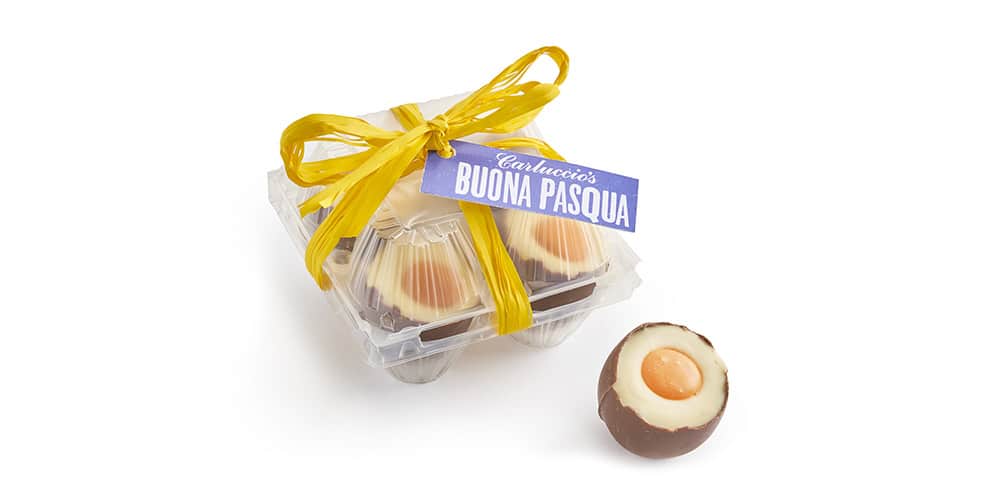 1/15

 Carluccio's gianduja eggs, £10.95

Hand-crafted to look like the real thing, these pretty eggs are absolutely delectable and sure to satisfy the sweetest of sweet tooths. Made with the finest smooth milk chocolate with a 'runny yolk' top made from white chocolate, you're already onto a winner. Take a bite, however, and you'll reach a rich and creamy hazelnut gianduja which it out of this world.

Carluccio's also has quaint (and delicious) hens in dark, milk, and white chocolate varieties as well as traditional Italian Easter cakes. Whatever tickles your fancy, from colourful petit eggs to their grand Piemotese egg-stra special egg, you'll know you're always getting the best quality.

2/15

 Cadbury Creme 'Scotch Eggs', £10.95

The ultimate treat for Creme Egg lovers: delicious whole Creme Eggs wrapped in Toffee Crisp chocolate and rolled in cookie crumbs.
 
3/15

'Eggscellent' Children's Personalised Easter Egg, £25

This luxury ceramic egg (filled with 20 golden chocolate balls) is painted in pastel blue or pink and decorated with the recipient's name in gold paint.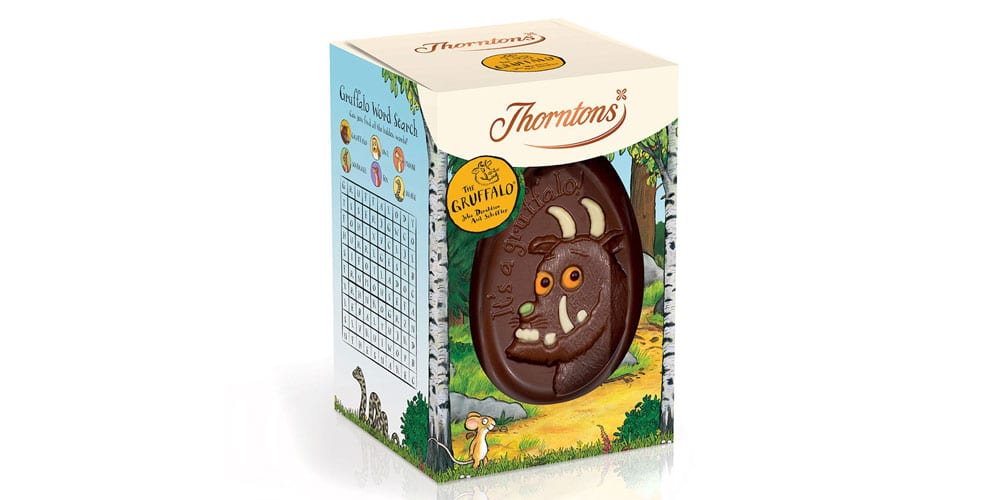 4/15

'Gruffalo' Easter Egg, £4 (2 for £5)

Everyone's favourite monster from the Julia Donaldson storybook has come to life in a delicious way – the Gruffalo's face peeps out from the box of this milk chocolate egg.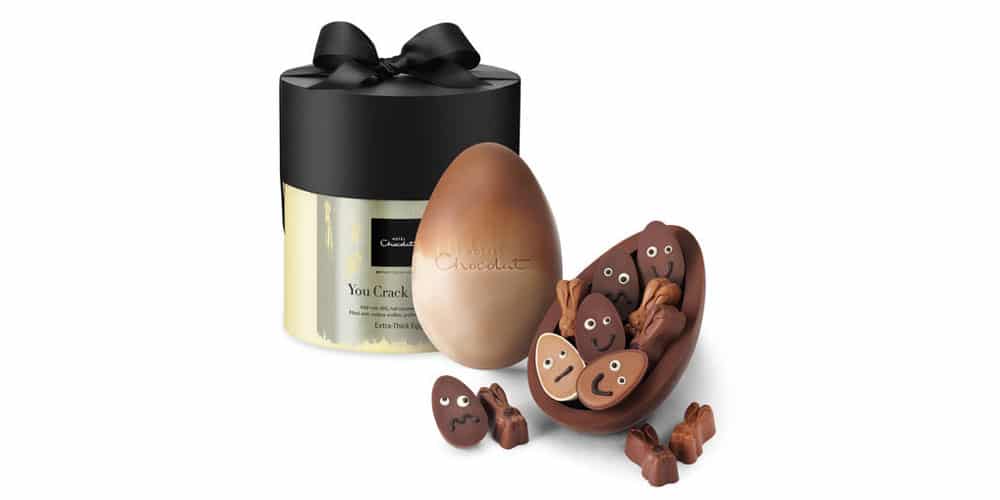 5/15

 You Crack Me Up! Extra-Thick Egg, £27

Mellow milk chocolate blends with creamy white to make this super chunky egg that is perfect for kids both big and little! Inside is hidden a selection of funny-face chocolates as well as caramel and praline bunnies.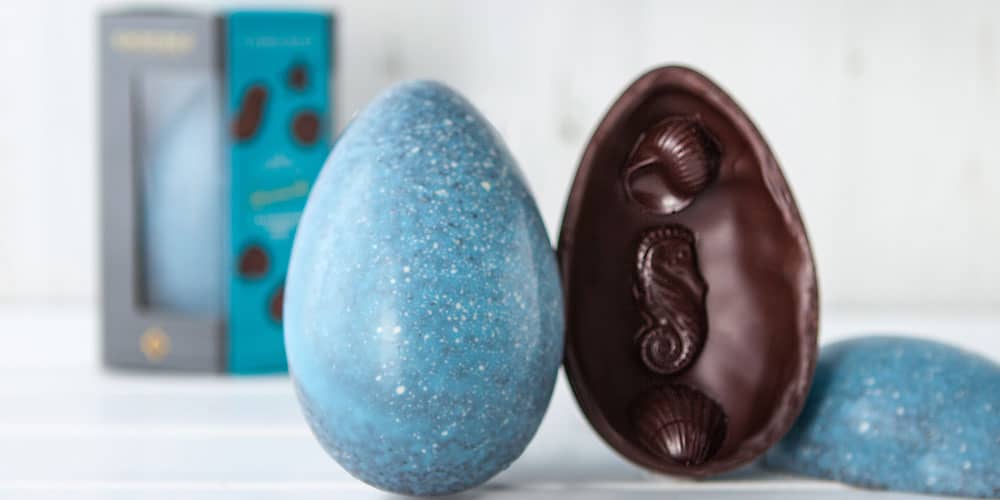 6/15 

Chococo's dark chocolate 'Seaside Studded' Easter Egg, £10.95

This delectable-looking egg is handmade at the artisan chocolatier in the heart of the Dorset countryside. Dark chocolate egg shells are formed and shell-shaped treats are popped inside, before the halves are stuck together to make this dairy-free treat.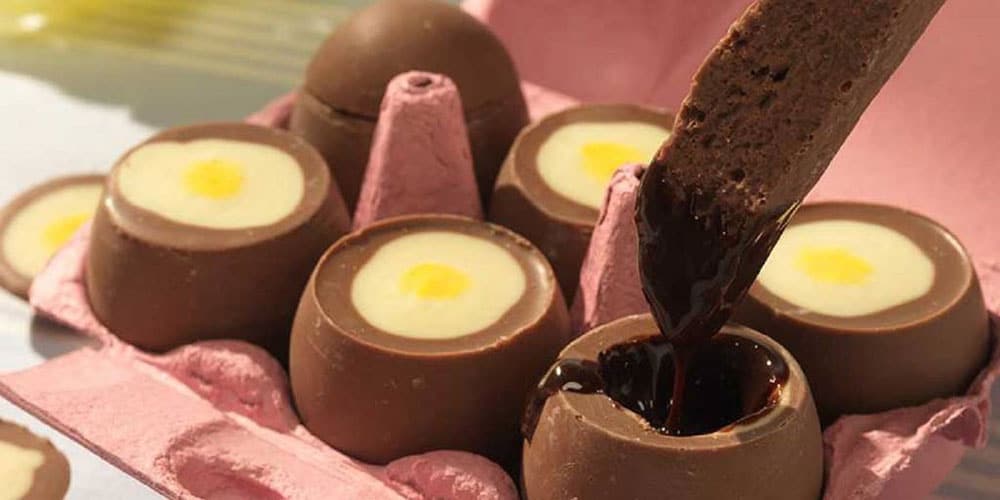 7/15

Half a dozen chocolate-filled eggs with chocolate toast, £20

These delectable treats from Choc On Choc contain a thick chocolate sauce that can be dipped into with the thick slices of solid chocolate toast. Perfection!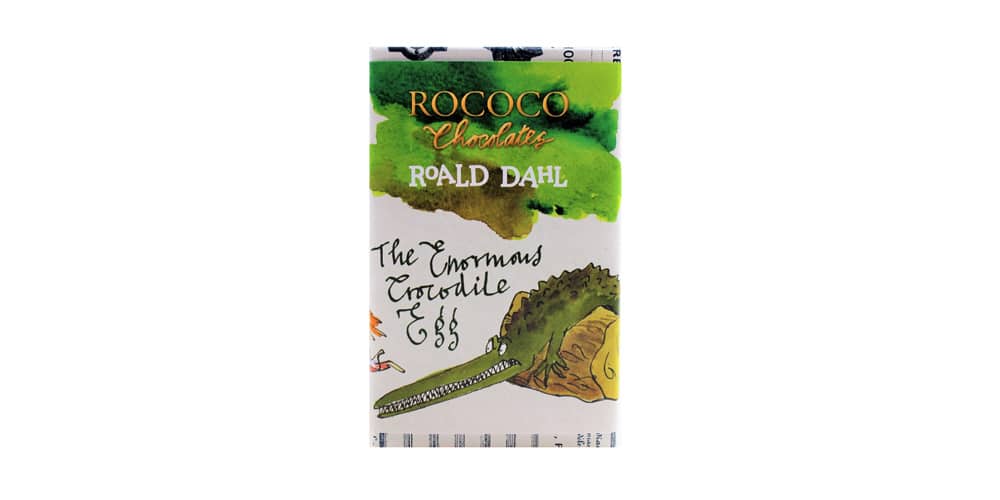 8/15

Roald Dahl's 'The Enormous Crocodile' Easter Egg, £10

A creamy milk chocolate shell is filled with saltwater-crocodile inspired baby chocolate crocs, flavoured with sea salt.
 
9/15

Chunky Easter Egg with edible comic book graphics, £15

Superhero and comic book fans will love this extra chunky Cocoapod milk chocolate slab, covered with brightly-coloured edible comic book graphics.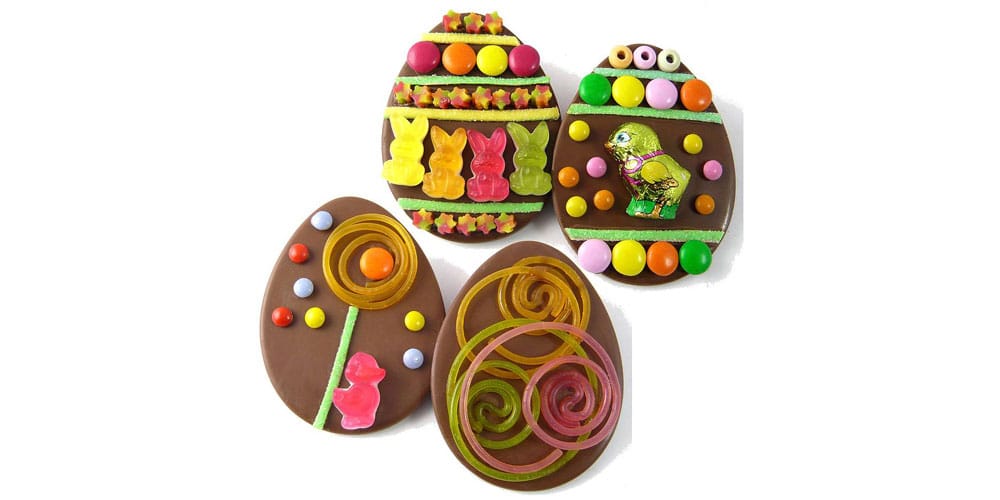 10/15

Easter Eggs decoration kit, £19.90

Get the kids an interactive Easter treat this year with this decorate-your-own-egg kit. Each kit contains four flat chocolate eggs, melting chocolate ('glue') and far too many sweets!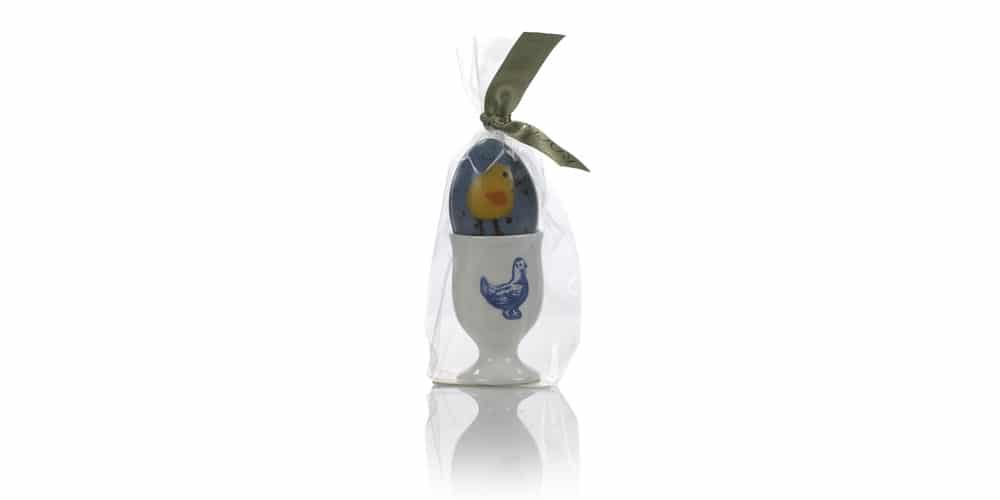 11/15

Hand-painted milk chocolate chick in an egg cup, £10

Grenada cocoa beans make this small Rococo chocolate treat, ideal for toddlers, complete with a hand-painted yellow chocolate chick and popped in a china egg cup.
 
12/15

Cadbury Celebration Easter Basket, £50

Can't decide which egg to get? Buy this epic chocolate basket full of seasonal goodies and make everyone happy! Contains chocolate eggs, filled truffle eggs, chocolate chicks and more Cadbury favourites.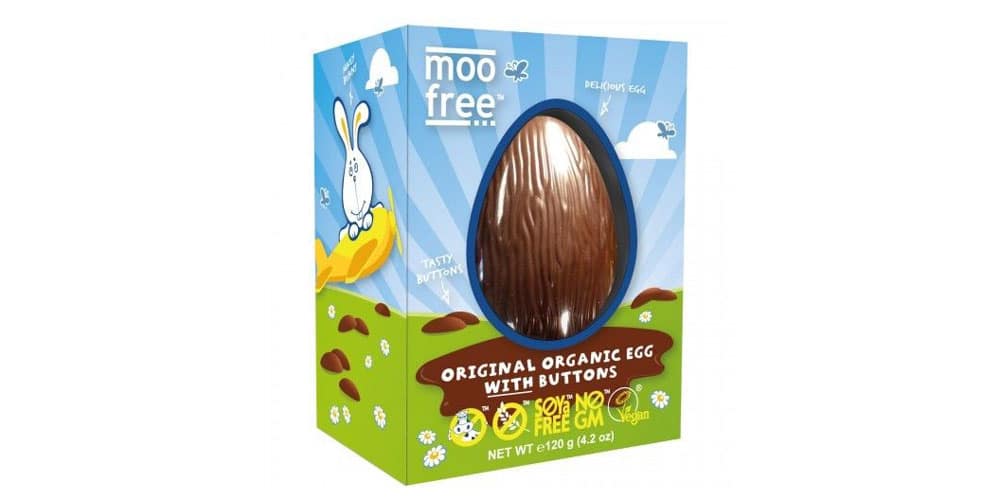 13/15

'Moo Dairy' Dairy free chocolate egg with buttons, £7.95

This organic chocolate egg, suitable for vegans and lactose-intolerant chocolate lovers, comes with chocolate buttons and brightly-coloured packaging.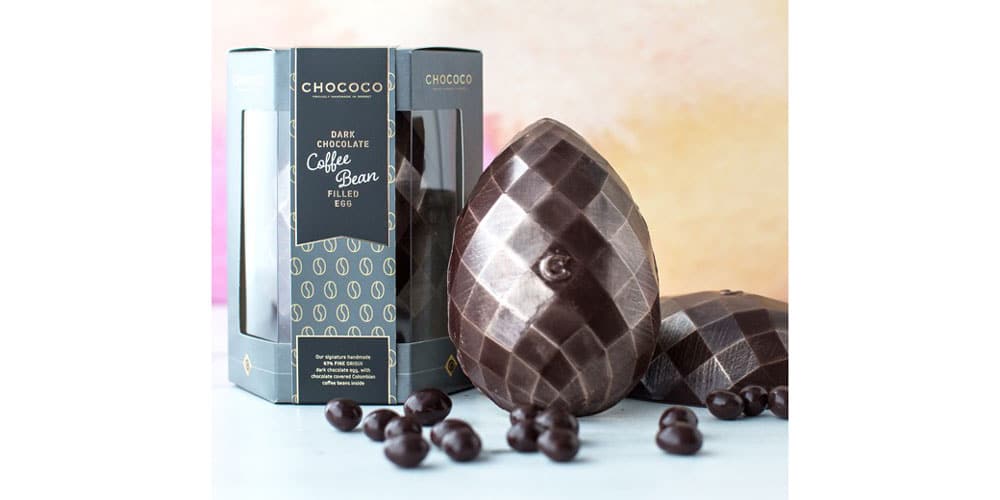 14/15

Dark Chocolate Easter Egg with coffee beans, £16.95

This pearlised dark chocolate egg comes moulded in a unique geometric shape and contains yummy chocolate-coated coffee beans.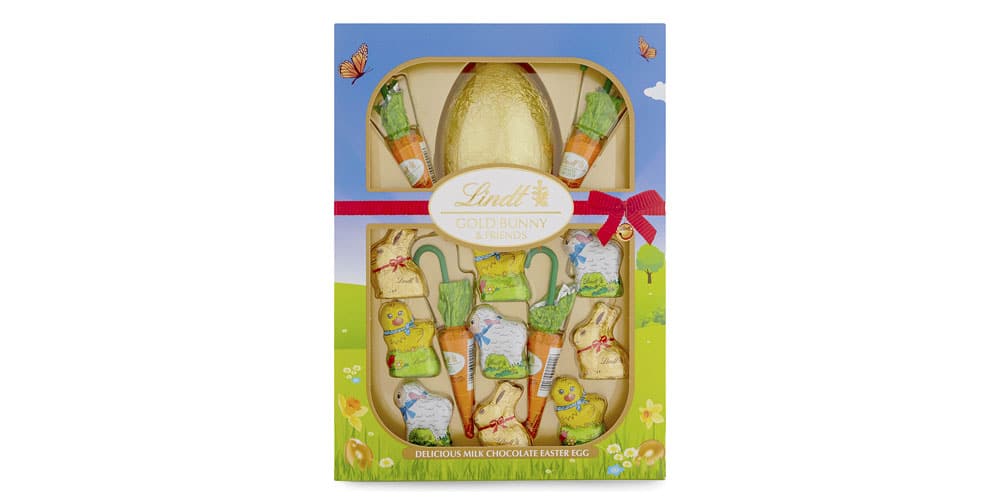 15/15

Lindt Gold milk chocolate 'Bunny and friends' egg, £10

An Easter gift and egg hunt in one, this creamy milk chocolate egg comes with cute chocolate lambs, chicks, bunnies and carrots for the ultimate game of hide and seek!