Sponsored Content
VisitEngland Family Friendly Awards – see the full shortlist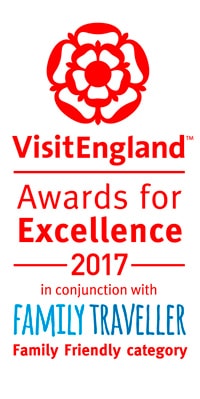 VisitEngland is the country's tourist board. It's their job to seek out the best that England has to offer and let the world know about it!
Just like Family Traveller, VisitEngland is dedicated to helping families enjoy exceptional holidays and make memories they will treasure forever. Family Traveller is delighted to be sponsoring the VisitEngland Family Friendly Awards 2017 and what's more, we're giving a few lucky families the chance to help VisitEngland pick their winners.
VisitEngland need your help choosing winners in the following categories:
– Family Friendly Accommodation of the Year
– Family Friendly Attraction of the Year
– Family Friendly Food & Drink Business of the Year
They have drawn up a shortlist of businesses in each category, which the winners of this competition will mystery shop with the VisitEngland judge. This means that you and your family will stay in a self-catering cottage, visit an attraction or eat at a restaurant near you, and then give your feedback to VisitEngland. Find out more about what being a VisitEngland mystery shopper involves.
ENTER NOW to become a mystery shopper!
And read on to see the shortlist >>>