A CUT above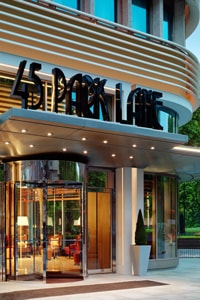 CUT at 45 Park Lane is a fancy steakhouse at five-star hotel 45 Park Lane, a seven-minute walk from Hyde Park Corner underground station. It opened to much fanfare in 2011 under the leadership of American chef, Wolfgang Puck. The talented chef made his name with his Beverly Hills restaurant, Spago (a favourite among A-listers) and then found further fame through US TV appearances.
The decor in CUT at 45 Park Lane oozes American glamour. The dining room features plenty of gold, swathes of pale marble and glass, as well as a dozen Damien Hirst pieces (sorry kids, no bisected animals). Miraculously, once inside, the busy Park Lane traffic cannot be heard.
American feast
CUT at 45 Park Lane's usual food is an array of steakhouse classics, but for the Thanksgiving season, beef is making way for bird. The Thanksgiving menu has been designed by executive chef and Californian David McIntyre, and those with American roots will taste the nostalgia in his menu.
Hungry families can look forward to a three-course meal laden with Amercian favourites, all served with special twists.
To start, delicious butternut squash soup is poured, at the table, over chanterelle mushrooms, pine nuts and goat's cheese (drool), which wait at the bottom of your bowl. Then there's turkey (of course) with some pretty impressive side dishes, including mushroom stuffing and sweet potato gratin with toasted pecans.
It's a tall order, but if you can be disciplined enough to leave room for dessert, you won't regret it. How does pumpkin and ginger cheesecake sound? Or, pecan pie? Naturally, both are served with irresistible maple ice cream.
A family meal at CUT at 45 Park Lane always guarantees delicious food in an elegant environment and the Thanksgiving menu is no exception. Book now – and worry about the diet in January.
The lowdown: Thanksgiving at CUT at 45 Park Lane
When: Thanksgiving at CUT at 45 Park Lane is served on Thursday 24 November 2016 only
Price: £95 per person
Book: Email restaurants.45L@dorchestercollection.com or call 020 7493 4545