'It's definitely that way,' said Jake, my four-year-old son, looking up confidently from his compass and pointing at a thicket of bushes so dense that they appeared to block light from penetrating the wood beyond. 'Come on, Dad!' Jake raced over to the bushes, got down on his knees, grinned back at me and began crawling. I took a deep breath, realised this was all my fault, and followed him through.
It had been my suggestion that we add a new variation to our game of geocaching, a 21st-century treasure hunt which is played via a simple app that's free to download. There are now almost three million caches, or containers, hidden across dozens of countries around the world. Some are the size of an ice-cream tub; others are tiny tubes smaller than an old film canister. They're usually waterproof and contain at least a logbook, showing who has found them. Large caches often have knickknacks (the treasure) that your children can take, as long as they leave behind something of equal or greater value.
The key to the enormous success of geocaching, and the appeal that gets a four-year-old crawling through bushes on a wet afternoon, is that they're hidden – perhaps inside a hole in a tree, or behind a loose brick in a wall. Looking for them involves entering a secret world of adventure, persistence, and reward.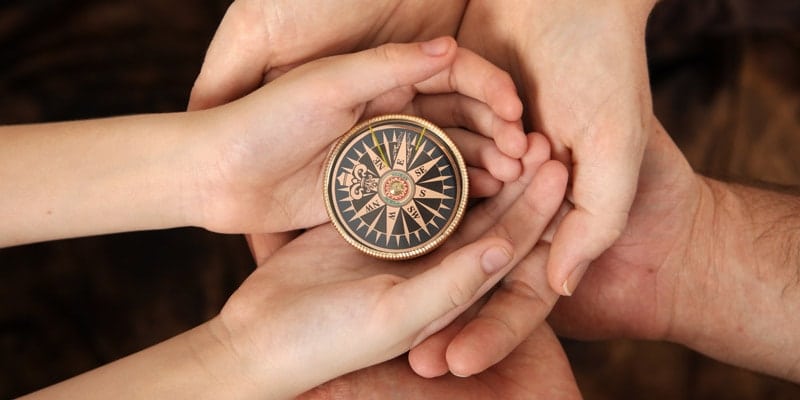 Joining the game is free. You just open the app, tap on the screen to 'find my nearest Geocache', and discover – more likely than not – that there are scores of caches all around you. I was astonished by the number near our home in remote Devon. There are huge numbers in parks and streets in cities and towns, so everyone should be capable of entering the game. Jake and I last played it on Hampstead Heath on a visit to London, and I foolishly suggested we take the most direct route towards a cache – through whatever we encountered – rather than the most sensible.
Crawling through thick bushes was the inevitable consequence, but it did at least get a laugh out of my lad as I struggled to keep up. We reached the area hiding our fourth cache of the day and began hunting around. The app and a proper compass, or the one on your smartphone, will get you close to the target. Then you need to follow a clue or two and start looking. We checked around trees and pushed back dead leaves searching for the cache before finding it in a tiny hollow at the base of a tree. Both of us felt elated. Treasure!
We glanced around quickly to check that no 'muggles' (folk who aren't cachers) were watching, then dived into an impressive box of treats, loaded with tiny toys, a poem and plasticky earrings. Most of the stuff was just about worthy of a charity shop bargain bin, but finding it in the woods under a tree turned it into gold doubloons, and the geocaching into an epic quest. Hunting for caches in a forest turns a child into an adventurer and feeds their imagination.
The next step is for Jake and me to place our own secret stashes and upload their location for others to find and tag. You can geocache on holiday or on a damp weekend in Blighty in the spring. It's a brilliant way of getting your children walking, hunting, scrambling, and poking around in the great outdoors without complaint or even a minor whine.
Simon has travelled extensively in more than 120 countries and presented multiple award-winning BBC TV series, including Australia, Sacred Rivers, Tropic of Cancer, Indian Ocean and Caribbean. His latest series is Greece.