The Duke of Sussex, Prince Harry, today announced the launch of Travalyst, a new project aimed at encouraging eco-friendly tourism and protecting local communities 
The Duke of Sussex, Prince Harry, has made it his mission to transform the travel industry. At a symposium in Amsterdam today, he announced the launch of a new scheme, Travalyst, which sets out to better protect tourist destinations and local communities for generations to come. 
Prince Harry revealed that he's been working on the scheme for two years in partnership with leading travel brands. According to his statement, their collective aim is to create an organisation "aimed at improving conservation, environmental protection and expanding local community economic development by encouraging sustainable tourism practices across the travel industry".
During his speech, Prince Harry discussed the power of travel to open people's minds to different cultures and experiences, and to foster a profound appreciation of the world. He reported that since the year 2000, the number of trips taken by people around the world has more than doubled and predicted that there will be 1.8 billion international trips made in 2030. 
As tourism grows, he warned, it's important that we all adopt sustainable practices and protect the needs of the environment and local populations. He said, "bringing companies, consumers and communities together is our best chance to protect destinations and ecosystems for future generations". 
Travalyst isn't about encouraging people to travel less, but rather sets out to help people make environmentally friendly decisions, such as offsetting carbon and supporting local communities, and give travellers more eco-conscious options.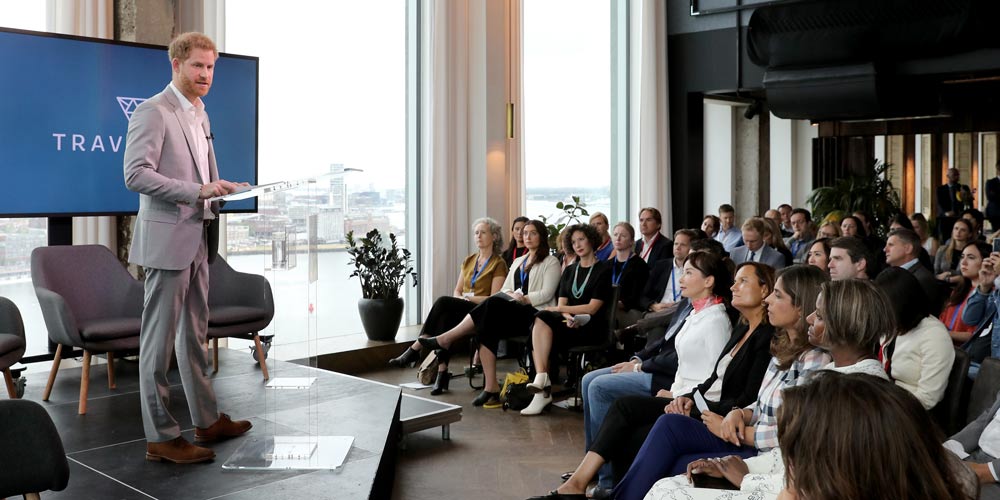 At the event, Prince Harry acknowledged recent controversies around his personal travel choices. Prince Harry and his wife, the Duchess of Sussex, Meghan, have faced criticism for taking four private jet flights in the past month, after speaking publicly about fighting climate change. 
Addressing the issue during a Q&A, Harry revealed that he travelled to Amsterdam on a commercial flight, adding: "I spend 99 per cent of my life travelling the world by commercial. Occasionally there needs to be an opportunity based on a unique circumstance to ensure that my family are safe. It's genuinely as simple as that."
The Duke also revealed that he always offsets the Carbon produced by his travels. "We can all do better, and while no one is perfect, we are all responsible for our individual impact," he said. 
As yet, details are slim in terms of Travalyst's specific course of action, but more details are expected soon and updates can be found on Travalyst.org