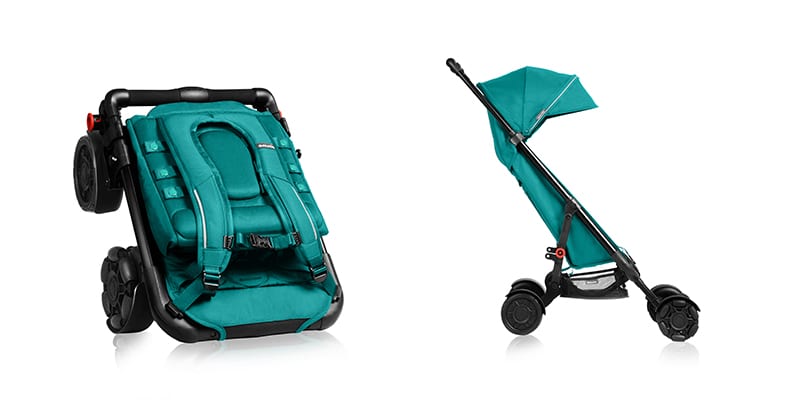 The Omnio Stroller is an innovative, new pushchair that folds to a compact size so parents can carry it on their backs, leaving both hands free for parenting. Mum Sarah Adams and her eight-month-old son Jacob put the Omnio Stroller through its paces.
What is the Omnio Stoller?
This agile, compact and wearable stroller is the brainchild of husband and wife Markus and Samantha Warwick. It's great for families with toddlers who can walk but also get tired, offering an easy solution to the dilemma of whether or not to take the pushchair out!
Key features
– Folds into backpack or storage at 53x41x28cm (smaller with wheels removed)
– Smooth and agile steering due to omni-wheels
– Lightweight stroller at 7.5k
– Suitable for children from 6 months to 22kg (approx. 5 years)
– Waterproof and UV protection (UPF 50+) hood with viewing window
– Adjustable and secure seat with 6-point safety harness
– Extendable handle
Price:  £389.00
How is it different?
What's it like to use?
I have to confess that I was initially sceptical of the Omnio. It's quite a bit pricier than a "typical" stroller so how much better could it really be?! The answer is, a lot! The stroller looks and feels like a really quality product, it reminds me a bit of a dyson compared to other hoovers [Note – not sure if this reference to dyson is allowed!] because of its slick design.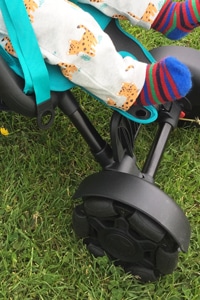 The backpack itself is very pleasant to wear. At 7.5kg it's not an unnoticeable weight but it is still very comfortable e.g. for a long walk or a trip into town. It's significantly lighter than your average toddler! And as any parent will know, there is definitely a lot to be said for having both hands free. Carrying the stroller as a backpack could be very handy for negotiating stairs, escalators or maybe even the tube. It does stick out a bit so you would just need to be careful of any passers-by when making sudden movements!
The backpack unfolds easily into the stroller, and Omnio provide clear instructions to help you get the hang of it. It does require two hands, but is quick to put up and down. The handle extends to ensure that the Omnio is at a comfortable height for you.
As well as the amazing wheels, which genuinely make for a really smooth and enjoyable steering experience – who'd have thought wheels could make such a difference to a stroller! – the Omnio has a couple of other really nice features making it very pleasant to use.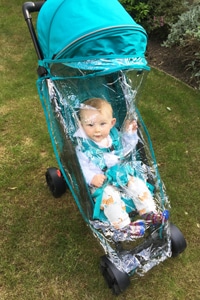 There's a clever footrest that offers good support as well as making it easy for toddlers to climb into the stroller themselves.
The seat straps are padded, making for a very comfortable fit for your child when seated (as well as being easy on your shoulders when wearing the Omnio as a backpack). I also really liked the way the seat straps adjusted, along with the safety harness, to provide a perfect fit for my son.
Finally, the Omnio comes with a rain cover and a detachable all-weather hood ideal for home and away, offering protection from the sun (UPF 50+) as well as more typical British weather!
The Omnio also has a stylish set of matching accessories including a really well-made changing bag that attaches to the side of the stroller (eliminating any risk of tipping the pushchair over, which can happen very easily with many strollers!).

Summary: a slick but sturdy compact stroller
The Omnio is a durable and easy to use stroller. The clever and stylish backpack-into-pushchair design provides more flexibility both in storing and in using the Omnio than offered by other strollers – even if the backpack itself is a little on the bulky side. The special omni-wheels make the stroller agile and easy to manoeuvre, and the seat can adjust to fit a baby of 6 months as well as a child of up to around 5 years. It's a really quality product that could be great for a family with a toddler who can walk but might also get tired.
Watch the Omnio Stroller in action:
[youtube id="6mLQIkFx1Vs"]
Pros:
– Super smooth wheels
– Compact for easy storage and portability
– Sturdy despite being lightweight
– Easy to adjust and secure seat as child grows
– Suitable for rougher terrain
Cons:
– On the pricey side
– Seat only partially reclines
– Backpack is fairly bulky to wear
– Needs both hands to fold and unfold