Etihad's 2000th Flying Nanny, 26-year old Isabel Moya Guzman (below right) from Spain chats to Family Traveller Editor, Jane Anderson about her sky high role looking after families in the air

How did you become a Flying Nanny?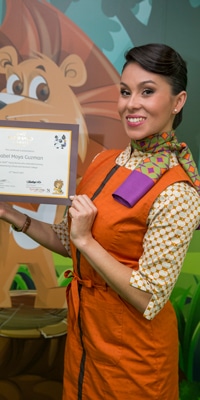 Working as cabin crew in the airline industry was always something I dreamt of doing and I have been lucky enough to realise my dreams. When I was working for a previous employer, I sometimes felt it would be great to be able to do more to help families travelling with children. Then, when the opportunity came up with Etihad Airways to be a Flying Nanny, I thought, this is amazing! It combines my love of flying with the satisfaction I get from providing specialist support to families.
All of Etihad Airways' Flying Nannies are cabin crew who have taken additional training, approved by Norland College, a world-class institution specialising in childcare education. The training focuses on making the flying experience as relaxing, comfortable, and as fun as possible for the whole family by understanding the needs of children of all ages and personalities.
What does the service offer families?
The Flying Nannies offer support to parents and children from take-off to touch-down. This could be calming any pre-flight anxiety, helping to get the children settled for bed and keeping them entertained so that parents can enjoy some well-deserved 'me-time!' Our aim is to transform flying with children from something which has been seen as a hassle in the past to an experience which is much more enjoyable.
Do parents have to pay extra for the services of a flying nanny?
No, it is a complimentary service offered as part of Etihad Airways' commitment to catering to the needs of every member of the family.
Are you assigned to one family?
No, it's our responsibility to look after every family on the flight. It's a very busy-but very rewarding-job.
What ages of children do you usually look after?
We look after children up to the age of 12. We are more hands on with younger children; for instance, we are armed with activities and games packs which include origami, hand-puppets, drawing equipment, pom-poms, magic tricks and a face-painting set. We also have Etihad Explorer children's activity packs and interactive games, TV programmes and movies for older children.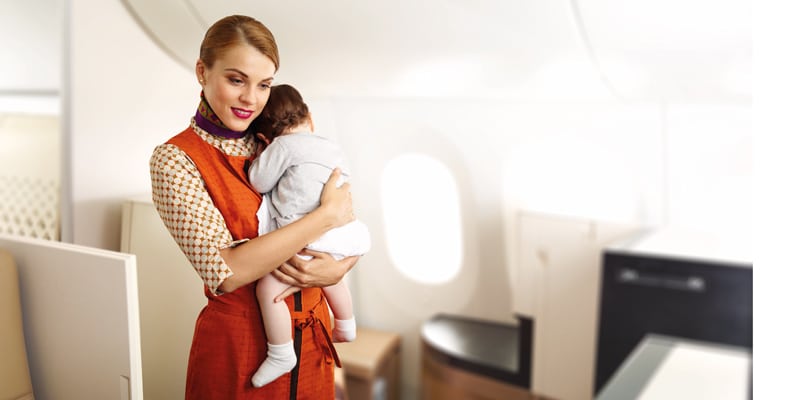 What routes do you usually fly and what happens during an average flight?
We fly to over 100 destinations around the world, so there's lots of variety! No two days are the same as a Flying Nanny; it depends entirely on the children and what they like to do. One day I could be using the face-painting kit to transform children's faces into butterflies, dogs and bunnies and the next day using puppets to put on a performance with the kids for the parents.
What's the most satisfying part of your job?
There are so many rewarding aspects to travelling the world, but I always feel particularly proud when I look after a child who is initially afraid of flying and manage to convince them that it's actually a really fun experience. I also love it when there's a special occasion in-flight, such as a child's birthday. I surprise them with special arts and crafts, then playing their favourite games. I aim to make the day as memorable as possible.
What has been the biggest challenge of your job?
I would say that it was the initial process of getting used to the lack of routine. However, no set routine is the norm for me now and I've come to absolutely love it; I have friends all over the world, I'm never in one place for too long, and I meet such lovely families on a daily basis, so I really can't complain.
What's the most unusual request made by a child and also by a parent?
I get parents who want me to paint their faces to match their kids' which I always find really sweet. I also once had a little boy who insisted I tell him exactly how all the magic tricks worked; he said he was going to be a magician when he grew up so he had to learn all the secrets now.
If you had to give parents one tip when it comes to flying with children, what would it be?
If your child is a nervous flyer, I would suggest bringing their favourite teddy, book or blanket on board. Making sure that you're relaxed yourself is also key; if your child sees you looking stressed, they're going to feel agitated too. And don't hesitate to ask for help; that's what we're here for!