The Old Vic in London comes spectacularly back into the family frame with this vibrant Christmas show, which captures the rollicking flare, off-the-wall rhymes and surprisingly weighty eco message of Dr. Seuss's The Lorax.
Adapted for the stage by David Greig and brought to life by acclaimed director Max Webster (James and the Giant Peach, To Kill a Mockingbird, Twelfth Night), there's also a cracking musical score by Charlie Fink from the Indie rock band, Noah and The Whale.
The overriding joy of this production is the Dr Seuss puppet, with puppeteers Simon Lipkin, Laura Cubitt and Ben Thompson visible on stage alongside him, but totally convincing as a living, breathing, moustache-twitching creature. Children are spellbound by this lovable green activist who speaks for the trees.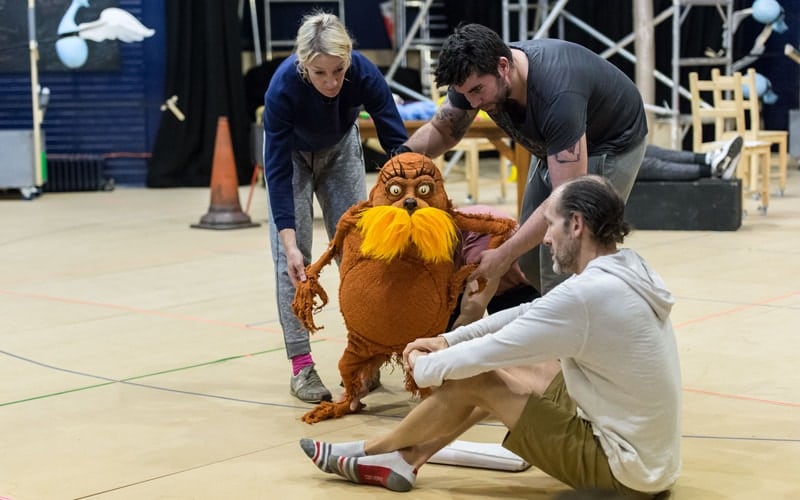 Other incredible puppets include the stripy fish, whilst the bears and swans are actors, along with the rest of the exuberant cast who sing, dance and act their way through the witty rhyming script. The green-clad, tree-chopping, business-crazed Once-ler, played by Simon Paisley Day, is a powerhouse of the production.
According to Scarlett, aged 11, the production is true to the book (published in 1971) and much better than the film version which came out three years ago. And although true to Dr Seuss's version, Greig has brought it bang up to date with references to modern day mores such as tweeting, and hamming up our need for the latest version of everything. Thneed 2.0 anyone?!
As the instructions at the start state, there's no trampolining on the seats until the end, and jumping for joy is exactly how this production will make you feel, as well as leaving kids with the clear message of people power. "We can all make a fuss. The Lorax is us!"
A great touch as you leave the theatre is a free packet of seeds from Wye Vale Garden Centres. And don't forget to pick up the complimentary Lorax moustaches too! Congratulations The Old Vic. Sick!
Recommended for: Ages 6+
More information: Runs at The Old Vic from 4 Dec 2015 to Saturday 16 January, 2016 (so get in quick!) with performances at 3pm and 7pm
Price: Tickets from £12