As soon as we saw the giant illuminated octopus holding Santa aloft in one tentacle and his sack full of presents in another, we knew we were set for a weekend of a festive fun in Brighton. This seaside town is legendary for its lively boho spirit and Christmas is a time when the city literally glows from the domes of its Regency pavilion to the twinkling lights of The Lanes.
We encountered the festive octopus down at Brighton Marin, en route to Hotel Seattle (Two night from £258 to £298 for 2 adults & 2 children with breakfast). This contemporary, boutique hotel is set in prime position by the busy marina, so be sure to book a room with a sea view so you can spy all the yachts and a new block of luxury apartments to open soon, plus there's the view all the way down to Brighton Pier.
There's a subtle nautical theme throughout the Seattle and interesting art throughout. Our family room was white and spacious even with a sofa bed and foldout bed for the kids in addition to our enormous double. With a cool view from our balcony, we were set.
Either the number 7 bus or a £10 cab ride will take you right into town. Our first stop was a free Christmas Craft workshop in The Dome on Church Street. Enthusiastic crafty folk were ready and waiting with coloured tissue paper, scissors and a laminating machine to create anything you want – Fin made a great sunshine face and Scarlett a Christmas tree with a rainbow background to hang on our tree at home. Then we shunted over to the clay-modeling table to create a tea light holder. Even Fin, who's something ambivalent about art, joined in with gusto.
As the queue for the art workshop grew, we headed off in search of The Lanes, Brighton's well-known labyrinth of cute narrow streets, home to cool shops, cafes and restaurants. Top of our list was Cable & Cotton where Scarlett picked 'n' mixed 20 beautiful round cotton baubles in all shades of orange to string on fairy lights for her bedroom back home. Whilst the crazy chocolate creations at Choccywoccydoodah inspired whoops of ooh and arhh, especially the chocolate unicorn!
Next up was a trip inside the Royal Pavilion, (built in the late 18th century as a seaside retreat for King George IV) to meet Father Christmas (if Xmas day has now passed, put it on your list for next year). Even if you've never been to Brighton, you've probably seen images of these spectacular onion Taj Mahal-style domes, lit up in deep pinks and blues during the festive period.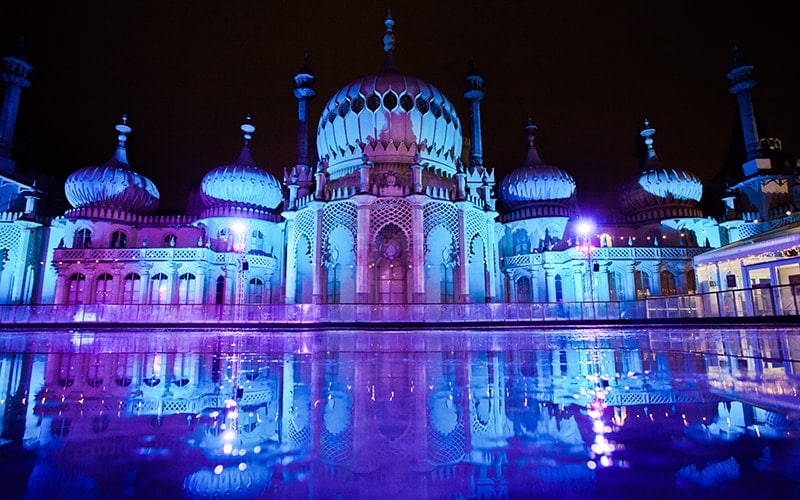 We took a quick tour of its incredible interiors where Regency grandeur meets India and China. Most memorable is the immense banqueting hall adorned with golden dragons, serpents, griffins and phoenix, glorious open fires and a long table laden with gold and crystal. The vast music room inspired Fin to lay down on the carpet to take in the full force of its mighty dome. And it was fascinating to see photos of the rooms during WWI when they were used as a hospital for Indian soldiers.
Before meeting Santa we were ushered before the fairy godmother, a beautiful grey haired lady with sparkly tiara and white tulle dress. Unusually she brought out treasure boxes with curiosity for the children to identify including an impressive 90 million year old fish fossil, an elephant molar and a badger skull!
Eventually we were interrupted by two enthusiastic elves who told us Santa was ready for us now and about 12 children and their parents entered a lavish room where a trim, bespectacled Santa was stoking the fire and proceeded to chat to every child in turn and give them a present. Having been adamant that he didn't want to meet Santa, Fin was quietly impressed. (Price: £9.50 per child)
One of the city's most visible attractions is the Brighton Wheel (from £5.50 Children £8 adults Private Pod from £25), towering 50m above sea level, though its soon to be out shadowed next summer by the opening of Brighton i360, the world's tallest moving observation tower. We braved the Brighton Wheel despite the dark and the wind and whilst enjoying the nighttime view and the commentary by Steve Coogan, I don't think any of us had sufficient head for heights to really appreciate it.
Once back down to earth, we headed over to Hotel Du Vin on the olde-worlde Ship Street for dinner. Whilst quite a grown up venue for kids, the buzzy Bistro proved a hit with yummy fish and chips for Fin, whilst Scarlett ordered off the main menu with a tasty salmon on lentils.
After a very good night's sleep at Hotel Seattle and a hearty breakfast, we started the day with a visit to Fairy Tale Fair on Marshalls Row -a big hit with Scarlett. She loved all the upcycled stalls and handcrafted gifts. Top of her Christmas present finds was a porcelain brooch made to look like a chocolate cookie which she bought for her friend Juno. Ceramic artist Alice Stewardson, studying at the University of Brighton was very generous in her explanation of how she made it. And we loved the dynamic yet affordable jewellery by Fawn And Rose, especially the wooden origami-style fox necklaces.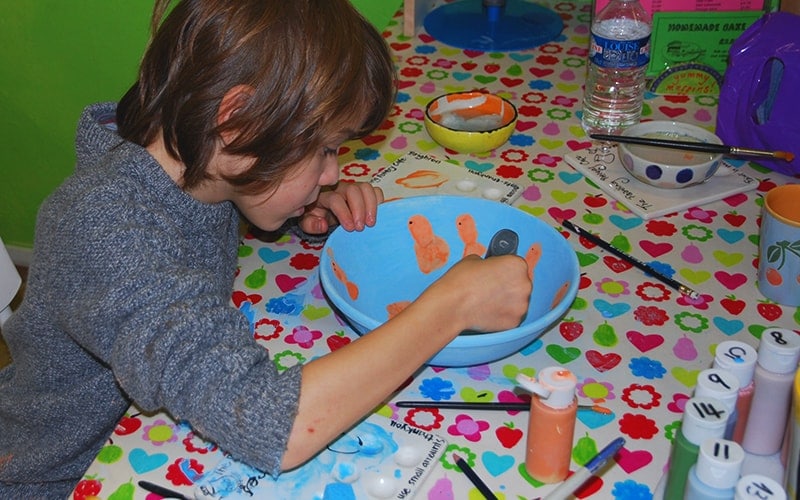 A brisk 15-minute walk took us down to Brighton's trendy North Road to Paint a Pot. We've done this in London a few times, but this branch was much more attentive to our needs and showed us stencils and paint pens to write and outline. Scarlett adorned a butter dish with rainbow and clouds, whilst Fin painted a large pasta bowl with blue sea colour and orange fish, writing 'There's a fish in my dish' in the center. Paint a Pot took our address to post them to our door once fired. I'm hoping to find them under my Christmas tree on the 25th!
Next up was an easy cab ride to Stanmer House, just north east of the city in the village of Falmer. This majestic country pile has a rustic Christmas Marquee outside with bbq, logs around warm outdoor fire pits and mulled wine on tap. There's a wooden playground for kids and Santa upping the ante. We headed inside to a glorious Victorian room laden with decorations, to sit down to a pre Christmas dinner of roast beef and Yorkshire pudding and juicy burgers for the kids, who were able to let off steam outside without us having to follow them around.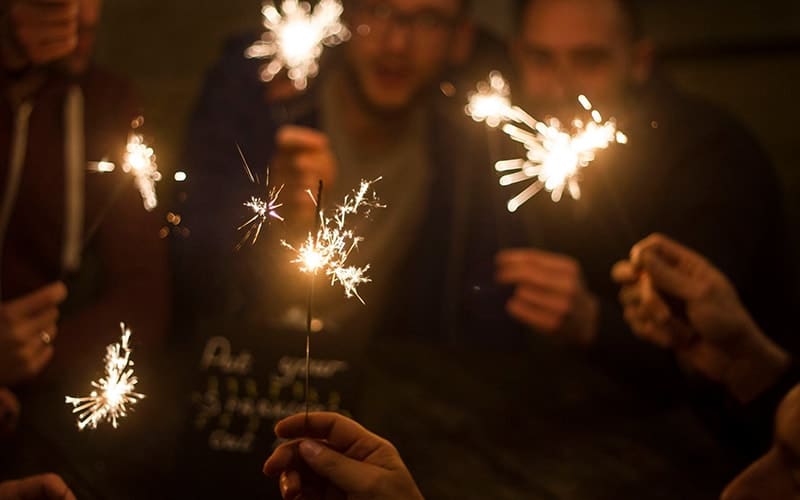 To top off our thoroughly festive weekend, we headed back into the city to the Pavilion where we had booked an hour's ice-skating for the children in the shadow of those now familiar domes (from £7 Children & £10 for adults). Scarlett and Fin rose the occasion and gracefully glided round the ice, whilst we sipped mulled wine at the side and grinned. Festive Brighton you are truly illuminating!