The SUV that never forgets
Did you know that most people spend at least 15 minutes every day looking for lost or mislaid items? That's more than three full days every year. Losing stuff isn't just a waste of time, it's a distraction. And, depending on what you've lost, a potential crisis. Suddenly, absent-mindedness doesn't seem so trivial does it?
Certainly not to Land Rover, who've taken forgetfulness so seriously they've fitted the solution as standard into every new Discovery Sport SUVs. Using a combination of Tile technology and the car's on-board touchscreen, Discovery drivers can now find 'tagged' items in seconds – no matter how mislaid they are.
Tag anything important and you can carry out an-all-present-and-correct sweep for schoolbags, sports kit or phones, before you drive off. And the system even works when, for example, you've left your wallet on a shop counter or dropped your house keys without noticing – sound familiar?
But the Discovery Sport SUV hasn't won over 30 industry awards and been named Which Car 'Car of the Year 2016' simply because it's good at finding stuff.
67% of UK parents think SUVs are great family cars*
If the Discovery Sport's sets a standard by which other SUVs are measured, the majority of parents aren't wrong. In terms of space alone, the neatly designed three-row interior has almost a metre of leg room in the second row and deft, single handed deployment of the third row adds more seats or more storage room.
Fast fold-down converts the entire rear cabin into nearly two metres of loadspace. Kids don't mind longer journeys when an additional 1.6m of wriggle room's just a matter of sliding a seat back.
All Discovery's are customisable with rear seat headrest screens, Dual View front and rear touch screens and a choice of digital TV channels. Even sticking with basics, the car's fitted with six USB charging ports as standard: handily sidestepping those touch-paper dead battery moments every parent knows and dreads.
Ambient lighting might not be high on your list of priorities now, until you experience the soothing advantages on a family road trip and wonder where it's been all your life. The Discovery's gesture-controlled tailgate is a practicality best appreciated when you're singlehandedly struggling with a toddler, baby, bags and buggy. And, the first chilly November morning's time for heated front seats to stop saying luxury and start whispering sound common sense.
Upfront on sustainability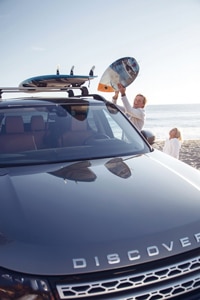 No impact is the best possible car-buying decision. Then irritating realities like life get in the way of noble ambition and a certain amount of compromise comes into play. SUVs on the whole don't have a stellar eco-reputation so it's encouraging to see the new Discovery Sport move sustainability up front and central. Not only focusing on fuel economy and lower emissions but introducing recycled, renewable and sustainable materials into their build.
Their engines now incorporate 13.8kg recycled plastic and each new Discovery Sport contains a minimum of 22.3kg renewable and natural material. The innovative stop/start function shuts down the engine within 300 milliseconds of coming to rest: lowering CO2 emissions and improving fuel economy by up to 7% plus, reducing a bit of that niggling urban-crawl guilt in the process. And even fuel demands from Discovery Sport's electrics are less demanding, with wasted kinetic energy now automatically captured and productively regenerated back into the electrical system.
Keeping distractions under control
Using a phone while driving is banned for fairly obvious reasons. But there are a million and one other in-car distractions and most of them are a lot less obvious than missed calls. Discovery Sport's InControl doesn't promise to calm backseat tantrums or solve the classic, 'toilet and now', scenario. But where it can improve your focus and keep your mind on the road, it does.
Finding parking, touch-button emergency assistance, normal-voice recognition, door-to-door route planning, ETA Sharing and Tile Tagging are just a few of the system's standard features. Hopefully you'll never need stolen vehicle tracking, but it's installed too, just in case. And InControl automatically locates stable internet connections for up to eight devices, which actually should handle most tantrum issues.
Over 95% of families like to play outdoors*
Contrary to expectation, technology isn't turning us into a nation of indolent sofa-surfers. Quite the opposite. Of 1000 UK families surveyed by Land Rover recently, less than 2% didn't put outdoor adventure top on their favourite to-do list. Good news for the country's great swathes of unspoiled and magnificent countryside and powerful validation for Land Rover: a brand which built its first all-terrain vehicle back in 1947 with the main aim of getting out and about in places where ordinary vehicles dare not venture.
It seems the free-spirited heritage is still going strong and exemplified beautifully by the Discovery Sport. Terms like Terrain Response, Adaptive Dynamics, Wade Sensing and Progress Control, might not mean much to the average driver but they add up to an SUV that's basically up for anything.
Large families and long holidays can factor in 981 litres of boot space, seating for seven people and 57.7mpg on manual. And if you're in any doubt about the Discovery's ability to cope with your particular take on adventure, think about its 5282 miles of extreme road testing in Dubai and Swedish Lapland – and that's just for starters.
A dream to drive in the country and the city
Nice as it is to imagine a carefree existence, most parents spend more time than they'd like creeping along in traffic, hunting down elusive on-street parking and ferrying kids around on short, but necessary, trips. So it's good to know the new Discovery Sport is just as capable for the family day-to-day, as all the fun stuff.
Apart from the lux interior which, lets face it, goes a long way to making nose-to-tail more bearable, this is the SUV that handles everything, up to and including negotiating the tiniest of parking spaces. In an ideal world you'll never need pedestrian airbags but, along with six different types of passenger airbags, they're fitted as standard. In the certain knowledge that there's nothing more wasteful than town or city crawling, Eco-Mode prioritises the most efficient settings for specific driving conditions to reduce fuel consumption and CO2 emissions.
Find out more about all the other advantages of the new Land Rover Discovery Sport
*Land Rover Discovery Sport research asked over 1000 UK parents, with at least one child under the age of 10, about their driving habits, car usage and family car needs.