What mum doesn't love dried pasta pictures or breakfast in bed? Mums know the little things matter most on Mother's Day and it's the thought that counts. But if that thought includes a luxurious few hours of self-indulgent, no-holds-barred pampering or – again, just a thought – an entire soothe-all-cares-away weekend, would it be so bad?
So, just in case you don't have time to get creative with fusilli or rustle up a delicious bowl of dry cereal for Sunday 31 March, here are some decadent and delightful spa breaks to have on hand as Mother's Day back up this year.
13

Calcot Spa, Tetbury, Cotswolds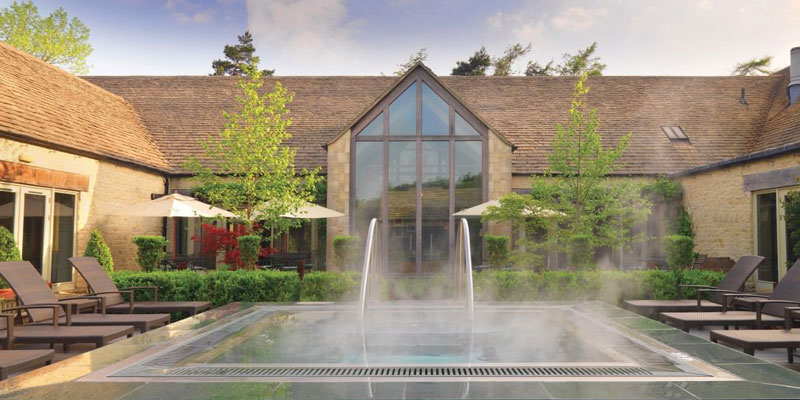 The blissful combination of gentle Cotswolds' countryside and one of England's finest spa hotels is a heady mix, so think carefully before sending mum to Calcot for Mother's Day: she may not want to come home.
Everything here is designed to be irresistible from the 200 acre meadowland setting round the ancient stone manor house to the elegant spa, lush drifts of early lavender, calm swimming pools, pretty courtyard hot tubs and scented log fires. Treatments with names like Gardens of England Rose and Thousand Flower are just as seductive as they sound. And if you really don't want to risk mum staying forever in the land of Frangipani cocoons and Tranquil Sea massages, Calcot's famously family friendly too.
What: A Tailored Day Spa includes two-course lunch, two 55-min treatments and full use of the spa's facilities
Price: £205 for Tailored Day Spa or from £279 for overnight Sunday Spa Break
Where: Calcot's just outside the village of Tetbury in the Cotswolds, roughly two hours drive from London on the M4
12

 The Spa at Coworth Park, Ascot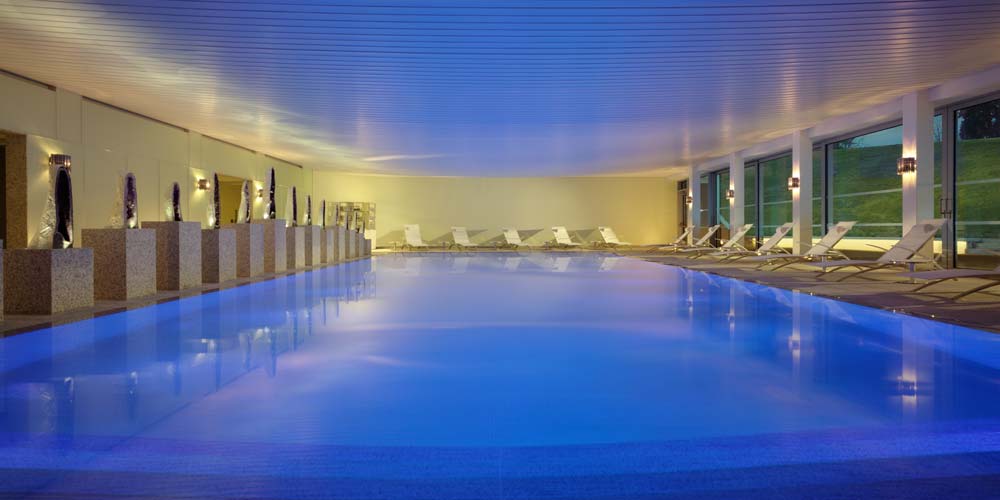 Set in 240 acres of picturesque Berkshire parkland, just 45 minutes from central London, award-winning Coworth Park is a luxury country house hotel and spa, part of the esteemed Dorchester Collection. The estate is home to an eco-luxury spa with indoor pool and three restaurants, catering for everything from relaxed eats to fine dining. What busy mum wouldn't love to retreat to the countryside for a bit of pampering with luxury brands like Aromatherapy Associates or Kerstin Florian? Plus, for the ultimate indulgence, she can take a dip in the serene indoor pool complete with underwater music!
Coworth Park's groundbreaking spa is an architectural delight. From the upper floor, guests gaze out over English parkland, and the beauty of the natural environment continues inside, where every corner is flooded with natural light. The spa boasts eight treatment rooms, a mani/pedi salon, relaxations rooms and The Spatisserie restaurant, perfect for thanking Mum with a glass or two of champagne. As well as the pool and relaxation area, the lower floor is home to a sun terrace, steam room and gym, just in case mum is feeling extra saintly.
What: An escape to the country to enjoy a Signature Spa Day incorporating a back treatment, back and scalp massage, a prescriptive facial, warm stone foot massage and full use of the spa facilities
Price: £195 for a 95 minute treatment
Where: Dorchester Collection's country house hotel, Coworth Park, a 45-minute train journey from central London in Berkshire
11

ESPA Life at Corinthia, London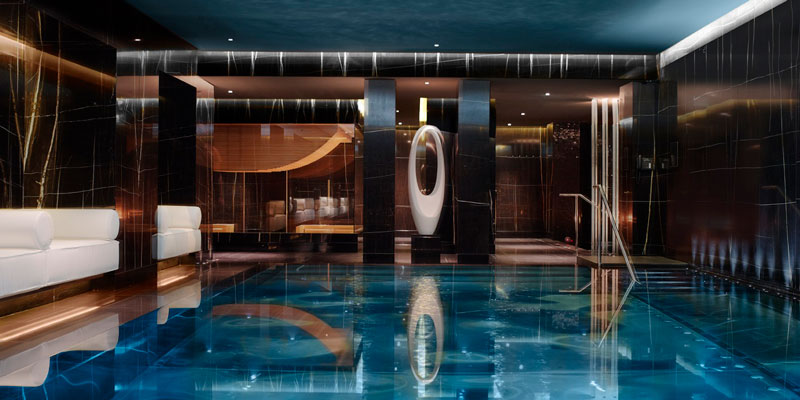 Winner of the World Spa Awards – 'Best Hotel Spa in England 2016', ESPA Life at Corinthia probably doesn't need much more said about it. But if you're a stickler for information, you might be interested in details like treatment pods and sleep pods, a thermal floor with silver swimming pool, amphitheatre sauna and ice fountain, mindful massages, skin radiance facials, marble heated lounges and relaxation bays.
The five-star Corinthia itself is one of London's hotel icons. It has a Stay Sunday, Spa Monday treat for the truly extravagant gift giver. But day spa experiences can be just as good and come in all sorts of tailored forms from brain power boosting to restful sleep enhancing or simply, gorgeous-making.
What: Urban Escape day spa includes 30-min facial, 60-min massage a champagne lunch and use of ESPA Life spa facilities
Price: £285 for Urban Escape day spa or from £696 for Stay Sunday, Spa Monday break
Where: ESPA Life at Corinthia is near to Trafalgar Square, central London. Nearest tubes are Charing Cross and Embankment
10

Kohler Waters Spa, Old Course Hotel, St Andrews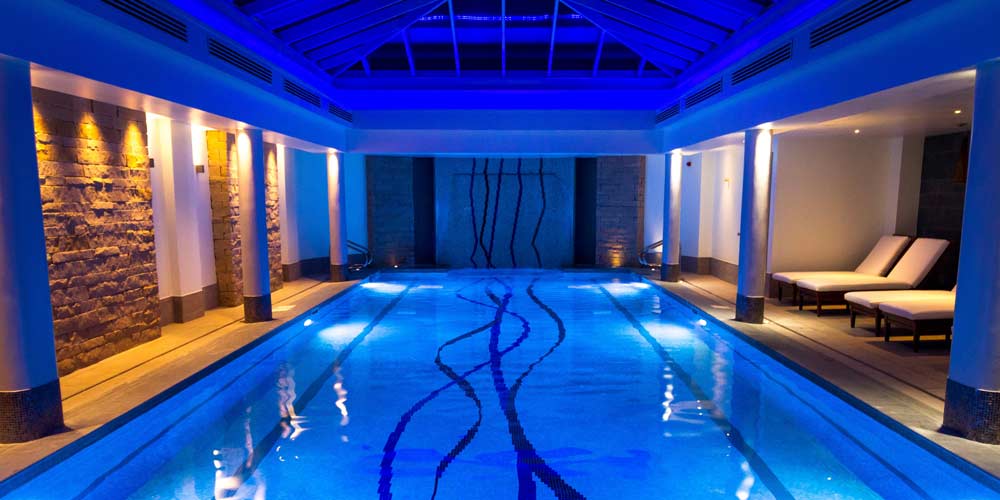 Heaven is in the water according to Kohler Waters Spa in Scotland. This large spa contains a 20m indoor spa swimming pool, oversized hydrotherapy pool, luxe steam room, jet showers, ice fountain, sauna, plunge pool and pretty rooftop garden with hot tub as well as innovative water treatments like the lavender rain signature treatment (£134 for 75 minutes), complete with lavender and marine salt crystal body scrub or the riverbath with massage (£148 for 90 minutes) with Vichy hydro-massage, whirlpool jets, exfoliation and massage.
Should you tire of aquatic life, there's a quiet area with chaise longues and healthy snacks.
What: Deluxe Spa Day which includes back massage and prescription facial, 2-course lunch, luxury amenities, use of spa facilities
Price: £260
Where: St Andrews, south of Dundee on the east coast of Scotland
9 

Herb House Spa, Lime Wood Hotel, New Forest, Hampshire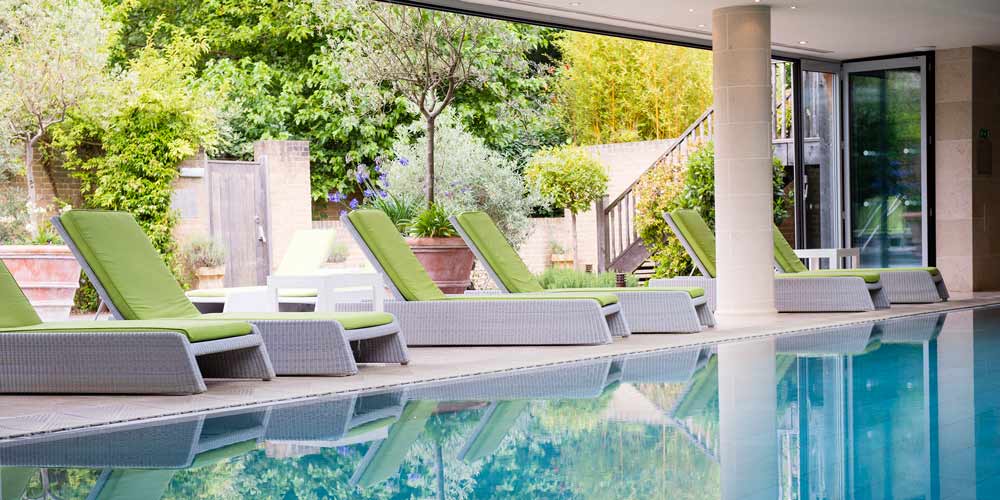 The Herb House Spa, in the New Forest, has a pretty faultless springtime setting for Mother's Day on March 31st. Green and leafy surroundings are a big part of this experience and treatments with woodland views using fully organic products are all woven into the holistic well-being philosophy.
With names like Thyme to Unwind and Perfectly Pampered, spa day packages have got the deliciously carefree angle covered. And there's a Girl's Getaway too, if more than one mum's deserving of Mother's Day recognition.
What: Thyme to Unwind is the ultimate Herb House spa day and includes a 60 minute de-stress massage, manicure, pedicure, lunch and full use of the spa facilities
Price: £280 for Thyme to Unwind or £230 per person for Girl's Getaway
Where: Lime Wood in the New Forest is just under two hours' drive south from London on the M3
8

Rudding Park Spa, Harrogate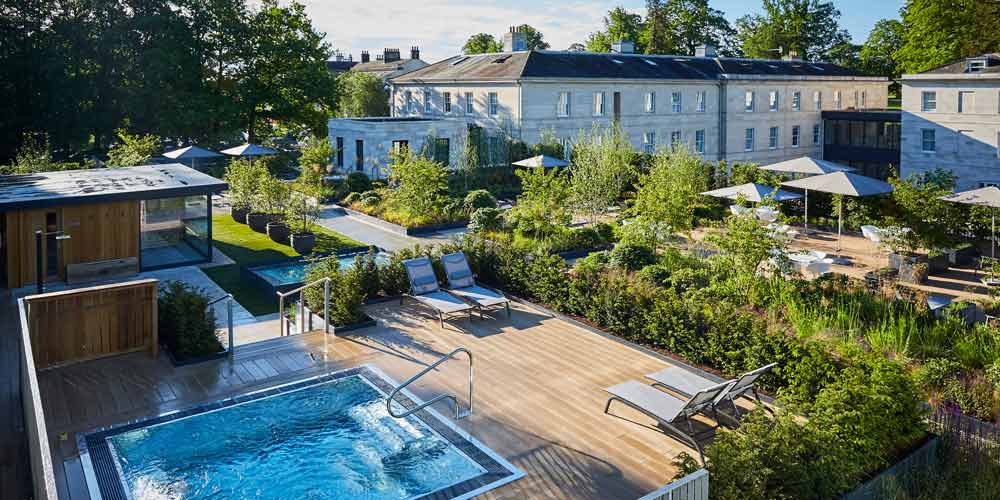 With a gorgeous rooftop spa and lavender-filled garden, zoned relaxation areas such as 'visual' with scenes of the sea and 'audio' for some meditation time, indoor-outdoor infinity pool, aromatherapy sauna, herbal bath steam room, ice fountain, foot spa, tropical showers and heated relaxation beds, this stunning spa deservedly won Best New Spa in the UK, Good Spa Guide 2017.
Rudding Park Spa is set in 300 acres of glorious Yorkshire countryside, so mum can enjoy a gentle stroll around the grounds too. Spa Days can also be supplemented with a 25-minute Moorish mud treatment  and exfoliating body scrub (£15 extra).
What: A spa day at Rudding Park includes a 50-minute treatment and access to spa facilities
Price: From £143
Where: Rudding Park sits just southeast of the beautiful spa town of Harrogate
7

The Ickworth Hotel Spa, Suffolk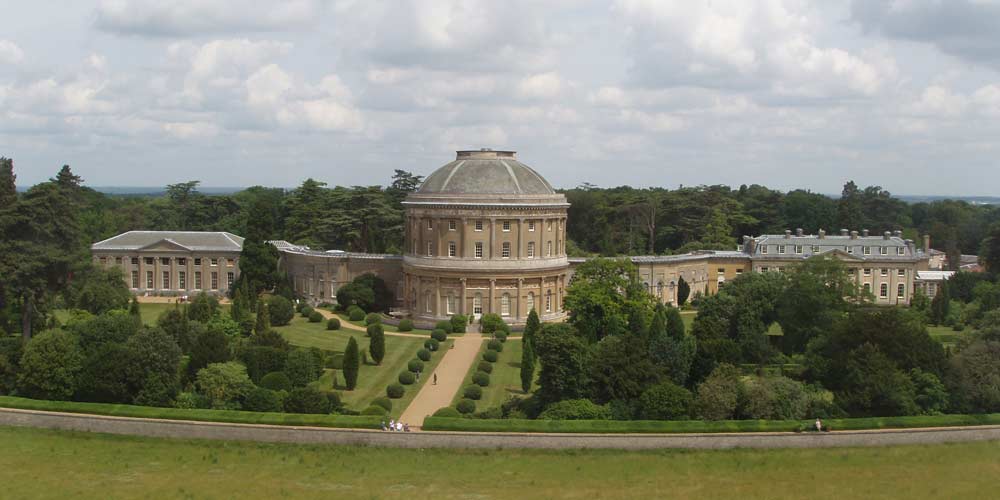 For country manor charm in rural Suffolk, head to The Ickworth. With over 1,800 acres of parkland and scented gardens it's the perfect place for some Mother's Day pampering. The Ickworth is also super family-friendly, so if the whole gang needs some relaxation time, this could be the one to splash out on.
The spa has an extensive range of Elemis treatments including a Pro-Collagen Age Defy facial (£70 for 1 hour) and hot mineral body boost massage (£65 for 1 hour). Additional blissful therapies range from reflexology (£70 for 1 hour) and Indian head massages (£55 for 45 minutes). Finish with a dip in the hotel pool or lunch in the restaurant (from £14 per person).
What: The Get Glowing package includes a 60-min facial and 30-min full body exfoliation plus use of the swimming pool
Price: £119
Where: The Ickworth Hotel is a 2.5 hour drive north of London in Bury St Edmunds, Suffolk
6 

Gleneagles Hotel Spa, Scotland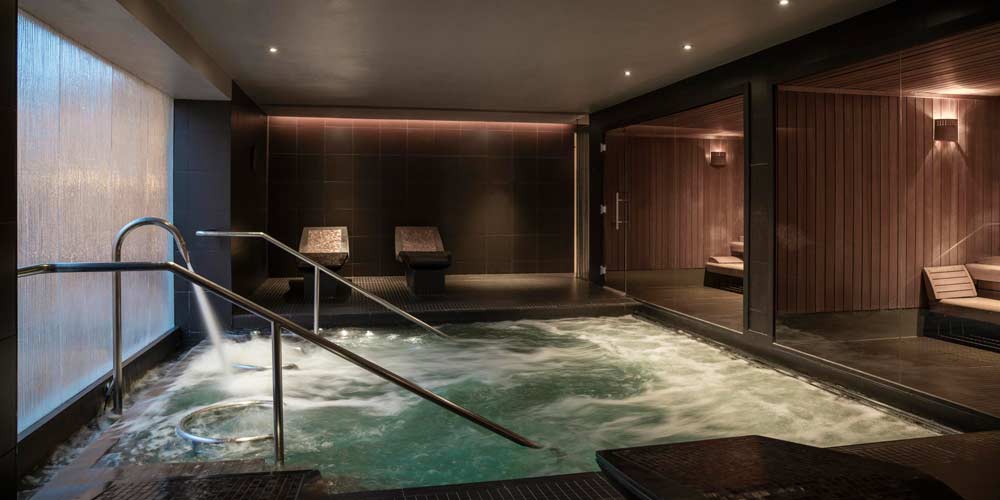 The Gleneagles Hotel is a five-star luxury hotel in the heart of Scotland. It has recently had a stunning refurb so facilities will be even more top-notch than before. Worn-out mums can chill out in heat and thermal rooms decorated in muted tones and natural materials before flopping onto a velvet sofa for some healthy snacks or a cocktail from the drinks trolley.
The award-winning spa fuses Western and Eastern and Ayurvedic therapies together for a one-of-a-kind spa experience.Choose dreamy ESPA treatments like the Advanced Skin Vitality Facial (£145 for 1 hour and 20 minutes) or the Bamboo Body Retreat (£195 for two hours) alongside alternative therapies like Reiki and Cranial-Sacral therapy. Bob & Cloche, the nearby beauty rooms, offer hair and nail treatments for added sparkle.
What: The Gleneagles Signature Ritual begins with a luxury foot treatment followed by a full body exfoliation and wrap, tension-busting massage, revitalising facial and blissful scalp massage plus use of the spa facilities
Price: £195 for two hours, £295 for three hours, £390 for four hours
Where: Gleneagles is in Perthshire, approximately one hour away from Edinburgh and Glasgow
5

 Bedruthan Spa, Cornwall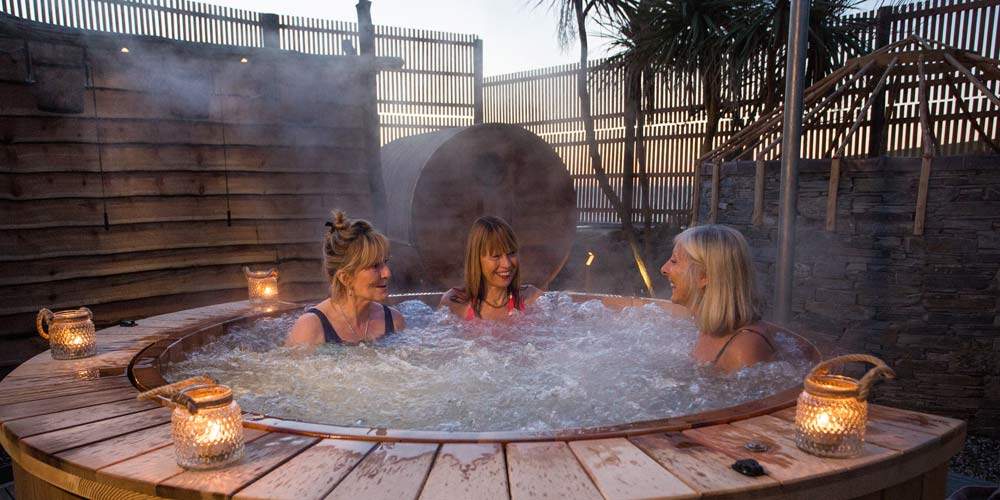 Family-friendly Bedruthan on the North Cornish coast knows how to best use its seaside location for added spa pizzazz. Head outdoors to the Sensory Spa Garden for some seriously good spa time. Mums can embrace a detoxing cold drench shower, chill in the ocean-view cedar wood sauna and restorative outdoor hot tubs, then cosy up next to the flickering firepit, ankle deep in a hot copper foot bath.
If that's not enough, the indoor thermal spa should do it. The lavender-scented caldarium (room with hot plunge bath), sea-view hydropool and eucalyptus steam room should warm up tired muscles. A colourful indoor pool is available should exercise be on the agenda. This special treat for Mother's Day should leave mum feeling fresh, renewed and ready for action again.
What: The Cherish Me package includes all day use of the indoor spa, one hour in the Sensory Spa Garden, facial, 60-min massage and mezze board lunch. For a more purse-friendly option go for the Unwind Me package with 120 minute facial, scrub and massage plus use of the indoor facilities
Price: £225 for Cherish Me, £165 for Unwind Me
Where: Bedruthan lies between Newquay and Padstow on the North Cornish coast
4

 Ushvani, Knightsbridge, London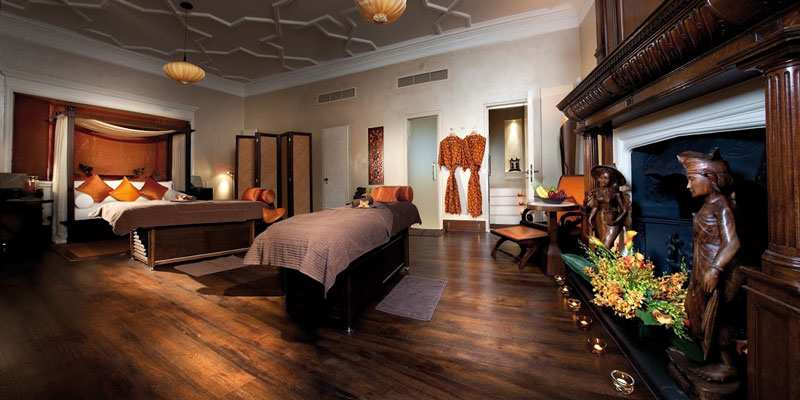 Self described as 'London's most luxurious day spa', Ushvani also comes with accolades from Tatler and Condé Nast Traveller who went one better and voted this city oasis, 'UK's Best Day Spa'.
Grounded in ancient Asian culture, there's more than a hint of deep decadence here and everything's designed to sweep guests away from the reality of central London to considerably more exotic worlds. The kind of worlds where Balinese and Malay massages are every day experiences and a Nutmeg Flower Bath's a nightly ritual.
There are seven different massage treatments and a range of facials, so Ushvani's a good choice for a highly personalised and thoughtful Mother's Day spa treat.
What: A range of 90 minute and 120 minute body massages, specialist treatments and facials using Ushvani's own products
Price: £180 for a 90 minute Malay Massage. £130 for a 90 minute Ushvani Signature facial
Where: Ushvani is in Knightsbridge, central London. Sloane Square is the nearest tube
3

 The Floating Spa, Monkey Island, Bray
For something completely different try a unique floating spa in a narrowboat on tiny Monkey Island in the pretty village of Bray, a hop and a skip from the hustle and bustle of the capital. The Floating Spa takes its inspiration from its natural surroundings. Think of it as a modern floating apothecary where medicinal plants and herbs are used to ease tired bodies and minds.
Tired mums could chose the signature Monk's Elixir, a 90-minute treatment, which includes a monk-brewed herbal tonic and aromatherapy massage enhanced with soothing herbal packs. Or treat mum to a tranquillity pro sleep massage (£136 for 75 minutes) with aromatherapy oils, Kerala Ayruvedic and Indonesian Malay massage techniques to soothe tired minds. Alternatively, there's the The Floating Massage, which takes place on an aqua cushion designed to support the body and should lull even the most stressed out mama into a soothing state of relaxation.
Afternoon tea at Monkey Island could be added to a spa treatment, with outdoor terrace seating available if the weather is nice.
What: No day package but a range of single specialist treatments are available
Price: Contact The Floating Spa for details
Where: Bray is 40 minutes from Central London in Berkshire
2

 Gainsborough Bath Spa, Bath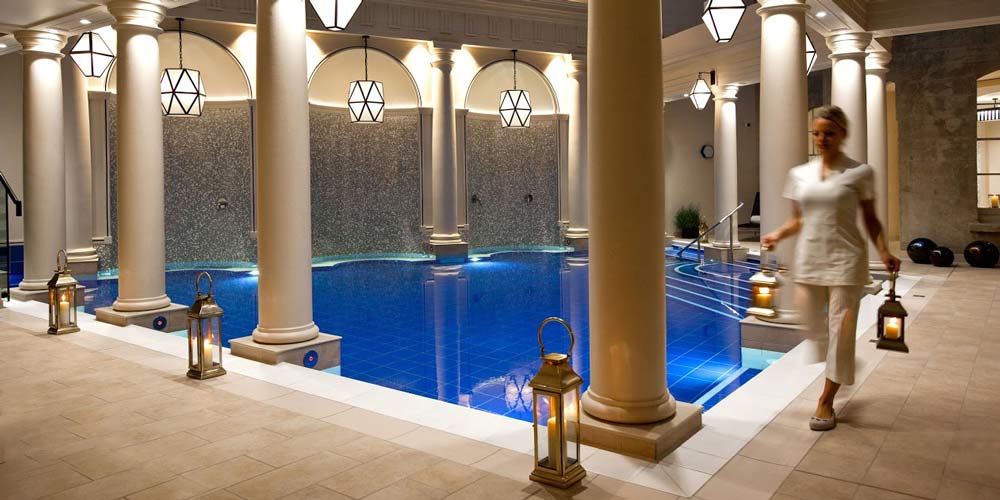 Gainsborough Bath Spa is 5-star hotel and luxury spa in the heart of Bath. This spa makes the best of the natural thermal properties of Bath waters, with a circuit of natural thermal pools for mum to enjoy, plus traditional and infrared saunas, a steam room and ice alcove.
The spa is set in a light-filled four-storey glass atrium which sits above the Bath House with 11 treatment rooms, VIP Suite, fitness suite and beauty salons. Spa treatments range from classic body, facial and massage therapies to aquatic therapies such as a 45-minute Aquasana; a yoga class in the thermal waters.
What: A spa day includes 60-90 minute treatment, bath house experience, personalised aromatherapy blending session, access to spa facilities, gym and relaxation terrace, probiotic welcome drink and post treatment herbal tea, 2-course spa lunch with a glass of wine
Price: From £150
Where: Gainsborough Bath spa is in central Bath
1 

New Park Manor Spa, The New Forest, Hampshire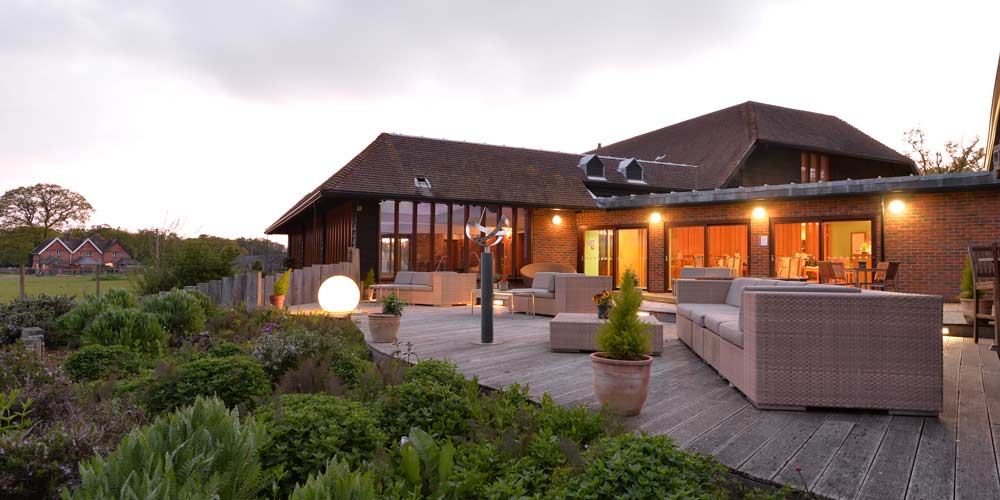 New Park Manor won our magazine's 2017 award for Best UK Hotel for Families, and with good reason. It's super family-friendly, with a creche, play areas and kid-friendly meals but also set in a gorgeously decorated 17th century hunting lodge with smart restaurant and miles and miles of New Forest trails to enjoy.
The spa is award-winning too, with luxury Elemis treatments, a 16-metre pool with panoramic forest views, outdoor hot tub, spa pool and foot spa.
What: The New Forest Hideaway begin with a drink on arrival, a 90-minute Elemis or Jessica treatment, spa lunch or afternoon tea with a glass of Prosecco, as well as full plus use of the spa facilities
Price: £120
Where: New Park Manor is set in the heart of the New Forest, near Brockenhurst