Sponsored Content
Family breaks in the UK are incredible adventures for kids, easy to do, and a good fit for half-term, summer holidays, or even just a weekend: who hasn't been tempted by that thought?
And remember, no matter how many breaks you have on home territory, there's always something new and amazing to take your breath away.
In that spirit Family Traveller have teamed up with leading holiday experts to put together a list of the top UK family breaks for 2018: all exciting and great value too. Have a look and see what you think.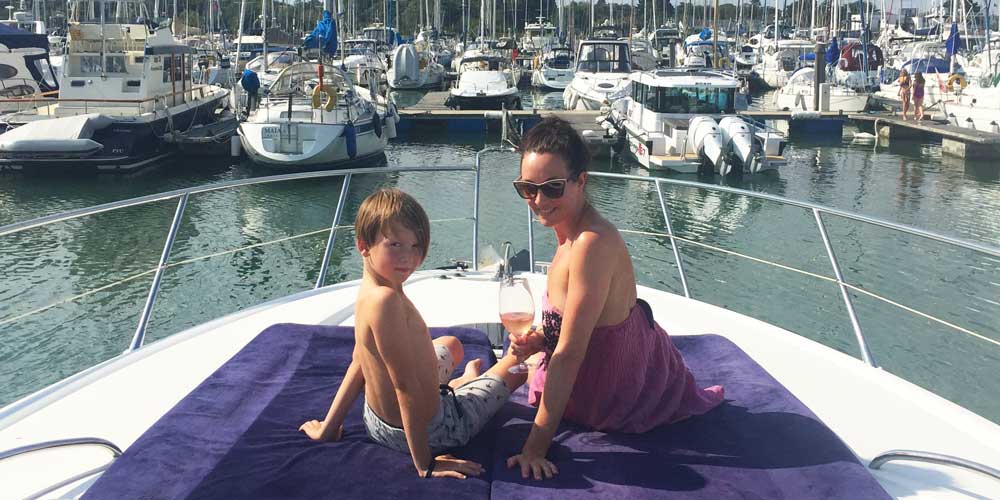 1/7 

Beds on Board – 10% off family boat stays all over the UK
Join Beds on Board for a family stay aboard your very own yacht. A fun alternative to hotels, Beds on Board yachts are moored, and waiting for you all over the UK. Take your pick from historic urban docklands and peaceful canals to glamorous marinas and quaint harbour towns. Then simply promise kids an amazing adventure: packed with all that's great about boats, and plenty of good stuff on dry land too.      
Younger crew members love the freedom of yacht life, and there are never any arguments about bedtime: cosy berths are irresistible. Which leaves you free to spend time on deck, star gazing. 
Beds on Board have entire yachts from as little as £150 per night.
Where: Beds on Board has family yachts from the Scottish Highlands to the south coast of Cornwall.
Price: Family yachts from £150 per night, based on two adults and two children.
Quote BOB-B1L-0XK-CJH when booking for an extra 10% off your family holiday.
Find out more about family breaks with

Beds on Board

all over the UK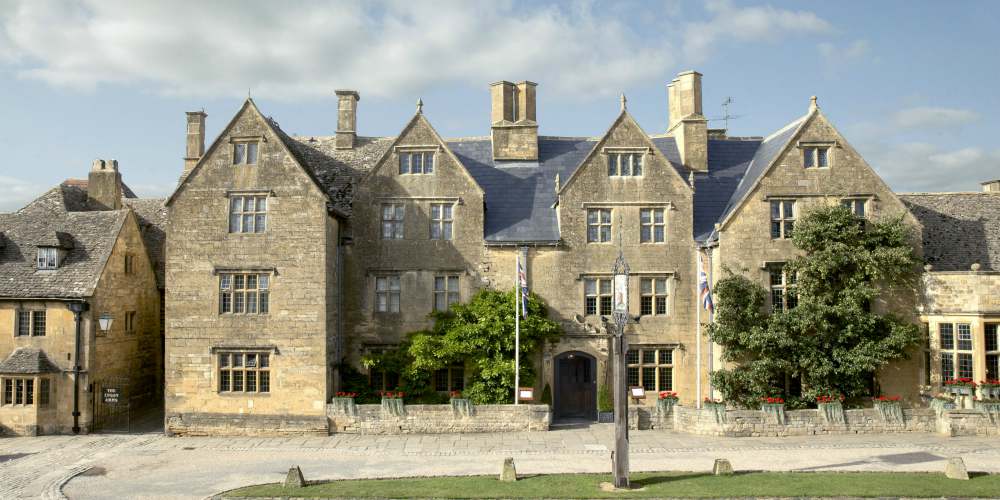 2/7 

The Lygon Arms, Cotswolds – under 12s stay free
The Lygon Arms is a charming family hotel in the heart of Broadway, the village that's often called, 'the jewel of the Cotswolds'. It can trace its roots back to the 15th century, and even has links to Oliver Cromwell (not to mention Elizabeth Taylor and Richard Burton).
The former probably wouldn't recognise the one time coaching inn today. But Lygon's more recent celebrity guests would almost certainly approve of the expansive Wine Bar, opulent new spa and luxurious bedrooms, and feel perfectly at ease in the elegantly relaxed Lygon Bar & Grill.
The hotel definitely gets approval from families. Carefully planned children's menus, and thoughtful treats like games on the lawn, puzzles, early evening movies, and fun activities, make for happy kids – and parents. And it's in the Cotswolds, so only perfect for the type of outdoor adventures that make UK family breaks such a good idea in the first place.
Where: The Lygon Arms, Broadway. Two hours, 40 minutes drive west of London
Price: Family rooms from £380 per night, based on two adults and two children sharing.
Have a family break at The Lygon Arms during school holidays and under 12s stay free.
Find out more about family breaks at

The Lygon Arms

in the Cotswolds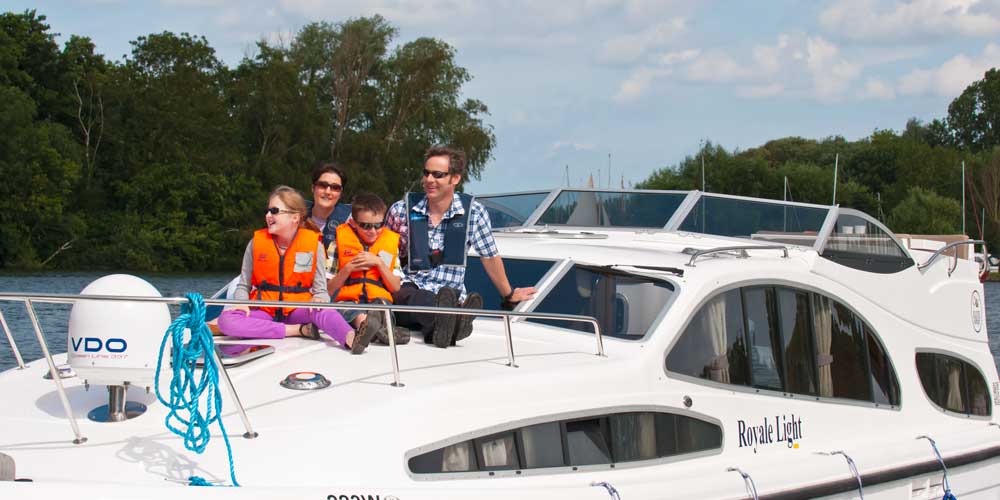 3/7 

Herbert Woods – 10% off family boating holidays on the Norfolk Broads
Herbert Woods have a choice of 120 different styles of cruisers, and over 90 years' experience creating amazing adventures for families all over the captivating Norfolk Broads' waterways. So when they tell you a family boating holiday in this wonderful part of the UK is easy, even without any boating experience, take them at their word.
Not only are the Broads unique and lovely, the waterways are wider than canals, and there are no locks to deal with. So navigation is straightforward, and all Herbert Woods' boats are effortlessly simple to handle too. Which means you can enjoy more of the Broads themselves. And from charming little villages to Roman ruins, floating wildlife centres to historic cities, there's plenty to enjoy.
Of course kids love boating, not least of all because they can hop on and off. But if they want to explore on bikes, head out on hikes, or even try steering their own adventure on kayaks or SUP, Herbert Woods can arrange those active adventures too. Herbert Woods Norfolk Broads boating holidays are pet friendly, and full instruction on navigating waterways and handling cruisers is given at the start of all family breaks.
Where: The Norfolk Broads. Two hours, 40 minutes north east of London.
Price: Family boating holidays from £349 for three nights, based on two adults and two children.
For 10% off your next family holiday quote 'family10'. Valid for all holidays taken before 26th November 2018.*
*Excludes holidays between 27th July and 30th August
Find out more about

Herbert Woods

Norfolk Broads family boating holidays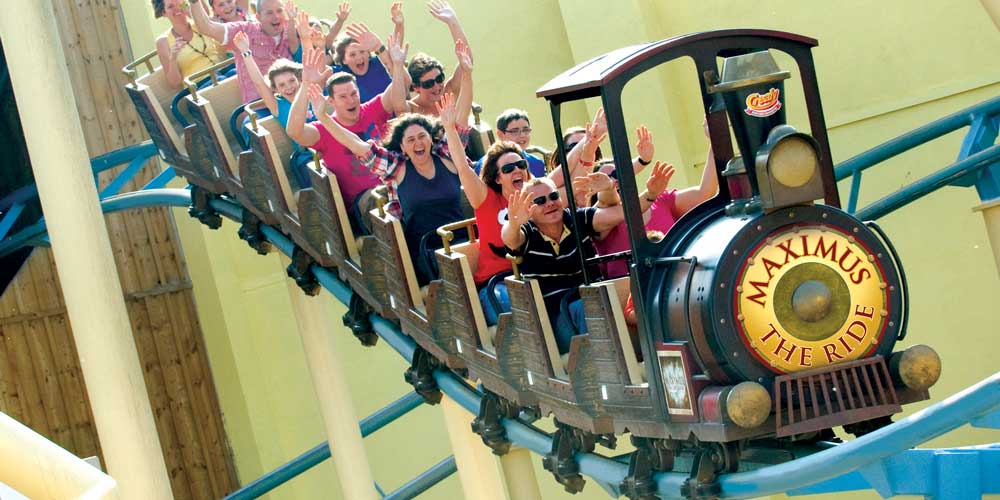 4/7 

Crealy Adventure Park & Resort, Devon – 10% off camping and glamping holidays*
With over 60 rides and attractions, ranging from pink-knuckle terror to toddler size enchantment, Crealy Adventure Park & Resort is Devon's top theme park, and a great base for beachy family breaks too.
It's just minutes from historic Exeter, and even closer to some of the south coast's loveliest Blue Flag holders, and has so many different ways to stay, you can even pick a holiday theme.
Luxury lodges with hot tubs and private decks, are perfect for larger families. Young explorers love the resort's safari themed glamping cabins or exciting Medieval Pavilions. And true traditionalists can bring their own tent or RV, and take advantage of great value camping and touring pitches.
As well as all the fun of the fair next door, Crealy also has family entertainment every evening during the Devon school holidays, and excellent on-site facilities to make your stay even easier. 
Where: Crealy Adventure Park & Resort, Devon. 20 minutes drive east of Exeter.
Price: Glamping Cabins from £284 for two nights, based on two adults and two children sharing.
Book a luxury lodge or glamping cabin and free family theme-park passes, all holiday-long, are included in the price. Book before 31st December 2018 and receive 10% off all camping, touring, and glamping holidays with code: FAMILYTRAV18*
*Code valid until 31/12/2018. Not to be used in conjunction with any other offer. Valid for stays between 1st January 2018-31st December 2018. Minimum 2 night stay must be booked to qualify for this offer. Valid on new bookings only. Valid on glamping, Pre Pitched Tourers & camping breaks only. We reserve the right to remove this offer at anytime. Available online and over the telephone. Quote: FAMILYTRAV18.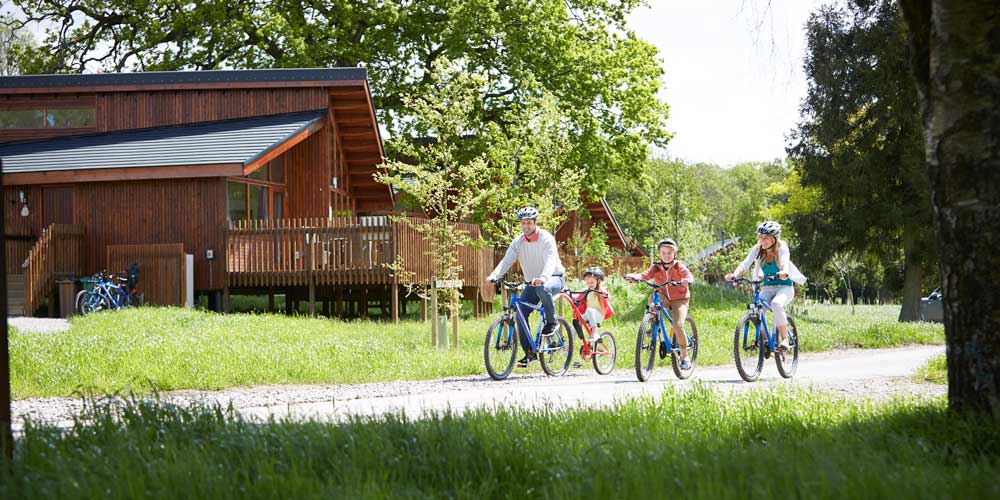 5/7

  Forest Holidays – 5% off family forest holidays all over the UK
No one is ever too old, or too young, for an adventure in one of the UK's magical forests. Which is why Forest Holidays work so well for families, and enchant everyone from toddlers to teens.
With luxury cabins, tucked into gorgeous woodland, from Argyll to Cornwall, and sleeping up to 10, Forest Holidays are even ideal for multi-gen UK family breaks. And because anything from cots to bike hire and fun activities are easily arranged in advance, you just have to think about arriving and having a great time.
Forests are natural adventure playgrounds, so spending time together as a family is easy, and fun. But, if you want to venture out of the woods now and then, Forest Holidays' carefully planned locations mean there's always plenty to see and do, and all within minutes of your cosy cabin.
Where: Forest Holidays are available across the UK from Argyll to Cornwall.
Price: Forest Holiday cabins from £375 for three nights, based on two adults and two children.
Book before 31 December 2018 and quote FAMILYTRA when booking for an extra 5% off your family holiday in any type of cabin.
Find out more about family breaks with

Forest Holidays

all over the UK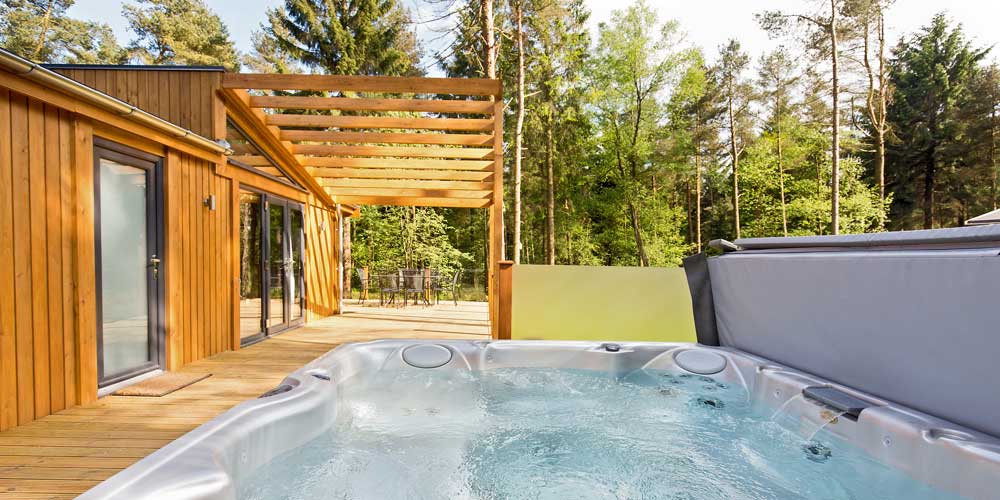 6/7 

Darwin Forest – award winning Peak District family holiday park
A family break at Darwin Forest Holiday Park doesn't just put you right in the heart of England, it gives you the Peak District National Park to play with too: then welcomes you home, after all your adventures, to award winning five-star luxury lodges, set in perfectly peaceful woodland.
Pets are invited to stay in selected lodges and, with a stunning forest trail surrounding the park, the whole family can enjoy exploring on foot or by bike.  Although it may not be so easy to persuade young dog walkers away from the swimming pool, indoor play centre and activities, that are all part of the adventure at Darwin Forest.
If you feel like branching out occasionally, Chatsworth House, the Heights of Abraham, and Alton Towers are all near neighbours and, of course, some of the UK's most magnificent countryside is right on the doorstep.
Where: Darwin Forest, Peak District National Park. Three hours north of London.
Price: Classic vogue family lodges from £319 for three nights, based on two adults and two children.
Darwin Forest lodges sleep between two and eight. All lodges are self catering, have a veranda with outdoor furniture and selected lodges are pet friendly. Spa Lodges have their own hot tub. The forest site has its own restaurant, pool and play centre.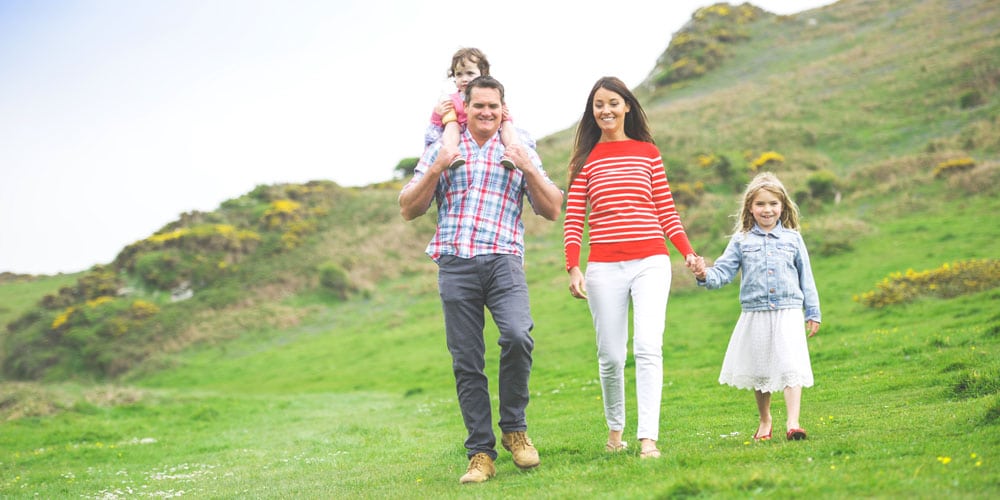 7/7

  Soar Mill Cove Hotel & Spa, Salcombe, Devon
The idea of a UK family break that's a complete escape, is exactly why families with kids – and pets – love Soar Mill Cove Hotel & Spa on the south Devon coast.
Golden sand beaches are minutes from the hotel. Pretty Salcombe is just a short drive away. And everything from historic National Trust properties to cycling trails, Dartmoor National Park, and family theme parks, are easy to do days out – which is exactly what you want on holiday.
More than living up to its enchanting location: Soar Mill blends a warm, relaxed atmosphere with effortless luxury. Rooms are spacious, several have sea views, and there are even self-catering cottages for larger families. The award winning restaurant is famously inventive with fresh, local ingredients. And the Discovery Spa is almost as irresistible to parents, as the spring-fed, indoor pool is to kids.
Where: Soar Mill Cove Hotel, Salcombe. One hour's drive east of Plymouth.
Price: Family rooms from £299 per night, bed & breakfast, based on two adults and two children
Soar Mill Cove Sea View Family Rooms have their own private patios, with French doors out on to the garden and open outlooks over the south Devon coast
.