Families and music festivals are a thing now. So much so there is a crazy amount of tot-friendly events to choose from. You can expect dedicated family zones, tons of fun activities like circus training, bushcraft classes and baby yoga alongside top notch music acts, scrummy food and outdoor hot tubs; all set in some of the prettiest parts of the UK. We've done the hard work for you and picked out the top family festivals for 2019 from around the country. All you have to do is decide on your fancy dress.
All tickets based on full price adult and child weekend camping, booking fee not included.
19/19 

Big Feastival, 23-25 Aug, Cotswolds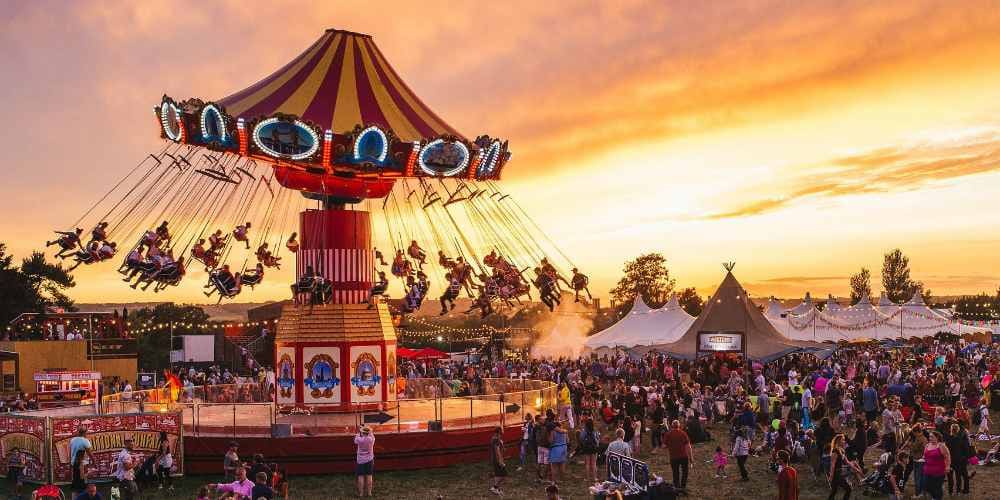 Best for foodies  
This well-known festival is the brainchild of Alex James – Blur's bassist and cheesemaker – so you can expect a fabulous line up of food and music. Past acts have included Clean Bandit, Tom Odell and Basement Jaxx with Raymond Blanc, Annabel Karmel and Marco Pierre White dishing up. Little ones will enjoy cookery classes (naturally), face painting, bubble blowing, percussion lessons and yoga. There's a quiet area for nappy changing and chill outs and a family dining room with toddler-friendly meals. For older kids, there's circus school fun and a vintage fun fair, plus sessions with the Royal Shakespeare Company. Many folk go for dressing up in a big way and eco-glitter is practically compulsory.  Don't worry if you forget, Big Feastival has a super dressing up tent and craft area where you and your minis can make glittery festival-worthy headbands and fairy wings. Families can book a variety of accommodation options from pre-pitched tents to boutique bell tents.
Tickets £187 adult, £112 13-17 year olds, £43.50 12 and under
Find out more about the Big Feastival
18/19

 Camp Bestival, 25-28 July, Dorset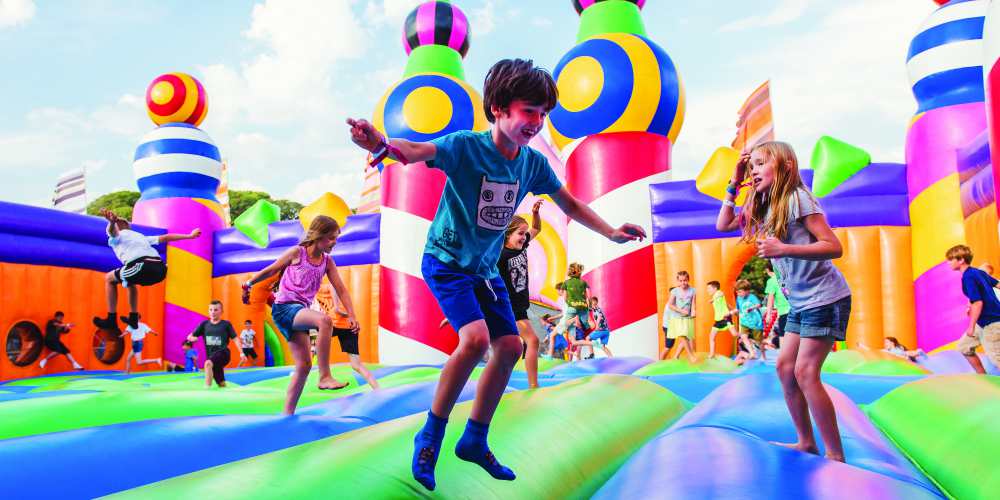 Best for big-time family fun 
Another biggie family festival superstar is Camp Bestival, set up by DJ Rob Da Bank and his wife Josie back in 2008 in the grounds of Lulworth Castle, on Dorset's pretty Jurassic coastline. Jess Glynne, Sister Sledge and Morcheeba are set to play this year alongside numerous other genres. Once you've filled your eardrums, take your pick from a Bollywood rave tent, gin festival or a yoga and meditation class. There is a stellar selection of stuff to do for your little sidekicks including the 'world's biggest bouncy castle', back-to-nature 'Dingly Dell' for craft addicts and Bigtopmania kids theatre and circus. Aardman Animations and Mr Tumble will also ramp up the excitement. Camp Bestival offers many camping options and even a pop-up hotel should you want your creature comforts.
Tickets £180 adult, £114 13-17 year olds, £90 10-12 year olds, £31.50 5-9 year olds, and £11 1-4 year olds
Find out more about Camp Bestival
17/19 

Car Fest, 26-28 July Cheshire, 23-25 August Hampshire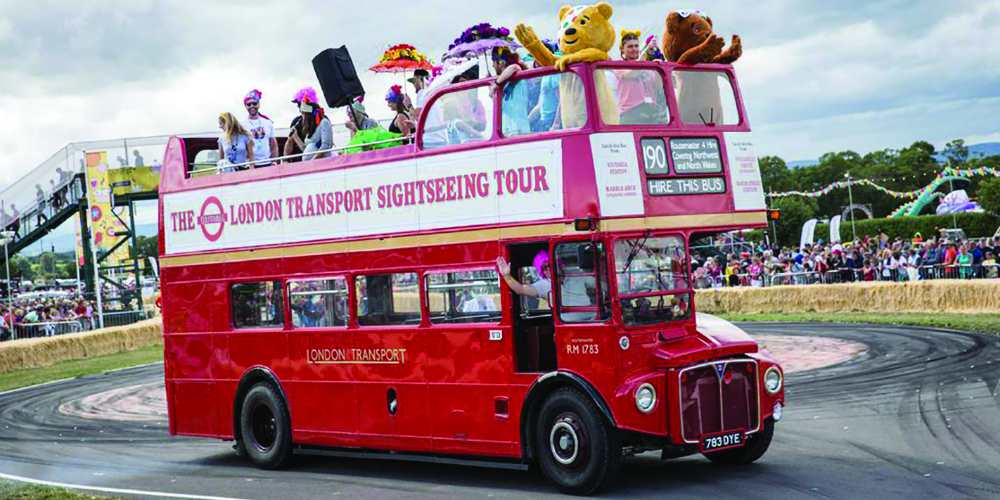 Best for a laid-back feel
If you like cars, you'll love Car Fest, which contains a collection of weird and wonderful models from past and present, plus the opportunity to take a dream ride in a dream car. Your sproglets can also have a go. It's not just vehicle heaven here though. Get on down to music from Beverley Knight, Texas and Tom Odell, cookery demos from Angellica Bell and James Martin, a 'Vintage Village' choc-a-block with market stalls, old fashioned beauty parlours, kids' theatre and, of course, nostalgia-inducing cars. There are no particular family camping areas but you are not tied in to the weekend, should one day of festival-going be enough.
Tickets £178 adults, £50 6-16 year olds
16/19

 Deer Shed, 26-29 July, North Yorkshire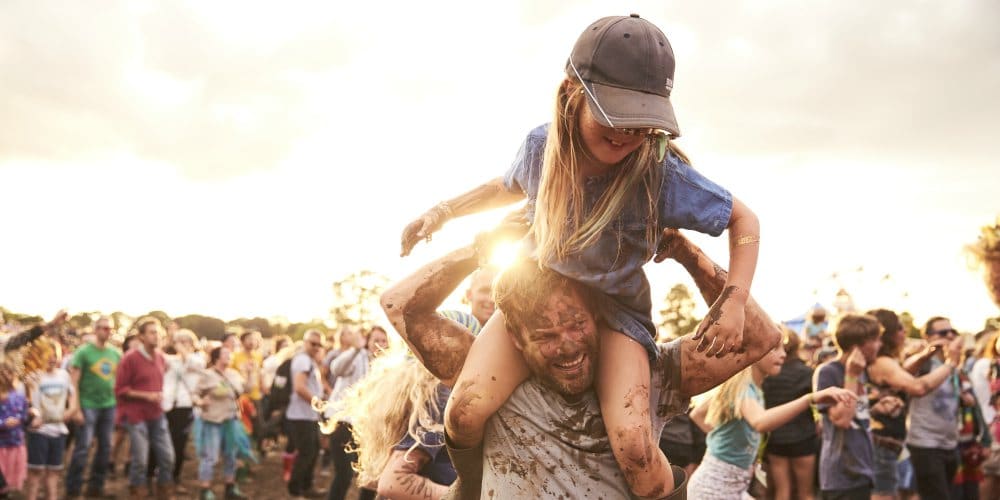 Best for imaginative activities
Deer Shed hosts a range of contemporary bands alongside some spoken word, literary shows and PG-rated comedy at its home in Baldersby Park, North Yorkshire. The range of boredom-busting things to do at Deer Shed is mind boggling. From quidditch, tree climbing, kite making and woodwork to flash mob dancing, lino printing, meccano building and poster design, there will be something to satisfy even the fussiest of tastes. Nippers will be in nirvana with a sensory tent, baby rave, storytelling, outdoor hay play, and baby yoga plus nappy changing and feeding facilities. Wellbeing is also high on the agenda with hot tubs, yoga sessions, meditation and reiki. Glamping options are available as well as camping and campervans.
Tickets £165 adult, £50 6-15 years old, £20 3-5 years old
15/19
Doune the Rabbit Hole, 19-21 July, Stirling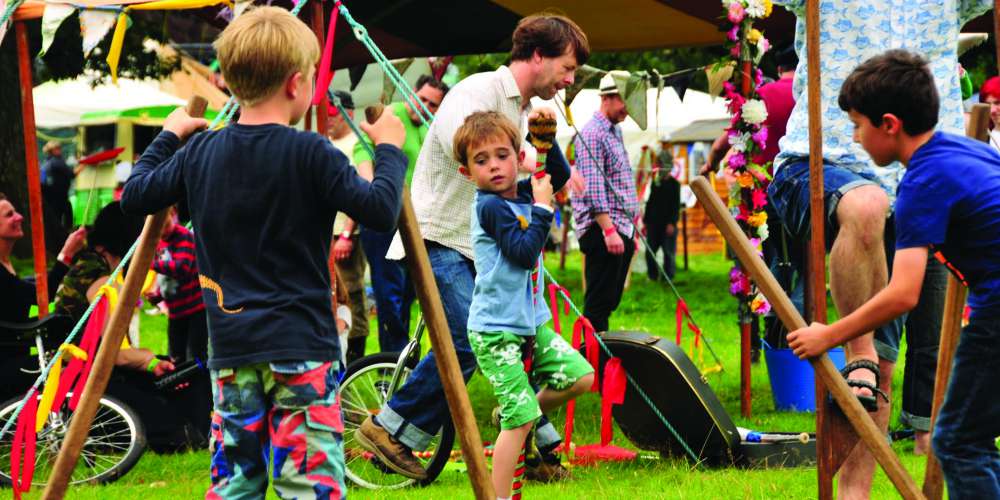 Best for first-timers
Scottish festival Doune the Rabbit Hole has a small and intimate vibe perfect for first time festival-going families. Another added perk is its location – perched on the edge of the Highlands and Loch Lomand and Trossachs National Park, in the Cardross Estate. The Levellers are headlining this year. There's also a lovely mix of other attractions like a multi-day yoga workshop, cinema, spoken word performances, old-fashioned picnics, DJ classes and a Holi-inspired rainbow riot. A family area contains original workshops and classes from puppy handling to making origami, zorb football to circus skills. Yurts and a family camping area are available as well as standard camping.
Tickets £105 adult, £30 12-18 year olds
Find out more about Doune the Rabbit Hole
14/19 

Just So, 16-18 August, Cheshire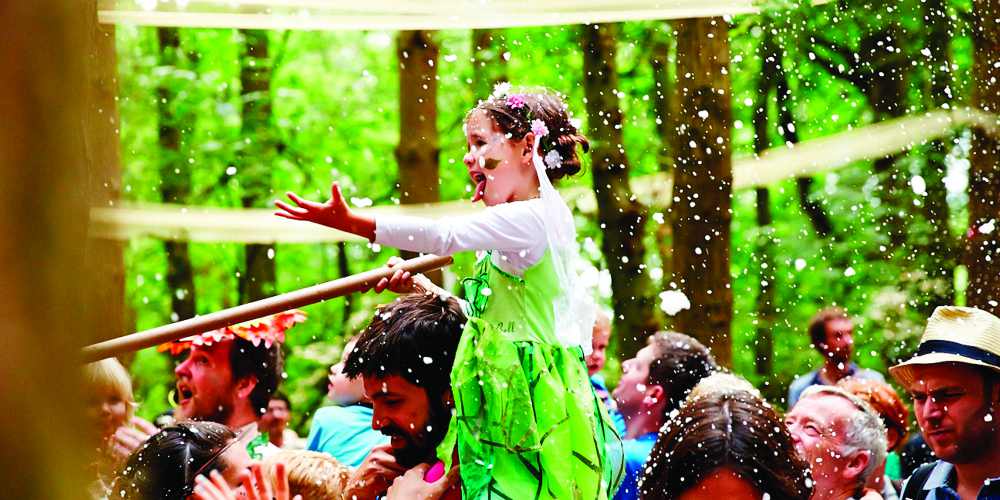 Best for fancy dress
Just So Festival takes place in the rolling parklands and woodland corners of Rode Hall Estate in Cheshire. Its main focus is the outdoor arts, so fancy dress is a must-do to really immerse you and your family into this magical alternative reality. Compete in the biggest ever pass the parcel, dance in a ceilidh, go retro in some rollerskates, learn about animation or watch some pyrotechnics. Don't worry, there's music too with a range of live bands plus night time DJ sets in the woods. Children will love the campfire storyteller, silent disco and giant woodland marble run. A special area for 0-4 year olds containing soft music, bubbles, yoga and a wind down bath time should ensure peaceful nights. Just So has a range of smart camping options.
Tickets £140 adult, £50 3-15 year olds
13/19 

Port Eliot, 25-28 July, Cornwall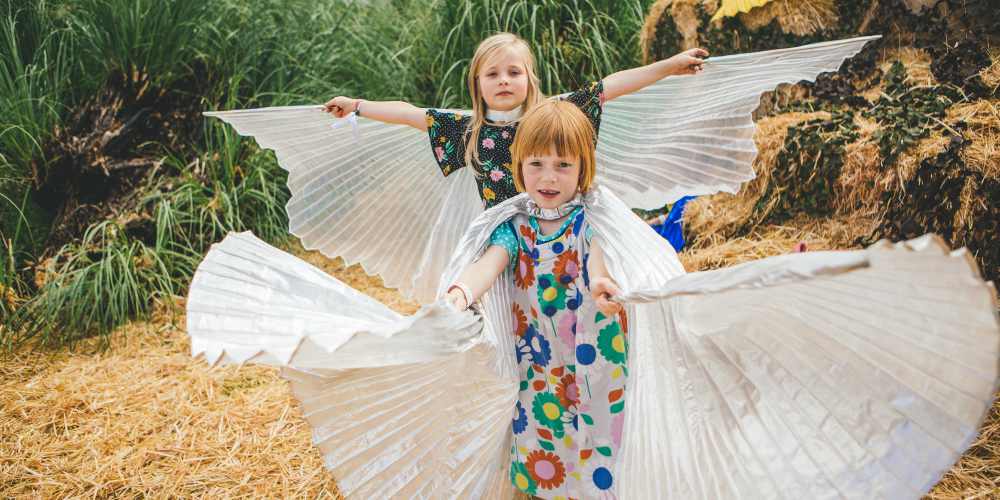 Best for pure escapism
For pure fairy tale, head to Port Eliot. This whimsical festival is an absolute delight for all ages. Participate in a treasure hunt in a maze of fancy dress characters, have your tarot cards read, learn about nature writing or have a go at archery. For the more typical festival fare, there's an excellent mix of musical delights from synth pop to brass bands. For big names, you can't go wrong. Kate Winslet has told children's stories here, Scorsese has picked out the film programme and Noel Fielding has done stand-up comedy. The festival is set on beautiful Cornish coastline in a huge, ancient estate with over 6,000 acres to roam around, so if you tire of festivities, there's wild swimming, riverside running and river canoeing to do, plus the 100-room house, remodelled by Sir John Soane, to explore. There's even a woodland crèche to drop off your cherished ones to before heading for some treatments and the hot tubs. Bliss. Boutique camping including airstreams and grand tipis is available if you don't want to rough it camping.
Tickets £175 adult, £105 13-17 year olds, £75 8-12 year olds
Find out more about Port Eliot
12/19

 Standon Calling, 25-28 July, Hertfordshire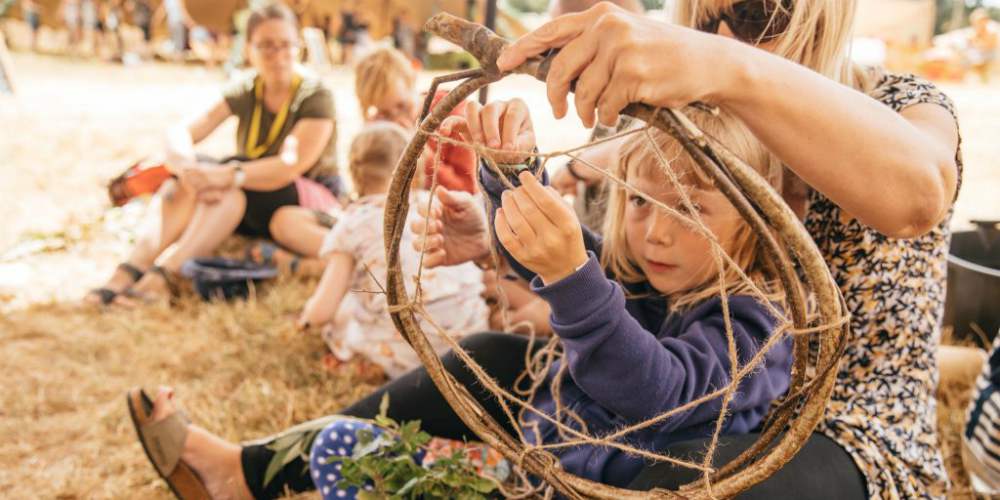 Best for a bit of everything
This festival may be small but it packs a punch, and in glorious Hertfordshire countryside too. You can groove away to Rag n' Bone Man this year. Florence and the Machine, The Maccabees, Basement Jaxx and Ella Eyre have graced the stage in the past. Expect action-packed days with storytelling, drama, dance, craft classes, den building, yoga, a circus tent and toy-filled play bus with soft play on offer. Phew. Luckily, the chill out area is impressive with a spa, wood-burning hot tubs, sauna and pamper zones. Babysitting is also available should you want some time out from your brood. Different types of smart camping options are available from luxury bell tent to yurt suites, plus premium or normal camping.
Tickets £139 adult, £119 13-15, £40 4-12 year olds, £5 0-3 year olds
Find out more about Standon Calling
11/19 

Isle of Wight Festival, 13-16 June, Isle of Wight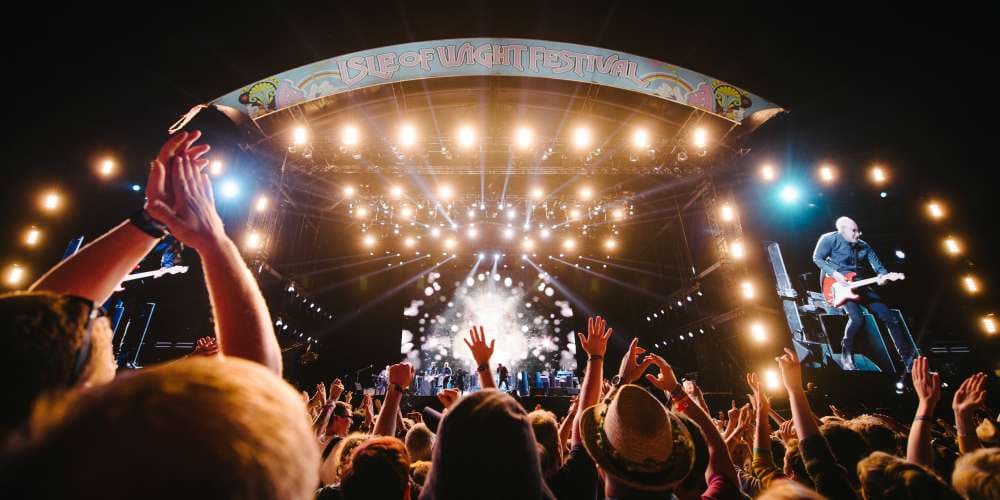 Best for classic festival vibes
This long-standing music festival is not focused on children, but is very family-friendly. Liam Gallagher, Manic Street Preachers, The Killers and Kasabian have all played here. A kids' zone comes complete with comedians and magicians plus a craft tent where sprogs can make fancy dress outfits or shadow puppets. There's also a dedicated baby changing and feeding area plus a toddler-tastic creation station where your little darlings can make mess to their heart's delight – and you won't have to clear it up. Luxury backstage and boutique camping is available or you can choose to stay outside the grounds.
Tickets £175 adult, £155 teen, free 12 and under
Find out more about the Isle of Wight Festival
10/19 

Green Man, 15-18 August, Wales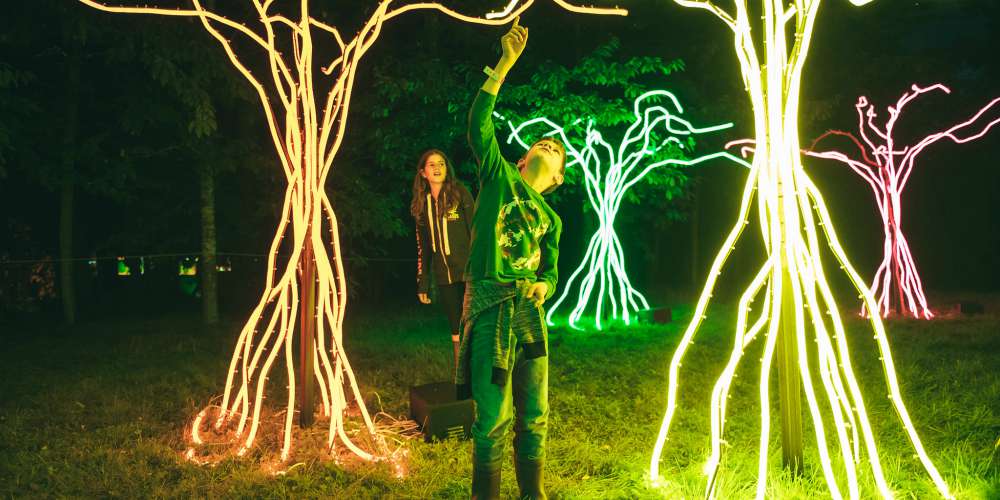 Best for location
Green Man, in the heart of the wild Welsh mountain landscape, is an immersive wonderland. Not only is there an eclectic musical mix from mainstream to emerging talent, there are also art installations galore, numerous though-provoking talks, laughter workshops and even a science fair to stir up you and your minis' minds. Younger ones should head to the 'Little Folk' area for family fun, with creative workshops and 'adventures of the imagination'. Teens may prefer 'Somewhere' for football, yoga, pedal-powered cinema and songwriting classes. A dedicated brewery area for artisanal beer and cider lovers should satisfy those who like a tipple. Family camping is available as are pre-pitched tents or the option to stay outside the festival grounds.
Tickets £189 adult, £21 5-12 years old
9/19

 
Beautiful Days, Devon 16-18 August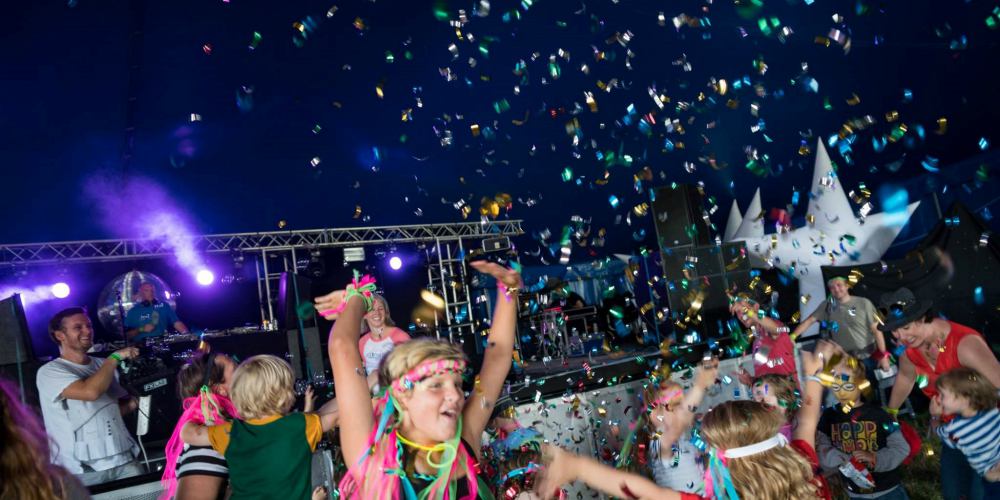 Good for refreshingly simple fun
Beautiful Days prides itself on being non-corporate, so you won't see any branding or sponsorship ads anywhere. Several stages host a variety of artists – from musical to theatrical. This year sees Skunk Anansie, Ziggy Marley, The Levellers and Ash belting out hits. Expect real ale stalls and street food plus a huge children's area, teenage chill out tent and baby changing. There is family camping available, with family activities on from early morning to keep your nippers entertained.
Tickets £142.50 adult, £70 10-16 years old, £40 5-10 years old, £5 under 5s
Find out more about Beautiful Days
8/19 

Y Not, 25-28 July, Derbyshire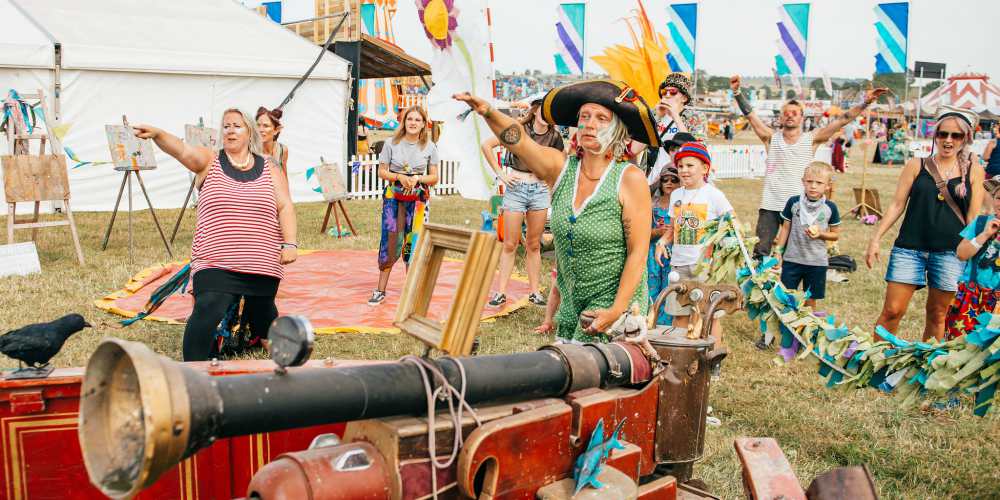 Good for a bit of everything
Set in the heart of the Peak District, this large festival brings an eclectic mix of music genres to your ears. Big indie bands Elbow, The Foals and Franz Ferdinand are playing this year alongside many other top and emerging names. Head to the 'Strawberry Fields' family area with main stage, magic shows and games aplenty. Family camping is available.
Tickets £129.50 adult, under 12s go free
7/19 

Wickham, 1-4 August, Hampshire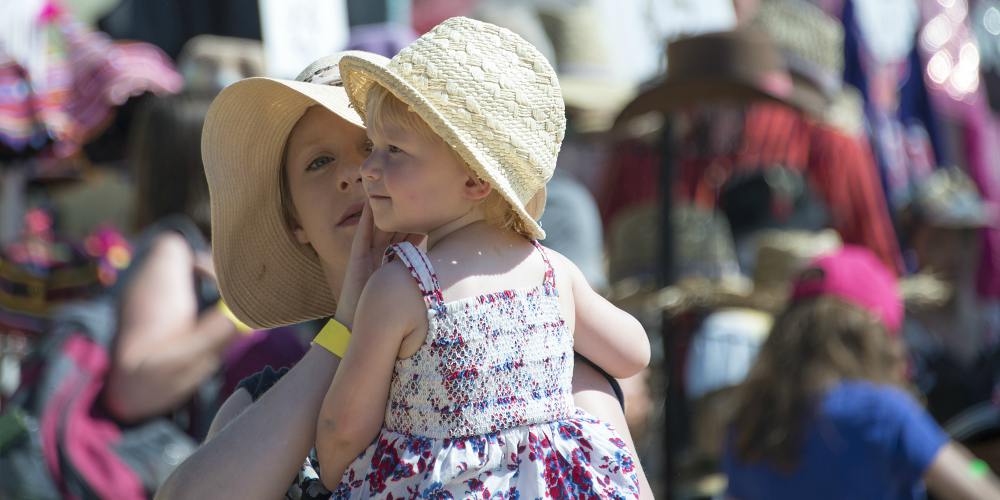 Good for small-scale hedonism
If you prefer your festivals a little less full on, Wickham Festival could be the one. You can just come for the day too. Wickham promotes local artists as well as larger acts. This year Frank Turner, the Sleeping Souls, The Proclaimers and Level 42 are all headlining. There's also a 'Groovy Movie' solar-powered cinema, playbus, laser arena and bouncy castle for smaller ones to enjoy. Late night comedy and DJ sets should take you into the evening hours. If you don't want to rough it with the mainstream, choose posh camping or opt to stay in the nearby village with your brood. All areas at the festival are accessible to all.
Tickets £150 adult £75 under 16 Free for under 10s
6/19 

Latitude, Suffolk, 18-21 July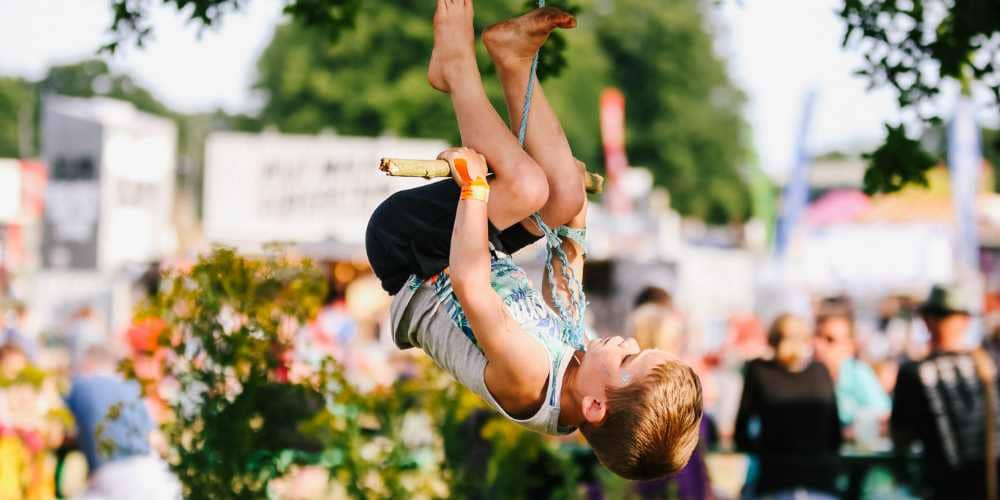 Good for big names
Big names headline at Latitude. 2019 sees George Ezra, Lana Del Ray, Snow Patrol, Underworld and Primal Scream on stage. There are many other arenas to immerse you and your family in too at Latitude including film, comedy, a speakeasy, theatre, cabaret, art and dance. BBC Music will also be attending for the first time this year. Latitude knows kids. There are three dedicated areas for little ones including a teens' area packed full of fabulous activities. Family camping is thoughtfully set up near family activity areas.
Tickets £202.50 £137.50 13-15 years old £15 Under 13
5/19

 Nozstock, Herefordshire, 18-21 July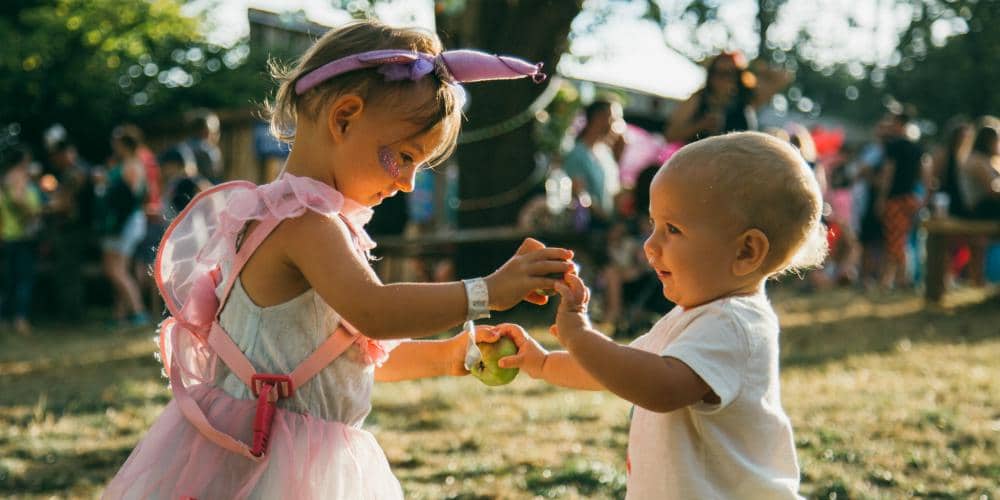 Good for immersive shows
Long-standing Nozstock Festival in rural Herefordshire is a real treat for music lovers with funk and soul grooves, electronic beats and bone rattling drum n' bass. Past years have seen Grandmaster Flash, Goldfrapp and De La Soul do their thing. Nozstock may be small in size but is wildly imaginative with art installations and immersive performances at every corner. Watch weird and wonderful cinematic shows, engage in thought-provoking discussions and listen to poetic poetry. Kids can get stuck into dance workshops, felt making, tie dye, clay pots, headdresses, kite making, face painting, soft play and puppeteering. Choose from glamping, pre-pitched tents or the family camping area with food stalls and a play area.
Tickets £135 adults, £110 13-14 years old, Free for 12s and under
4/19 

Valley Fest, 2-4 August, Somerset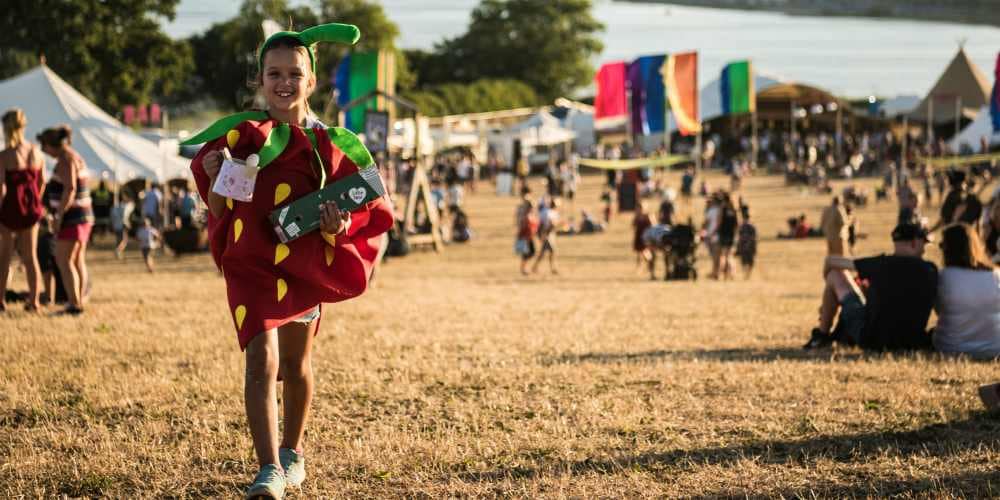 Good for a countryside feel
Valley Fest is perfect for those who want a taste of the good life. Set on an organic farm, there's a host of wholesome, outdoorsy things to do.  Your littleys can learn about farm life and have a go on vintage tractors at 'Hogsnorts' farm academy, pat farm animals and watch falconry displays. Basement Jaxx has been confirmed for 2019 and you can expect a wide range of other laid back beats. Once you've had your musical fill, there's plenty of foodie action, with tastings and talks plus tapas served up for all. There's no dedicated kids area here as the whole festival is designed to cater for families. If you don't want to camp by the lake, you can choose to go home on an evening instead.
Tickets £110 adult, £45 13-17 years old, £25 6-12 years old, £15 3-5 years old, £5 0-3 years old
Find out more about Valley Fest
3/19 

Wilderness, 1-4 August, Oxfordshire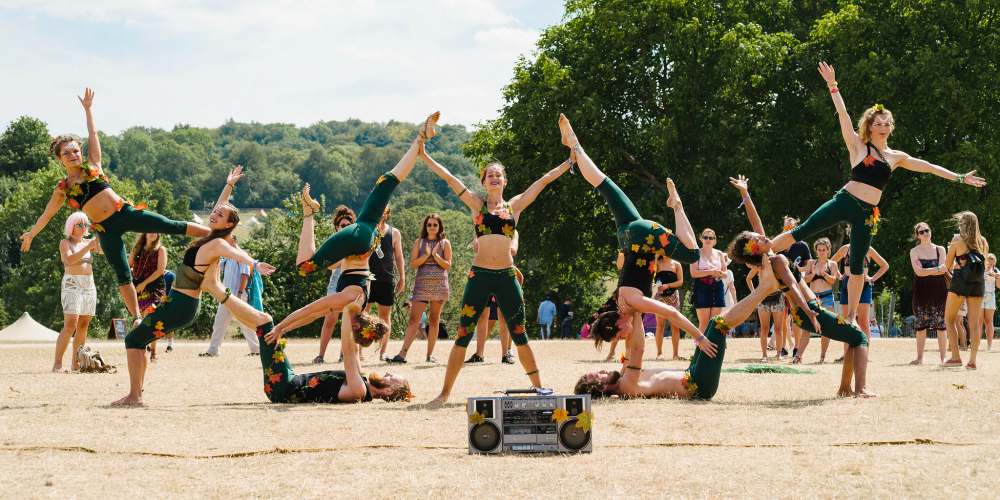 Good for first-timers
This well-known but fairly new (2012) event is set in rolling ancient woodland. There's a nod to nature and the arts as well as some cracking headliner musical acts. Foodies will be in heaven with equally big names chefs like Thomasina Miers and Yotam Ottalenghi. The children's area contains an eclectic range of workshops and shows. Different camping options include family camping, meadow camping and boutique camping. Family camping has baby change facilities, and is set near the family area.
Tickets £168.50, £115 (13-17), £35 (6-12), £5 (0-5)
Find out more about Wilderness
2/19 

Edinburgh Fringe, Edinburgh, 2-26 August, Edinburgh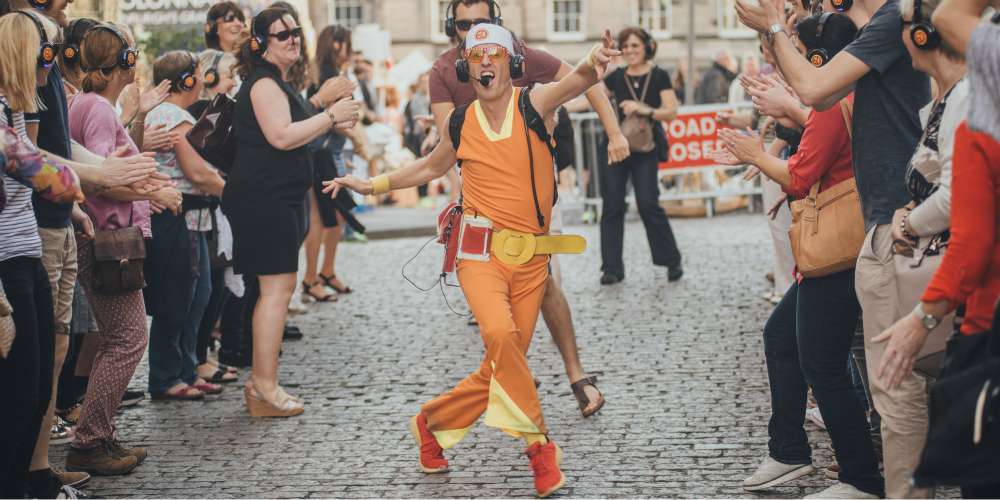 Good for comedy
A trip to the world's largest arts festival with kids may seem a little overwhelming, but it's a fabulous show to go to at least once in your lifetime. There are thousands of performances to choose from – theatre, comedy, dance, circus, cabaret, children's shows, musicals, opera, music, spoken word, exhibitions and events. A daily programme of children's shows, theatre, magic and dance should help you narrow down your selection. Combine this with a stroll down the Royal Mile where performers will put on spectacles for free. Prepare for imaginations to go into overdrive.
1/19 

Starry Skies, Usk, Wales, 31 July-4 Aug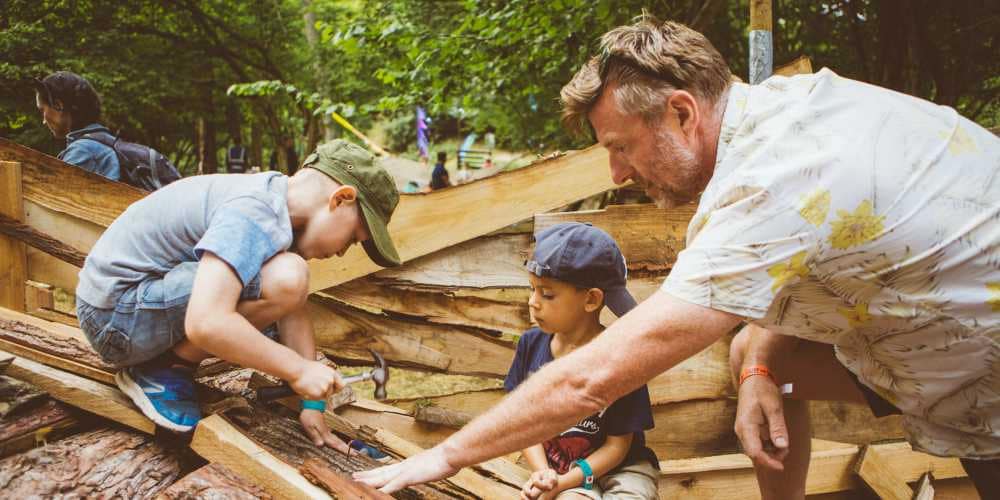 Good for letting your kids run wild
Starry Skies is run by the same good people behind much-loved Shambala (which is already sold out for this year!). Starry Skies is designed to 'to give free-range kids and their grown ups all the best bits of a family festival and camping holiday rolled into one'. Its aim is to give children the opportunity to really experience freedom and a taste of great outdoors.  The beauty of Starry Skies is its idyllic location – on a family-run farm deep in the Black Mountains – and its intimate size – its capacity is 250 families, which means it will never feel overwhelming. Kids are encouraged to run wild and enjoy all the outdoorsy fun going on; and there is lots. DIY adventure playgrounds, mud kitchens, water slides, forest school, circus school, pony grooming and foraging are just some of the gentle and non-commercial activities lined up for your tribe.  Those with babies should head to the Bub Hub Yurt for massage, yoga and singing. A huge rustic barn is the control centre of the festival, hosting cracking live bands and discos, suitable for all ages. Foodies should love the craft beer, wine and cheese tastings and classes and for some relaxation there are plenty of yoga, meditation and mindfulness sessions. Bell tents are available to hire should you want more luxury than standard camping.
Tickets £165, £45 (3-17), Under 3s go free.
Find out more about Starry Skies