1/10

Adventures at LEGOLAND

LEGOLAND always gets the seal of approval from the little ones and this Easter the family-favourite is ready to give guests a fun-filled week of exciting activities and brand new attractions. LEGO fans will get to see their favourite heroes with the new 'LEGO® Movie™ 4D, A New Adventure' an interactive 4D attraction reuniting the original characters in a never seen before movie and totally exclusive to LEGOLAND.

Little ones will go on an adventure with Emmet, Wyldstyle, Benny, MetalBeard and Unikitty on an unforgettable journey. The characters receive an invitation leading them to a new theme park, but it's not all it seems. But you'll to watch it find out what happens! Kids and adults alike will be amazed at the immersive 4D elements such as wind, water and special lighting coming together to bring the story to life.

If that wasn't enough, families can get lost in 1.5 million LEGO bricks, yes really! Alternatively you can also take part in Ninjago Laser Training Camp, have fun in the on-site soft play area and all the attractions that make LEGOLAND the place to be.

Price: Online prices, adults and children £37

2/10

 Alice in Wonderland at Leeds Castle

This Easter, make your way to Leeds Castle for Alice in Wonderland family fun. Fun trails for the children, Mad Hatter's tea parties and not forgetting croquet on the lawn with the Queen of Hearts – the kids will be talking about this day out for a long time.

The activities start on 25 March and run through to 10 April. A huge amount of attention to detail has gone into the Alice in Wonderland theme, from the impromptu tap dance routines by Tweedle Dum and Tweedle Dee to the scheduled activities, there's something to discover at every turn.

An interactive pop-up tea party will take place everyday at 1.30pm, and families are invited to join in with the Mad Hatter's riddles. On Easter weekend, little ones will be able to meet Alice herself, as she'll be making appearances around the castle's grounds.

With a trip to Leeds Castle, you'll find enough activities to keep the kids busy all day, plus gift shops and cafes. On top of that, the gardens surrounding the castle are exquisite, especially during the spring and summer months, and you and the kids can even spot wildlife like swans. ducks and squirrels!

Price: Adults £21.50, children £13.50, under fours go free.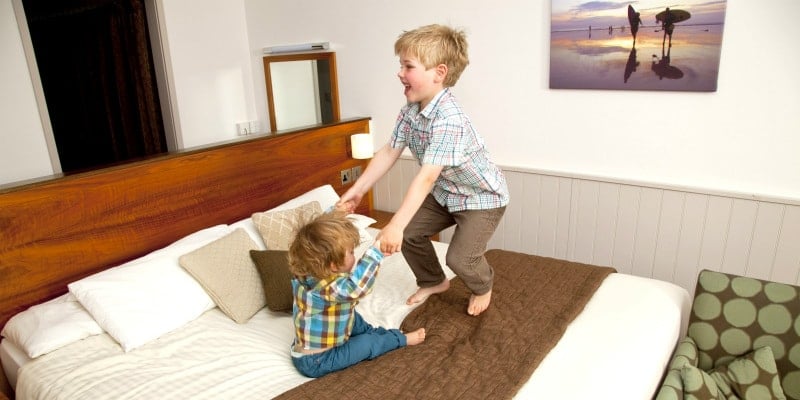 3/10

 Sands Resort Hotel & Spa, Cornwall

Perched on the cliffs of the North Cornwall coast, Sands Resort Hotel & Spa offers the perfect family holiday. Cornwall is a longstanding favourite in the UK for staycations and at Sands, not only is the location second to none with unrivalled beaches, surfing and scenic coast path walks, Sands has thought of everything families need for a relaxing break.

Recently named one of the Best Family Hotel in the UK as part of the TripAdvisor Travellers' Choice Awards, Sands takes care of every little detail that makes travelling with children fun rather than frantic.  Stylish, family-friendly room layouts that give parents and children a little much needed space and privacy, baby listening and OFSTED approved Kids' Clubs that keep the children entertained and happy. Parents can unwind and enjoy a relaxing spa treatment, a swim in the pool child-friendly meal times and free body board and wetsuit hire.

Sands has also thought of all the little details that make travelling with young children easier, with buggies, bottle sterilisers, highchairs and travel cots at hand. The hotel has everything laid on to make a family short break a relaxing and enjoyable one.

Visit Sands Resort during the Easter Holidays and enjoy all the family-friendly facilities plus an action packed entertainment programme including the big Easter Egg Hunt around the extensive grounds. Families will be challenged to find their room number and once found they can swap it for chocolate eggs.  Also part of the holiday entertainment programme are regular visits from the local aquarium, magicians, a ventriloquist, street surfing and a knickerbocker glory and movie night for older children.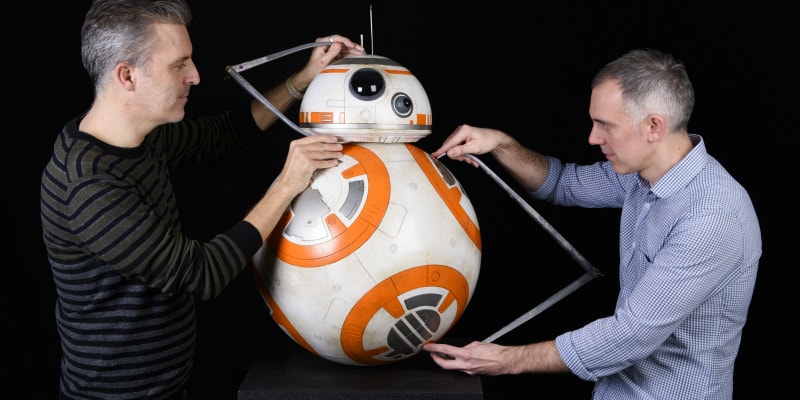 4/10

 Star Wars at Madame Tussauds

This Easter be at one with the force at London's Madame Tussauds. After the roaring success of the Star Wars experience which first opened in May 2015, Madame Tussauds will add character figures from the latest film, Star Wars: The Force Awakens.

Fans of all ages, will be able to interact with BB-8 and Rey in spellbinding sets recreating the deserted world of Jakku. Naturally the more you know the films, the more you'll get from the experience, so it might be fun having a family movie marathon before visiting the attraction.

With these two new additions, there will be a total of 18 characters in the immersive Star Wars experience, which recreates powerful moments from the films. The experience is perfect for young, old and young at heart. Even if you or the kids aren't die hard fans, there's something to love for all.

To celebrate the arrival of BB-8, Madame Tussauds are inviting fans to dress up as their favourite Star Wars character over the Easter weekend. Fans who dress to impress in their costumes from Good Friday to Easter Monday will get a free BB-8 gift and get automatically entered to win a BB-8 app-enabled droid each day!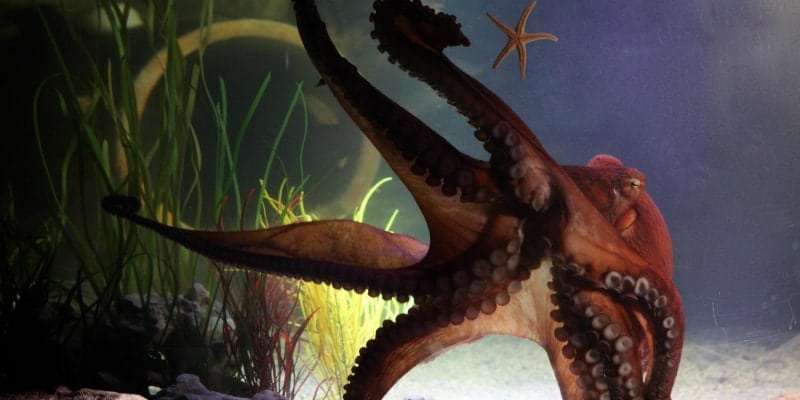 5/10

 Meet Hank at Sea Life, Manchester

Make this Easter egg-cellent with a trip to SEA LIFE Manchester. The attraction recently launched their brand new exhibition Octopus Hideout, to give families a unique opportunity to see some of the oceans most intelligent creatures.

The star of the show, Hank, is a blue blooded giant octopus with three hearts – but don't worry, he isn't as scary as he sounds. Hank belongs to one of the world's biggest octopus species and can grow to a whopping 50 kilograms and five metres in length. If the kids are curious about what lurks beneath the deep sea, then Octopus Hideout is ideal for them.

Hank aside, families won't want to miss the prehistoric nautilus, a primitive octopus in a serial shell, or the teeny Long Arm Octopus with a 90 millimetre body. But you'll have to have your eyes peeled, octopuses (yes, that's the plural!) are the masters of disguise, so you'll have to look hard to spot them.

SEA LIFE Manchester is home to fascinating sea creatures from all over the world. Some of the most loved are Ernie, the Giant Sea Turtle, seahorses and even sharks.

Price: Online price adults and children £9.95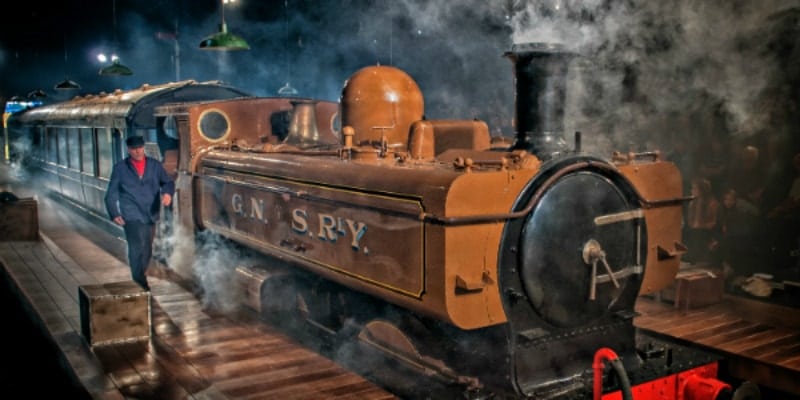 6/10

 Watch The Railway Children

For rainy days this Easter, there are plenty of options for a family cinema trip. Perhaps the most anticipated film for families is The Railway Children, a film of the York Theatre Royal's Olivier award-winning production, performed at the National Railway Museum, Yorkshire.

The film is imaginative and beautiful capturing a stage adaptation of E. Nesbit's iconic novel. You're sure to feel more than a little nostalgic as you introduce the kids to a classic story.

The Railway Children follows the story of Roberta, Peter and Phyllis, three siblings whose lives get turned upside down when their father is taken away from their London home and falsely imprisoned The children, along with their mother, are now penniless and move to Yorkshire near a railway line. The story is both sad and heartwarming, and highlights the importance of family. Filmed with just seven cameras, whose operators must handle the staging and moving platforms, the film captures every moment in a fast-paced production.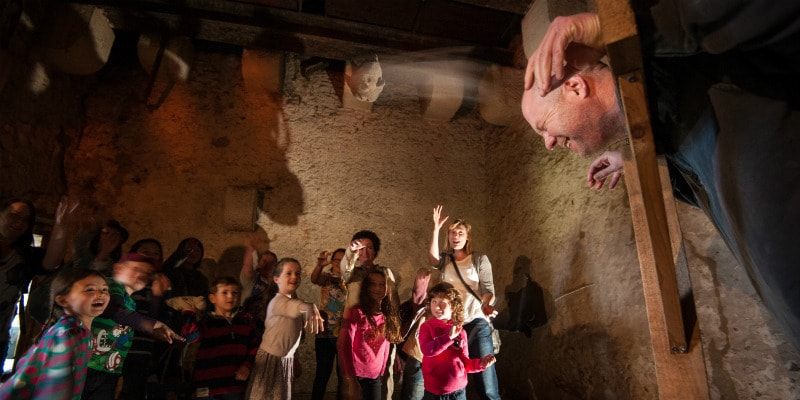 7/10

 Oxford Castle Unlocked

If you're looking to snag a bargain this Easter, then this is for you. This Easter Oxford Castle Unlocked are treating kids to £1 entry to the attraction. Oxford Castle proves itself worthy as a family day out – charming location, value for money, fun activities and dare we say it…educational.

You and the kids will learn about the castle's fascinating history, from the time it served as both a castle and prison and the contrast between both eras. You'll also get to sample Victorian hard labour and punishment on an interactive treadwheel and crank handle – getting a tiny taste of the dark side of Victorian life. Of course no family day out would be complete without a souvenir family mugshot (additional cost).

Oxford Castle Unlocked is a 1000-year-old castle in the heart of Oxford's city centre, so whether you're a local or a tourist looking for a new adventure, it's easy to get there. Families always receive a warm welcome and are invited to join a costumed character tour guide, who will leave the kids in fits of giggles. The tour not only explores the historic buildings, but the colourful stories behind them.

Price: Adult: £10.75, Child: £1*, Concession: £9.00

*Terms and conditions: One discounted child per full paying adult. Must be booked online in advance. Not valid in conjunction with any other offer. Offer not valid between 25 and 28 March 2016.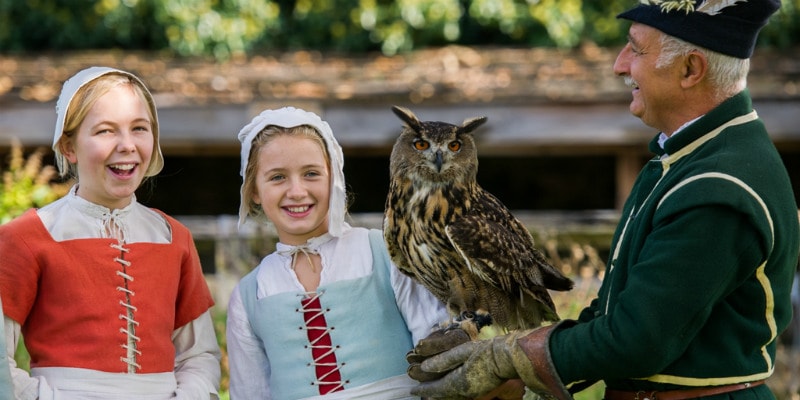 8/10

  Easter in Shakespeare's England

Enjoy some lovely Easter activities for all the family in Shakespeare's England from 18 March – 4 April. The Royal Shakespeare Company is hosting a whole host of activities, from re-creating sword fights inspired by Hamlet, to using a printing press to make hand printed quotes.

If that wasn't enough The Great Shakespeare Egg Hunt is taking place at the Royal Shakespeare Theatre from 25-28 March. The Egg Hunt is a great activity for families and it's completely free of charge, just pick up a leaflet and help the kids follow the clues to find their Easter treats.

Other activities going on include the Mad Hatters Easter Crafts taking place at The Old Slaughterhouse in Stratford-upon-Avon, on 25 March. Here kids will be able to enjoy a variety of games, face painting and even live music. At just £5 including refreshment, it couldn't get more tempting. The venue will also be hosting an egg hunt on the Easter weekend, and all those who finish will be entered into a prize draw.

Price: Varies depending on activity
Find out more about Easter activities in 

Shakespeare

's England.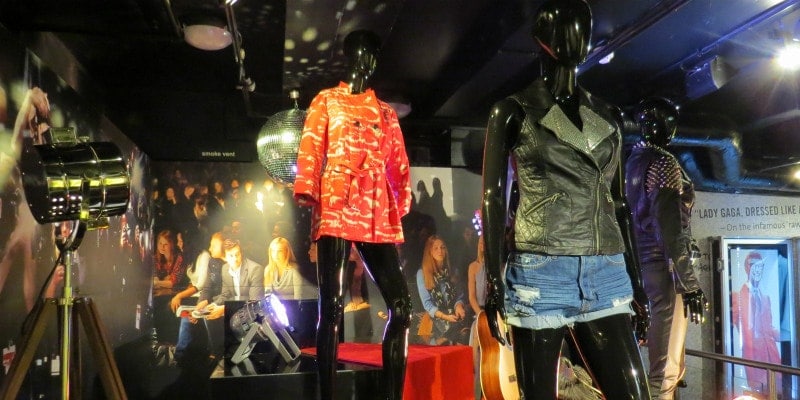 9/10

 Treasures of the Hard Rock presents Hard Rock Couture

This Easter promises to very exciting for music fans – families can get up close and personal to some of the world's most iconic clothing at the must see 'Hard Rock Couture' exhibition at Ripley's Believe It or Not from, running until 10 April.

Hard Rock Couture presents some of the wild trendsetting clothing from the ages that will have the little ones mesmerized with an eclectic mix of sparkles, sequins and patters. Items featuring include Paul McCartney's suit made by tailors to The Beatles, which will have dad star struck and stage costume's from superstars, Lady Gaga, Katy Perry and much more.

Not only will you get the music chills, but you'll also have access to 700 exhibits waiting to be discovered. Ripley's Believe It or Not is in the heart of London's Piccadilly square but once your inside you'll be transported into a fun world, with transformers, wacky sculptures, Tower Bridge made of matchsticks and much more. Anything but ordinary Ripley's is a perfect stop for some Easter fun.

Price: Family ticket (2 adults + 2 children OR 1 adult + 3 children) £59.96 (online price)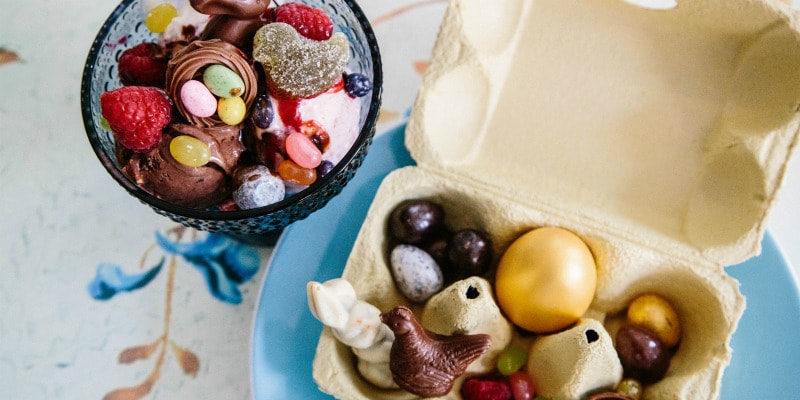 10/10

 Sweet treats at Fortnum & Mason

Spending some family time in London this Easter? They you should find some time to visit Fortnum's iconic Piccadilly store from 24-28 March to enjoy a variety of Easter themed fun.

Fortnum's is giving little ones and sweet-toothed adults the chance to Build Your Own Sundae at the famous parlour. Pick from an assortment of flavours and sorbets and sprinkle with six toppings served in an Easter Box. But naturally there's a twist. One fortunate ice-cream devourer will also uncover a one-of-a-kind Fortnum & Mason golden egg and for the first time in the store's history, will be crowned our official 'Ice Cream Taster' for the year. The lucky little winner will trial and test Fortnum's new handmade ice creams, all before they hit the shop floor – the ultimate dream.

And if that wasn't enough, Fortnum's will be allowing visitors to create and decorate their own eggs which can be hung on their special tree on the first floor. Alternatively you can take it home and treasure the family memories.

Price: Free
Looking for something egg-tra special for the kids' egg hunt this year? We've rounded up 2016's most awesome Easter eggs for kids.