Nothing beats spending a day down on the farm, getting the chance to feed and stroke the animals, learning about the ins and outs of farm life and enjoying a tractor and trailer ride through the countryside. The UK has a fantastic selection of farm days out that are guaranteed to be big hit with kids of all ages, not to mention parents (seriously, who doesn't want to cuddle a baby lamb?). Here's our pick of the very best.
By Sarah Dawson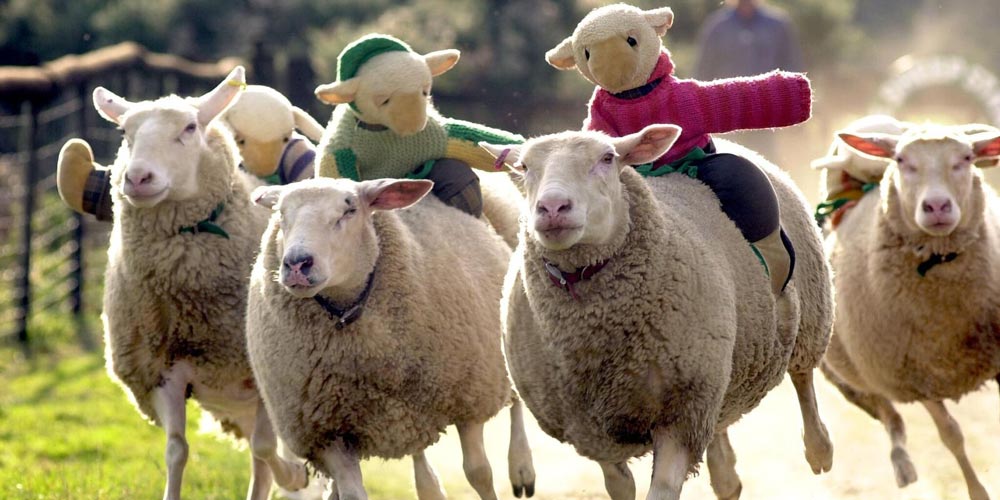 1/8

The Big Sheep, Devon

When The BIG Sheep says it has something for the whole family, they're not wrong. This popular Devon farmyard attraction has plenty to keep everyone happy, whatever the weather. Explore the working farm and meet the animals in the animal barn – there's even a chance to pet some of the animals and bottle feed baby lambs – before you take a ride on the Rampage Rollercoaster (if you're brave enough, that is!). The EWEtopia Indoor Playground is a wet weather saviour – although you'll have a job trying to get the kids to leave – and the world-famous sheep racing has to be seen to be believed. All this plus an on-site brewery. What more could you want?

Where: Abbotsham Road, Bideford, North Devon EX39 5AP

Cost: Adults and children, £14.95 each. Children under 3ft in height, £6 each. Babies under 12 months, free.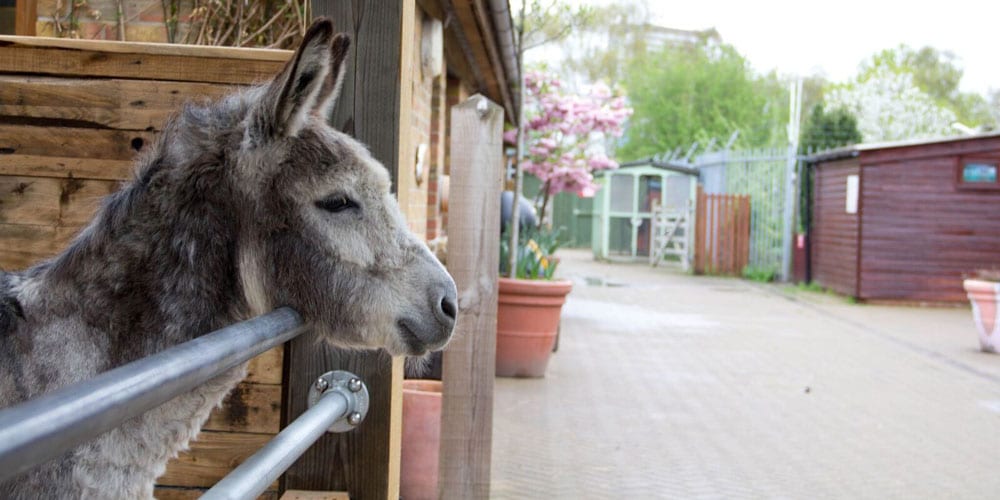 2/8

Mudchute Farm, London

City farms don't get much better than East London's Mudchute Park and Farm, run as a small charity by local residents, with free entry all year round. This little piece of countryside, tucked away in the heart of the English capital, is home to over 100 animals and birds, including an impressive number of rare breeds. As well as the usual farmyard suspects like cows, pigs, sheep and chickens, you can also meet the llamas and alpacas as you explore the farm. Book a farm tour, to get a real taste of how the community farm works and, if you're lucky, a chance to feed some of the animals.

Where: Pier Street, Isle of Dogs, London E14 3HP

Cost: Free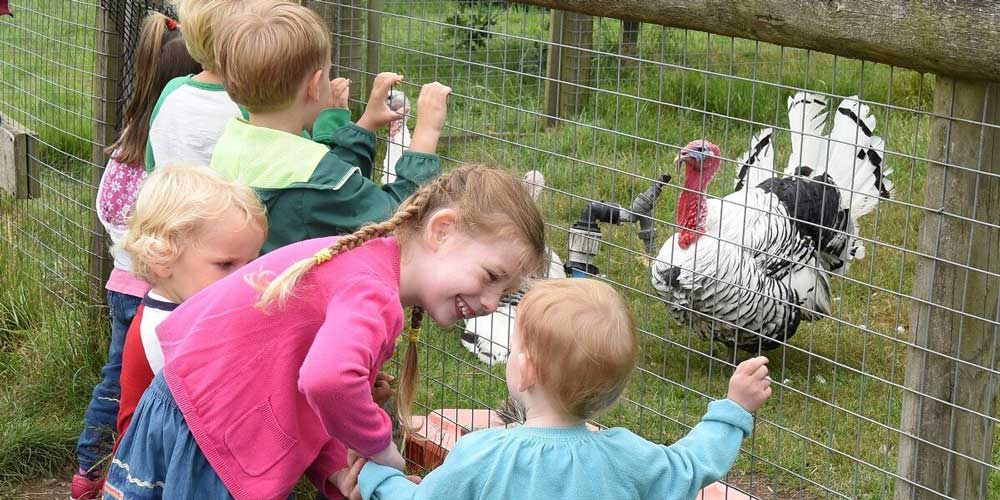 3/8

Odds Farm Park, Buckinghamshire

Celebrating their 25th anniversary this year, Odds Farm Park has all the ingredients for a perfect family day out. There are plenty of daily activities on offer for the kids to get hands-on, including collecting freshly laid eggs, bottle feeding kid goats, milking the cows and sheep shearing, depending on the season.

If the sun shines, head over to the newly opened H2Odds, a large water play area which the children will love (just make sure you pack some spare clothes, as they are definitely going to get wet!) There are acres of outdoor play, with everything from an adventure fort to a fun maze, as well as a giant indoor play area and daily tractor and trailer rides. So much fun.

Where: Wooburn Common, High Wycombe, Buckinghamshire HP10 0LX

Cost: Adults and children from £10.95, depending on what day you visit. Children under 2 go free.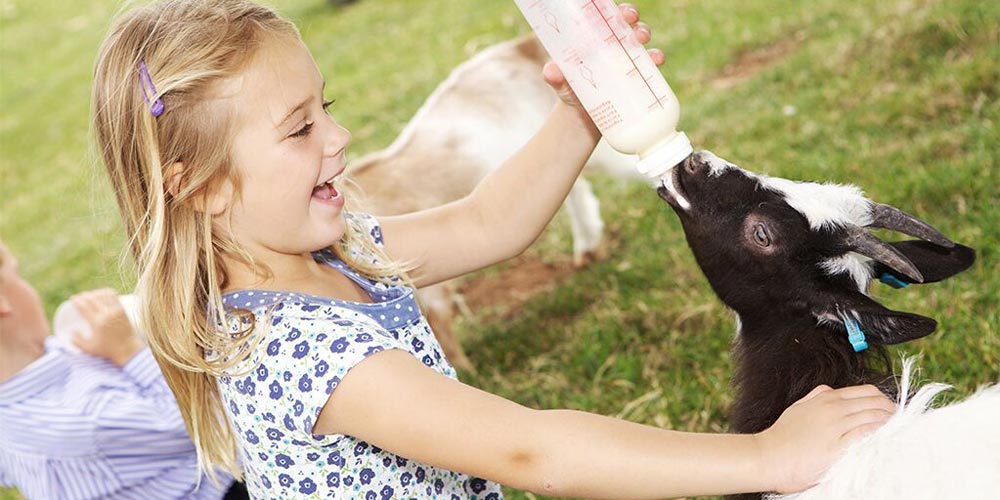 4/8

Cotswold Farm Park

Run by farmer and Countryfile presenter Adam Henson, Cotswold Farm Park gives children the chance to see how a working farm really works. Hop on the Farm Safari, a tractor and trailer journey around the farm where you'll get to learn about all the animals and rare breeds who live there, then visit the Experience Barn to meet the smallest residents of the farm including tiny chicks and baby rabbits.

With a packed daily calendar of activities to keep you busy, along with the indoor Adventure Barn, outside play areas and a Wildlife Walk through the picturesque Cotswold countryside, you'd be hard pushed to see everything in a day – lucky there's a caravan and campsite, with glamping options, to stretch out your visit a little longer.

Where: Guiting Power, Nr. Cheltenham, Gloucestershire GL54 5UG

Cost: Prices vary, depending on what day you visit, but start at £9 for adults, £8.50 for children and £7 for toddlers (2 and 3 years).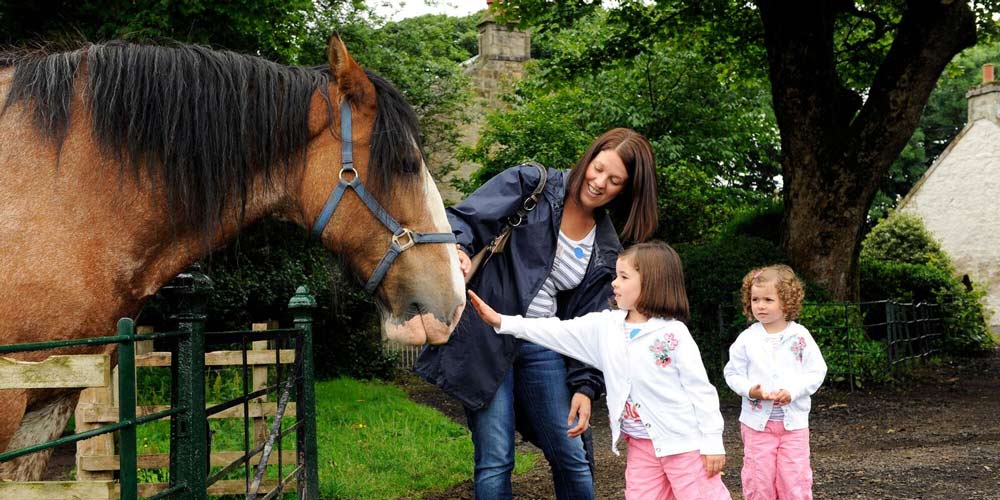 5/8

National Museum of Rural Life, East Kilbride

Step back in time with a visit to Scotland's National Museum of Rural Life. The large museum is a dream come true for little tractor fans, with all sorts of combine harvesters, threshers and more to see up close, covering 300 years of farming history, and the period farmhouse offers a glimpse into what life was really like for farmers all those years ago.

There's plenty to explore on the 1950s working farm, where you can meet the resident horses, pigs, sheep, cows and hens, and enjoy the Farm Explorer tractor trailer ride. Kids will love watching the cows being milked, before trying their hand at milking on Clover the Cow – thankfully a mechanical model – as well as learning all about bees at The Hive.

Where: Wester Kittochside, Philipshill Road, East Kilbride G76 9HR

Cost: Adults £7, Children £4 and Under 5's are free.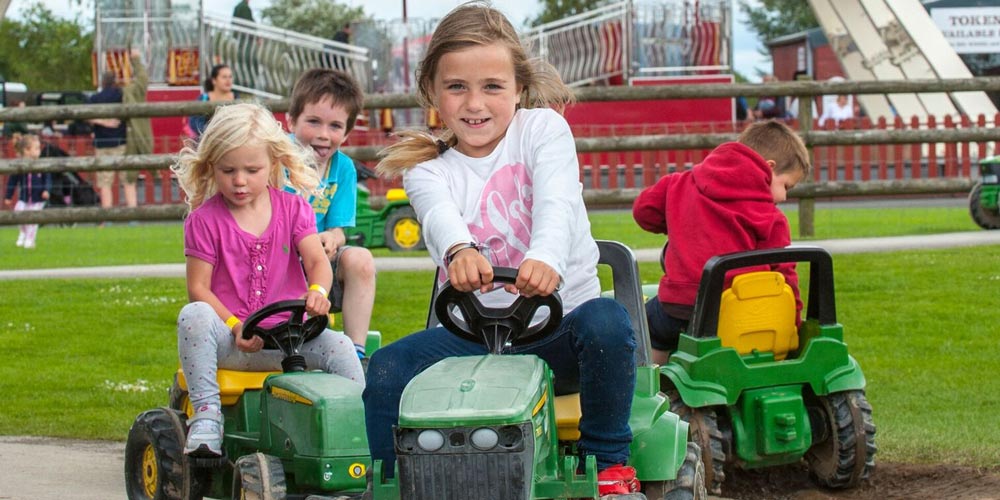 6/8

Folly Farm, Pembrokeshire

So much more than just a farm park, Folly Farm manages to combine the fun of the farm and a great zoo experience in one day out. Visit Jolly Barn and Farm to meet all your farmyard favourites including pigs, goats, lambs, and chicks, as well as learn how to milk a goat, then tour the outdoor paddocks on the vintage-themed tractor and trailer ride.

For a taste of the exotic head to the Folly Farm zoo, where you'll find over 90 different species – think lions, rhinos and meerkats – and the only giraffes in Wales! There's even the chance to get up close with snakes, tortoises, armadillos and sloths, and watch the ridiculously cute penguins at feeding time.

Where: Begelly, Kilgetty, Pembrokeshire SA68 0XA

Cost: Adults £15.50, Children (3-15) £13.50, Toddler (aged 2) £6.50 and Under 2's are free.
Find out more  about the Folly Farm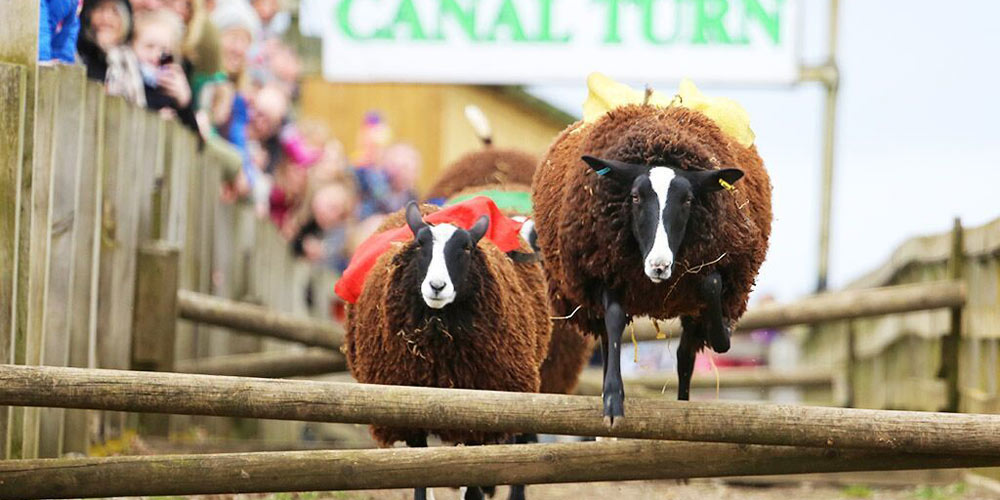 7/8

Cannon Hall Farm, Barnsley

Set in the beautiful Yorkshire countryside, a trip to Cannon Hall Farm gives you and the kids a chance to see the day to day workings of a real farmyard. Catch a live demonstration at the milking parlour, watch the tractors in action and meet the animals in the Rare Breeds barn – the first of its kind in the world.

The Hungry Llama Indoor Play Area, complete with separate under 5's section, is one of the biggest in the north of England and a perfect place for kids to let off steam if it's raining, while the adventure playgrounds and hilarious sheep and ferret racing are must-sees if the weather plays ball. Don't leave without visiting the amazing Farm Shop, stocking the farm's own beef, pork and lamb, as well as freshly baked award-winning pies and cakes, fruit and veg and lots more.

Where: Cawthorne, Barnsley, South Yorkshire S75 4AT

Cost: Adults and children £6.95 each. Under 2's are free.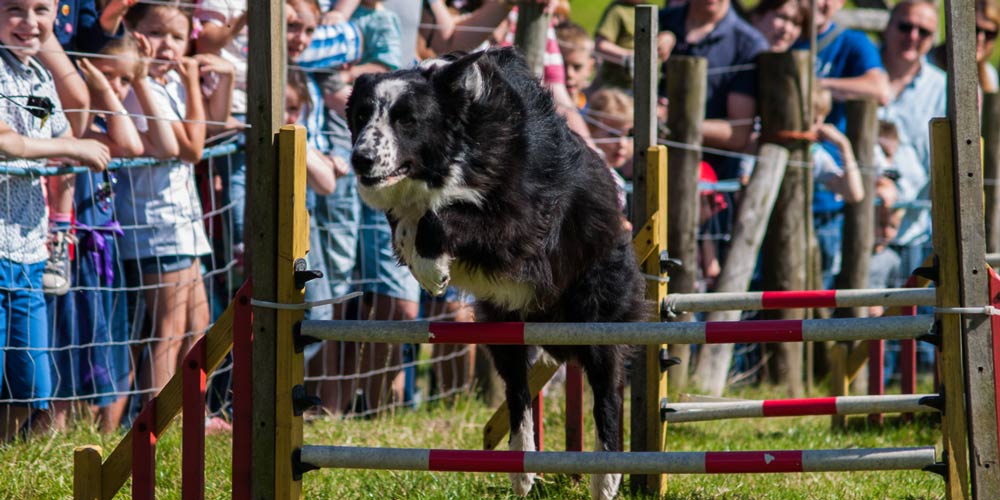 8/8

Streamvale Open Farm, Belfast

Just five miles from Belfast city centre, this family-owned dairy farm is packed with fun activities the whole family will love. The excellently-named Cuddle Corner, where the kids can stroke and hold baby chicks and rabbits, is what dreams are made of, and the cuteness continues with the chance to run about and play with the family puppies.

Watch the real farm in action during milking time, see the family pet Chase perform his tricks during the daily dog agility show, then head out on a pony trek or tractor ride. On rainy days, the kids will love the play village, which includes a vet's clinic, farm shop, milking parlour and mechanics, complete with fancy dress, and indoor play area.

Where: 38 Ballyhanwood Road, Belfast BT5 7SN

Cost: Adults £7.80, Children £7.20 and Under 3's go free.