1/10

The Magical Lantern Festival – Explore the Silk Road

The Magical Lantern Festival made its debut last year as the only Chinese lantern festival outside of Asia. It's truly unique – all the lanterns are handmade by a skilled team and this year's light sculptures have never been seen before. Set in the restored 18th Century gardens at Chiswick House, you'll see 65 acres packed with over 50 illuminated installations, celebrating the Chinese New Year of the Rooster.

This year's theme is The Silk Road, celebrating the route of trade and culture from Europe to Ancient China – and includes a 15-metre illuminated sculpture of the Houses of Parliament, a full-size replica of the ship that Chinese Admiral Zheng used on his trade explorations, and an ambitious lantern adventure across the Silk Road, through Europe, Asia, Arabia, Egypt, Persia, India and Ancient China. Children's senses will be tantalized and teased by the magical lights and they can finish the fun with a skate on the ice-rink, a Virtual Reality gaming experience plus plenty of street food and drink to enjoy and there's even a mini funfair too.
About the author
Kim Jones is an experienced journalist who has worked at various women's weekly magazines, and now freelances for them and the national papers writing about travel, health and lifestyle. She lives in Cardiff with her partner and their two sons and loves persuading them all to come away on holidays with her in the family VW camper van.
Find Kim on Twitter @kimsfeatures

2/10

Save some trees!

The Woodland Trust has got together with M&S stores to encourage you to recycle your Christmas cards and save trees in The Card Recycling scheme. For every 1,000 cards dropped in to M&S stores throughout January, a new tree will be planted by the Woodland Trust in the UK. (In just under two decades more than half a billion cards have been collected and 245,500 trees planted – if you lined them up they would run further than Land's End to John O Groats!). Get your little ones to help out with collecting your cards and dropping them off. You can also help our woodlands thrive by helping plant trees at the First World War Centenary Wood near Epsom to create a living tribute to everyone who played a part in the First World War. A free shuttle bus will take you from a car park at Epsom Downs Racecourse to Langley Vale Village and then it's a 10-minute walk to the planting site. Bring a spade and gloves if you can!

When: Card collection bins will be in M&S stores from 2 Jan – 31 Jan

Where: The Tree Planting Event takes place on 21 Jan at the First World War Centenary Wood, Langley Vale, near Epsom

Price: Free. Booking ahead is essential for the Tree Planting Event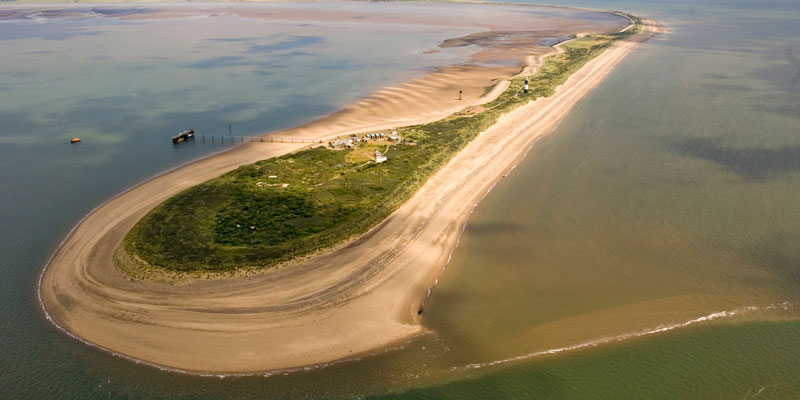 Photo credit: David Nichols
3/10

10K Challenge

Spurn National Nature Reserve is a place like no other on the East coast of Yorkshire. The 3.5 mile sandy peninsula stretches into the North Sea at the mouth of the River Humber. With the help of volunteers and supporters the Yorkshire Wildlife Trust takes care of the nature reserve and on New Year's Day from 10am – 2pm the Trust is embarking on the Spurn 10K challenge! The guided walk to Spurn Point and back will certainly blow away the cobwebs and kick start everyone's New Year. During your walk your guides will tell you all about the reserve's unique military and maritime heritage whilst also highlighting the wonderful wildlife that can be seen on the reserve.

When: New Year's Day

Where: Spurn National Nature Reserve, Yorkshire

Price: An adult ticket costs £5 and children £3

4/10

Isle of Wight Fresh Start Walking Weekend

Get into the fresh air and start off the New Year with some family friendly walking. The Fresh Start Walking Weekend consists of 10 guided walks aimed at encouraging us all to kick-start our New Year's resolutions to get active and healthy. Walks include Fortify Yourself (5miles), the Barnsley Trail (4miles), an attractive circular walk through open countryside and along the shoreline skirting the areas of Seaview, Seagrove Bay and Nettlestone; and North to South (18 miles), a walk-through Parkhurst Forest.

The Jail Trail (5.3 miles) is a walk through historic Newport to Carisbrooke to discover some of the island's most famous prisoners – plus an opportunity to have a sneak peek into The Guildhall Cells. And kids will love the Fossil Walk on Cretaceous rocks along Yaverland beach where they can explore the sand for a variety of fossils from the time of the dinosaurs. With knowledgeable local leaders at the helm and stunning coastal and countryside scenery, the weekend will set you off to a great start for the New Year.

When: 7-8 Jan

Where: Various locations on The Isle of Wight

Price: Various prices, see online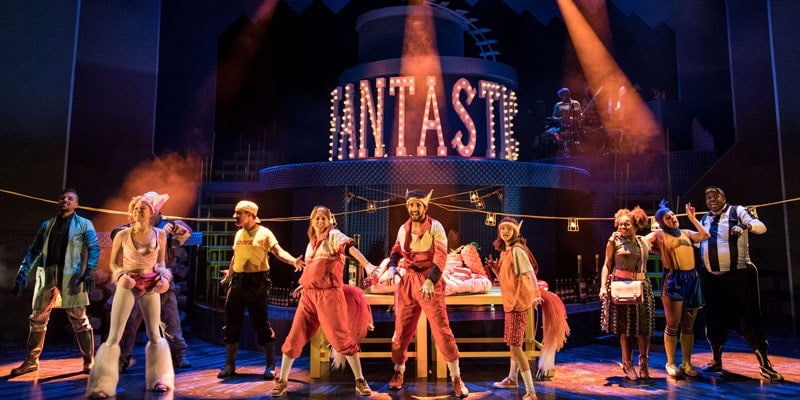 Photo credit: Manuel Harlan
5/10

Roald Dahl's Fantastic Mr Fox on tour

Catch Fantastic Mr Fox in the brand new musical adaptation for the stage. Following its world premiere at Nuffield Southampton Theatres at Christmas, it transfers to the Lyric Hammersmith for a 4-week run (25 Jan – 19 Feb) and will then tour to a further 16 venues nationwide. This family show is a playful re-telling of Roald Dahl's much-loved book; a brilliantly witty tale of the clever Mr Fox outfoxing three greedy farmers, brought to life on stage with live music and songs. As well as the usual characters from the book, there's a cute rabbit, a very particular badger, a mole and a mouse with a keen ear – all of whom help save the day.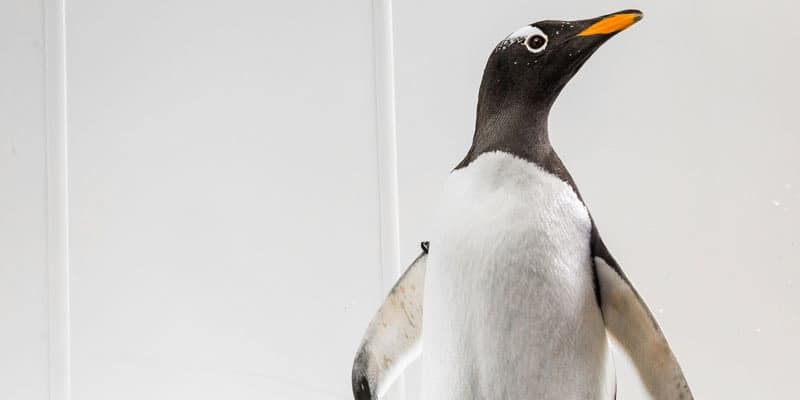 6/10

Pick up with the penguins

Watch the adorable newcomers waddle their way around their new surroundings at the Sea Life Centre, Birmingham. Nine new Gentoo penguins have come to the centre all the way from Billund, Denmark – 1, 407 kilometres away. The little fellows, four of whom were as young as seven months, were accompanied by Aquarist Hayley Roberts, who looked after them and ensured their journey was a smooth process. Six male and three female Gentoo penguins will be introduced to the existing colony as part of the Breed, Rescue, Protect programme and it's hoped that they will breed successfully this spring and continue to grow the penguin colony. Watch them dive beneath the freezing waters and play in their icy home. With indoor temperatures of 8 degrees Celsius you'll need to wrap up warm to watch their quirky antics and to touch the iced environment that the penguins call home.

When: Open daily

Where: Sea Life Centre, Birmingham

Price: See website for ticket prices and deals

7/10

Ramblers Festival of Winter Walks

Burn off the mince pies and leave footprints in the snow exploring Britain at its wintry best as you step out with The Ramblers on their free annual Festival of Winter Walks. Ramblers groups will be leading hundreds of free walks taking place all over Britain – ranging from short post-festive strolls to blow away the cobwebs, right up to whole day hikes and everything in between. For those who prefer to walk alone, or lead their own walks, festival routes are available from Ramblers Routes, an online library of more than 2,500 of Britain's best walks. And if you're in Scotland you can download the free Medal Routes App to find over 1,100 short walks across Scotland. There's really no excuse to just sit there!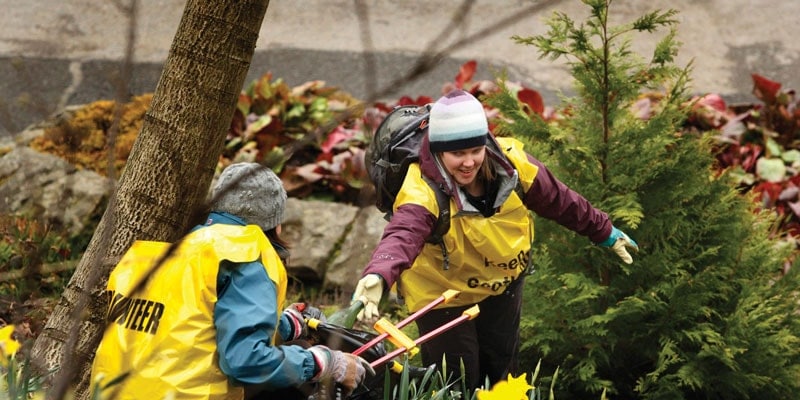 Photo: Keep Scotland Beautiful
8/10

Set up a Litter Pick-Up

Keep Scotland Beautiful is encouraging families to help improve their local area by organizing or attending a local Clean Up event. There are lots of Clean Up Events happening near you (check the website) or you can arrange your own. Go to the website so see how you can hire free costumes to wear on your pick-up and borrow a Handicart  – a cart that makes it easier to separate litter into recycling on the go and to transport the litter over a variety of terrains. If you haven't the time to take part in a full Clean Up event, why not take part in a 2 Minute Clean Up – Keep Scotland Beautiful can send you everything you need to spend just two minutes of your day cleaning up a local area, helping make a real difference in just a short amount of time.  Simply take a 2 Minute Clean Up bag with you when you next walk to school or walk the dog, and pick up any pieces you see littering the streets and parks. The little ones will love doing their bit too.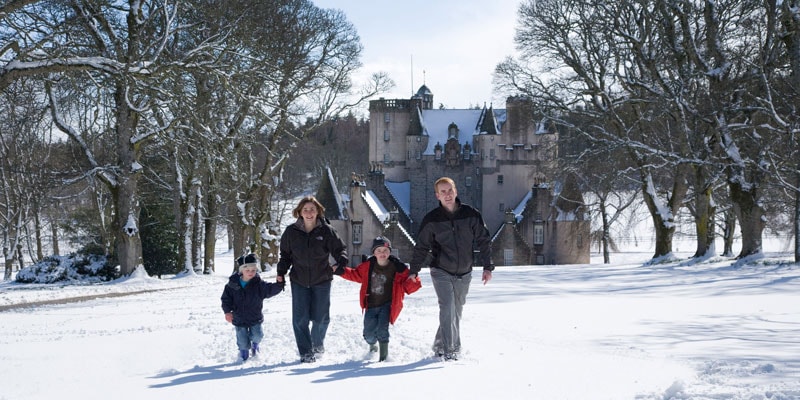 Photo credit: Visit Scotland/ Paul Tomkins
9/10

Big Burns Supper

This ten-day festival is packed with fun, cabaret, comedy, music and entertainment in 31 different venues across town. Events the children will love include include the Burns Night Carnival (22 Jan), featuring a community cast of over 2,000 who will take to the streets in colourful masks with lanterns and creative floats plus an interactive Haggis Hunt where sixteen different Hamish the Haggis mascots are hidden throughout the town centre. Burns Night Live includes over 40 different artists from the region and is suitable for families and watch out for Bairns Day Out (28 Jan) a special event for children, which sees the Theatre Royal transform into a giant interactive playground. If you've never visited Dumfries before, now is certainly the time to do it!

When: 20-29 Jan

Where: Dumfries

Price: various ticket prices

10/10

Brick Wonders

A new LEGO model exhibition  – Brick Wonders: Ancient, Natural and Modern Marvels in Lego – will take visitors on a journey through history and around the globe featuring 70 fantastically detailed recreations of wonders of the world – both old and new. Created by Warren Elsmore, the exhibition features fantastic detailed models of the seven wonders of the ancient world, including the Lighthouse at Alexandria and The Hanging Gardens of Babylon. Also made in miniature are some of the world's most spectacular natural landmarks – from The Great Barrier Reef and The Great Wall of China to the Matterhorn. Seven modern inventions are also represented through the LEGO creations – from a Model T car and a light bulb to the international space station.