Jane Anderson explores the Gothic charm of The Fife Arms in the Scottish Highlands, a place where art and nature rule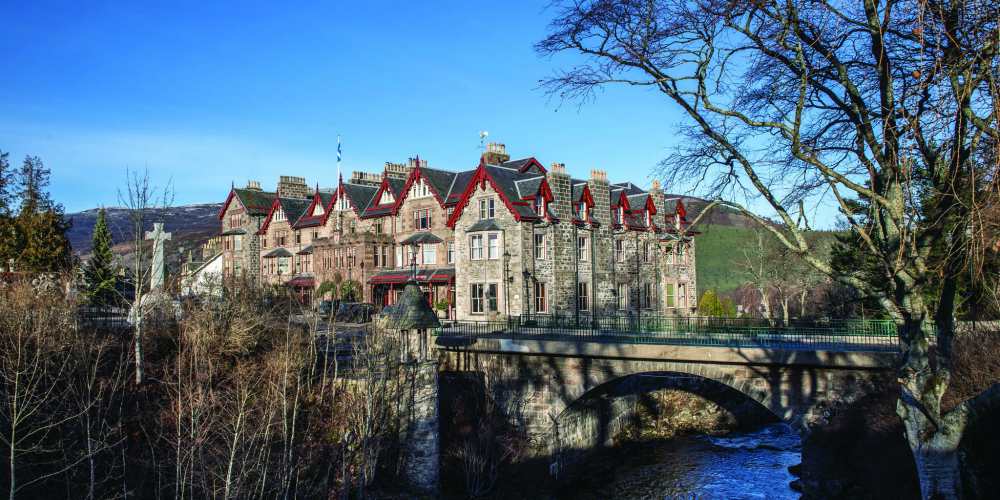 'There are tales that last as long as a walk and stories that bring walking to a halt.' so says, Alec Finlay in Gathering. A beautiful quote that takes pride of place on the hand-drawn maps of Braemar and its Cairngorms National Park environs, given to guests staying at The Fife Arms.
Attention to detail is all at this thought-provoking Highlands abode. Previously a Victorian coaching inn in the heart of Braemar dating back to 1856, just a stroll down the road from the Highland Games arena, the Fife Arms has been bought and transformed into an award-winning hotel that busts the mould even of design hotels, by owners, Iwan and Manuela Wirth of acclaimed art gallery Hauser and Wirth.
Guests are certainly brought to a halt repeatedly in this beating heart of creativity with the sheer audacity of its design and playfulness. Take afternoon tea in the drawing room with a Picasso on the wall. Dine in the Flying Stag restaurant, with a taxidermied stag flying over the bar with cherubic wings.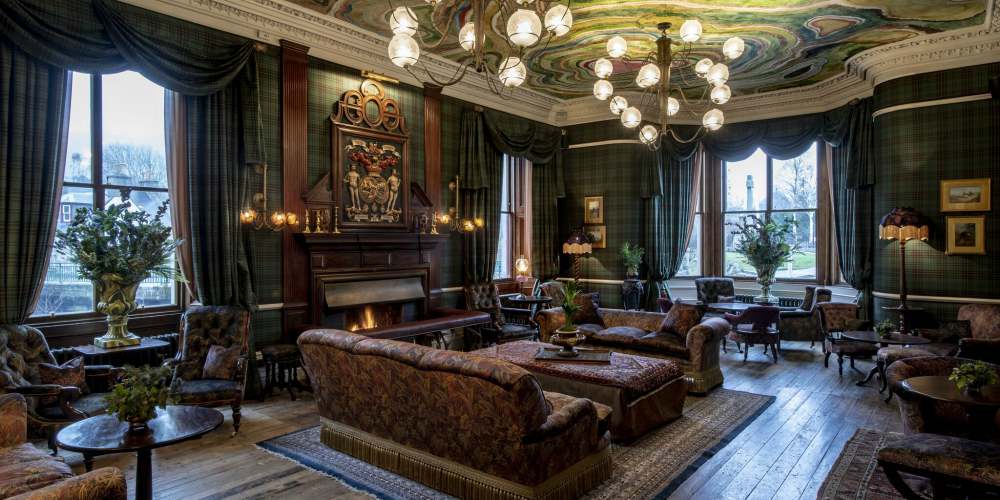 Head out into the hallway to find literally hundreds of mounted animal heads in a crazy formation on both walls and ceiling. Venture into the Gothic library packed with arts and crafts tomes and a life-sized Queen Victoria sitting regally on her throne – a not-so-subtle nod to the popularity she brought to the area when Prince Albert brought her Balmoral Castle in 1852.
Out in the courtyard behind her majesty, Louise Bourgeois's iconic Maman spider dominates. In front of the Lucian Freud in reception, there's a piano that plays itself. Not to mention 70 types of bespoke wallpaper throughout. Staff are natty in a special Fife Arms tartan designed to reflect the greens of the pines surrounding the hotel. As general manager, Federica Bertolini shows me round, she points out the four interconnecting family suites.
Most impressive are the Scottish heritage themes, including the Jacobite risings. Staying here is a history lesson in itself where kids can learn about everyone from Bonnie Prince Charlie to Lord Byron. Children are given a beautifully designed booklet called 'The Great Braemar Beast Gathering' (shown right) where they have to find various beasts around the hotel and draw them.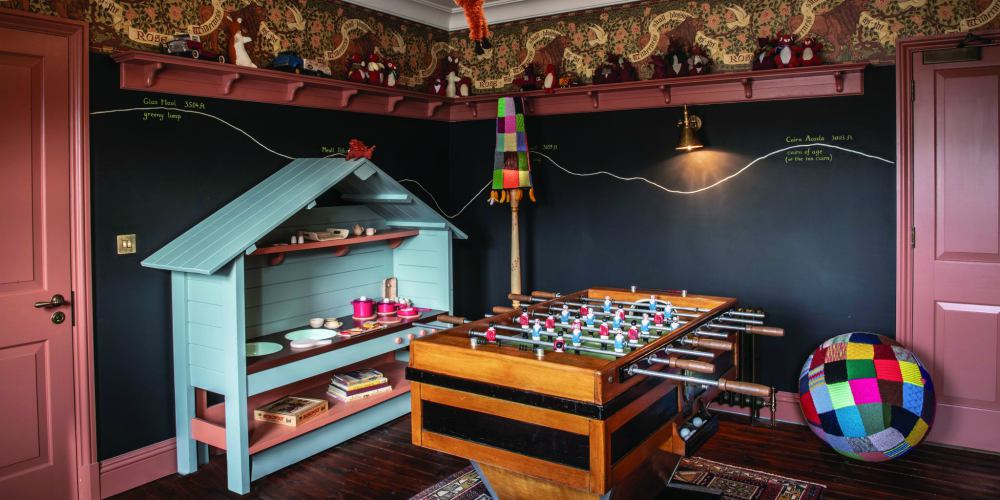 There's also one of the most stylish playrooms you're ever likely to find in a hotel. Under the green fish sign, it's a cosy space for kids to hang out with their parents or older ones to chill with table football, books, films and a joyful jungle-themed loo. Local talent has been used here including The Deeside Knitwits' (the local knitting ladies) knitted monkeys hanging from the ceiling. Julian and Katy Fennema of the Braemar Highland Experience offer families with young children a range of experiences, such as a treasure hunt using the art of navigation to get around the local area.
A time-travel adventure investigates how people lived and worked in the remote glens and Murmuring Forest uncovers the secrets and wildlife of the forest. Out and about, there's a teddy bears' trail at Braemar Castle. Come in July and the Junior Highland Games take place.
Needless to say, walking is a major attraction here. Five of the UK's six highest mountains lie inside the park alongside 55 Munros – mountains over 3,000 feet. But there are very accessible walks to do with youngsters, including the nearby Creag Choinnich nature trail.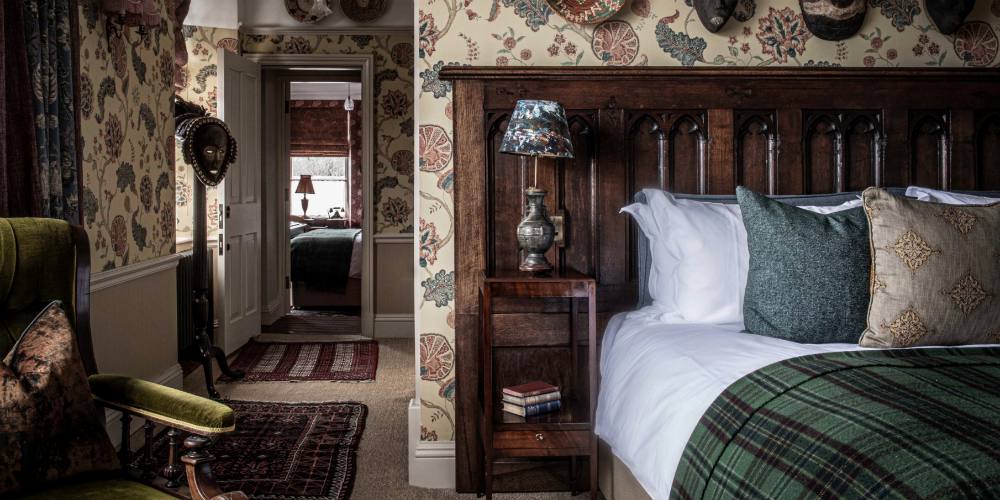 Another great activity to do with kids is to go out with forager and medical herbalist Natasha Lloyd and her dog Rosie. You don't have to go far from The Fife Arms before she's picking off lime pods from linden trees and instructing you to roast them for a chocolatey drink. Or pointing out a mountain ash whose berries must be frozen then boiled before eating, but help the breakdown of collagen. I wonder to myself why on earth she hasn't made millions with her beauty advice!
We talk about the mycelium network, an information highway hidden beneath our feet that allows plants to communicate, also known as the 'wood wide web' – fascinating for children. She runs through the rules of foraging such as never taking more than a third of a patch and never eating anything you're not 100 per cent certain is edible.
We head back to the hotel where Natasha brings out a range of her Gathering Nature wild condiments including rose-petal salt, yarrow vinegar and pickled strawberries and elderflower, all delicious and a fabulous game of dare for kids' palettes.
The Fife Arms is literally a living piece of art in this wild landscape, perfect for a multi-generational gathering of the clan. I'm sure Queen Victoria would be amused. ORMS Treat yourselves to an overnight cabin on the Caledonian Sleeper train from London Euston to Inverness from £220 one way for the classic rooms, with comfortable twin bunk or single bed options.