For the love of Lewis
Most families relish a seaside holiday, but once you add a magical island destination you introduce another dimension to the journey. Scotland is possibly a little spoiled when it comes to island-hopping opportunities, with its miles of  rugged ancient lands that captivate whatever the weather. But if you're looking for a remote yet accessible island destination which offers families a genuinely exhilarating experience then an Isle of Lewis holiday should be on your radar.
Lewis and Harris are one island, yet the north (Lewis) and the south (Harris) are referred to quite separately. It's a wonderful location for anyone who enjoys the great outdoors, lustrous coastline, archaeological sites, shopping opportunities and independent eateries.
On these islands kids run free, run wild, and it's easy to capture a dramatic image of your little ones in the landscape. The locals are extremely welcoming, the wildlife is ever present and the weather is always colourful. The main town, Stornoway, is a great family base if you want accommodation near the ferry terminal and easy access to supermarkets, restaurants and general civilisation – from here you can quickly drive to the island's more rugged attractions.
Take to the waves
The stars of the show are the beaches. Luskentyre beach in Harris is renowned for its beauty. Its spellbinding white sands stretch into the icy blue sea and the sky seems to go on forever. If you don't make it to Luskentyre there are numerous sublime beaches to explore right across the island and they're often so isolated you feel like the first family to set foot on them.
Lewis native and villa owner Sheenagh MacDonald grew up playing on the island's coastline but she considers the area's accessible history another draw for families, "You don't have to be a history buff to engage with the stories here.  The Callanish stone circle makes an impression on any age, it's spiritual and it's inspiring. The Gearrannan black houses demonstrate how the crofters and fishermen used to live in days gone by.  And pull in on the road between Carloway & Barvas and you'll see a tribute to the island's fishing history in the form of a huge whalebone arch in all its splendour.  I love the fact that you can be outside learning and discovering".
If the coastline inspires you to take to the waves, grasp adventure by the horns and experience wildlife close up then book an excursion with SeaTrek which operates from the west coast of Lewis out of Uig. Lagoons, whales, sea stacks and basking sharks are all within reach, or you can customise your own trip, planning your own itinerary incorporating sea eagles, seals and a deserted island.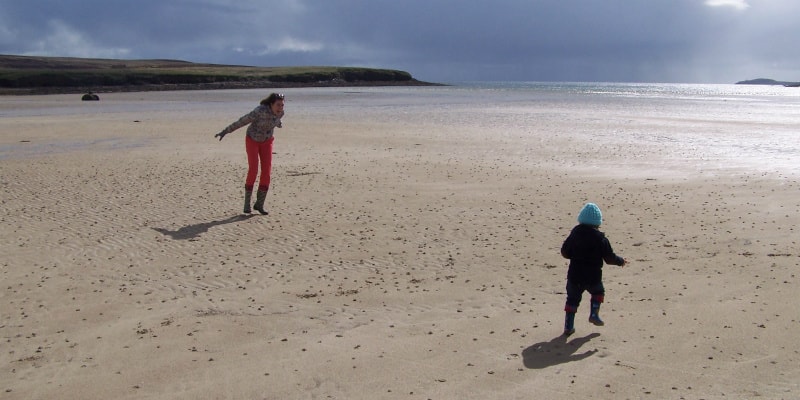 Despite the outdoor temptations it's best to have a rainy day activity up your sleeve just in case.  If you wish to dip indoors with your sartorial youngsters, then the Harris Tweed exhibition at Drinishader or the tweed shops in Grosebay and Stornoway could bring a shine to your afternoon and your wardrobe.
Tuck into homemade fresh baked bread, scones and cakes, freshly made soups, filled rolls, and quiches at The Buttery in Ness.  After lunch drive a few minutes to the nearby Eoropie Dunes Park, four acres of outdoor play activities ideal for tots to tweenagers, then head to Port of Ness beach to build sandcastles and explore the rocks.
Driving back to your accommodation through the wild Hebridean landscape is pretty special as it's like a lunar landscape in many regions.  Then it's time get snug with your tribe indoors – food and warmth never taste or feel so good than after an exhilarating day out of doors, and nowhere does windswept adventure better than Lewis and Harris.
The lowdown
Getting there
You can fly into Lewis from Aberdeen, Glasgow, Edinburgh, Inverness and Benbecula but if you want to load the car fit to bursting with buckets, spades, wet weather gear and other childhood essentials then Caledonian MacBrayne has regular sailings from Ullapool on the mainland over to Stornoway.  A car costs £99 return, drivers and passengers are £18.40 return, children (aged 5-15) are £9.20 and the Under 5s sail for free.  The high seas experience takes two and a half hours but the kids play area onboard really helps keep youngsters entertained. Bon voyage.
Where to stay
The Gearrannan self-catering Black Houses offer a unique experience for your Isle of Lewis holiday. Two family sized four star thatched cottages, one three-star smaller cottage with a double room and one two star bunkhouse that sleeps up to 16 people give guests the chance to get a taste of the past in modern comfort. Prices vary according to season and length of stay but the cheapest rate in the family property, staying low season for four nights or more is £69 per night.
Thrilling holidays don't need to start with an airport. These quirky places to stay in the UK will have the kids squirming with excitement.