Thinking about family holidays in Scotland this year? Put Scottish islands into the mix. There are over 790 of them and they come in all shapes and sizes. Many are famous for beaches, at least one's known for a TV show; several have ancient abbeys; some have vast colonies of seabirds; plenty come with castles, and they're all lovely. Take a look at six of the best for family holidays in Scotland this summer.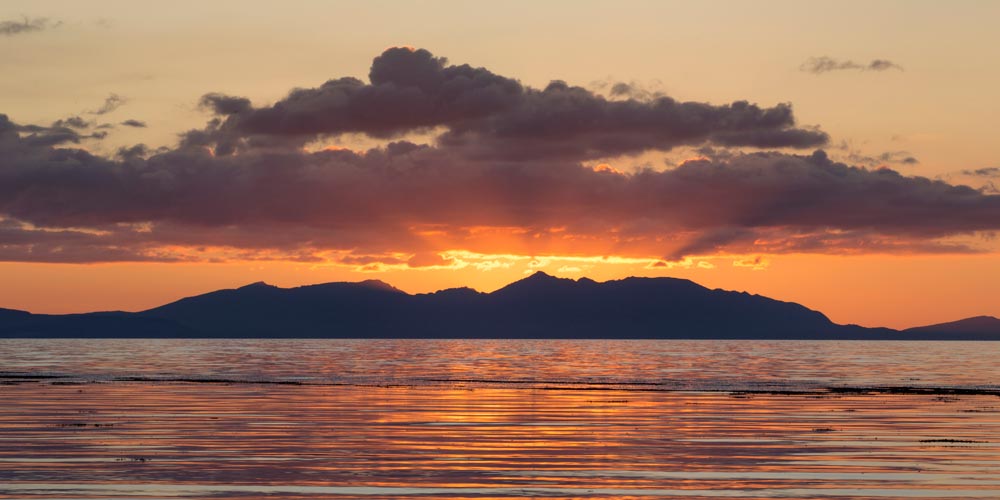 1/6

Isle of Arran, Firth of Clyde

Arran is the seventh largest Scottish island and still only 20 miles long by 10 miles wide. Known as 'Scotland in Miniature' it's the island for mountains, glens, beaches, pretty villages, a mighty castle, quaint churches and several ancient standing stones. You can easily do it in a day, but Arran's very beguiling so you might want to add it to the list of slightly longer family holidays in Scotland: kids are especially tricky to tear away once they get into the way of island life here.
What not to miss on the Isle of Arran
Goatfell is the island's tallest peak, at over 2800ft. To get to the top with kids, look for the well-marked mountain path starting just outside Brodick.
Brodick Castle is one of Scotland's loveliest. The surrounding country park has over 10 miles of wildlife-packed walking trails and the sea views are sensational.
There are beaches all round Arran, but local families particularly love Kildonan Beach in the south.
Captivate kids on an enchanted walk through Glen Cloy and the Fairy Glen. This six-mile loop from Brodick is clearly signposted and easy going for kids.
How to get to the Isle of Arran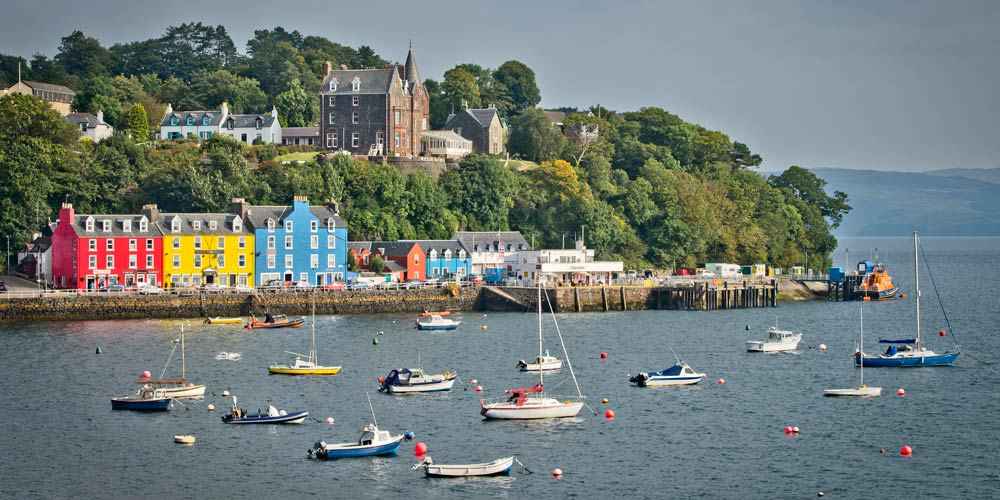 2/6

Isle of Mull, Argyll & the Isles

For one of the most unforgettable family holidays in Scotland think about the Isle of Mull. It's only 46 minutes by ferry from Oban, just long enough for the kids to get plenty excited, possibly spot dolphins or basking shark and get an eyeful of the dramatic Duart Castle overlooking the Sound of Mull. It's a fittingly enchanting sail to the Inner Hebrides' island that's famous for the colourful harbour town of Tobermory, Calgary Bay; views of the otherworldly Treshnish Isles and unforgettable boat trips to Fingal's Cave. There's always plenty for families to get up to in the great outdoors here. You can even bag a Munro. And if you feel like a gentle day out, the ferry from Mull to the island of Iona takes 10 minutes.
What not to miss on the Isle of Mull
Discover charming Tobermory's secrets on the Tobermory Treasure Hunt Trail – perfect for kids aged six and over.
Sail from Mull to the Treshnish Isles. It's the only way to get close to Fingal's Cave on the Isle of Staffa and visit Lunga Island – home to a vast colony of puffins from April to August.
Cross from Fionnphort on Mull to Iona and spend a day exploring the historic abbey, spotting seals from the beach, and soaking up the serene atmosphere.
Head to Calgary Bay on the west coast of Mull and visit one of Scotland's most beautiful beaches.
How to get to the Isle of Mull
Catch the CalMac Ferry from Oban Harbour to Craignure on the Isle of Mull, journey time 46 minutes.
Oban is two hours, 16 minutes' drive northwest of Glasgow on the A82, or two hours, 50 minutes west of Edinburgh on the A85.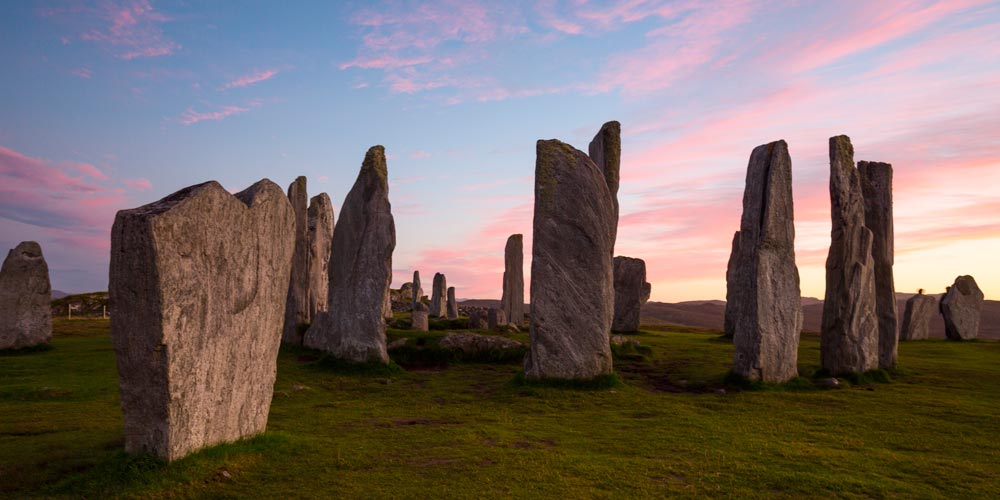 3/6

Isle of Lewis, Outer Hebrides

On the Isle of Lewis you're in for another of those family holidays in Scotland that's packed with adventure. Expect kids to be fascinated by the traditional Gaelic culture and awed at the wildlife and even wilder landscape. The beaches here are some of the loveliest in the UK and it's the only place in the world to see the Calanais Standing Stones.
What not to miss on the Isle of Lewis
Visitors come to Lewis just to gaze at the 5,000-year-old Calanais Standing Stones on the island's west coast, and they don't disappoint.
The Loch Stiapabhat Nature Reserve and Observatory is part of the 56,000-acre Galston Estate on the north of Lewis and great for bird watching – there's even a Bird of Prey trail.
Family holidays in Scotland with added tradition is the signature of the historic homes at Gearrannan Blackhouse Village in Carloway on the west coast of Lewis.
Visit Garry Beach in the north of Lewis to see the dramatic Lewisian Gneiss stacks and trek along the Tolsta Heritage Trail.
The Butt of Lewis is the northernmost point in the Outer Hebrides and one of the best places to see Northern Lights in autumn and winter.
How to get to the Isle of Lewis
Catch the CalMac Ferry from Ullapool to Stornoway on the Isle of Lewis, journey time two hours, 45 minutes.
Ullapool is one hour, 16 minutes' drive from Inverness on the A835.
Fly to Lewis with Loganair from Manchester, Inverness, Edinburgh, and Glasgow.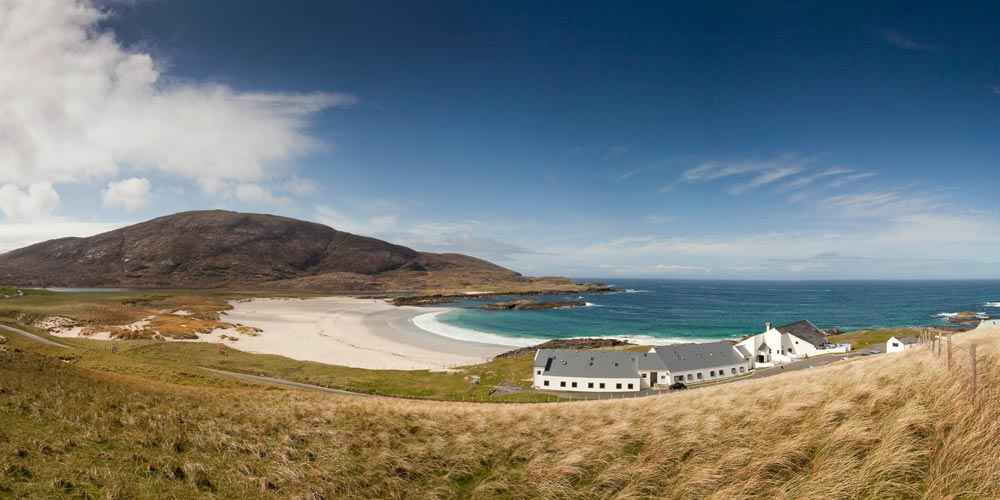 4/6

Isle of Barra, Outer Hebrides

For escapist family holidays in Scotland, you want Barra: the most southerly island in the Outer Hebrides. This magical little island is loved for its white sand beaches and transparent blue seas. The quaint little harbour town of Castlebay has the added fascination of medieval Kisimul Castle. And if you want to give kids complete freedom, they can walk and cycle just about everywhere on Barra.
What not to miss on the Isle of Barra
Fly into Barra from Glasgow with Loganair and your plane lands on the beach.
Sail from Castlebay Harbour to Kisimul Castle, it only takes a few minutes and it's another 'only on Barra' experience kids love.
Take advantage of the island's crystal seas and try kayaking, snorkelling with seals, SUP or even surfing.
Spend a day on the sparkling white sands of Tangasdale Beach on the island's west coast.
How to get to the Isle of Barra
Catch the CalMac Ferry from Oban to Castlebay on the Isle of Barra, journey time four hours, 50 minutes.
Direct flights from Glasgow Airport with Loganair to Barra take around 1 hour, 15 minutes.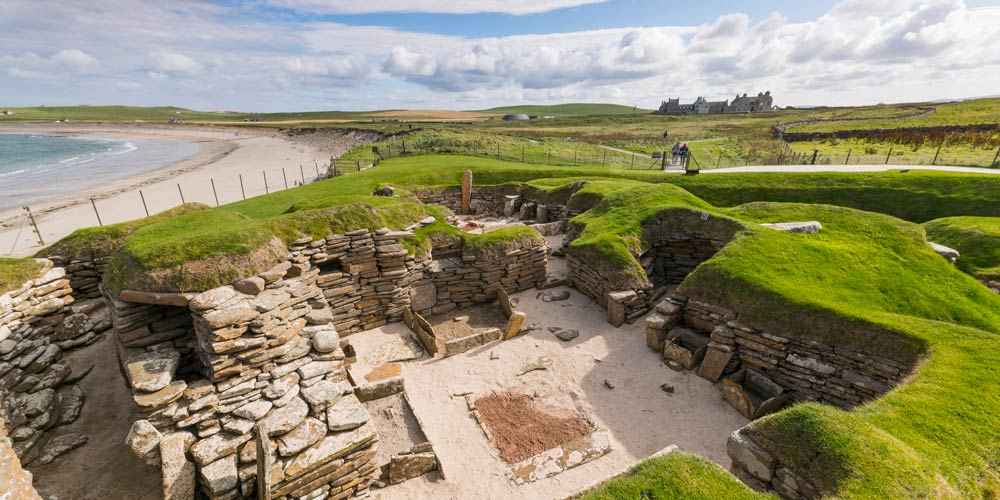 5/6

Orkney

Made up of over 70 different islands, Orkney packs in enough excitement to fill endless family holidays in Scotland. It's the archipelago for enormous sea stacks and some of the highest cliffs in Europe. It's also strewn all over with Viking legends. Several of the world's most important prehistoric discoveries have been made here. And if kids are up for spotting puffins, Orkney is very much the place for that too.
What not to miss in Orkney
Arrive in Orkney on the Scrabster to Stromness ferry and kids can see the famous Old Man of Hoy sea stack as well as the UK's highest vertical cliffs at St John's Head.
Tour of the 5,000 year old chambered tomb at Maeshowe in Stenness and learn about the original Viking graffiti. It's part of the UNESCO Heart of Neolithic Orkney World Heritage Site which also includes Skara Brae and Stenness and Brodgar stone circles.
Ferry services connect Orkney islands. But if you fly from Westray to Papa Westray, the entire journey takes less than two minutes – the world's shortest scheduled passenger flight.
May to August is prime puffin season on Marwick Head cliffs in West Mainland.
How to get to Orkney
Loganair  flies direct from all main Scottish airports and several other locations across the UK.
The NorthLink ferry service from Aberdeen to Kirkwall takes six hours.
6/6

Shetland

No other family holidays in Scotland bring you closer to Viking legends and Iron Age history than breaks in Shetland. Amazing for walking and cycling too, Shetland also has some of the country's most dramatic and unusual scenery, a remarkable coastline and beaches you'll find hard to believe.
What not to miss in Shetland
Make for Jarlshof Prehistoric & Norse settlement where kids can explore ruins ranging from Neolithic houses to a Bronze Age village, and the home of a 16th century Shetland laird.
Go see the tombolo (natural sand causeway) at St Ninian's Isle Beach – one of the most photographed phenomena in Scotland.
Drop by Shetland Museum and Archives in Lerwick to learn more about the island, local boat building and even how Shetland Lace is made.
Take a walk to Muckle Flugga – the UK's most northerly point – and see the vast flocks of seabirds at Hermaness Nature Reserve.
Visit the s100m high cliffs at Sumburgh Head – Shetland's top spot for dolphin watching, whale sightings and puffin spotting.
How to get to Shetland
Loganair flies direct to Shetland from all main Scottish and several UK airports.
The NorthLink ferry service from Aberdeen to Lerwick takes 12 hours, 30 minutes.
Looking for more Scottish adventures? Check out quirky ideas for family holidays in Scotland. And don't forget to follow Family Traveller on Facebook and Instagram for more travel inspiration, news and updates – or just to say 'hi'.