Dreaming of Hebridean island breaks? Ellen Himelfarb took her kids on holiday to the Hebrides and found one of Britain's bonniest breaks in just seven days. Here's how to plan a Hebridean adventure of your own.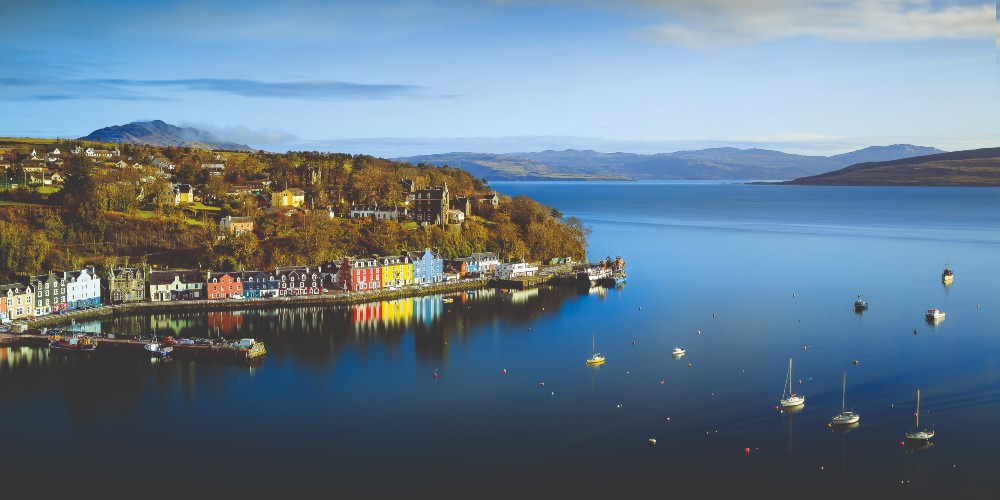 Days 1 and 2: Isle of Mull launches Hebridean island breaks
The train from Glasgow whisked us from the city's amber stone centre, through suburbia and then, just as quickly, up into the damp hills, where branches whipped against the windows and blue lochs stretched out between the folds of green.
The Oban ferry to Mull was just as dramatic: gliding past castle ruins and neglected lighthouses as the clouds parted for some fragile rays of sunlight.
Once on the Isle of Mull, we headed into the 'big city' of Tobermory for a two-night stay at The Tobermory Hotel.
'You know,' my eldest said as we drove around the bay on the high street, with its Lego-coloured shopfronts, 'you got the name wrong.'
Come again?
'This place,' she said. 'It's the one from TV.'
She was right. Well, we both were. Tobermory, I quickly learned, served as the proxy for the fictional town of Balamory, the programme beloved of CBeebies fans. And as she roused her sister in a rendition of the theme song, my daughter pointed out familiar sights from the show – leaving out the town's famous Georgian distillery, naturally.
In any case, Tobermory proved a brilliant base for our island exploration.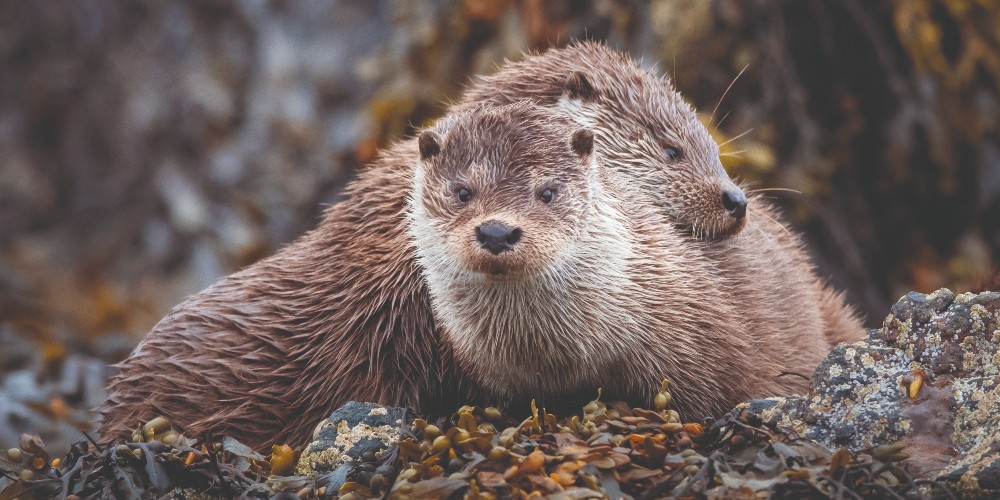 From Caribbean beaches to otter cubs, Mull is full of surprises
First stop was Glengorm, to dip our toes in the surf with a boisterous black Labrador.  Then it was on to the village of Dervaig, where a tiny tearoom offered foosball and dress-up with a Balamory backdrop. And Tobermory's local chippie was so nice we ate there twice. The boat-fresh langoustines, rich fish pies, mackerel paté and straight-up breaded haddock were simply too much for one visit.
Over the following two days we rambled with herds of sheep across farmers' fields and walked up a lonely hill toward a horse paddock, where a phone box contained a defibrillator.
Ducking back into the car near Knock, we noticed an otter cub paddle to shore, all matted fur and glossy, flicking tail. Calling to his mother, he climbed up onto a mass of yellow bladderwrack and the two frolicked together like cartoons. We were so besotted we nearly missed a sea eagle gliding overhead, and our first of many rainbows.
Calgary Beach was as exotic as a Caribbean cove for the afternoon. Nobody told us that Hebridean beaches could have sand so white and such Barbados-blue water. If I'd known I would have brought a swimsuit or, better still, a wetsuit to brave survive the icy waters. Between the whistling wind and the grumble of the tide, conversation was impossible. Instead, we sat back on the dunes, bolstered by a spongy turf called machair. The clean tufts of grass form a fringe-like border between the beach and a wild pasture as trim as a golf course.
It turns out Calgary can mean two things in Gaelic: 'beach of the meadow' or 'the haven by the wall'. Both could be true. There is a significant wall here, set back from the beach on a lonely track. It forms part of Calgary Castle, a stern Gothic manor of rough-hewn stone that happened to be up for sale. You'd better believe that gave us pause.

Day 3: wild walks and deserted sands on Iona
We barely made it to Iona, so besotted were we with the otters frolicking on the beach at Bunessan, on the long drive out to Mull's western docks.
The landscape here was flat and open, providing an easy detour to the deserted white-sand cove at Ardchiavaig. We finally reached Fionnphort at noon, walked onto an Iona-bound ferry and 10 minutes later arrived in the fairy tale village of Baile Mòr.
Sandwiches were the first order of business, on a sunny bench beside the ruins of an ancient nunnery. The squat stone buildings around town seem child-sized, built for medieval folk far outside the modern world. The girls must have felt empowered by the scale, because they ran ahead to St Oran's, the quaint saltbox chapel outside Iona's iconic abbey.
People little and big have pilgrimaged to this oceanside abbey for 1,500 years, docking at Martyr's Bay and following the high Celtic stone crosses to this magical room with a view over the sea. And even we – godless tourists that we were – could understand why. The back-in-time feeling, the religious frisson of the echoing cloister, the kelly-green gardens overlooking the sea… They made for a sight-seeing triple-whammy.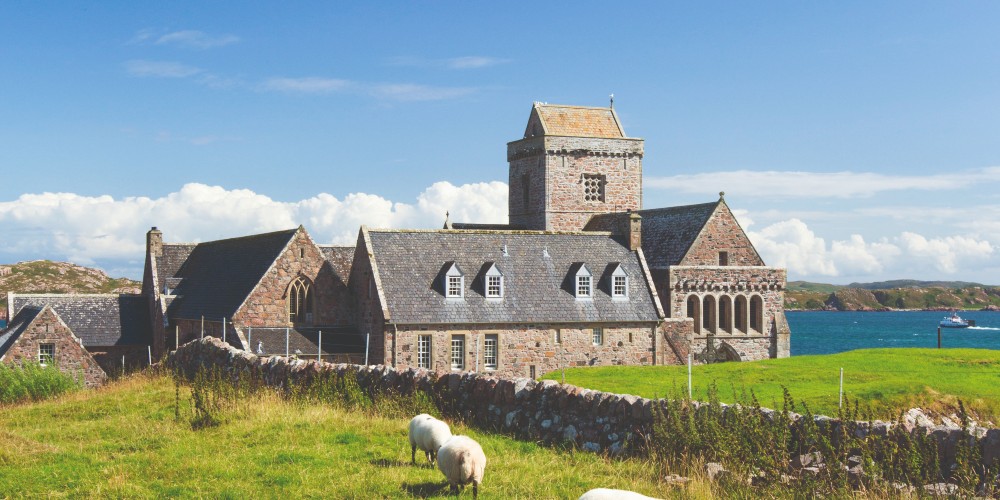 Iona is the isle for swimming on Hebridean island breaks
But Iona Abbey wasn't the sole reason we'd come. From the grassy church grounds, a walking path led up a hill as soft as brushed suede to look out at a panorama of saturated blues and greens. Back at the base, a path stretched to a vanishing point. Curlews chirped, joined by pipits, then skylarks. A fuzzy blue horizon came into view.
Thick dunes led us, lurching, to a beach. The map on my phone called it White Beach, and no wonder. Kicking through the floury sand, we made the only footprints. And then, when the kids braved the water – well, at least up to their thighs – the were no other swimmers in sight.
The water was so clear they could see the webbed feet of gannets paddling past minnows beneath the surface: the stuff of epic poetry. We stayed here as long as the ferry schedule would allow.

Days 4 and 5: pause Hebridean island breaks for a dram on Islay
From Mull, we managed an early crossing back to Oban, on the mainland, then drove 90 minutes south to Kennacraig. The road itself seemed like an engineering miracle, swerving between deep-reaching lochs, connecting towns that might have required days of travel a century ago. And sailing down the groove of West Loch was like a two-hour Norwegian cruise.
I suppose I'm biased, but approaching Port Ellen by water was especially thrilling for me, my name splayed in bold black letters across the white distillery building north of the ferry terminal. But the kids appreciated it too, making me pose by the rail for blurry photos. And I'll bet sailing into Islay resonates with everyone anticipating clean air and adventure. There's just so much spectacular green-ness on the horizon, so much promise.
From the moment our bags hit the floor at The Islay Hotel we were off for food and drink. Our prearranged taxi whisked us up the coast for wood-fired pizza out of an Airstream trailer in Ardbeg. This was really just an excuse to nip into the famous Ardbeg Distillery for a wee dram. The girls made a maze of the rows of barrels before we embarked on the leisurely hour's stroll back to port.
Balancing on ancient stone walls with views over the silvery bay, we made a mini whisky tour of it, with stops at the Lagavulin and Laphroaig distilleries. Shopping for bottles felt like a tonic after days in the Hebrides hinterland.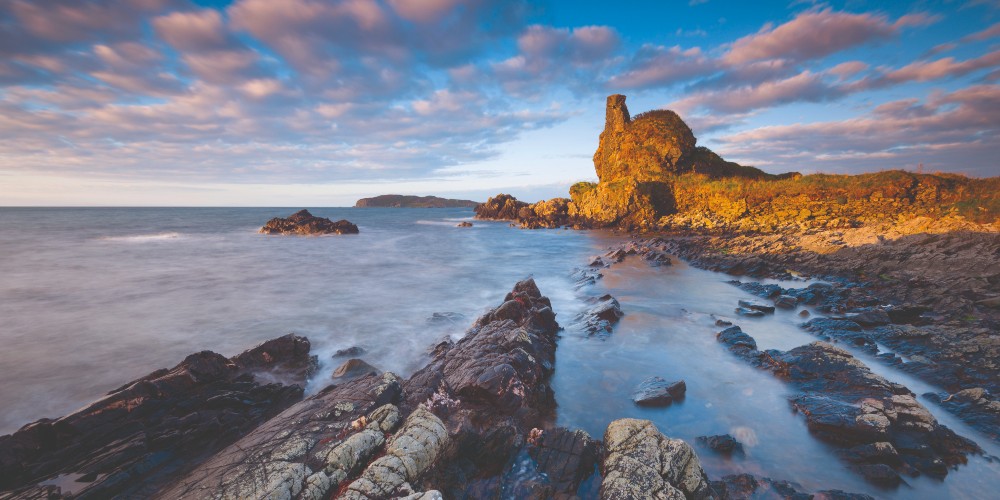 Islay is the perfect island to explore by bike
In the morning we hired bikes at Islay Cycles, and took off into the peaty hills – actually rather flat and child-friendly, though our youngest rode in our rear trailer. Her sister, meanwhile, made the most of her bike bell, devising Morse-like signals to communicate with us en route.
Having forgotten to pack lunch, we plumped for afternoon tea at Islay House, a white stucco manor hotel, way out of our league on the bay by Bridgend. Then we freewheeled the final 45 minutes to Machir Bay to play in the dunes. With hardly anybody about, the kids were uninhibited. They stripped down to their skimpies for a paddle as the tide went out, and we all watched the
sun dip lower in the sky.

Days 6 and 7: Jura adds seals to Hebridean island breaks
You could very well swim the crossing to Jura. But we drove onto the ferry at Askaig for the smooth five-minute sail to an altogether wilder experience.
As soon as we landed, the children commented on the geography. Jura's stark hilliness and yellow-green landscape is a stark contrast to the gentle country roads about Islay.
Then, feeling up for an adventure, we skirted the east coast, overshot our room at the Jura Hotel and chugged up toward Lussa Bay on Jura's only road. Out of the driver's side windows we could see the rocky shoreline and, out of the other side, towering tufts of spruce forest.
The teahouse we aimed for turned out to be a horse-trailer parked steps from the beach, kitted out with an honesty bar stocked with baked goods and a kettle. This delighted the kids – no waiting for snacks. They took their goodies and pranced around with the boys from a nearby caravan, dropping carrot cake crumbs onto the shore and writing their names in the hard-packed sand.

The perfect peace part of Hebridean island breaks
Back in the car, we spotted three red deer up ahead and, very slowly, followed them along the coast. Eventually we overtook them and steered the serpentine route further north, looking like an advert for Land Rover or Jaguar. The pine forest closed in and we decided that, yes, this was the furthest our daughters had ever been from a Starbucks babyccino.
The road came to an abrupt end shortly beyond Barnhill, site of the low, white stone cabin loaned to George Orwell in the 1940s by the Astor family, so he could write his swan song Nineteen Eighty-Four in peace. Without an invitation ourselves, we turned around at Kinuachdrachd Harbour to double back home.
But first we made a quick trek out to the stone beach, where the kids perfected their stone-skipping skills, entertaining – or possibly terrorising – the local seals. We could hear every drip of every splash on the still water. We've never forgotten the silence.
How to plan Hebridean island breaks with kids
Family friendly Hebridean tours
Wilderness Scotland offers a seven-day guided tour of Argyll, Islay and Jura for up to eight people, from £1,785pp full-board, excluding travel to and from Oban.
Wilderness Scotland also offers a family-friendly Mull, Staffa & Iona guided trip, from £1,995pp, full board.
McKinlay Kidd offers a five-night Mull and Iona self-drive trip from £695pp, B&B.
How to travel to the Hebrides
Avanti West Coast trains run between London Euston and Glasgow Central, journey time is just under 4 hours.
ScotRail trains run hourly between Glasgow Central and Oban, journey time is 3.5 hours.
For ferry times and prices in Scotland visit Caledonian MacBrayne
Ready to plan your family breaks in Scotland? Take a look at some more amazing Scottish islands to visit with kids. And don't forget to follow Family Traveller on Facebook and Instagram for more travel inspiration, news and updates.