Yoga, champagne, celeb chefs, live debate and legions of sequin leotards. Ingrid Osborne and family join the party at the UK's most open-minded (and poshest) family camping weekend, Wilderness Festival.

Welcome to the Wilderness
To say I wasn't keen to resurrect a festival styled holiday was an understatement. Anyone who has travelled as a family know that experiences are precious, so our memories of erecting a tent in torrential rain, mucking through fields in search of food and entertainment that was lacklustre at best, didn't exactly warm the cockles.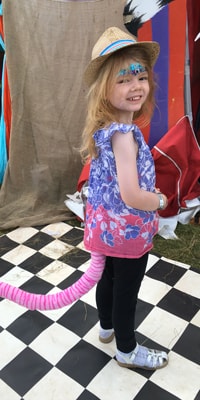 Yet here we were, ready to descend on another festival, coerced by friends who insisted that a Boutique Camping family holiday at Wilderness Festival would change our perspective.
Set on an enormous 2,500 acreages of fields and ancient woodlands near Charlbury, Oxfordshire, the beautiful stately grounds of Cornbury Park is home to award-winning Wilderness Festival, just a short 1.5 hours' drive away from London.
The journey was a cinch, thanks to well-positioned road signage that had helped navigate us through Oxford's charming country lanes before reaching the friendly Wilderness guides, who ushered us to a farmer's field to park and unload.
The sight of ready-made cream bell tents peeking through leafy forests, each with the comforts of home that included real mattress beds draped in colourful linens, with nearby luxury showers, toilets, and a coffee tent, had filled us with more relief than we should admit to.
With a thickly bound Wilderness program in hand that read like a novel, it was apparent that four days wouldn't be enough to experience it all.
Strolling through the festival fields was half the fun, our girls wide-eyed at the sight of a cheery bus converted into a DJ booth, with all ages swinging it out to non-stop tunes in the sunshine, while the health conscious set stretched out their limbs under the watchful gaze of yoga instructors. Down by the riverside, a lucky select soaked their stresses away in private hot tubs.
With a dedicated area for children, there were plenty of fun activities including drumming lessons, carving workshops, puppet making, V & A learning sessions, and the all-time favourite of marshmallow toasting!
Wilderness happen to be expert curators in gastronomical delights, attracting world-class chefs and restaurants including Raymond Blanc, Skye Gyngell, Moro, and HIX, to name but a few.  The grand banquet halls thrived with great conversation, paired with a steady stream of gourmet delicacies. Skye's garden fresh goats curd salad, drizzled with tomato and olive dressing was a touch of perfection, with each Michelin quality dish making meal times an art form.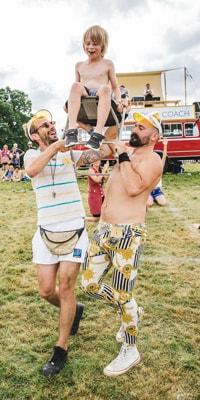 However, like most under eights, our girls preferred simple bites. With a broad selection of cuisine including restaurants, farm cafes, and fast eats to suit every palette and budget, a quick stop at one of many street food stalls had Amélie and Joséphine refuelled with cheesy slices of wood-fired pizza.
Batteries recharged, we hooked ourselves onto a throng, who led us to the edge of an open air tent where the unmistakable voice of controversial politician George Galloway filled its airways – piquing our curiosity.
Known as 'The Forum', it boasted a strong line-up of many influential figures over the four days' event, some of whom included Family Traveller's own Simon Reeve, Charlotte Church, and Larry Sanders – brother of Bernie, former presidential hopeful, who covered a broad spectrum of topics ranging from the effects of Brexit through to potential global repercussions should Donald Trump come into power.
Thought provoking and fascinating, we could have stayed all day. However, a candy striped sliding tower had caught the attention of our girls, who managed to coerce my husband into whizzing down in tandem from its dizzying heights.
After a mandatory rest back at camp, a burst of activity spanned the fields. Make-over stalls were heaving as brushes flurried sequins and glitter across the faces of children and adults alike. For at dusk, Wilderness comes into its own.
Cotton attire is replaced with sparkling leotards, furs, and feathers with all ages preened, ready for an evening of dance and frivolity.
Electro swing talent, Parov Stelar, ignited the atmosphere with an energetic performance of 'Clap your hands', instantly growing their fan base tenfold, while our girls vigorously shook their tail feathers, encouraged by a fabulous group of young women who danced enthusiastically with them for the entire set.
While our daughters were reluctant to hang up their dancing shoes, parental wisdom ruled, we retreated back to the confines of Boutique Camping's quiet zone.
Early morning was blissfully peaceful, with the majority of the camp sleeping off their evening. We ambled across to a quiet café tent to enjoy portions of farm fresh scrambled eggs and oven baked bread. While our girls mingled with other children, it was clear that they wanted to play with their peers.
Good advice had directed us to an on-site Nanny Network who offered a playgroup service using qualified CRB/DBS checked nannies. With the girls left to enjoy an afternoon of friendship building, my husband and I found ourselves on a rare date.
The Laurent Perrier champagne tent beckoned. Its glorious Gatsby inspired interiors oozed vintage glamour with opulent glass strands looping from ceiling corners into an ornate chandelier. Its waiting staff joined in the fun, dressing top to toe in Charleston era beaded attire.  We strolled the grassy riverbanks, glasses of bubbles in hand, feeling rather spoiled.
As luck would have it, we happened upon inspirational pianist, James Rhodes, who's traumatic life story gave him a strength of presence, all the while performing complex classical pieces – translating each story to resonate with a modern audience in a beautifully raw way.
Reunited again with our two little socialites whose momentous fun had them plumb tuckered out, a quick refuel at a burger joint had everyone ready to primp on the glitter for the evening festivities.
Torn between two acts, we ended up splitting our time between Roy Ayers, who took fans on a jaunt down memory lane with well-loved classics including 'Everybody loves the sunshine', and then back to the legendary Robert Plant, who belted out a masterful performance to adoring Led Zeppelin fans.
The final act belonged to Cirque du Soleil, who closed Wilderness Festival on a literal high with its acrobatic performers enthralling the crowds as they moved with swan-like grace across trapeze lines that were ablaze in flames. An electric energy rippled through the crowds, leaving everyone reluctant to retire that evening.
As festival goers slipped away, an epic meltdown ensued from our girls who refused to leave, only subdued by a pinkie promise that assured them we'd return one day.
Who could blame them? Wilderness had delivered more than just another ad-hoc festival. Their passionate approach to crafting extraordinary entertainment and exceptional culinary delights, attracts a good natured audience, who in turn love them back by returning year after year, flamboyant and carefree in spirit.
For us, Wilderness had succeeded where others had not by making family festival holidays easy. The needs of all ages weren't an afterthought but a well thought out part of its warm social tapestry.
Invigorated and refreshed, we departed the pretty fields of Charlbury knowing that we'd make good on our promise to our girls.
Wilderness: the lowdown
When
Wilderness is an annual event, held in the first week of August (3-6 August 2017)
Price

ENTRY TICKETS: From £169.75 per adult, 0-5 years: £6.25, 6-12 years: £39.75, 13-17 years: £116.25
BOUTIQUE CAMPING: From £1,085 (+ ENTRY TICKET PRICE)
BYO CAMPING: Budget bring your own tent options also available.
Planning on introducing your kids to the magical world of festivals? Discover the UK's best festivals for families.