Award winning Cary Arms & Spa has just celebrated its 10th anniversary. And if this is the first time you're hearing about it, prepare to ask, how you missed any hotel this perfect for so long.
Not only does Cary Arms sit beachfront on Babbacombe Bay, it virtually has its toes in the water and stares straight out over endless sea views. There's plenty of Jurassic Coast drama all around too, paired nicely with South Devon countryside and more than a hint of nearby Torquay – one of several charming neighbours round these parts. That's a great score on location, but how does a hotel described as having 'the personality of a traditional English Inn and style of a boutique luxury hotel', stack up when it comes to families? Remarkably well as it happens. Turns out it's kid-friendly in the extreme, loves to have dogs come stay; has an outstanding spa; its restaurant is drenched in accolades but also serves up an ingenious children's menu, and you can choose to stay in heritage family cottages, endearing beach huts or in one of the luxurious new beach suites. Tempted? It just gets better, because Cary Arms & Spa is generously giving Family Traveller readers 10% discount on best available rates throughout 2020. And if you need more reasons to finally discover why Cary Arms won Readers Award 2020 at the Condé Nast Johansens National Awards for Excellence and what persuaded The Sunday Times Best Places To Stay to pop it on their 100 Top British Hotels list, read on:
1/3

Is there anything sweeter than a cottage by the sea?
That's a rhetorical question at Cary Arms, because nothing is sweeter than their beautifully restored holiday cottages on Babbacombe Bay. All four were originally built in the 1800s so heritage is a given and it's been held onto with authentic touches like open fireplaces and beamed ceilings, there's even one with a thatched roof, a couple with large and child-friendly gardens, and they all have patios, sun terraces and big sea views, of course.
Characterful two bedroom Bay Cottage sleeps up to four, has a lovely country kitchen, quaint snug, separate sitting room with a wood burning stove, and comes with a great sun terrace and Jurassic Coast panoramas.
Rose Cottage is dusty-pink painted, thatched roofed and deceptively enormous – it has five bedrooms, two sitting rooms and three bathrooms. The big garden is kid-heaven (dogs are welcome at Rose too) and the entire cottage sleeps up to 9 guests.
Quaint Smuggler's Cottage is as intriguing as it sounds – kids even have their own den here – on top of that cute touch, there are three bedrooms, three bathrooms and it sleeps up to four adults and two children.
Another dog-friendly holiday home, Beach Cottage is big enough for eight, has four bedrooms, family bathroom, three shower rooms and a separate kitchen with an Aga, as well as a lovely garden and more of those irresistible beachy, Devon views.
On top of this, the hotel offers a bucket and spade to children as a welcome gift
If you're holidaying with baby, fall in love with one of the hotel's beach huts. Totally authentic outside and contemporary duplex design inside, they sleep two (plus a cot) and their combo of cool fresh looks and cocoon-y cosiness is nigh on irresistible, summer or winter. Or you can go full Riviera-lux on the Devon coast with one of Cary Arms' new Beach Suites designed to let you gaze at the sea day and night or lounge around in 900m² of opulence – up to and including your view-rich private sun terrace.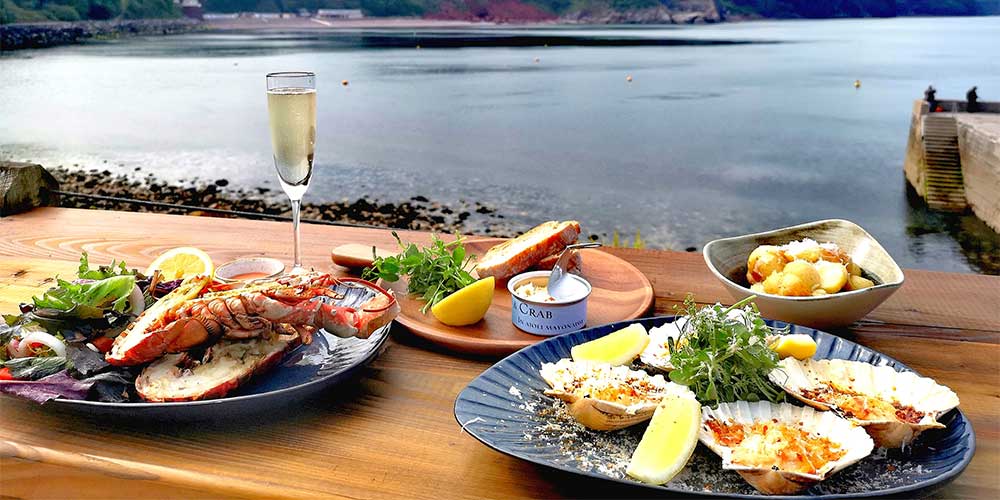 2/3

A fresh and award winning take on Devon's finest food traditions
Food at Cary Arms is equally sublime and you probably won't be surprised to learn that chef, Steve Poyner, is both local and a passionate champion of Devon's famously well-stocked larder. Which covers everything from fresh shellfish to outrageously decadent deserts loaded with seasonal fruits, locally reared beef, just baked bread and amazing artisan cheese and lush garden vegetables. Obviously it's all delicious, nicely low impact too and there's even a choice of settings, whether you feel like cosying up by the fire in the bar, eating with sea views in the hotel restaurant or picking a Dining Pod for a special occasion. Outdoors, with sea on the side, is another option when the weather's good. And if you feel like a lie-in during your stay, chef Steve will even rustle you up a breakfast hamper for morning delivery to your beach hut or suite. There's good news for littler guests on the food front too: the hotel's Nippers' Menu is a big hit with kids. And the portions might be scaled down, but there's no compromise on fresh and healthy, new tastes and plenty of those all essential treats that are as much part of a seaside holiday as sandcastles and sleeping like a baby.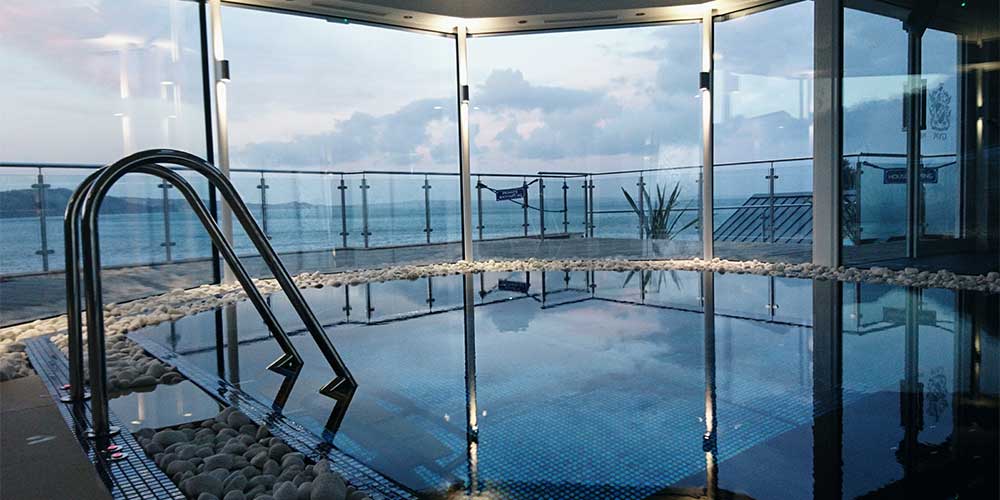 3/3

Fun it up and or wind it down, you choose
Cary Arms & Spa is owned by Peter and Lana de Savary and their luxury boutique hotel expertise is evident in everything here from the design of family cottages to all important details like creative kids menus and a pet-friendly policy. Their original thinking is also part of what makes the hotel's Coastal Spa so extraordinary, though some credit should go to fabulous sea views while you soothe, Thalgo marine therapies for the asking, an amazing waterfall hydrotherapy pool and the huge sun terrace for blissing out in better weather. Visit in spring and you'll spot the de Savary's skill behind a whole range of family activities including sailing, kayaking, SUP or fishing. And their particular genius for picking fun locations is full-on at Cary Arms, which is well placed for easy going beachy days along the Jurassic Coast; minutes from Torquay town; a short stroll from the stunning South West Coastal Path and no distance at all from the likes of Exeter and Dartmoor National Park.
Find out more about family holiday fun at Cary Arms & Spa
The lowdown
Where
Cary Arms & Spa, Babbacombe Beach, Torquay, South Devon
How to get there
Four hours, 30 minutes drive south west of London on M25.
Train from London Paddington – Newton Abbot is 2h30
When to go
Cary Arms & Spa is open year round, including Christmas and New Year.
Prices
Price for family of four. From £395 per night B&B for Captain's Suite
Book a family break at Cary Arms & Spa any time in 2020, quote Family Traveller code FT4555 and receive 10% discount on the best available price for your dates.
For more details and a virtual tour of the hotel visit Cary Arms & Spa. Or call 01803 327 110 to make a reservation or enquire about available 2020 dates.