1/10.

Christmas bricktacular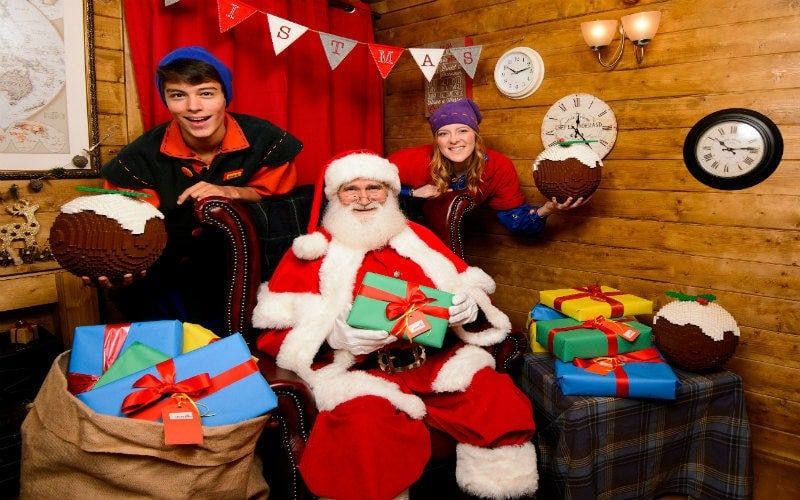 Why go? Rumored to be the best Christmas season at Legoland's Windsor Resort so far, you can expect to visit Father Christmas and his elves, to grab a little gift for the kids.
Activities: They'll have the chance to write letters to the main man himself, requesting their Christmas gifts. They'll also be invited to help the elves with Christmas card making and biscuit decorating. Don't worry, you'll still have plenty of time to explore the rides and attractions. Legoland's Christmas Bricktacular will be on every Saturday and Sunday from 21 November until 11 December. From the 12 December until the 23 December you'll be able to enjoy the festivities everyday.
Price: Tickets start from £18.75. If you didn't want the festivities to end, you could take part in a Santa Sleepover, by staying in family themed rooms starting from £269
Find out more: legoland.co.uk
2/10.

Lights on and lantern parade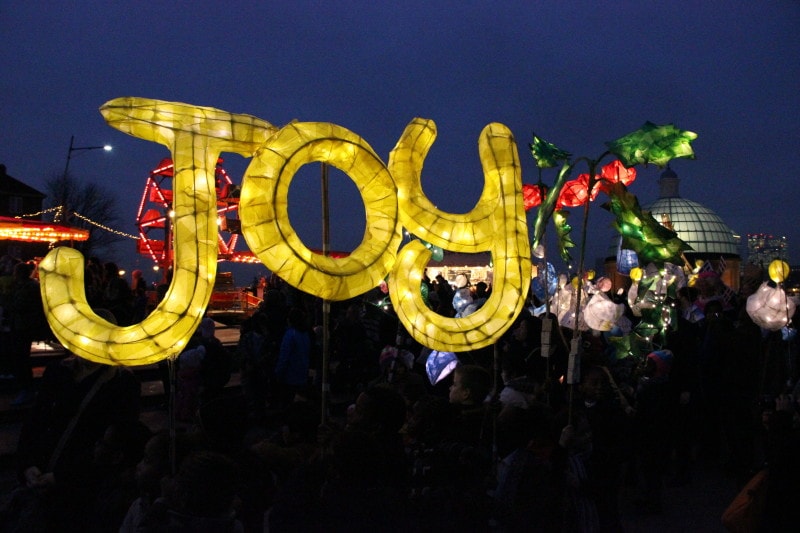 Why go? What better way to kick off the festivities than by witnessing a procession of  festive lanterns and to see the Market's twinkling Christmas lights switched on.
Activities: On 25 November, the local school children will partake in their yearly lantern procession. The parade will start at the Old Royal Naval College at 4:00pm and finish at the market at 4:30pm. The procession carries lanterns both large and small that will give your evening a festive glow.  If you don't want the fun to stop, you'll be able to take the little ones to visit Father Christmas in his grotto or even watch the Christmas lights be switched on. There will be Christmas carols, beverages, mince pies which were kindly provided by Waitrose – and even the shops will be open until 7:00pm.
Price: Viewing of the lantern procession is free
Find out more: greenwichmarketlondon.com
3/10.

Hogwarts in the Snow

Why go? The Warner Bros Studio Tour has decorated Harry Potter's school in snow, just in time for the festive season.

Activities: Guests will tour the festively decorated Great Hall, complete with the props and decorations seen in the first film. Giant Christmas trees will adorn the Great Hall and the iconic dining tables will be adorned with seasonal feasts. You'll also be able to explore the Gryffindor dormitory will be festive, littered with sweet wrappers and crackers.Hogwarts in the Snow runs from 13 November to 31 January 2015. Tickets must be pre-booked.

Book:  Tickets cost from £33 for adults, £25.50 for children (ages five-15 years) and under fours are free. A family of four can purchase a group ticket for £101.

Find out more: wbstudiotour.co.uk
4/10.

Winterville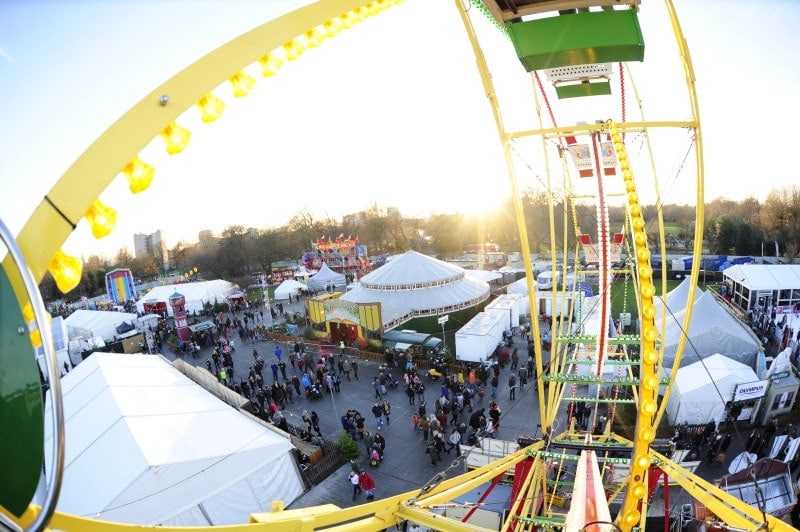 Why go? London is getting it's very own festive village in East London, with it's very own kid's quarter. This year it's meant to be bigger and better, and a lot of the details are being kept hush hush.
Activities: This year the kid's quarter is being designed by award winning interactive events company Bearded Kitten. You can expect to see the housed kid's soft play area and kid market filled with activities and adventures. You could trot around the park with a horse and carriage, meet Father Christmas, or whizz around on fairground rides. There's even Backyard Cinema which will be showing family friendly and Christmas cult classic films. There was also a ice rink and roller disco, for those who wanted a nostalgic nod to the festive season.
Price: Winterville will be open from Tuesday December 2 until Thursday January 1. Entry in to Winterville was free. Ice skating is £12.50 for adults and £8.50 for children. The cinema is charging £16.50 for adults and £8.00 for children.
Find out more: winterville.co.uk
5/10.

Christmas at Kew Gardens
Why go? Get the chance to experience Kew Gardens after dark with its Christmas-inspired, illuminated trail that takes guests through the heart of the gardens. Back after popular demand, you can expect to navigate Kew Gardens' new glittering trail decorated with snowflakes and botanic-inspired light fixtures.
Book: The Illuminated Trail is open between 5pm and 10pm from 25 November to 2 January 2015.
Price: Tickets: £16 for adults, £10 for children (four-16 years); children under four go free. A family special is available for a family of four for £48.
Find out more: kew.org/christmas
6/10.

Enchanted Christmas House
Why go? If you can't quite make it to Disney World this festive season, don't worry, The Enchanted Christmas House is the Christmas-inspired equivalent in Islington.
Activities: This really is the perfect festive day out for the whole family, as The Enchanted Christmas House offers a variety of activities including games in the Garden of Winter Wonder, gingerbread men decorating, and even interacting with magical Christmas characters. If you wish to have a quiet festive moment, you can take part in a personalised family visit to Santa and Mrs. Clause in the Christmas grotto.
Price: Tickets cost from £195 for a family of four, from 28 November to 24 December; from £236 for a family of four from 21 December to 24 December. Every guest over 15 months needs a ticket and all tickets must be purchased in advance.
Find out more: enchantedhouse.net
7/10.

Great Christmas pudding race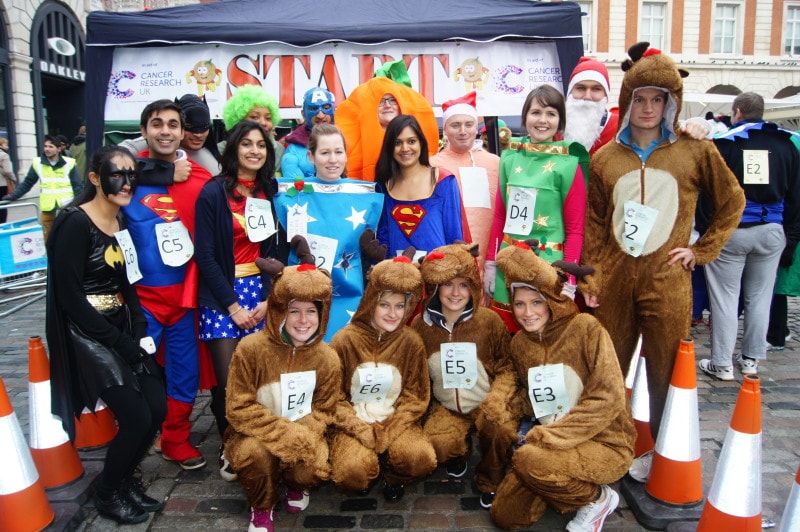 Why go? Entering it's thirty-fifth year, this event starts and ends with giggles as you watch teams compete by navigating their way around assault courses, yes, racing Christmas puddings.
Activities: The event is organised by CRAC on behalf of Cancer Research UK, as well as being supported by Fox's and Covent Garden Market. Attracting companies, groups of friends, and the odd celeb, this family friendly event saw a whopping £21,000 raised for charity last year. The event will be taking place on December 5 at 12:10am, but entertainment starts from 11:15am.
Price: The pudding race is free to watch
Find out more: xmaspuddingrace.org.uk
8/10.

Father Christmas at Hamleys
Why go? With Hamleys being one of the oldest toy shops in the world, what better way to make your festive meeting with Father Christmas and his elves even more magical.
Activities: Your children won't be disappointed with their meeting with Father Christmas and his elves, as fleeting visits are a thing of the past with these hour-long sessions which take place at breakfast, brunch, lunch, high tea or dinner. From being involved in Christmas-themed games, delicious snacks and receiving an exclusive gift bag from the man himself – your children will be entertained from start to finish. A photography service will not be present, so you can bring your own camera along to snap your little one in the midst of Christmas cheer.
Price: Tickets cost £45 per child (one adult admitted per child). Children can meet Father Christmas from 21 November to 24 December. Suitable for children ages two to nine.
Find out more: hamleys.com
9/10.

The Nutcracker
Why go? The Christmas classic, The Nutcracker, will be showcased by the English National Ballet at the London Coliseum again. The ballet would be a great way to inject a bit of culture into the Christmas season, whilst still maintaining the magic and wonder of Christmas. The ballet offers evening and matinee performances from 16 December through 10 January 2015.
Top tip: On 4 January and 10 January, matinee performances, all children under the age of 16 will enjoy free entry with every full paying adult ticket. Up to two children per paying adult.
Price: Tickets cost from £34.50. Performances are at 2:30pm and 7:30pm. Book soon as tickets sell out fast!
Find out more: ballet.org.uk
10/10.

Jack and the Beanstalk

Why go? Hackney Empire is back this year with Jack and the Beanstalk, after last year's record breaking pantomime, Mother Goose.

Activities: If last year is anything to go by, it's best to book your tickets early, as 50,000 people came to saw Mother Goose. This year you can still expect the performance to be packed with pantomime fabulousness. Olivier-Award winning Grand Dame of panto, Clive Rowe, will be joining Olivier nominee, Debbie Kurup. The silliness on stage will have the children screaming "it's behind you" in no time.

Price:  Performances start on November 21 until January 3. Tickets are priced between £10 – £34.50, with an online booking fee of £1 and £1.25 over the phone.

Find out more: hackneyempire.co.uk/