With the days getting shorter and the leaves starting to fall from the trees, it's time to get cosy and settle in for long evenings of hot chocolate, movies and sleepover fun. We've discovered some once-in-a-lifetime sleepovers for kids at some of the coolest child-friendly attractions in the UK.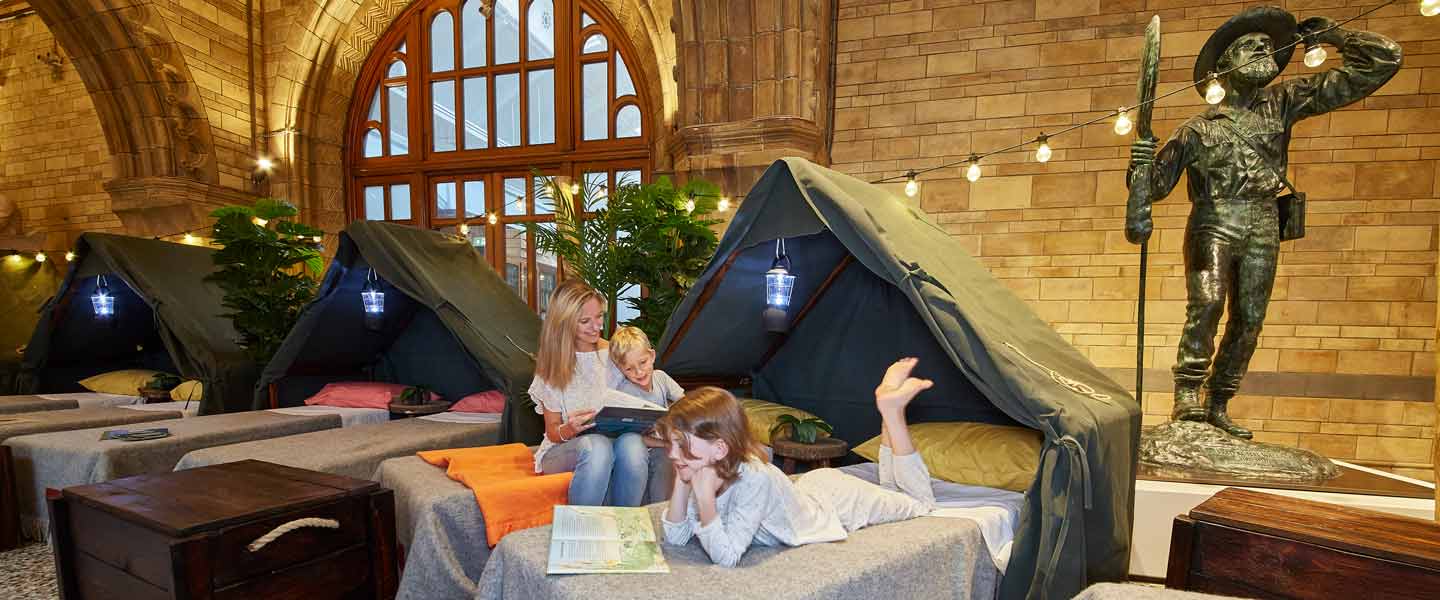 1/10

Natural History Museum, London

The famous 'Dinosnores' experience is perfect for budding paleontologists and Horrible Histories lovers. Children aged 7-11 can relive the Hollywood favourite 'Night at the Museum' with exclusive entry after all the other guests have gone home. The evening kicks off with dino-themed t-shirt printing and an educational show presented by an expert scientist. As night falls, take the spook-factor up a notch with a torch-lit trail around the galleries and hallways, discovering the museum's resident dinosaurs and menagerie of animals and historical figures. When the clock strikes midnight, bunk down in the main hall underneath the magnificent Blue Whale. The next morning enjoy a hot breakfast and start the day with a live animal show before the doors open for tourists. Kids can even win an extra special stay with a spot in the Air B'n'B Base Camp in the balcony above the grand hall.

Price: £60 per person

Dates: Hosted on various dates;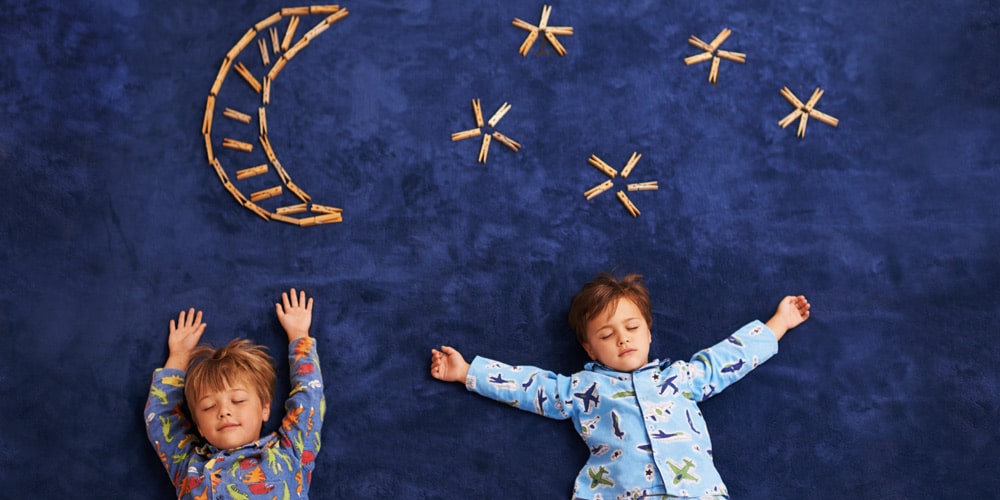 2/10

National Space Centre, Leicester, England

In honour of World Space Week, the National Space Centre is hosting an 'out of this world' family sleepover on 7th October. Guests will start the evening with a Q&A from a real space-walking Apollo astronaut, finding out what it takes to go into orbit. Arts and crafts and science workshops are next on the agenda, before a film screening in the centre's own planetarium. Choose from a 10pm finish in the Shuttle Suites or a later finish for older children in the main galleries. The next morning enjoy a hearty breakfast in the Boosters restaurant before taking an interactive tour of the night sky.

Price: £40 per adult, £30 per child

Dates: 7th October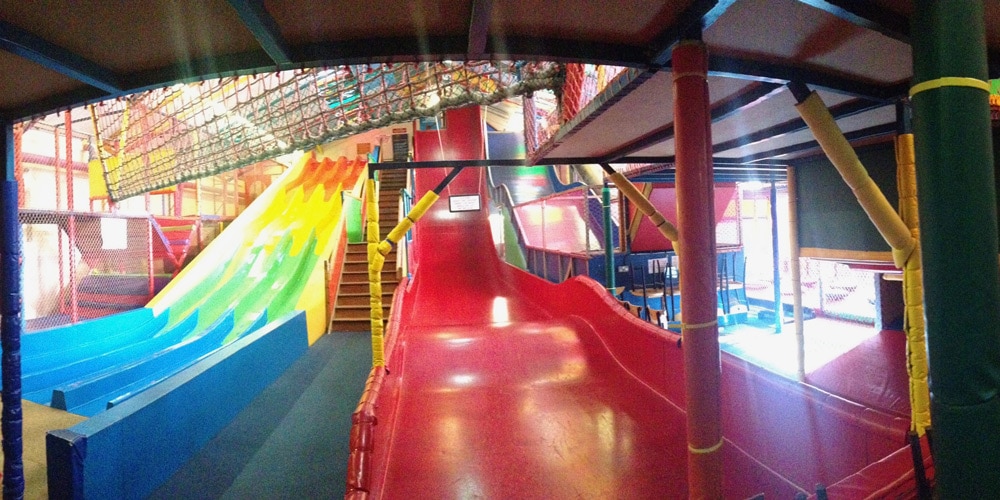 3/10

PlayZone, Swansea, Wales

Kids can go wild in this giant activity centre in Swansea, with a multi-level soft-play and indoor adventure playground. Children will be cared for by sleepover hosts who will organise team games, fun challenges and arts and crafts to keep guests busy all evening. Kids can even crank up the adrenaline with a game of laser tag as night falls! Enjoy a delicious dinner in between games and a hearty breakfast the next morning.

Price: £40 per person

Dates: On request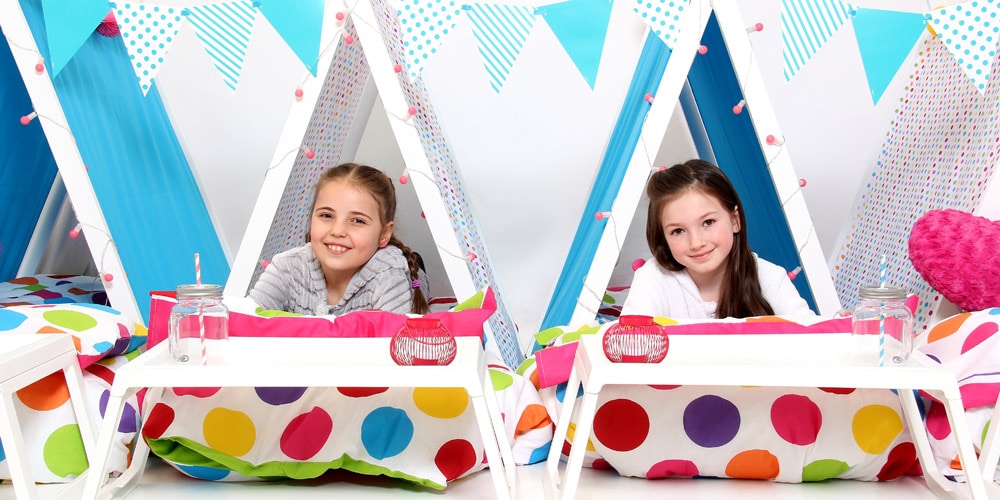 4/10

Wigwams and Wishes, Midlothian, Scotland

This bespoke sleepover company based in Midlothian hosts dreamy wigwam parties for children and their friends. Hosted in a hall, hotel or home, the company will set up relaxing dream pods in the form of a colourful mini wigwam for each child, and will even come to clear away the next day!

Price: Bespoke quotes

Dates: To suit sleepover hosts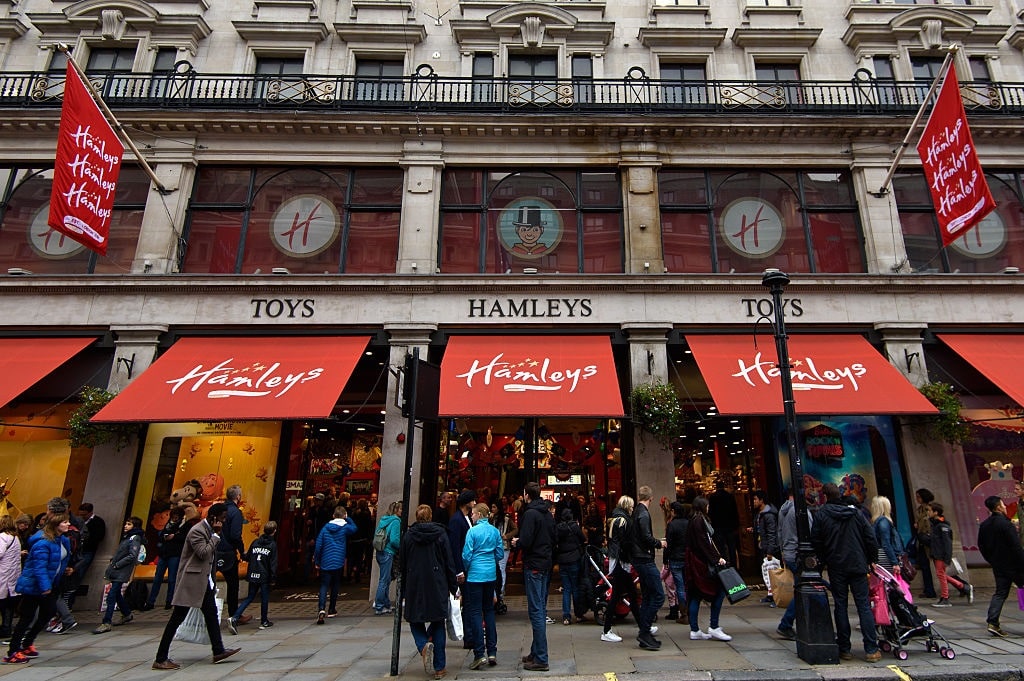 5/10

Hamleys Toy Store, London

The world-renowned toy shop is offering kids the chance to make their ultimate childhood dream come true. Guests will enjoy a red-carpet arrival with welcome drink, followed by a VIP tour of the store and a treasure hunt. Exclusive photographers will capture every moment of the fun, including party games and activities and a visit from Hamley or Hattie bear. Kids can help themselves to 'scrumpalicious sweets' and enjoy a midnight feast while watching films. In the morning children can finish their adventure with breakfast in Hamleys before the store opens to guests.

Price: On application

Dates: Saturday evenings throughout the year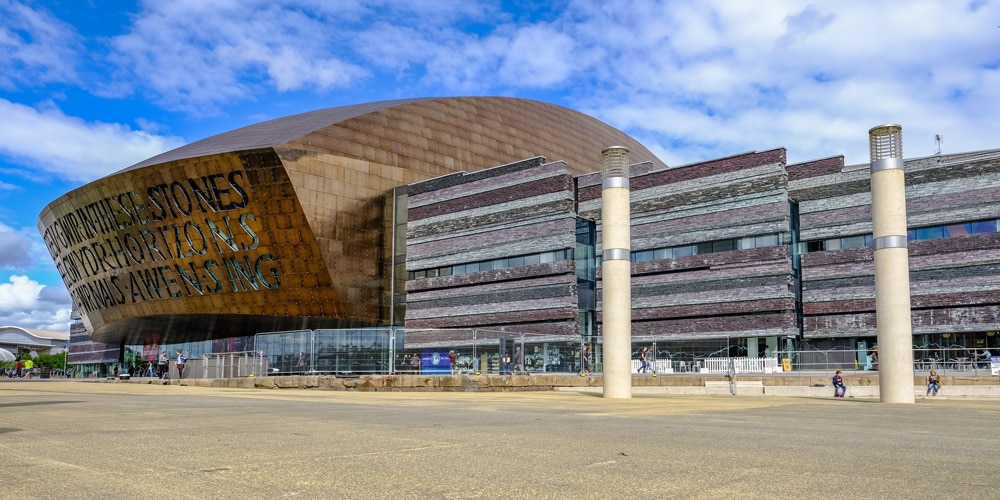 6/10

Urdd City Sleepover, Cardiff, Wales

Take in the sights of Cardiff city and the bay with a sleepover in the iconic Millennium Stadium Centre. Guests can enjoy home from home en-suite accommodation adjoining a hall and theatre, in a central location ideal for visiting Cardiff's popular sites. Trips can be arranged to local attractions such as the Techniquest Science Museum for a day of experimenting and hands-on activities, or St Fagans Natural History Museum for a fascinating insight into traditional Welsh life. Sports activities such as white water rafting, skateboarding and speed-boating can also be booked as part of a sleepover itinerary.

Price: On application, depending on itinerary and group size

Dates: Throughout the year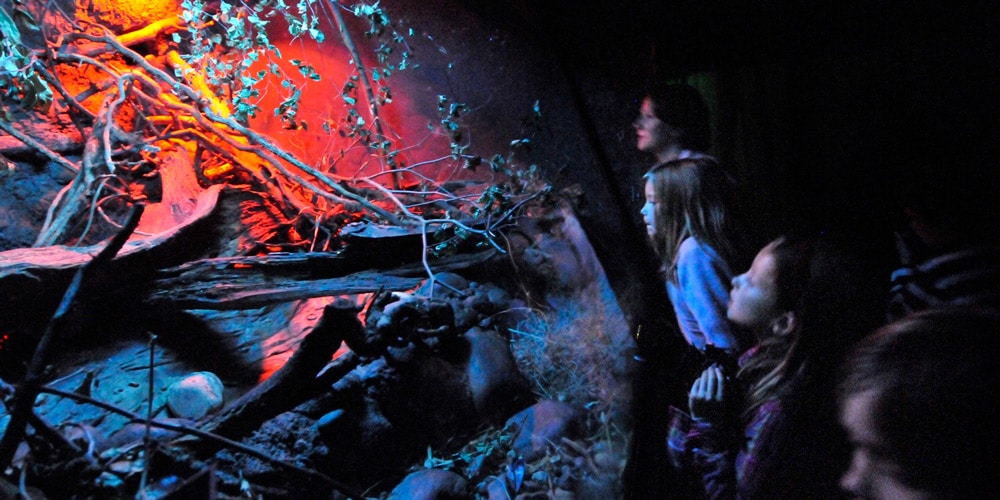 7/10

ZSL London Zoo

Get up close and personal with London Zoo's creepy crawly residents at one of its BedBUGS sleepovers. Children aged 7-11 will enjoy a fascinating talk and handling session with insects, arachnids and myriapods before grabbing their torches for an after-dark tour of the zoo. Get behind the scenes info about the resident animals and how they are cared for (look out as many of them hunt at night!) Team games and arts and crafts are next, followed by setting up camp in the B.U.G.S building. The next morning rise bright and early to a continental breakfast and enjoy a private tour of the zoo before it opens to guests. Kids receive a goody bag and t-shirt to take home as souvenirs of their fang-tastic time!

Price: £75 per person (£65 for Scouts)

Dates: 6th or 27th October; 17th November.
Book now at ZSL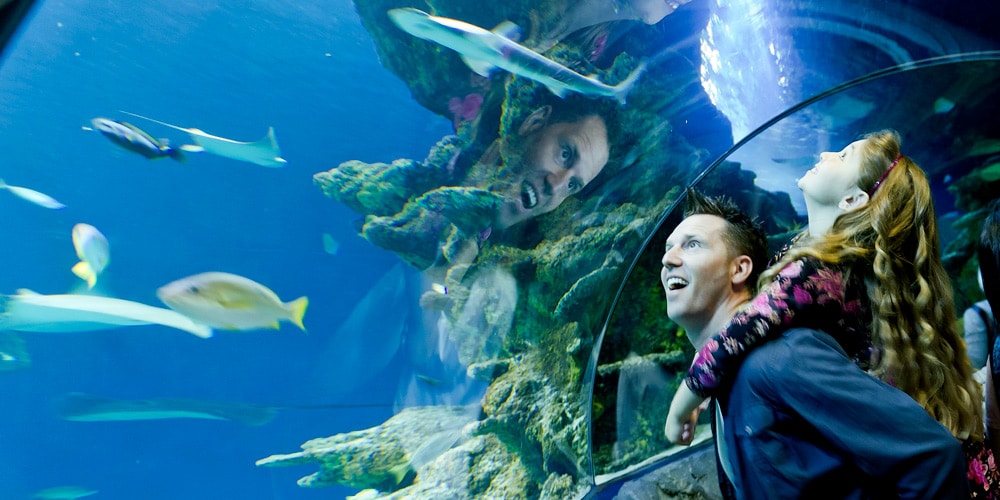 8/10

Sea Life Centre, Balloch, Scotland

Fans of Finding Nemo will love sleeping under the ocean tunnel at the Sea Life Centre in Loch Lomond, Scotland. Kids will enjoy a VIP tour of the marine life before setting up camp in the glass tunnel, surrounded by brightly coloured fish and coral. Fuel up on some evening snacks and then get creative with a badge making workshop or settle down to watch a film in your very own 350 seat cinema. The next morning, enjoy breakfast at the Loch View cafe before heading out onto dry land.

Price: £25 per person

Dates: To suit guests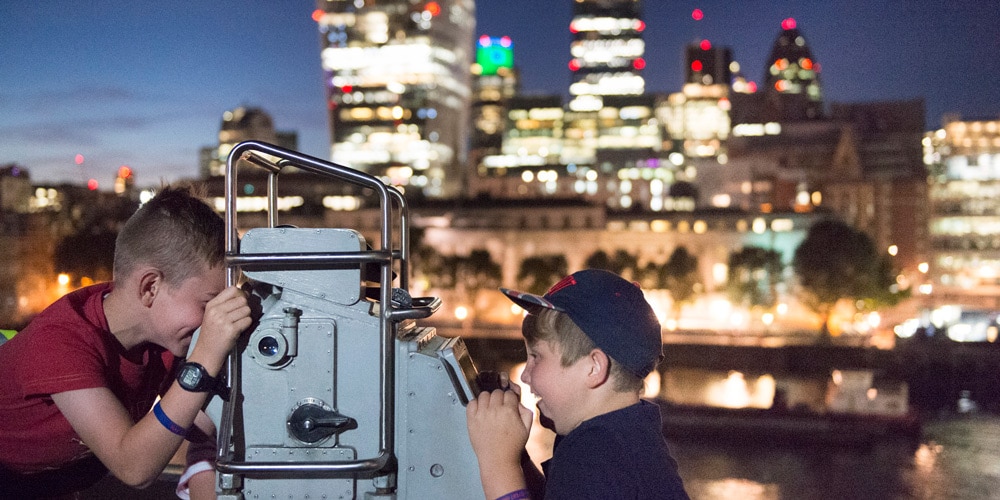 Photo: © IWM
9/10

HMS Belfast, London

Try a 'kip in a ship' on board the HMS Belfast on the River Thames. Kids will learn all about life on the water and become mini sailors, even sleeping in the sailors' bunks on board. Children can learn what jobs are needed to keep a ship afloat, learn semaphore language and make their own flag pole to create their important signals. Then it's time to design 'mess mugs' to fill with delicious hot chocolate before bunking down for the night. Guests can also arrange a tour of the Captain's Bridge and the Flag Deck with stunning views of the London night-time skyline.

Price: £47.50 per person

Dates: Throughout the year
Book now at Iwm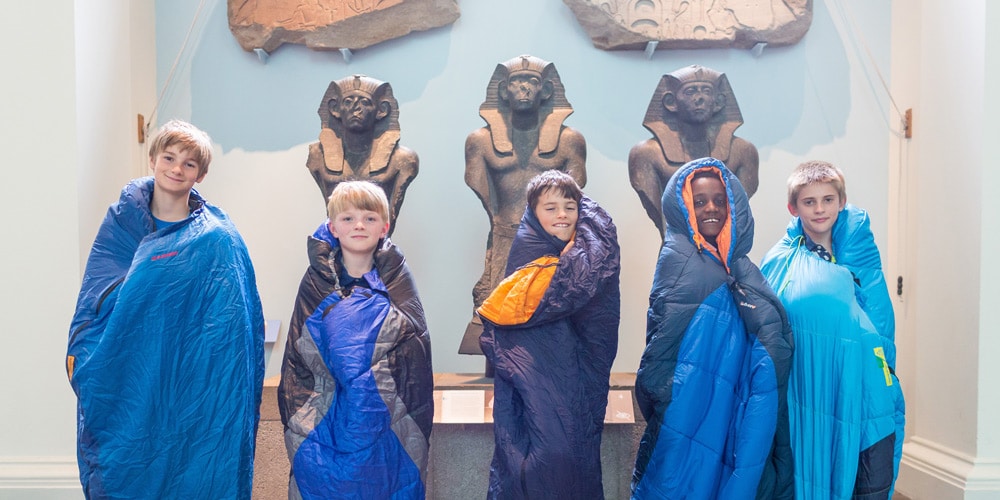 Photo: The Trustees of British Museum
10/10

British Museum, London

What could be cooler than spending a night on the real-life set of "Night at the Museum: Secret of the Tomb"? Young Friends of the British Museum can walk in Ben Stiller's footprints and enjoy a night in the galleries, exploring ancient Egyptian mummies and completing activity trails as the sun sets. Sleepovers are often themed and involve interactive stories, arts and crafts and of course evening snacks. Curl up in the Egyptian or Assyrian galleries and enjoy breakfast and a farewell activity the next morning before a trip to the gift shop.

Price: £45 per person

Dates: 21st October;