With the release of Guy Ritchie's modern retelling of the Arthurian legends in his edgy new movie, King Arthur: Legend of the Sword, starring Charlie Hunnam and Jude Law, it's the epic British landscape that's the real star of the movie.
We've gone behind the scenes to discover key locations for you to track down with your kids.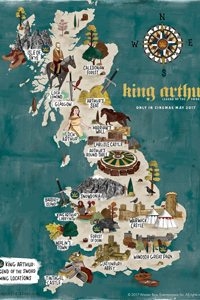 English filming locations
The iconic Windsor Great Park plays its part in the 2017 film. No stranger to a film crew, the Park has formed a backdrop for films ranging from Harry Potter and Snow White and the Huntsman to World War Z. The 4,800 acres of parkland is itself shrouded in myths and legends, said to be visited by the ghost of Herne the Hunter on a phantom black stallion. For day time visitors it's a tranquil escape complete with Deer Park, cycle and walking trails and gardens.
The Forest of Dean and Wye Valley also played its part with King Arthur's cave filmed at the prehistoric cave standing in the shadow of Great Doward, a Scheduled Ancient Monument that rises about 25 feet high with an entrance large enough for a man on horseback to have ridden in and out of. Between Biblins and Monmouth, on the pathway along the riverside, a massive wall of carboniferous limestone rock was also used as the backdrop to a council scene.
Scottish filming locations
Scotland is the land of myths and legends, with stories of the Loch Ness Monster, to the mystical 'Kelpie' (a supernatural water horse that was said to haunt Scotland's lochs and lonely rivers) and 'Selkie' (mythical creatures that could transform themselves from seal to human form and back again).
Not only does the stunning Quiraing on the Isle of Skye serve as a filming location in the new film, as well as Wester Ross in the Highlands, but also Scotland is home to many connections to the Arthurian legend:
In Edinburgh, visitors can walk up Arthur's Seat overlooking the historic city and could be standing where King Arthur and his knights once stood.
Stirling Castle is home to a Round Table, also known as the King's Knot, which is in a field below the castle and which some experts believe belonged to King Arthur.
Drumelzier, a small town in the Scottish Borders, has an association with the King Arthur legend; Merlin is portrayed as a wild prophet of the woods, and it is said the grave of Merlin is located there.
A visit to Urquhart Castle on the banks of Loch Ness is ideal for a glimpse of medieval life and to be captivated by wild natural beauty and 1,000 years of history. Keep an eye out for Nessie from atop its towers!
Welsh filming locations
Wales lays claim to many haunts associated with the legend of King Arthur, his mighty sword Excalibur and fabled magician Merlin. The first known reference to him was in a Welsh poem written in around AD 594, and Arthur's tale is deeply engrained in Welsh folklore and recalled in many place names. His links to Wales are so strong that almost every region in the country has its own set of myths, connecting Arthur and his court to the land here.
Families can plan an own early medieval adventure by visiting our ancient hill forts, standing stones, mysterious lakes and dented rocks, said to have been struck by the hooves of the great king's horse.
Maen Huail in the North Wales town of Ruthin: this stone-with-a-story is said to have been the chopping block Arthur used to slay a love-rival, Huail. Heading coast-wards, Carn March Arthur near Aberdovey in Mid Wales bears what is alleged to be the hoof-print of Arthur's horse Llamrai, imprinted during a hectic monster-slaying session. Legend also has it that in North Wales Arthur killed off Mount Snowdon's resident giant, Rhita, and his men supposedly covered the corpse in stones at the summit of the peak.
Two Welsh lakes, Llyn Llydaw and Llyn Ogwen, claim to be the watery resting place of Arthur's sword, which was so powerful it had a name – 'Excalibur' in English and 'Caledfwlch' in Welsh. Both are in the Snowdonia National Park in North Wales, and while Llydaw is inaccessible, Llyn Ogwen is popular with walkers heading up dramatic Tryfan.
Head to the Preseli Hills in Pembrokeshire, South West Wales, and pay homage to the warrior at Bedd Arthur, a set of standing stones said to mark Arthur's final resting place – a title claimed by other spots in Wales too. Beautiful Bardsey Island – off the Llŷn Peninsula in North Wales – is believed by some to be the Isle of Avalon from Arthurian legend; apparently Arthur sleeps in a cave there, waiting to rise up and save Wales in its direst hour of