Why go?
Jane Anderson discovers that you don't need to go too far afield for an (almost) tropical island holiday – she takes her two children across the channel to Guernsey where they find buckets of old-fashioned charm. 'We're nearly in space!' yells my six-year-old son Fin. His eyes light up as we soar over the English Channel on our 72-passenger Aurigny plane with its cute puffin livery. He spies the real-life propeller outside his window on this 45-minute hop to Guernsey, just 27 miles off the north coast of France. Fin and his nine-year-old sister Scarlett are sitting side-by-side, ordering their own juice and being thoroughly grown-up, bursting with the fantasy of childhood travel. As far as they're concerned, Guernsey could be a tropical isle or even outer space. There's a Tintin-like atmosphere to this adventure as we come in to land over rocky outcrops and intense jade sea.  We're on a whistle-stop long weekend to see as much of this island as possible.  Luckily, Guernsey is just 24 square miles (the second-largest Channel Island), so nothing is too far away.
Perfect for a weekend getaway or a half-term week Guernsey offers something for adults and children alike. It's size, and locality makes it a great way to spend a few days without blowing the budget; It's a European destination with any of the hassle.
Activities
Castle Court 
We bundle our bags into our hire car and head straight for the capital, St Peter Port, with its grand mercantile architecture, hanging baskets and bunting, just in time to see the smoke rising from the noonday gun at Castle Cornet – the ancient fortification standing guard over the harbour. This ritual is performed daily by Ian and Colin, who we meet by a Napoleonic cannon, dressed in their red Royal Guernsey Light Infantry uniforms. After a frenzy of donning historic costumes, from knights to princesses, and cartwheeling on the castle lawns, we feast on ham sandwiches from the castle refectory.
Pembroke Bay 
Later we headed over to Pembroke Bay. Shoes are jettisoned and trousers rolled for barefoot explorations of this vast beach and its rock pools.  I retreat to the nautical style Beach House restaurant up on the promenade for a chilled white wine while conveniently keeping an eye on the kids. 
Next morning, we're up early to meet Visit Guernsey's Gold Accredited walking guide Gill Girard, for a guided walk round the south-west corner of Guernsey's clifftop coastline. Gill's happy, no-nonsense demeanour and sparkly blue Ray Ban sunglasses impress us all as we set off through Bluebell Wood, a dingly dell, like something out of Famous Five.
Torteval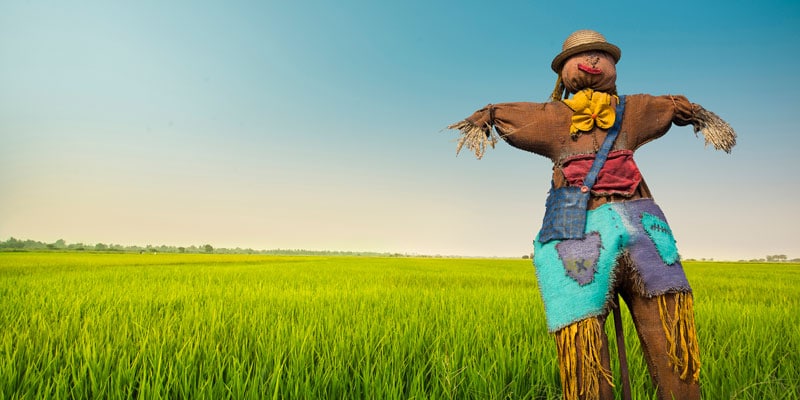 We also headed over to the impossibly cute town of Torteval for the annual Scarecrow Competition. There's a village fête atmosphere with a Punch & Judy show and Morris dancing. We set off on the trail of 55 scarecrows along 'ruettes tranquilles', pretty lanes with their deep-blue post boxes and 'Hedge Veg', stalls of homegrown produce. Fin thinks it's all a bit of a drag until he spies a Minecraft scarecrow (his favourite computer game) called Steve (his dad's name). Scarlett, on the other hand, is in her element and especially loves the Owl and the Pussycat scarecrows sitting in a real rowing boat.
It sums up what this island is all about – old-fashioned charm and homemade fun in a surprisingly tropical setting. But it's pushing it rather to claim we're in outer space.
Where to stay
This four-star boutique hotel in St Peter Port will have the kids' eyes out on stalks with its dramatic zebra-print chairs and jars of lemon sherbets and jellybeans. The eclectic decor includes a full-size suit of armour, which a mischievous staff member says wanders the hotel at night.
The Duke of Richmond Hotel (01481 726221) offers Superior King rooms for a family of four (two adults and two kids aged 12 or below), from £190 per night, including breakfast.
Seagull Campsite on Herm offers equipped, six-person tents, from £46 per night or £230 per week.
There are three-bedroom apartments that sleep up to six at The Bay (07781 145129), from £900 per week.
Where to eat
Located at Pembroke Bay, it has fabulous seafood and sea views. It offers a huge variety serving from lunch through til dinner- even offering 'take-aways' for those wanting to sit and eat on the beach. Open 7-days a week June-August and closed only on Mondays year round it's a must-stop for sandwhiches or a sea front evening dinner with the family.
Overlooking St Peter Port harbour, it's very relaxed and has a giant fish tank to amuse kids and everything frommoules frites to tasty galettes. It's nautical decor reflects the menu serving up fresh seafood all day with plenty of options the choose from even the fussiest of eaters are sure to find something they'll love. 
Also overlooking the harbour in St Peter Port, Mora serves up some of the best food in town. They pride themselves on the freshness of their ingredients- the grill is always fired up and waiting. Drinking cocktails on the harbours edge could not be a more perfect way to unwind after a day of exploring.
The lowdown
By Air: Aurigny flies from London Gatwick to Guernsey, from £80 return.
By Sea: Trident operates catamarans from St Peter Port to Herm, from £11.50 for adults, £5.50 for children over two and £1 for infants. Condor Ferries, from £46pp each way with a car. (one-way fare per person based on a return journey with a car up to 1.85m high and 5m long and two adults plus two children travelling each way.)