Kim Jones and family visit Centerparcs Longleat Forest for an active family break and amazing water thrills
Here's one advantage to your kids getting older that you may not have thought of: you can send them ahead of you to test out any white-knuckle rides you half-fancy having a go at and ask them to judge whether or not they think their middle-aged mum and dad will be able to hack them without having a heart-attack.
We were enjoying a long weekend at Longleat Forest Centerparcs and – as if there wasn't enough fun to be had there already – the centre has added two exciting new waterslides to its Subtropical Swimming Paradise.
Typhoon and Tropical Cyclone are huge hi-tech raft rides with a difference. They feature lights and sounds (to drown out your screams, perhaps?) as well as all the usual twists, turns, drops and soakings you'd expect – and our younger son Lucas and his friend Jack, both 14, couldn't wait to try them out.
After getting the thumbs-up from the boys assuring us the rides were more fun than truly frightening, we took the plunge.
Tropical Cyclone is a two, three or four person raft ride.  First you choose which theme of lights and sounds you'd like to fill your slide as you travel downwards and the lifeguard keys that into a screen (we chose 'thunderstorm'). Once seated in the raft you're pushed into a huge tunnel that's soon filled with the crackles and sizzles of fork lightning, purple and white flashing lights and booming thunder. As we were coursing along, yes I was screeching with anticipation, but, secretly? I was lulled into a false sense of security. This wasn't so bad…  Until whoosh! We flew down a 45 degree drop, careered with a splash to the bottom and were tossed and turned then spat out before I had time to catch my breath. Great fun. And the best bit according to Lucas? Seeing the expression on his pal Jack's face transform from laughter to shock as, travelling backwards, he turned round to see the sheer drop he was about to free-fall into.
The new Typhoon ride is fun on a smaller (and slightly faster) scale. Again, you get to choose what kind of lighting you want to fill your tunnel, from themes such as Spring, Summer, Rainbow and Treetops – and then you're pitched and rocked downwards at speeds of up to 45km an hour. It's all over in seconds which, of course, leaves young ones raring to go for another go.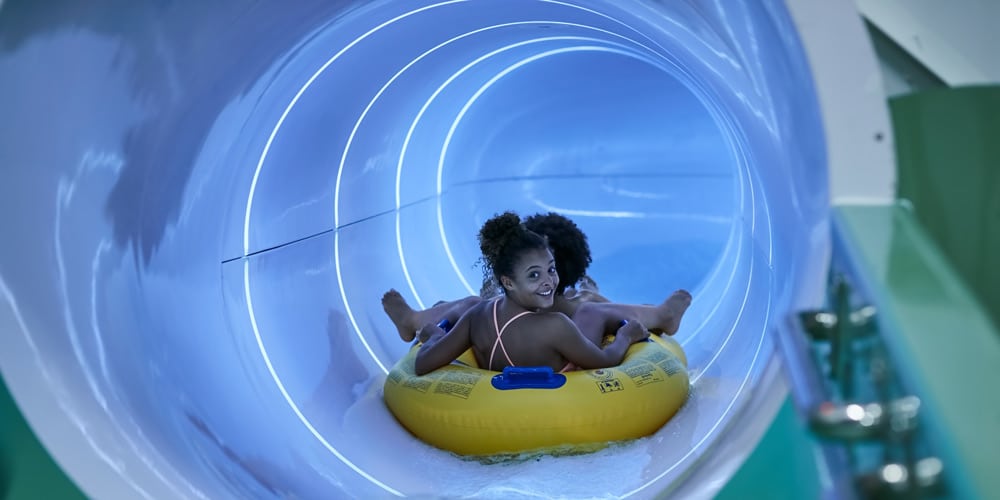 But we had more of the Subtropical Swimming Paadise to explore – the Wild Water Rapids, Lazy River, slides, outdoor pool with jazuzzi and plunge pool are all a must to try. Plus, new this year for toddlers is the Venture Bay water-play area with mini-slides, toadstool showers, shallow warm bathing pools and interactive water play. (Tip: go back to the pool at night-time, after 7pm when the waterslide rides have closed for a less busy and quite magical dip in starlit darkness).
We stayed in a four-bedroom Executive Lodge in the heart of the forest (if there was any doubt you were surrounded by nature at Centerparcs, we were lucky enough to get a visit from a beautiful roe deer who ventured quite close to the back of our lodge). Spacious and comfortable, three of the bedrooms in the lodge were ensuite, making it perfect for larger families or as a base to share with another family. A welcome Grocery Pack which contained every kind of essential – from bread, milk, margarine, eggs, sausages, bacon and orange juice to cereal, biscuits, coffee, crisps and even beer and wine – meant that packing to get here had been a breeze, breakfasts and snacks were all sorted and that we could settle down with a cuppa as soon as we arrived.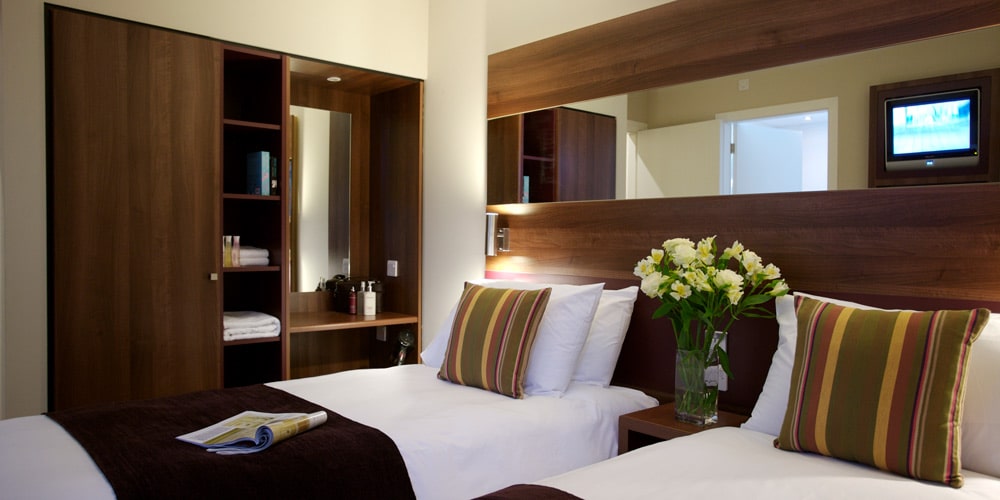 There was a patio with table, chairs and barbecue and even our own sauna at the back of the lodge and – much to the boys' delight – a games room with tv, pool table and an x-box. They snatched every spare moment they could in here perfecting their putting skills. And, even though we couldn't find any controllers for the x-box, they weren't bothered. Pool, it transpired, was much more fun anyway.
For an active family, the best way to get around the park is by bike (though there is a train which stops all over the park if hilly terrain is too hard on your legs). You can bring your own or hire bikes from hundreds at the centre. Hubby – who is a keen road cyclist – was impressed by how well the bikes here were maintained (we've stayed in a few places where he has had to pump up tyres and bemoan the fact that a chain obviously hasn't seen an oil-can in months.) No such concerns here and within minutes, we were coasting around the park, exploring woodland trails, heading down to the beach and lake and stopping off to explore the Plaza's shops, restaurants and coffee stops.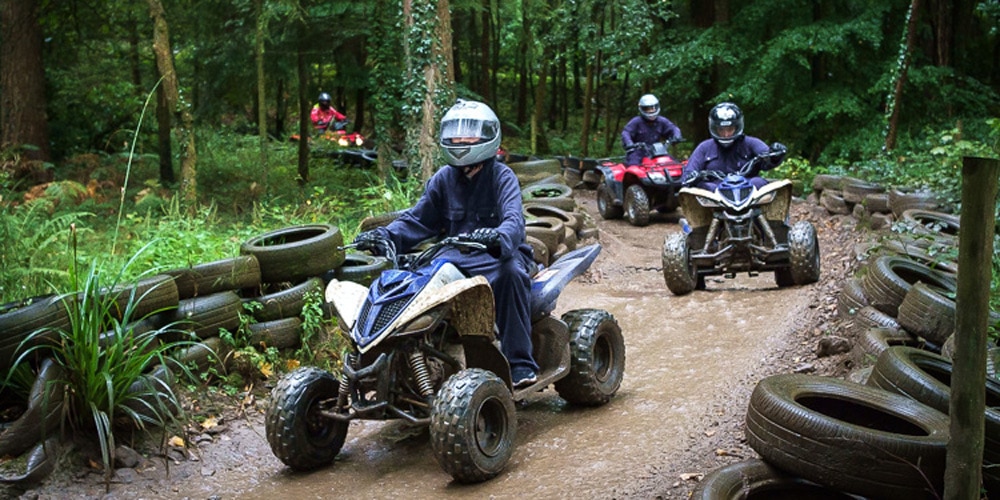 A stay at Centerparcs can be as relaxing or as on-the-go as you want it to be, but with so many activities on your doorstep, I'd say it's impossible to keep still for long.
Lucas and Jack enjoyed taking on a High Ropes Challenge – fearlessly scaling climbing walls and taking leaps of faith from great heights as well as revving it up off-road on a Quad Bike Safari. Their activities were punctuated with numerous impromptu visits to the pool (it seemed like no sooner had they dried off than they decided to dive back in again) and we enjoyed eating out at Rajan Pradesh – an Indian restaurant serving freshly cooked, delicious and imaginative dishes, with super-friendly staff.
Did I say it's impossible to sit still for long? I take that back. Hubby and I were booked in for a three-hour long spa session – and, though I at first doubted we'd stay and relax for anywhere near that long, we ended up falling asleep after a dip in the Jacuzzi pool and sampling the many spa experience rooms there – including an Indian Blossom Steam Room, Turkish Hammam and a Japanese Salt Steam Inhalation Bath. And then there was the divine Elemis Brighten and Glow face and body treatment I enjoyed – a combination of a brightening facial with a warm Frangipani oil and hot stones massage. Yes, it's certainly possible to lie back and relax at Centerparcs if you choose to.
Cocooned as you are in the woodland, with no need to leave its comforting reaches at all during your stay, Centerparcs really does feel like a world away from the world. We can certainly see why people keep coming back for more.
Longleat Forest Centerparcs: The Lowdown
Price: Stays start at £329 for a four night mid-week break staying in a three bedroom Woodland Lodge (sleeping up to 6 adults) at Centerparcs Longleat Forest or £579 for a three night weekend break in Jauuary. Prices are correct at time of posting however are subject to change.
Find out more at Centerparcs or call 03448 267723
Photos: Centerparcs. Last two images: Alistair Heap.