When I was at primary school in the 1990s, Enid Blyton books were banned. Our well-meaning headmistress looked down her nose at their simple plots and two-dimensional characters (not to mention Blyton's old-fashion attitudes towards race and gender) and instead tried to pour Dickens and Tolkien into our young minds.
Of course, there's nothing like banning something to make it irresistible to children, and so my little friends and I gobbled up the forbidden fruits of The Famous Five and The Secret Seven by torch light under our duvets.
We loved these stories – and not just because they were against the rules. Every one of Blyton's books is a terrific page-turner, with something exciting happening in nearly every paragraph. Are her stories great works of literature? Definitely not. But who cares if they inspire kids to love of reading? There'll be plenty of time for Dickens later.
They held their hard-boiled eggs, munching happily
Blyton's world of hard boiled eggs and lashings of ginger beer seems a million miles away from the lives of savvy Snapchatting kids in 2017, and yet her books continue to be best-sellers. To celebrate the 75th birthday of The Famous Five, Hachette Children's Group has published a new edition for yet another generation of readers, this time with stylish, modern covers by children's illustrator Laura Ellen Anderson.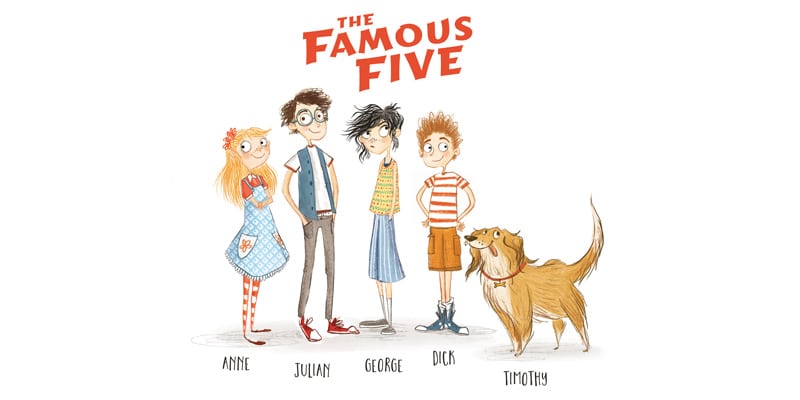 To understand why The Famous Five books have stood the test of time and why these old-fashioned stories are still so appealing to children, I took a pilgrimage to the place where the plucky gang spent their 'hols'.
Blyton first visited Dorset in 1931 when she was 23. She fell in love with the place and over the years made regular trips to Swanage, where in 1950 she bought the Isle of Purbeck Golf Club. Although Blyton never explicitly names Dorset in her books, the county's rugged coves and sleepy villages became the setting for many of The Famous Five's adventures. 
The Famous Five's adventures often begin with the children arriving in the countryside by train, home from boarding school for the summer. You can start your Dorset adventure the same way, by taking a 22-minute steam train from Swanage to Corfe Castle.
The station was built in 1885 and has been painstakingly restored by a team of eager volunteers, who love to talk to visitors about their impressive project. 
As your train pulls in at Corfe Castle station, you'll spot old leather cases piled on the platform, almost as if Anne, Julian and co have just arrived. Peer through the train window and you'll see Corfe Castle itself, the inspiration behind the mighty Kirrin Castle in the Five books.
Castle proud and strong
The dramatic 11th century ruins loom over the town of Purbek and on cloudy days, the castle looks just like the cover of a gothic romance novel. A short walk from the station brings you to the foot of Corfe's craggy keep, which rises up out of the steep mound it sits on. The green hills grow into the stone ruins and the castle is so much a part of the landscape that, even up close, it's hard to tell where the land ends and the stone begins.
Exploring the warren of fallen walls, hidden cubby holes and arrow slits, it's easy to see why Blyton saw adventure and intrigue here. It feels like a place where treachery and treason wait around every corner. Blyton obviously knew the castle inside out – her descriptions of 'broken archways, tumbledown towers and ruined walls' are spot on.
National Trust guides take fascinating tours around the ruins and during summer months there are dressing up boxes for kids who want to recreate scenes from the castle's colourful history.
The sky seemed freshly washed
Blyton's normally clunky writing comes alive when she describes birds, flowers and trees, and there was plenty of wildlife to inspire her at Corfe Castle.
Jackdaws circle in the 'freshly washed sky' above the towers and swoop down on bits of sandwiches dropped by tourists, like seagulls on a beach. High in the castle walls sit huge tangled ravens' nests. The adult birds swoop effortlessly in and out, followed by their flapping babies who crash clumsily into the keep. Ravens have returned to the castle after leaving in the 17th century, disproving the ancient legend that if they ever left, the castle would crumble

The ground around the ruins is a carpet of treasures that have been there since the castle was destroyed hundreds of years ago. Eagle-eyed kids love hunting for ancient pieces of bone, slate and oyster shell. There's also the odd crisp packet to be found, but the National Trust volunteers soon see to those.
Spend a weekend with your kids searching for treasure at Corfe Castle and riding steam trains through the English countryside and, for a moment, your childhoods collide. After my weekend of adventure in Dorset, I can see why The Famous Five books are still popular (Blyton books sell at a rate of one a minute in the UK). Anne, Julian, Dick, George and Timmy live in a gloriously grown-up free world where children roam the countryside by themselves, enjoying thrilling adventures and hard boiled eggs under freshly washed skies. In Blyton's world, children are always the heroes – and that's something that will never go out of fashion.
Enid Blyton's Dorset
How to get there
From London Waterloo, South West Trains take 2.5 hours to Wareham in Dorset
Swanage Railway
Between April and October steam trains run every day. A return ticket costs £12.50 for adults and £7.60 for children
From Corfe Castle station Swanage Railway trains run to Harman's Cross and Swanage, or north to the mining museum at Norden
Where to stay
The Pig on the Beach in Studland is a gorgeous country house with uninterrupted views of the sandy coastline. Double rooms start at £137 per night. Extra beds can be added for under 12s (£20 per night) and there are two inter-connecting rooms available  
More things to do nearby 
Take the ferry from Poole Quay to Brownsea Island 'in the great blue harbour', the inspiration behind Blyton's Whispering Island
Ramble on Stoborough Heath National Nature Reserve 
Play on sandy beaches at Studland
Take afternoon tea at The Isle of Purbeck Golf Club, which Blyton bought in 1950