Family Traveller reader and mother of two, Lauren Hatch, takes a trip to Plush Tents Glamping in Chichester with her husband and two sons for a spot of stylish camping.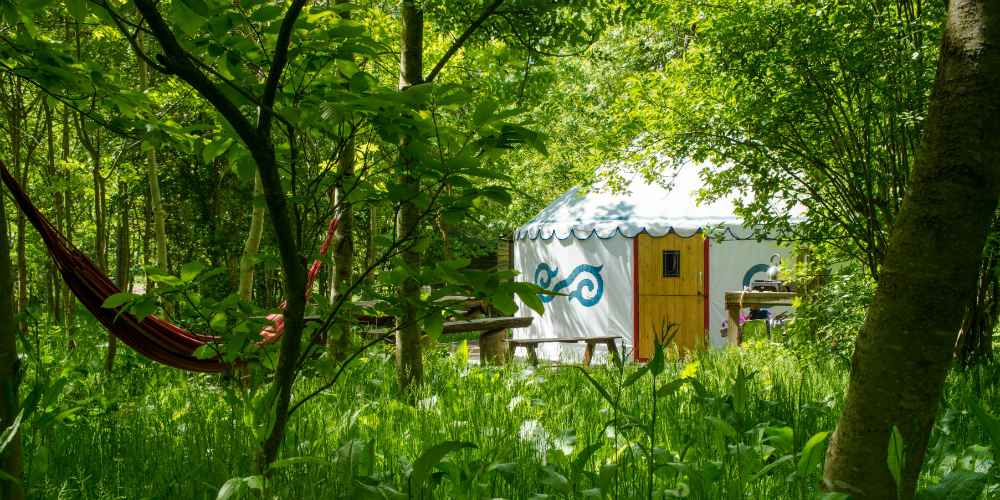 Peering out from under the hood of my raincoat I caught the first glimpse of the yurt village.
One after another, tents began to appear from within the trees, their bold patterns of white and cobalt blue striking a hard contrast against the grey-washed backdrop of the afternoon sky. Puffs of smoke wriggled out from the tops of one or two of the tents like snakes, sending fine white wisps through the treetops and casting a mystical haze about the woodland.
Our host, Koby, a friendly chap dressed in shorts and wellies, ground his quad bike to a halt next to us (luggage still intact) and pointed to one of the named tents – Es Cubells – our home for the next two nights.
I must admit that I wasn't sure what to expect when I booked two nights at the yurt village Plush Tents Glamping in Chichester, for me, my husband, Jez, and two rumbustious boys Howie (aged seven) and Otis (aged three). At best I was hoping for all the fun and outdoors of camping mixed with all the comfort and warmth of a hotel. At the very least I hoped for a decent night's sleep.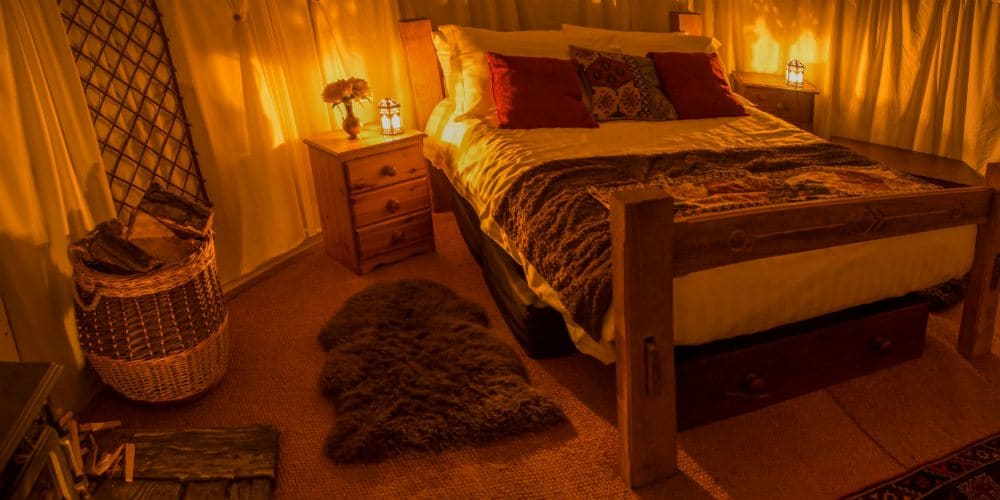 As Koby peeled back the curtain to reveal the inside of our tent I let out a quiet sigh of relief as it became immediately obvious that I'd made a good choice. Inside was a large furnished room straight out of Arabian Nights, an Aladdin's cave of white drapes and trinkets, antique furniture and Persian rugs. My eyes darted over the large, oak-framed bed first, the plump white duvet second, and then settled on the wood burning stove in the corner of the room. As if reading my mind, Koby offered to light the fire for us straight away. Comfort and warmth; check.
With the fire roaring it didn't take us long to settle into our cosy new room whilst listening to the sound of crackling logs. Howie and Otis rummaged eagerly through our basket of complimentary goodies that included tea, coffee, a board game, matches and marshmallows, as I flicked through the welcome booklet and Jez eyed-up the BBQ outside. As lovely as it was in our tent, it wasn't long before the boys had started to get restless and the room had become stiflingly hot. And so, we decided to take a walk and see what else the campsite had to offer.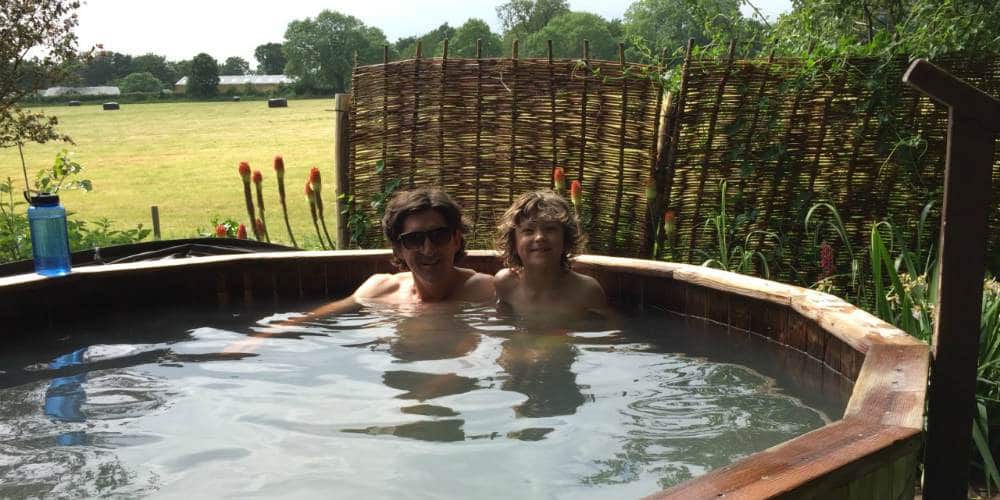 We hadn't gone far before the boys were bubbling with excitement over the discovery of the hot tub, or 'bath', as Otis insisted on calling it. It was still raining outside, but that didn't matter. In fact, it was so hot in the wooden-cladded boiling pot, I couldn't have imagined sitting in there on a sunny day. Instead, I found myself submerged from the shoulders down in hot water with my head taking a cool rain shower on top. I gazed out over the neighbouring field at a green vista framed by pertinently planted red hot pokers, and revelled in a moment of bliss.
Plush Tents was set up by a couple who had travelled the world gathering inspiration for their dream eco-friendly campsite, before settling on the woodland site, nestled in the South Downs. As I wandered around the site I could see evidence of the couple's travels, as well as their commitment to sustainability; everything from the beds to the shower cubicles looked like they had been loving built from scratch. But it was the attention to detail that really impressed me. It seemed that the owners had thought of everything to maximise the mental repose of guests, particularly that of families.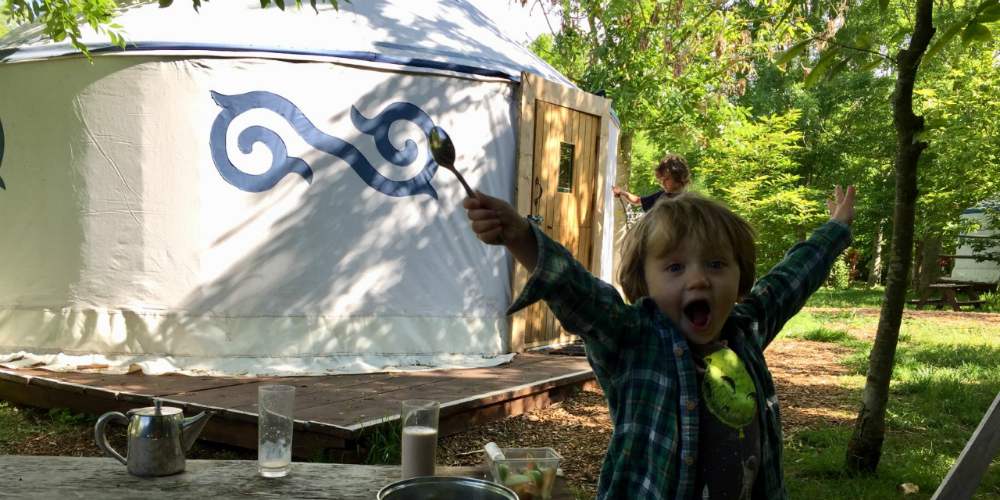 There is a communal campfire, a children's playground, a fully equipped kitchen and a home yurt, filled with chesterfield sofas where children can watch movies in the evenings. At 8pm, a cafe-wagon opens and one of the members of staff sets about making mugs of hot chocolate, overflowing with cream and marshmallows. (Rumour has it that they will pop a splash of Baileys in there if you ask nicely).
After an evening spent perfecting the colour of toasted marshmallows at the campfire and chatting to other guests, we were ready to retreat to our beds. Upon our return, the kids were delighted to find that the area around Es Cubells had been thoughtfully lit up with tea lights in our absence. Inside, the tent was warm and cosy, just as we'd left it.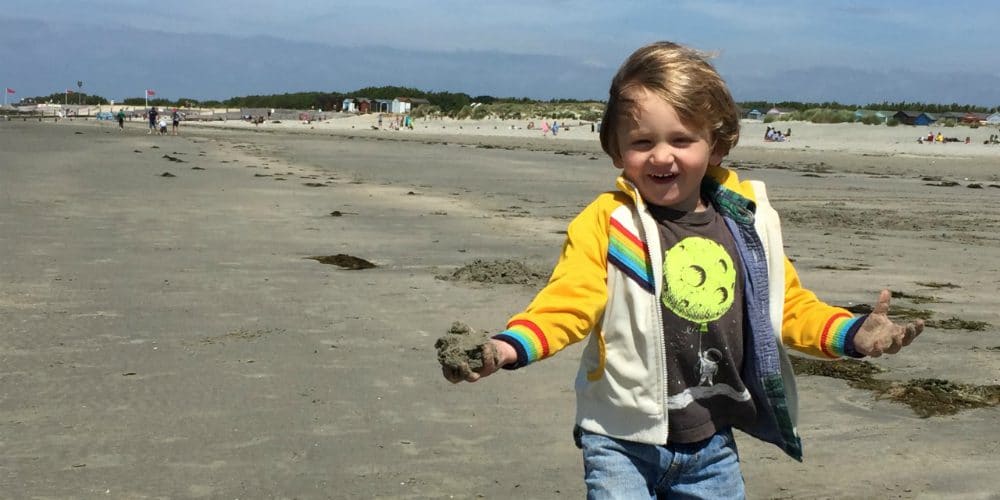 I honestly think that Howie and Otis would have been happy to stay at Plush Tents all weekend, but when the sun came out on the second day we naturally felt obliged to see what the rest of Chichester had to offer, and enjoyed trips to the award-winning West Wittering beach and picturesque harbour village of Bosham. Nonetheless, the biggest cheer of the weekend came from the kids when we suggested returning to camp for another soak in the hot tub.
Plush Tents Glamping surpassed all my expectations of what a good glamp site should be: cosy, child-friendly, well-organised and relaxing. I wouldn't hesitate in recommending it or visiting again. And as for the kids, stoke up the hot tub and keep the hot chocolate flowing, and they'll be there in a heartbeat.
About the author
Lauren is a freelance writer and mother of two. Pre-kids, she travelled a lot and lived in Australia for five years. She was also a finalist in the Bradt Travel Writer of the Year competition in 2013. These days, Lauren loves travelling in her campervan with her family, with France, Cornwall and the New Forest her favourites. Next year, she hopes to add Croatia to the list.
Want to become a PAID writer? Contribute an article to Family Traveller by submitting your work through the View from the reader section of the website. Don't forget to add images and include a short bio at the bottom.