Amy Hopkins and her family check into New Park Manor, an intimate hotel in the New Forest, for a relaxed break in picturesque surroundings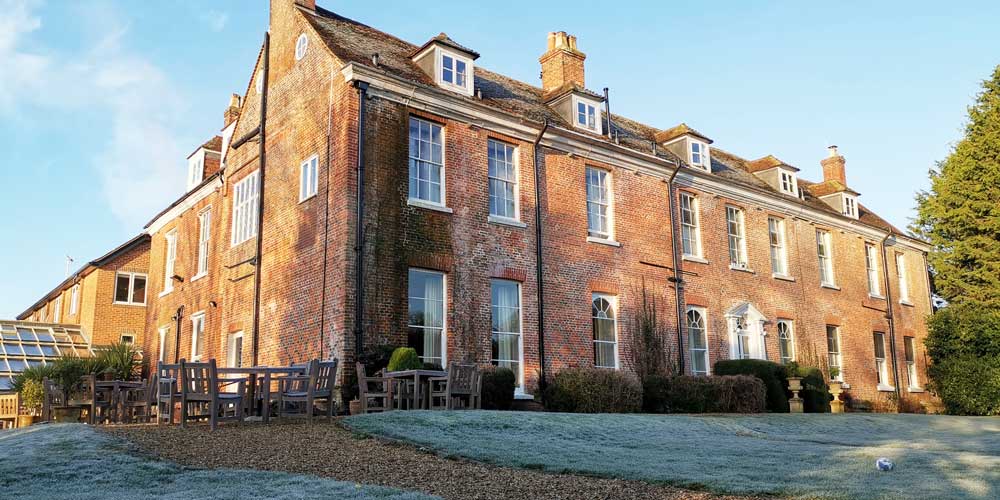 Sitting down to dinner, I noticed that the couple at the next table weren't wearing shoes. This seemed a little odd, given that we were dining in a smart hotel restaurant, but then, New Park Manor is very much a shoes-off kind of place.
I stayed at the New Forest spa hotel with my husband and our toddler Annie and sausage dog, Flint, on a bright and bracing winter weekend. It was clear that this is a bolthole for families from the moment we pulled into the car park and joined the legion of family estates laden with roof boxes and kids' bikes. Inside, parents kick back in dressing gowns and slippers, even in the dining room, and no one bats an eyelid to kids scampering through the lobby in swimwear or pyjamas.
Architecturally, this is a hotel of two halves. The main house, with its 17th-century fireplaces and stained-glass windows, was once a hunting lodge of King Charles II. Sneak in a history lesson by encourage the kids to look out for oak leaves hidden in the doors; original carvings that pay homage to the tree in which Charles hid from Cromwell's men in 1651. There are more original features, including handsome sash windows, in the manor house's 12 bedrooms.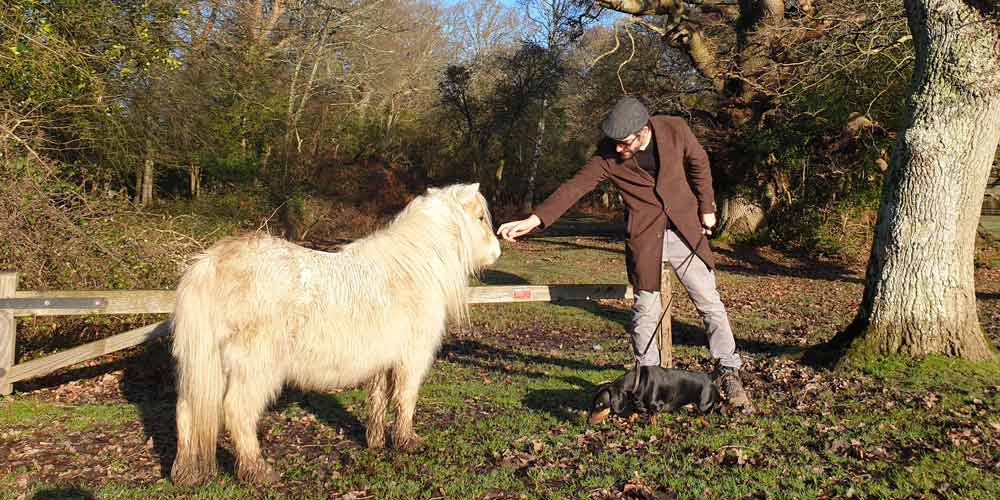 An additional 13 bedrooms are housed in a modern annex extension, along with the indoor pool and spa. The annex lacks the historical charm of the main house, but the modern wing is excellent for families. Annie especially adored chasing our dog (and other people's dogs) up and down the soft, mushy-pea-green carpet that lines the corridor. Each of the spacious annex bedrooms is named after a deer or plant. We stayed in Sika, which is a type of Japanese deer, apparently. The large room has white walls, a sloping ceiling and modern oak furniture, with a vast bathroom and private outside terrace.
We arrived late on a Friday night to be greeted by Front of House Manager Robert, who insisted on carrying our cases to our room and then reappeared with a luxury dog basket for Flint (I didn't want to admit that Flint would almost certainly end up sleeping on the bed). Since we'd missed last orders, waiting in our room was a generous cheese platter and a bottle of Prosecco on ice.
Annie didn't take to the travel cot and, that night, all four of us ended up crashing out in the double bed. Ordinarily, sharing a bed with a toddler and a dog is a recipe for being prodded all night by tiny, boney elbows and paws, but the bed was so big and comfortable I slept surprisingly soundly.
At breakfast, our table had been pre-set with a high chair and colourful crockery and cutlery for Annie. Service was a little chaotic and forgetful, but friendly – not unlike a family breakfast at home. Our eggs, cooked to order, were excellent. So too was the granola, which Annie shovelled into her mouth with both hands.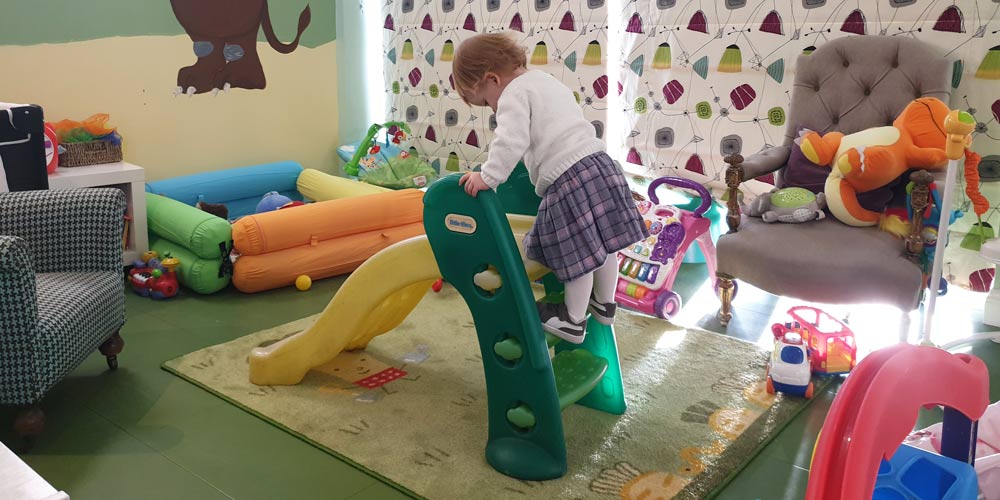 At the hotel entrance are wellies of all sizes and umbrellas to borrow, along with dog treats and maps of the forest, all of which set the scene for the kind of stay you can expect at New Park Manor. After breakfast, I bundled Annie into her snowsuit, clipped a lead to Flint's collar and headed out for a walk. We followed a route recommended by the helpful concierge, Molly, which led us through the hotel grounds and into the surrounding forest.
Spying a golden-coloured wild pony grazing at the entrance to the forest, Annie bellowed 'Dog!'. Even with a noisy toddler and an actual dog at my side, the pony approached us and cautiously offered her snout for a stroke. Later, walking back, we passed wild deer grazing in the hotel grounds. Annie pointed urgently at them: 'Mummy! Dog! Dog!'
The family entertainment and childcare at New Park Manor are a big draw for parents. Baby monitors are provided, which can be used throughout the hotel, and every child gets a daily two-hour session in the kids club. In the cinema room, Annie was so transfixed so by the big screen that I was able to steal some time to flick through the weekend newspapers. While Annie and her dad splashed about in the indoor pool, I slipped away to the spa and battled to stay awake under the light touch of massage therapist Katie Lee.
In the evenings, Nick and I enjoyed rare dinner dates, dining on tender lamb with crispy kale and skate that slipped from the bone. Like the other parents in the restaurant, we kept one eye on the baby monitor that sat propped on our table. New Park Manor is the perfect place for city-weary parents to get away with (and from) their kids, and recharge together in the heart of the forest. (Shoes optional.)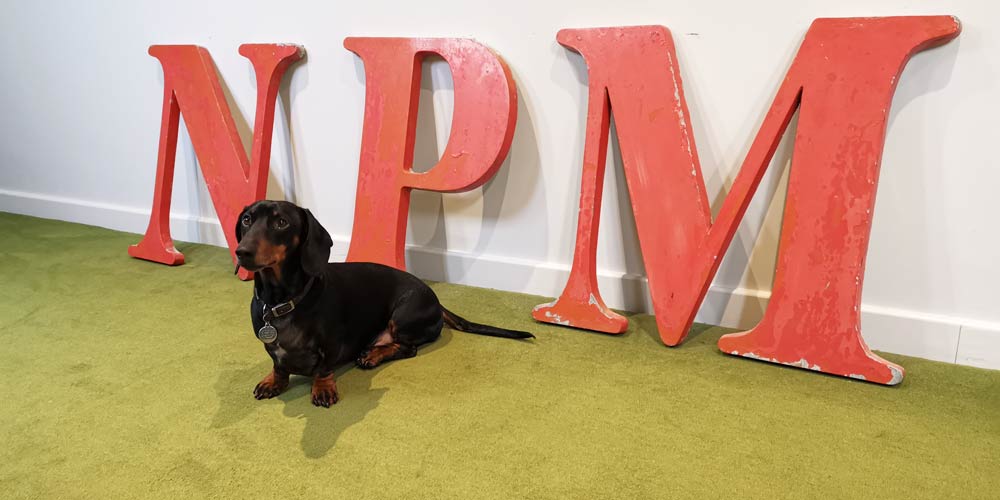 The lowdown
Location: Lyndhurst Road, Brockenhurst SO42 7QH
Price: Rooms start at £119 per night. Children up to 12 stay free. Dogs stay for £15 per night
Childcare: Free two-hour session at The Den kids club each day for kids up to eight
Features: Pool, spa, hydrotherapy pool, thermal rooms and an outdoor hot tub