Family Traveller Editor, Jane Anderson, is wowed by Saunton Sands Hotel's new spa and its awesome North Devon location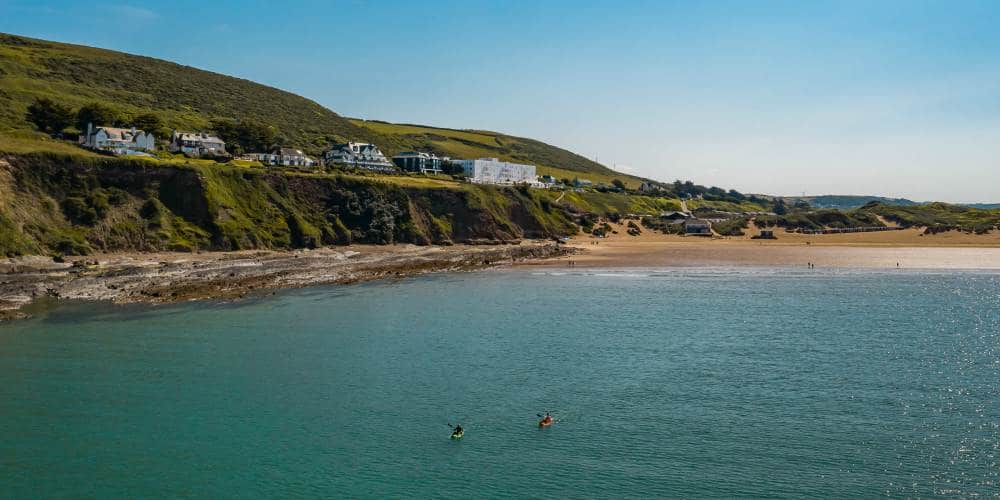 Just when you think you've seen everything there is to see in your own country, mother nature goes and blows your mind. I wondered why the caring staff at the Saunton Sands Hotel were so keen to get me to my room on the third floor of this imposing Art Deco gem. Standing on my bijou balcony, lay before me the most incredible view of the four-mile sweep of Saunton Sands and stretching back inland, the phenomenon that is Braunton Burrows. These epic sand dunes look like something out of North Africa, not North Devon for heaven's sake. 
If you want an uplifting vista to brush the cobwebs away and kickstart a healthy 2020, I can't think of anywhere better. And as luck would have it, this welcoming four-star stalwart of the community, opened in 1933 by Sir John Christie and owned and run by the Brend family since 1977, has upped the ante by adding a spanking new spa.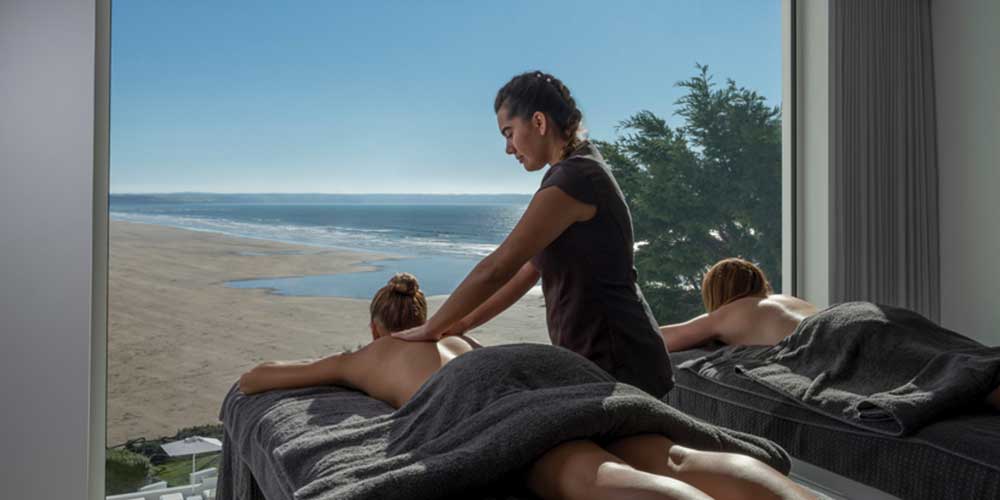 Its welcoming Source Spa and Wellness is sympathetically housed in the sea-facing corner of this imposing white building, across three floors that each make the most of that life-affirming ocean vista.
As you're soaking up the warm salty vibes in the marine-inspired thermal suite, tired limbs being gently massaged by the bubbles of the marine vitality pool and stress literally evaporating from your tight shoulders, it's easy to enter a Zen-like state watching the tide ebb and flow through the large picture window, dogs running wild on the sands, couples holding hands as they stride out and kite-surfers both defying gravity and seemingly walking on water.
It's a joy to move between the salt inhalation steam room, the Finnish aroma sauna, the contrast shower and back to the bubbly pool again, and if you're brave enough, rubbing your dormant limbs with ice from the handy ice bowl in between each experience, so they zing with energy and something pops in your brain telling you this is all so good for you. I loved that the Instagram hashtag here is #VitaminSea – so very appropriate.
It's easy to enter a Zen-like state watching the tide ebb and flow through the window
Book a treatment at this glorious spa and you get to venture up to the first floor where smiley therapists offer you a vial of health-giving smoothie before being taken into a luxurious treatment room. As I went with my sister, Louise, we were lucky enough to be given the couples treatment room with the picture window sea view, where we lay side by side and indulged in a 90-minute Ultimate Sense of Self full body, face and scalp aromatherapy massage. My choice of seaweed-based energizing oil was perfect and I particularly appreciated the full-on face massage, not something that's usually part of a body treatment. 
Next came the sci-fi part when I experienced the Fire and Ice Resurfacing facial treatment and with added luxury of a blast of Déesse LED light therapy. Jasmine, my therapist, took the time to take me through the procedure so I knew what to expect as the fire part of this treatment is a mask of sugar cane extract and retinol which really needles into your skin before a welcoming cooling mask of antioxidants.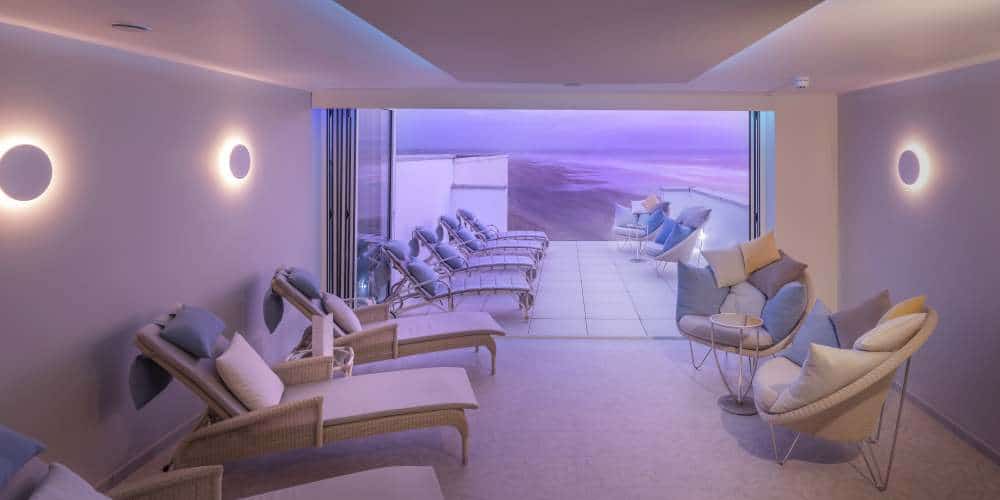 The Déesse LED phototherapy mask made me giggle as I looked like a cyborg. It was comfortable to wear and I chose the red option to boost collagen production. I definitely felt my skin was tighter and plumper post-treatment. And chilling out in the relaxation room on the floor above, as the sunset over the sands, that feeling of well being that the best spas give, was there in waves. 
The Source spa is also a great place to come if you're expecting a baby with a range of treatments including a special pregnancy massage, a tired legs soother and a skin-boosting body exfoliation. 
Heading back to the hotel itself, there is a clashing element of old fashioned seaside haunt and futuristic spa, but to be honest that only adds to the charm. Our room on the third floor was smart and comfy with welcome slippers and robes on the bed, plus information about all the healthy classes on offer from morning yoga to evening Tai Chi. It's a shame that the room windows aren't more imposing, or the balconies, but maybe this is for a later renovation. Families can book interconnecting rooms or you could opt for a 180 Degrees South luxury self-catering apartments out in front of the hotel. 
All family breaks include free supervised childcare
Dinner in the formal dining room is silver service and you are instructed to dress appropriately. The carpets are a sight to behold with bold Deco lines and curves, but the staff are on it when it comes to service, and to my mind, that's the mark of a good hotel. Afternoon tea was an old-school delight with a glass of bubbly, classic finger sandwiches, top-notch scones with local clotted cream and exquisite cakes in miniature – every single one a work of art. Having gone in the depths of winter, I can see how this hotel comes alive in summer when the outdoor Beachside Grill is in full swing, but I really enjoyed the feeling of being there out of season – like we'd stolen an extra holiday and were in on a secret that actually this is a fabulous time to come.
The heated indoor pool is right next to the spa with a shallow area for kids and family changing room. If you do bring the kids, all family breaks include free supervised childcare of up to two hours per day in the pretty playroom for children from six weeks up to 11 years. The friendly playroom team are all certified level 3 in childcare and kids will soon get into the Construction Corner with games to make and play; the Home Corner with dressing up and a play kitchen and the Craft Corner for art-based creative fun.
A whole programme of activities is organised during all school holidays for all ages including surfing, pancake making, rock pooling, kites flying, model making, tai chi, tie-dye, circus workshops, wildlife and science show, Pilates and circuit training for teens.
And of course in summer, everyone loves the heated outdoor pool set on the grassy terrace overlooking the beach and Atlantic Ocean. Looking at it from our balcony it resembled an Art Deco jewel.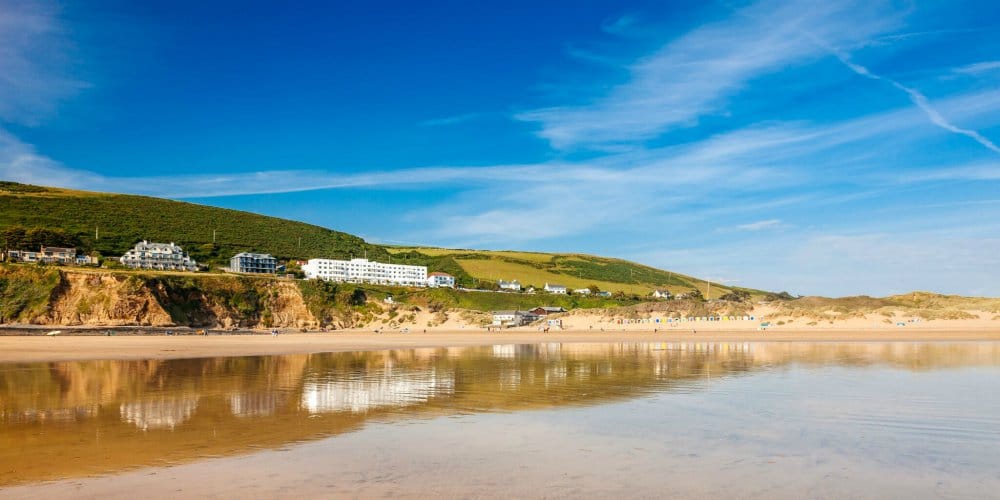 Staying here for a healthy break is more than just about the spa. Simply walking along the beach is an uplifting experience. If you want to head into Braunton Burrows, book a walk with local guide John Ward who will tell you all about the fascinating history of the dunes and how they were farmed for rabbits before the Second World War, but during the war they were used by American troops to train for the D-Day landings.
These days the emphasis is thankfully on nature with startling different types of vegetation as you head back from the beach. Here you can spot 11 types of wild orchid and in the depressions, or 'slacks' as they're called, there are beautiful mini lakes with reeds and birdlife. We walked out through the dunes and back along the stunning beach towards the hotel, and were treated to a perfect rainbow.
Come with your kids and it's a lovely day trip to head over to Lundy Island, otherwise known as Britain's own Galapagos, to spot dolphins, grey seals, Minke Whales and colonies of Puffins and Manx Shearwaters, and enjoy lunch at the only pub on the island, the Marisco Taven which never closes. 
Or stay local and mooch around the local village of Braunton, home to cool shops and creative businesses including Wanderlust, which sells travel-inspired jewellery by local maker Georgie Roberts. Whatever you do, the restorative magic of a stay here is sure to work its wonder.
The lowdown
A two-night spa break at Saunton Sands Hotel starts at £245 per person, including dinner one night, 60-minute seasonal treatment, breakfast, 1.5 hours thermal suite use each day and access to wellness classes.
Family stays in a sea-facing family suite (two adults and two children) cost from £831 for two nights bed and breakfast during the Easter school holidays. Come in June and families stay from £592 for two nights bed and breakfast (under 8's stay free in June) 
Book a tour with local guide John Ward
Find out more information on visiting to Devon