Kim Jones and family visit two very different dog-friendly hotels in Devon…one at the seaside the other in the wilds of Dartmoor.
1/

Soar Mill Cove Hotel, near Salcombe, South Devon

As I unloaded the car, struggling to rein in the bouncing, furry heap of balled-up energy who'd been holed up without walkies for a couple of hours (aka our one-year-old cocker spaniel, Barney) I must admit to feeling a slight trepidation.

Yes, the smart hotel had said it was dog-friendly and yes, they were expecting our pooch. But when you pull up outside a coastal haven that oozes peace and calm, you find yourself questioning whether the proprietors REALLY welcome dogs (especially lively, bouncy ones) or if they just tolerate them?

I needn't have panicked. As we checked in en famille (myself, husband, two teenage sons and Barney) to the Soar Mill Cove Hotel near Salcombe, south Devon, there were three friendly faces to greet us. Two of them with whiskers and lolling tongues!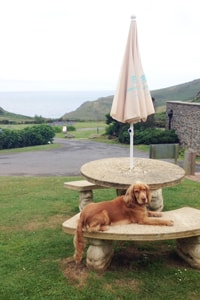 Farley and Daisy are the hotel's resident Golden Labradors who make a point of extending the paw of friendship to visitors whilst standing on their hind legs to peer over the desk as receptionist Becky (daughter of the family-run hotel) hands out the keys and an equally warm welcome. We knew we were going to feel relaxed in such canine-accepting company.
The one-storey Soar Mill Cove hotel blends quietly into the remote hillside fields it inhabits high above the coast. Our tasteful family room had a pleasant view of the sea in the near distance, and French doors opened out directly onto a garden space with sun loungers where Barney immediately made friends with our neighbouring guests' spaniels.
There's a saltwater pool in the hotel to keep kids happy if the weather turns nasty, plus a games room with table tennis and pool. For journey-worn adults there's a spa (where I enjoyed a blissful back, neck and shoulder massage) and the two rosette award-winning restaurant (with good views of the cove below) serves a high-class market-style menu featuring locally caught fish, crab and scallops and West-Country grazed meat. Delicious.
A short walk down the hillside takes you to the hotel's beach (only accessible via the coastal path). Surrounded by craggy cliffs, it's small and sandy, with plenty of rockpools. It makes for safe bathing, dogs are allowed and because of its remote location, you could even have the sands all to yourself. Other best beaches in the area include South Milton (which has a great family-friendly café), Portlemouth Beaches and Starehole Bay (when the tide is out).
The picture-postcard perfect seaside resort of Salcombe itself is a few miles away. Fine to get there by car, of course. But why wouldn't you walk the stunning south-west coastal path to arrive at your destination when it's right on the hotel's doorstep? We enjoyed a beautiful hour and a half long trek along the clifftop, stopping off en route to Salcombe at South Sands for a drink at Bo's Beach café – a fashionable meeting place for paddle enthusiasts with outdoor seating overlooking the estuary. From next-door – South Sands Sailing – located in an old lifeboat house, we hired sea kayaks and got stuck into a seafaring-style workout, paddling along to the neighbouring coves.
Then, back on dry land at South Sands, it was time to board a 15-minute ferry into Salcombe (kids and dogs love the sea tractor that takes you down the beach and into the sea for the waiting boat).
Salcombe is a pretty town with some smart seaside-inspired shopping and places to eat. We thoroughly enjoyed a meal at The Victoria Inn which – though it might look like a 'regulars' type pub from the outside –  is a veritable family-friendly (and dog-friendly) stylish haven inside, serving fantastic local food (reflected in their yearly Gold Taste of the West award) and dog biscuits on hand for your mutt too. Highly recommended.
Soar Mill Cove and Salcombe certainly ticked all the boxes for a family-friendly seaside break. Plenty of bucket and spade beaches, watersports, foodie heavens for the adults and a stylish, relaxed vibe which hasn't been spoilt by over-commercialisation.
2/  

Bovey Castle, Dartmoor

The second half of our dog-friendly holiday in Devon saw us head inland to Dartmoor and the luxurious Bovey Castle Hotel. Set in 275 acres, this manor house (not an actual castle) oozes quintessential English luxury – something that's apparent as soon as you swing into the hotel drive to be greeted by concierges donning tailored tweed plus-four trousers. They swiftly park up your car and deal with your luggage so you can sweep into the hotel unencumbered to check in.

Piles of fluffy dog towels and rows of Hunter wellies for guests to borrow in the outer lobby hint at the wealth of walks that we'd be enjoying.

And then, the wow factor as you walk in: a Jacobean style staircase, oak panelling, ornate plaster ceilings and a peek into grand public rooms off the main reception area on the ground floor including a library, Champagne Bar, Cathedral Room, restaurant, bistro, boutique shop and a Drawing Room with open fireplaces transport you back in time to turn of the 20th century when Bovey Castle was built as a country retreat for the W.H.Smith family.

Our beautiful bedroom with balcony was decorated in pretty shades of pastel blues and whites and overlooked the rolling grounds and 18-hole championship golf course. It had the luxury of two bathrooms – one with walk-in rain shower, the other with a bath  – that dripped with opulent marble tiling and granite detailing.  The sprawling room had space for an oversized bed, the boys' guest beds and Barney's crate, a sofa and large dining table. And there was a much-welcome decanter of estate-made sloe gin to help us relax into our new surroundings.

We could have languished in such grand space but there's so much to do at Bovey Castle. A dip in the Art Deco-inspired indoor pool which overlooks the sun terrace for example. And don't miss a treat of a treatment at the Elan Spa which uses the gorgeous ESPA range of skincare. There's a dedicated area for men's treatments and even tots from aged 5 can get a sparkly manicure while teens can be indulged with 'Buff and Puff' facials.

And then, there's all the outdoor pursuits and activities on offer. For youngsters the 'Bovey Rangers' activities for seven to 14-year-olds, which run during the school holidays, include adventures like archery, pond-dipping, a scavenger hunt and apple pressing, plus golf lessons, survival skills and even ferret racing.

Make a point of catching the complimentary daily 10am falconry display by the quick-witted (and deadpan-humoured) Martin Whitley. We got to meet his tiny adorable owls as well as the formidable Rosie, a Bald Eagle, who flew within a scary hair's breadth of us.

With our teens, we booked onto an exciting Off-Road Experience in a four-wheel drive Land Rover Defender in the woodlands of the outer-estates. There were a few whelps from the back seat driver (erm…me) as our instructor showed us the incredible capabilities of this powerful vehicle climbing up and down steep, rugged tracks – and then got a chance to try it out for ourselves.

Outside of the hotel, there are plenty of stunning countryside walks to enjoy in the Dartmoor National Park which will wear out any little legs and paws  – hotel reception can give you a booklet containing five circular routes from the hotel ranging from 2 miles to 6.5 miles which take you into pretty neighbouring villages, riversides and woodlands.

You can enjoy lunch or dinner at one of two restaurants at the hotel: The Great Western Restaurant which offers fine dining, or the more relaxed Smiths Brasserie, with its striking central fire-pit, which is great for families.

Or book in for a real treat at Home Farm Café set in the most beautiful surrounds of nearby National Trust property Parke, Bovey Tracey.  Arrive early because you'll want to spend a couple of hours exploring the grounds – with river and woodlands, it's an idyllic place to work up an appetite. The café is transformed into a candlelit restaurant Thursday, Friday and Saturday evenings and you can take your dog into part of the restaurant – an indoor barn – or sit outside in the courtyard.

Then take your seat for dinner at 7pm and choose from the small menu of three courses plus breads for £23.50. From 7.30pm, all guests are served at the same time. It's a really sociable way to eat and the food is gobsmackingly gorgeous. A seasonal salad to start, local Dartmoor meats, hearty vegetables to share, imaginative vegetarian mains and mouthwatering homecooked desserts. They'll also happily remove or adapt anything on the menu for fussy little eaters.
The lowdown: Devon with dogs (and the kids)
Salcombe
Where to stay: Soar Mill Cove Hotel, near Salcombe, Devon TQ7 3DS
Where to Eat: The Victoria Inn, Fore Street, Salcombe, Devon TQ8 8BU
Dartmoor
Where to stay: Bovey Castle, North Bovey, Dartmoor National Park, Devon TQ13 8RE
Where to Eat: Home Farm Café, Parke, Bovey Tracey, Devon
All images of Barney the dog: © Alistair Heap