Dad of two, Steve Tooze, takes his kids to a tucked away part of Devon for a digital detox getaway
Un-plug and slow down
My first inkling that we were going to love the Batman's Summerhouse arrived as we drove down the narrow, winding, tree-lined lane into the secluded valley where our holiday home was situated – and watched my mobile phone signal stutter and die.
'Ha! That's brilliant,' chortled my son Fin, nine, 'Now you won't be able to ignore us and mess around with your text messages.' He had a point, and a large part of me couldn't help sharing his glee.
We were heading into a part of Devon that is the Land That Wi-fi Forget. A place that is invisible to phone networks and laughs in the face of reliable broadband connections. Ahead lay a blissful week without any of the endless chirping, bleeping and vibrating that punctuates our modern lives.
To me, that felt like the very essence of a 21 st century holiday experience. We'd escaped the sticky clutches of the World Wide Web and gone digitally feral. An unsettling thought occurred to Fin. 'Hang on – that means no iPad!' he spluttered. It was my turn to chortle.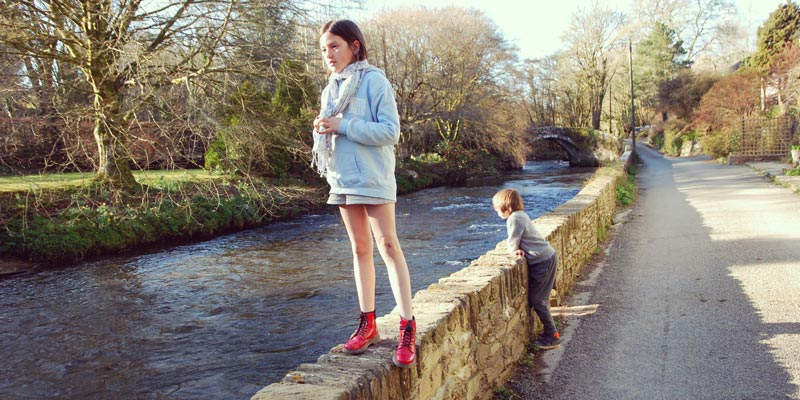 Our growing realisation that we'd entered some kind of otherworldly nirvana was confirmed when we reached the tiny hamlet of Topsham Bridge itself, way down on the floor of the valley. As I edged the car across the picturesque and eponymous stone bridge above a babbling trout stream, we found three fully grown male peacocks staring quizzically down at us in blue and emerald splendour from a small tree above the road. 'Now that is weird,' said my daughter Scarlett, 12. 'But awesome!'
It turned out that a long gone local homeowner had thought that a couple of the extraordinary birds would make a nice addition to his sprawling garden only to have them go native. Now they strut through the woods and hedgerows, raising families and filling the air with their unearthly squalls. Locals think nothing of finding peacock eggs lying amidst their hardy annuals.
Cool cabin
Our strange ornithological moment was quickly forgotten upon first sight of the Summerhouse itself. Built on the site of a former greenhouse next to the owner's beautiful stone-built home, it is a wood-framed vision in muted Farrow & Ball shades.
Glass on two sides and set in a pretty little garden, it allows its inhabitants to gaze from a slightly raised location down toward the impossibly pretty river ten feet or so away or up into the green and leafy woods that march up the sides of the valley behind.
The interior caused Fin and Scarlett to have one of their only rows of the holiday: who was going to get the bed on the cosy mezzanine floor above the open plan lounge. I settled the argument by baggsing it myself, consigning them both to the equally fab bunk beds in the downstairs bedroom.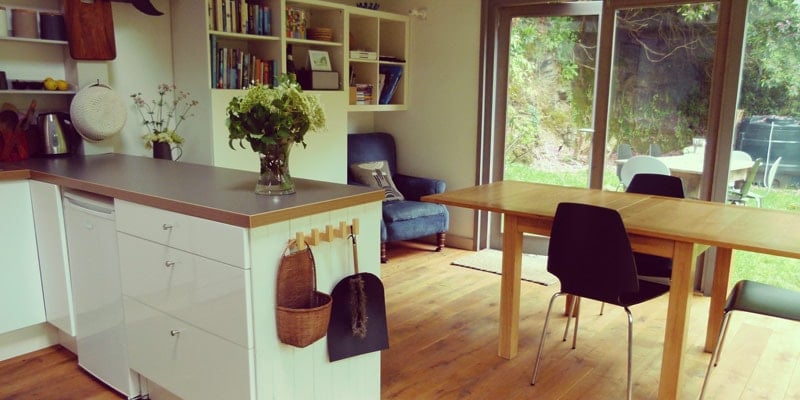 We stepped out of the car to be met by two things that made my son and daughter very happy. Fin was over-joyed when the owner's three-year- old black Labrador Damson bowled into him (he's been angling for a dog of his own for about two years). Scarlett was equally happy to be greeted by the owner's 12-year-old daughter Maggie who quickly made it clear she was delighted to have a new playmate for the week.
Her presence – along with an ever-changing posse of equally welcoming cousins, brothers and friends – made my week a doddle. They would disappear into the woods with Fin and Scarlett for hours for wild games of Capture the Flag or to bounce on the huge trampoline next to the river.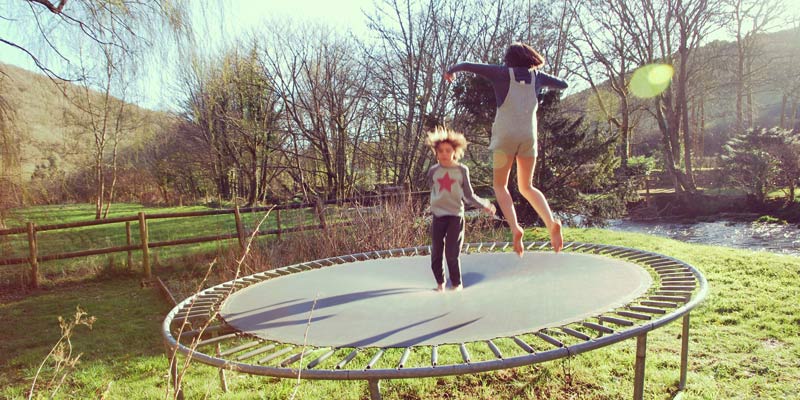 Out and about
I often sat in the window of the Summerhouse, taking in the view, sipping coffee or wine and reading, secure in the almost total lack of traffic and able, due to the acoustics in the valley, to hear the children's shrieks of laughter wherever they were.
Other entertainment was easy to find. One morning, we strolled out of the front door and immediately picked up a walking trail through the woods, excitedly picking our way under the impressive wreckage of huge trees uprooted by Storm Katy that had ripped its way through the country on the nights before. At a halfway point, we picnicked in the early spring sun in a field alive with wildflowers and bird song before taking shelter from one of a band of passing showers at Avon Mill, where a cute little café provided exactly the tasty lunch we were hoping for.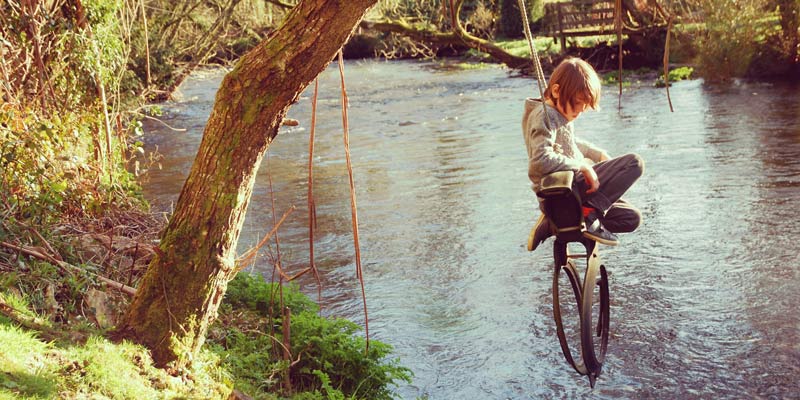 On the few days that we managed to drag ourselves away from the valley, we ate ice creams and paddled in the sea at Bigbury or Bantham, one of the many astonishingly lovely beaches within a 30-minute drive of the Summerhouse, or mooched around the stylish shops and restaurants in Salcombe, Devon's well-heeled answer to Rock in Cornwall.
Leaving was the only hard part. A peacock's mournful call followed us fittingly up the valley as I drove away, listening with my two sitting in the back seats, already plotting a way to return again next year.
The lowdown
Price: Stay at The Batman's Summerhouse with Canopy & Stars from £109 per night, minimum two night stay (sleeps five).
Summer holiday price £162 per night, seven night minimum. Meals from £20 per head for an adult and £10 per head for a child.
Planning a UK break with the kids this summer? Don't miss these beautiful beaches you won't believe are in the UK.