Sponsored Content
If you need proof of how much Blue Chip Holidays love families, take a look at their collection of delectable family holiday homes in South and East Devon this summer. Set your heart on just about anything from a heritage seaside villa in Torquay to a thatched cottage with its own swimming pool near Exeter, and Blue Chip have the perfect place. They come good on coast, countryside or a bit of both in the mix, and even have darling riverside homes where you don't even need a car.
But if all that doesn't feel generous enough, Blue Chip are also including free family tickets to fabulous Pennywell Farm with all bookings on their South and East Devon properties made between 29 June and 21 July 2018. One of Devon's best loved family attractions, Pennywell is home to hundreds of friendly farm animals, along with fun rides, activities and extremes of traditional silliness like pig racing: even cuter than it sounds.
Tempted? Blue Chip have dozens of divine Devon homes to choose from, have a look at the top seven perfected for family holidays this summer, and all with free days out.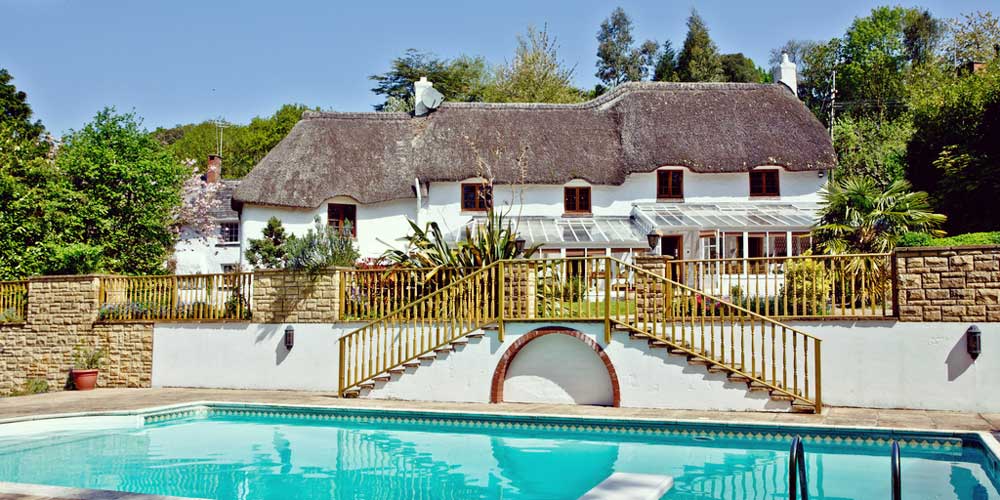 1/7

  Clapham Cottage, Exeter

Heart of the countryside, minutes from lively Exeter, set in a lovely garden and complete with its own swimming pool: all Clapham Cottage needs to be a dream holiday home is a quaint, thatched roof, and it has that too. But if all these features aren't quite enough, there's a cosy Aga in the kitchen, living room with log-burning stove, four charming bedrooms, and one of the three bathrooms is also a designer spa, with sauna.
Four bedrooms, three bathrooms, large family kitchen with conservatory.
Sleeps up to eight, and pet friendly.
Private gardens with unheated, outdoor swimming pool.
Close to Exeter, the family-friendly and fun capital of Devon.
Less than 30 minutes drive from Exmouth and East Devon beaches.
20 minutes drive from family attractions like Crealy Adventure Park.
Pennywell Farm is an hour's drive south of Exeter.
Book Clapham Cottage from £788 with Blue Chip Holidays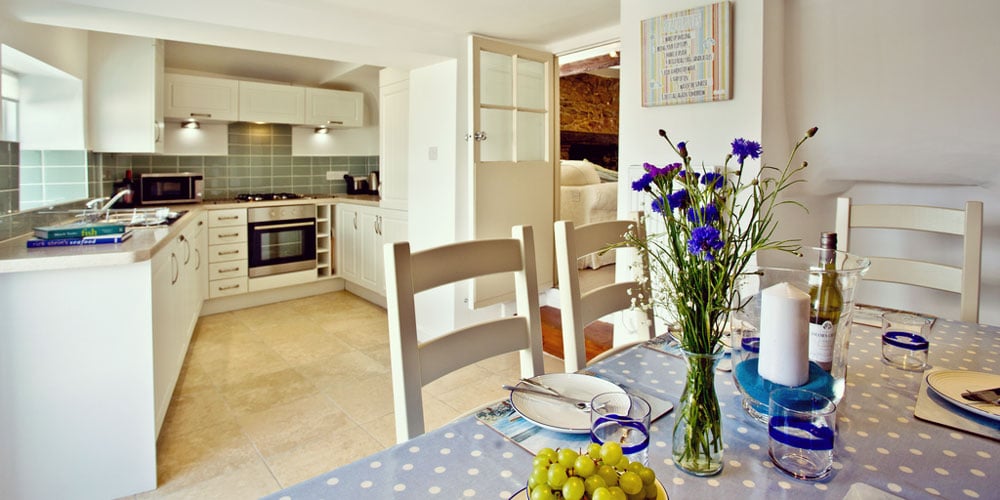 2/7 

Crab Quay Cottage, Brixham

This family cottage sits on the harbourfront in the lively fishing village of Brixham, less than 20 minutes from Paignton on the South Devon coast. It's packed with character from the cute, ice-cream coloured facade to carefully restored original features woven into the light and airy interior. With no less than two living rooms, along with three large bedrooms and a lovely, sunny outdoor terrace, space is another great feature here, along with lovely sea views and all the charm of pretty Brixham town centre within easy walking distance.
Three bedrooms, two living rooms, two bath/shower rooms.
Sleeps up to six, and pet friendly.
Outdoor balcony with seating and sea views.
Large, modern, family dining kitchen.
Original features, stove in ground floor living room.
WIFI, Smart TV with Freeview, DVD player.
Pennywell Farm is less than 40 minutes drive west of Brixham.
Book Crab Quay Cottage from £323 with Blue Chip Holidays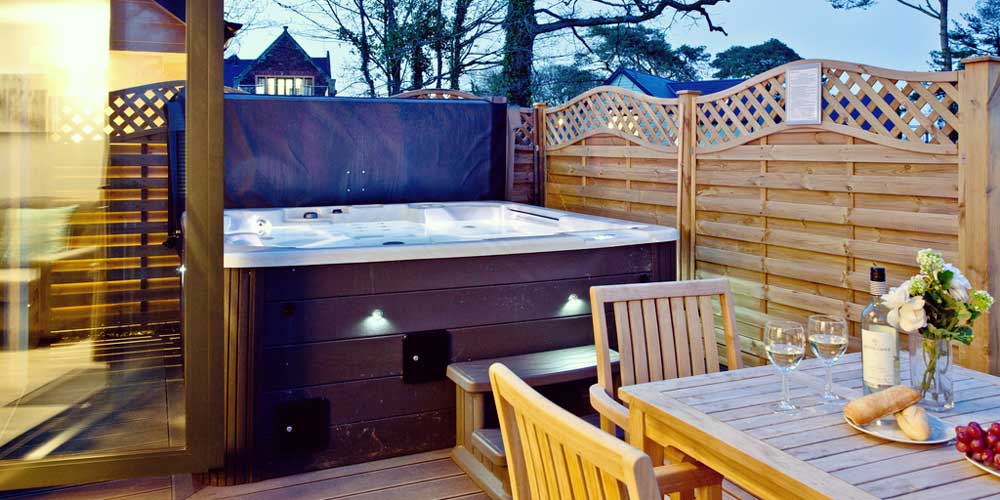 3/7 

Lodge 4 at Beyond Escapes, Paignton

Beyond Escapes (BE) is a brilliant concept: the freedom of your own holiday lodge surrounded by five star hotel luxuries like the BE Tempted Restaurant and BE You Spa & Gym. Lodge 4 is designed over two floors and comes complete with a private patio and hot tub, a fantastic open-plan kitchen, three bedrooms and two bathrooms. It's decorated in soothing earth tones and bright whites, with pale wood floors and gleaming flagstones, but stays on the easy-going side of elegance; only perfect for families.
Three bedrooms, two bathrooms, separate WC.
Sleeps up to six, and pet friendly.
Outdoor deck with seating and family hot tub.
Access to communal gardens, BE You Spa & Gym and BE Tempted Restaurant.
Close to Torbay, historic Totnes, and outdoor fun in the South Devon AONB.
Family-friendly Paignton is home to the UK's biggest outdoor waterpark.
Pennywell Farm is half-an-hour's drive west of Paignton.
Book Lodge 4 from £311 with Blue Chip Holidays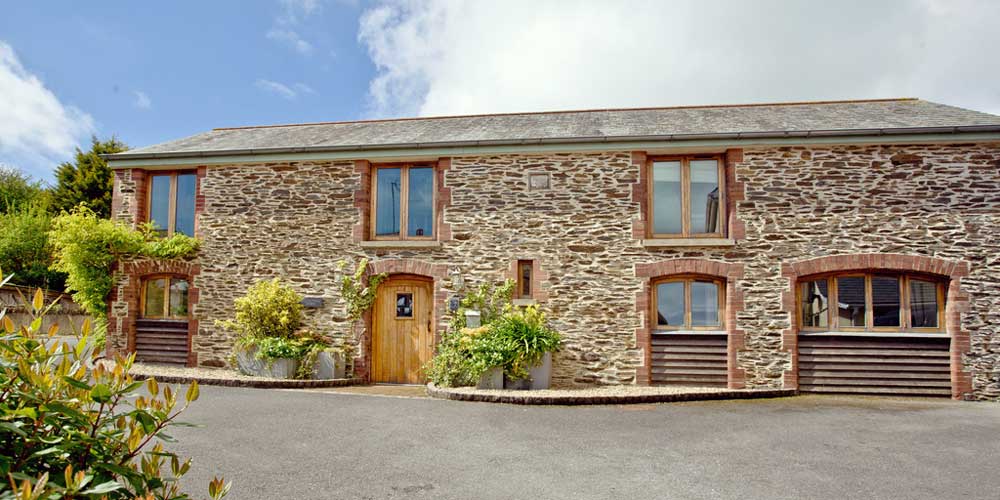 4/7 

Wells Park Barn, Stoke Fleming

Blue Flag beaches and gentle countryside are the essence of family summer holidays in South Devon, and summed up perfectly at Wells Park Barn in the pretty village of Stoke Fleming, minutes from famous Blackpool Sands. This four bedroom barn conversion combines stunning design detail with heaps of characterful charm. A private garden is perfect for kids and complete privacy, although you're right in the heart of the village too, and within easy strolling distance of the charming local pub.
Four bedrooms, two en-suite bathrooms and family bathroom.
Sleeps up to eight, and pet friendly.
Private garden with lawn and stone-flagged dining terrace.
The Blue Chip Experience Team can arrange a personal chef for your stay.
Heritage village setting, a short drive from Blackpool Sands and Dartmouth.
Blue Flag Beesands Beach, and the South Devon AONB are close neighbours too.
Pennywell Farm is 40 minutes drive north of Stoke Fleming.
Book Wells Park Barn from £535 with Blue Chip Holidays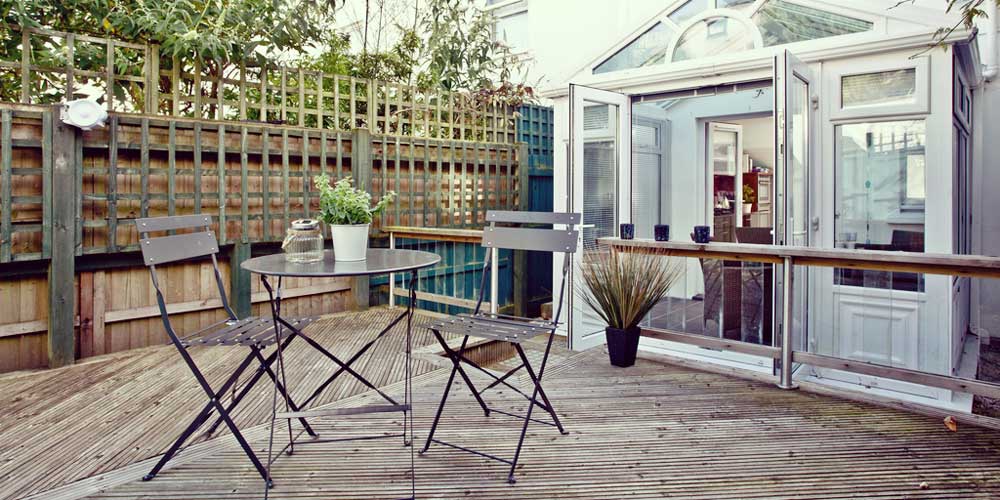 5/7 

Oceania, Torquay

Tucked into one of Torquay's famously refined districts, yet only minutes from all the fun of the seaside, Oceania is a family holiday home in true English Riviera tradition. An elegant first floor balcony and sunny courtyard make the most of South Devon's summer weather. Extras like Netflix, Freeview, iPod docks and Blu-ray players provide home-made family entertainment, and Torquay town centre is nearby for restaurants and shops.
Three bedrooms, en-suite bathroom and large, family bathroom.
Sleeps up to six, and pet-friendly.
First floor balcony, private patio garden with decking and furniture.
Access to nearby Osbourne Hotel's spa, gym and indoor pool.
Within walking distance of Meadfoot Beach.
Minutes from the South West Coastal Path.
Pennywell Farm is 40 minutes drive west of Torquay.
Book Oceania from £354 with Blue Chip Holidays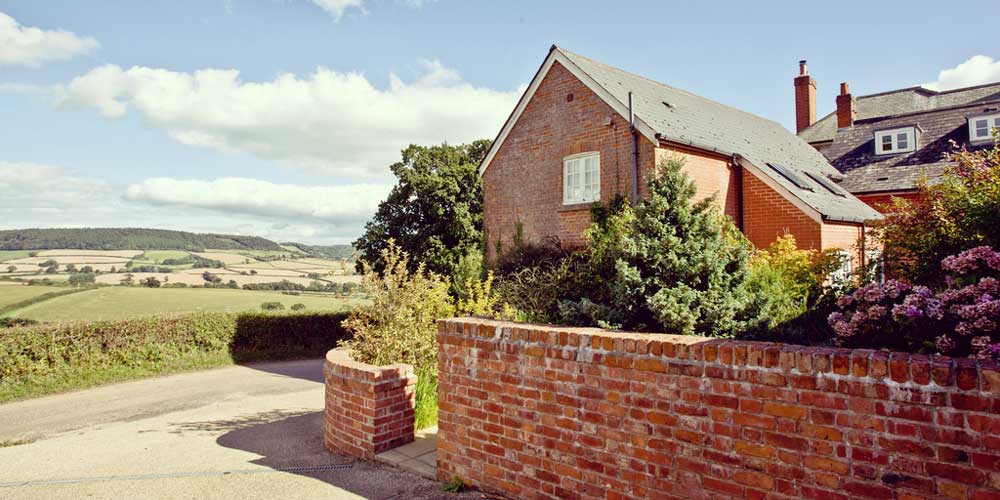 6/7 

Oak Cottage, Sidford

Thanks to some very clever planning and a great aesthetic, this lovely family home is both cute and cottagey, as well as wonderfully chic. The light-filled living space looks out over peaceful East Devon countryside from every window. A large, shared garden lets you enjoy even more of the delectable views. And if you can't be in this part of the world without some seaside in the mix, you'll be pleased to know the legendary Jurassic Coast is another of Oak Cottage's nearest neighbours.
Two bedrooms, two bathrooms, large open-plan living/dining/kitchen area.
Sleeps up to four, and pet friendly.
Shared garden with picnic tables.
Open views of East Devon countryside; private balcony off living room.
A short drive from walking paths and beaches on the Jurassic Coast.
Close to the family-friendly, seaside town of Sidmouth,
Pennywell Farm is 50 minutes drive south-west of Sidford.
Book Oak Cottage from £384 with Blue Chip Holidays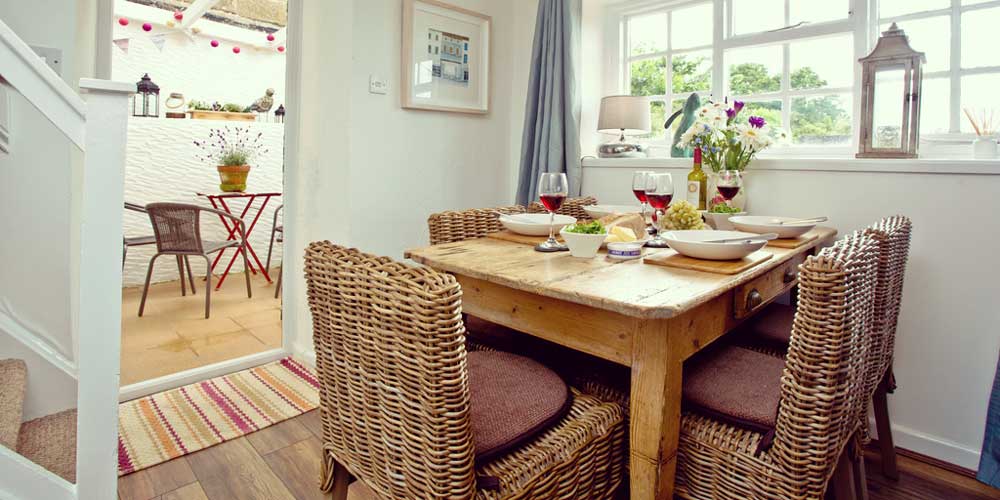 7/7 

Oyster Cottage, Cockwood

Oyster Cottage has overlooked the Exe Estuary from the riverbank for more than 200 years, just don't expect even a hint of old age in the fresh and original interior. Think more clean, bright paintwork and colourful design details, huge and squashy sofas, gleaming windows looking over the water, and courtyard garden sweet enough to be a holiday in itself. Although nearby Blue Flag beaches, historic Exeter and Exmouth, plus the Jurassic Coast, make days out almost impossible to resist.
Two bedrooms, one bathroom, open plan living/dining room.
Sleeps up to five, and pet friendly.
Private courtyard terrace with outdoor furniture.
Close to historic Cockwood Harbour and local heritage inns.
Blue Flag Dawlish Warren Beach less than a mile's walk away.
Free transfers to Oyster Cottage from local station can be arranged.
Pennywell Farm is 40 minutes drive south-west of Cockwood.
Book Oyster Cottage from £245 with Blue Chip Holidays
Don't forget to book between 29 June and 21 July 2018 to get free family tickets to Pennywell Farm. And if you want to go beyond South or East Devon, Blue Chip Holidays also have cottages, lodges and even castles in dozens of other delectable bits of England available to book now for summer 2018.