The Eden Project brings Costa Rica to Cornwall
Sponsored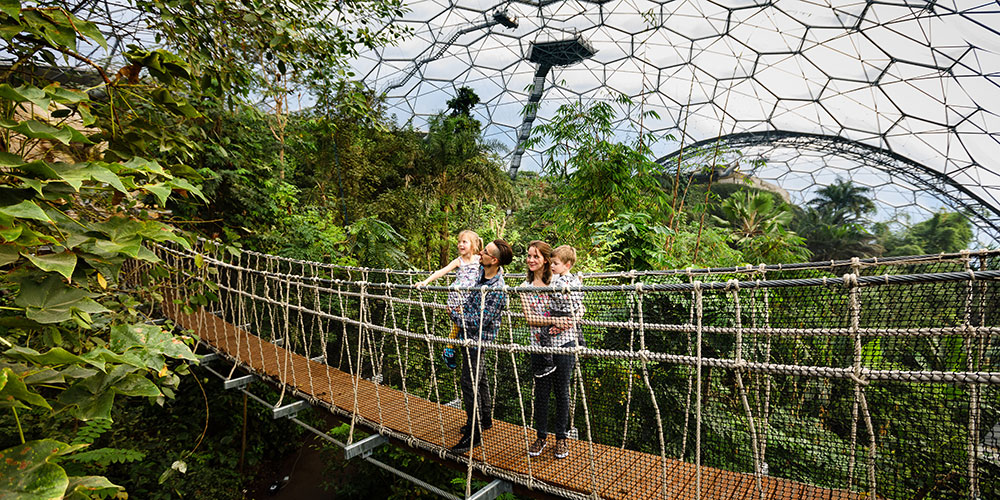 2/4

Hear (see, touch, feel) Earth Story at Eden this summer
Tempted to find out more? Well this summer could be the best time ever to explore Eden with conservation conscious kids because it's the season for Earth Story. This unique event bills itself as a journey through evolution, but in reality it's a voyage of discovery populated by Giant Beasts, incredible tales, awesome virtual reality experiences, endless opportunities to get hands on and creative, plus heaps of interactive adventures.
Look forward to meeting a wildly life-like mountain gorilla and hearing his inspiring story.
Expect awe-struck wonder at the weird and marvellous creatures in the Cave of Giants. Hint: there's an ice-age mammoth skeleton.
Crawl, climb and wriggle like an insect in the all-new Mini-beast Mansion play area.
Go on a virtual reality safari and come face-to-face with a giant armadillo and packs of other mind blowing beasts.
Join the Ocean Clean Challenge and discover all sorts of small changes families can make to help protect the planet.
Catch daily storytelling, fun science workshops, family adventure trails, plus heaps of challenges and plenty of puzzles.
There's no sugar-coating the need to protect the planet, but Earth Story steers kids clear of nightmares with thoughtful information about endangered plants and animals alongside wonderful inspiration from the Guardians of the Future exhibit which is all about a hopeful tomorrow thanks to the on-going environmental efforts of remarkable people and places around the world.
Find out more about Earth Story and book online to save 10% on ticket prices