Cast your mind back to 26th June 1997. Chances are you'll have no idea what you were up to then, but this date means more to you that you realise. Because, despite it being 24 forgettable hours on most other fronts, as far as publishing history goes, it was momentous. Yes indeed, 26th June 1997 was when Harry Potter and the Philosopher's Stone, by little known writer J.K. Rowling, was published in the UK by Bloomsbury.
And if that seems like yesterday, get ready to feel really old: this year the Harry Potter phenomenon hits the big two zero. Yes, the wonderful world of wizarding is a very grown up 20 years old in 2017 and here's a roundup of how you and the kids can celebrate the magic.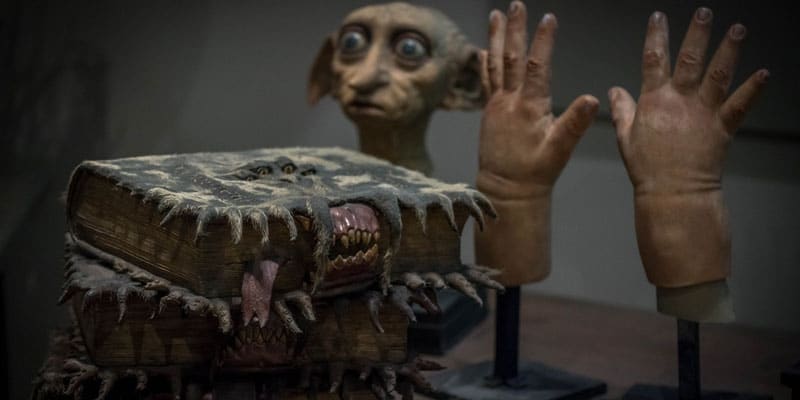 1/5

Harry Potter at the British Library, October 2017
Twenty years is young compared to the ancient manuscripts of magic, wizardry, herbology, potions, enchantments and charms squirrelled away in the British Library's astonishing archives. There's more than a little hint of Potter-inspiration in these venerable volumes so it's really no surprise to find that J. K. Rowling has been working closely with curators for the past year to create Harry Potter at the British Library.
Opening in October 2017, this 20th anniversary exhibition includes never before seen material from Rowling's own personal Harry Potter archive, combined with marvels from the British Library. The results will probably be spellbinding but, to date, the details are being kept fairly secret (in the best Hogwarts' tradition). What is known is that tickets go on sale from 3 April 2017 and J. K. Rowling looks suitably delighted in the publicity shots – always a good sign.
When: A History of Magic will be open 20 October 2017 – 28 February 2018. Tickets will be on sale from Monday 3 April 2017. At weekends, the British Library is open 9am – 5.30pm
Where: British Library, 96 Euston Rd, Kings Cross, London NW1 2DB
Cost: To be confirmed. Check the British Library website for details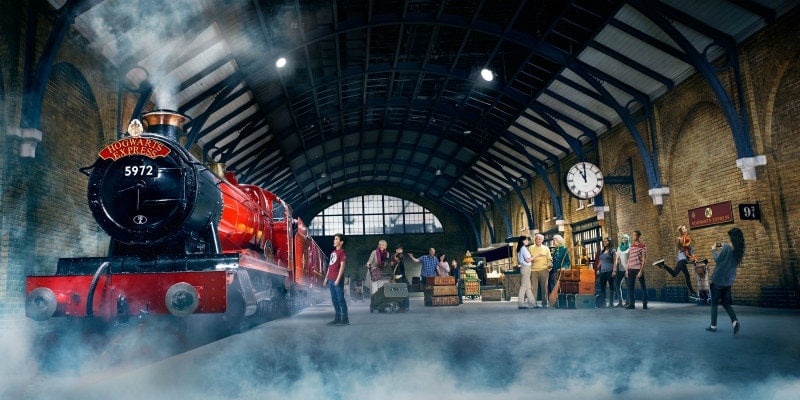 2/5

Warner Bros. Studio Tour – the Making of Harry Potter, Leavesden
Can you call yourself a true Potterhead if you haven't taken the Warner Bros. Studio Tour at least once? Technically not. But this year you could get away with the oversight by claiming you were saving it for a 20th anniversary celebration.
Cunning like that will put you in the right frame of mind to explore the hallowed studios where every Harry Potter film was made from 2001 to 2011 – often in production while the books were still being written. From the Hogwarts Great Hall to Platform 9¾, the sets are eerily amazing in real life. Second only to seeing transformative masks, prosthetics, makeup and costumes; riding on broomsticks; drinking tankards of Butterbeer and being fully immersed in the wonderful world of wizarding. What better way to say happy 20th this June?
When: from 8.30am to 4.30pm, seven days – advance booking is essential
Where: Warner Bros. Studio, Studio Tour Drive, Leavesden WD25; 20 miles north-west of London off M1 or M25. Nearest station Watford Junction
Cost: Family ticket (2 adults and 2 children) from £126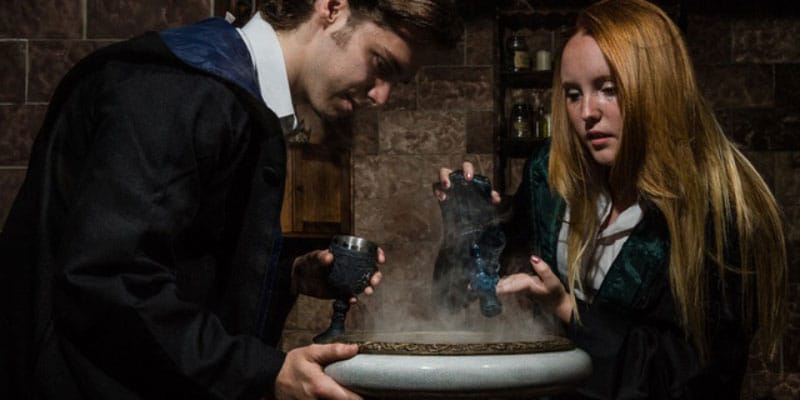 3/5

School of Witchcraft and Wizardry, Enigma Quests, London
For families who'd like to pay a more personal tribute to Harry Potter on the occasion of his twentieth, time to go back to school. The School of Witchcraft and Wizardry to be precise. Themed around Harry's own Alma Mater, Hogwarts, and thick with the same dastardly aura of sinister deceit and devilment, Enigma Quests pits teams against teams, challenges with games, puzzles and tricks, then starts the clock ticking.
Do you all have what it takes to graduate before time runs out or will your fate be sealed? Good, adrenalin-pumping fun for groups of three to five and scores high on excitement, particularly as the seconds start to speed by, faster and faster.
When: 10am to 8.30pm, seven days. Game lasts 60 minutes
Where: Enigma Quests, 2-12 Wilson Street, London EC2M. Nearest tube station, Liverpool Street
Cost: £90 for team of three to £120 for team of five
4/5

 The Wizarding World of Harry Potter, Orlando
Since June is practically summer, it's almost a perfect excuse to celebrate Harry's birthday in the theme park capital of the world, Orlando USA. The Wizarding World of Harry Potter at Universal Studios Florida and Universal's Islands of Adventure has managed to delight even the pickiest of Potterheads over the past three years. And even temperatures of 25˚ plus don't detract from delights like snowy Hogsmeade Village and Diagon Alley drenched in authentic (almost) London Fog.
Wand activation is the inspired way kids are immersed in the whole experience and even queuing is more of an event than a trial. Hogwarts doesn't disappoint, although it's scaled down from the immensity of kids' imaginations. And the new Hogwarts Express is truly thrilling for 2017.
Naturally, you'll be endlessly plied with merch and heaps of ye olde English style wizarding grub, but it's a small complaint compared to the overall magic.
When: Universal Orlando Resort is open 365 days a year, from 9am. Closing times vary – check the website for details
Where: Universal Orlando Resort, Orlando, Florida
Cost: A three-day ticket for both parks costs £204 for adults and £195 for children
5/5

Harry Potter and the Cursed Child, Palace Theatre, London
The thought of Harry as an adult might be even more traumatising than the idea that it's 20 years since Philosopher's Stone was first published. But, judging by the glowing reviews for Harry Potter and the Cursed Child, it's a trauma thousands have managed to get over.
Adapted for stage from an original story by J. K. Rowling, the play is a self-confessed 'epic' and divided into two parts: matinee and evening performances. Dark, thrilling, gripping and witty are a few of the more understated descriptions and a run extended until December 2017 is probably the best recommendation of all. Does it live up to the original books? There's only one way to find out.

When: Next ticket release is April 2017 for matinee and evening (part 1 and 2) performances from Wednesday to Sunday
Where: Palace Theatre, Shaftsbury Avenue, London W1D. Nearest tube station, Tottenham Court Road
Costs: From £15 per part