10 reasons why Camp Bestival is the perfect festival for families
Sponsored
Seasoned Bestivalites are already counting the sleeps until it's time for Camp Bestival in late July. If you're a newcomer to the three day family festival that won the Family Traveller Best Family Festival gong in 2017, lucky you: it's bigger, brighter and even more exciting this year than last.
Obviously, some things were too good to improve on, like the location on Lulworth Castle Estate overlooking the Dorset Coast, a line-up of sensational bands, and the kind of camping other festivals can only fantasise about.
But what really makes Camp Bestival different from all other music festivals in the UK this summer? There are a thousand and one unique reasons for families to rock down to Dorset between 26 and 29 July, try the top 10 for starters.
When: 26 to 29 July 2018
Where: Lulworth Castle Estate, East Lulworth, Dorset.
Cost: Adult Day Ticket from £65. Adult Weekend Ticket from £197.50. Camping Plus plots from £150 (based on two adults and two children)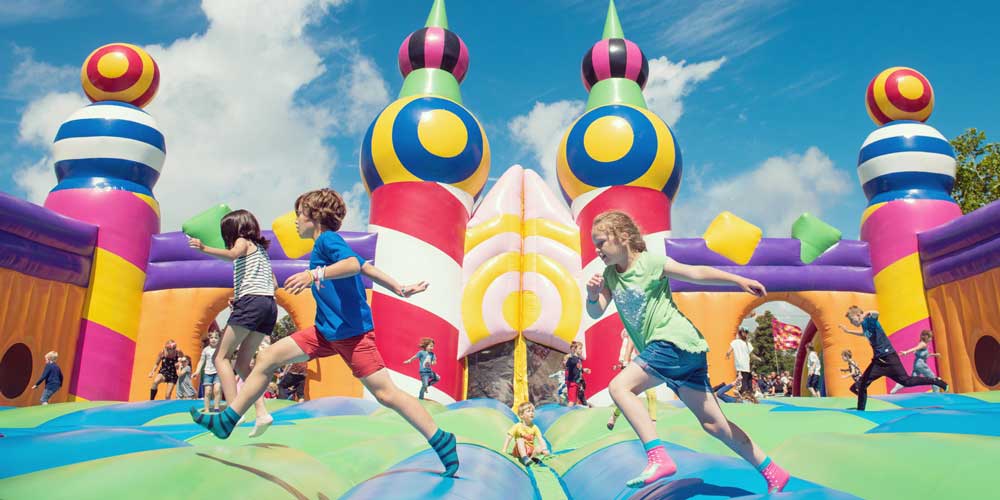 1/10

Jump around on the earth's biggest bouncy castle

Not content with the world's biggest disco ball, Camp Bestival are jumping all over the record for the world's biggest bouncy castle this year too. The most mammoth of all inflatable chateau promises to be taller than the Great Wall of China, and about the same size as Cardiff Castle: if Cardiff Castle was filled with a mind blowing 1143 cubic metres of air.

Naturally something this enormous isn't just for little leapers, so prepare to kick off your shoes and get bouncin' around with the kids, and up to 100 other likeminded Bestivalites. Who knew making history could be this much fun?
How big is the world's biggest bouncy castle at Camp Bestival 2018?