1/9

 Hillhead Caravan Club, Devon

Set in the heart of Devon's beautiful countryside, Hillhead Caravan Club site offers some of the best facilities in the south west. Crisp air, pretty landscapes, coastlines and beaches – plenty to keep the whole family happy.

Hillhead Caravan Club has a host of amenities including an outdoor heated swimming pool, kids pool (open June-September), playground area, a complex that includes a games room and a restaurant with takeaway service (great for those lazy evenings) – really, what more could you ask for?

During its peak summer season, the Hillhead Caravan Club Site organise a varied selection of evening entertainment and themed events, that will have the kids and adults alike grinning from ear to ear. But just in case your family is looking for fun further afield, make the most of the safe family beaches, fishing, sailing, golf trips and a zoo, all within easy reach of the site. The Hillhead Caravan Club site is a fantastic space to create wonderful holiday memories.

Best bits:
Parent, baby and toddler washroom facilities
Wheelchair access
Laundry facilities
Wi-Fi access
Pet friendly
Price: Adult, £11.60; Child, £4.50; Pitch, £13.30

2/9

  Sherwood Forest Holiday Park, Nottinghamshire

Finding a peaceful, get-away-from-it-all, holiday park can be tough, especially in the height of the summer holiday madness. But Sherwood Forest Holiday Park is a real gem; a tranquil, picturesque site with wildlife sprouting in every corner, all year round.

The site has nine pitching areas, but it's recommended families pitch by the riverside area, which is close to central facilities as well as the on-site children's playground. Sherwood Forest Holiday Park has five toilet and shower blocks as well as facilities for the disabled. Also on site, a basic shop will ensure you never go without.

Sherwood Forest should certainly be ringing a few bells too. Home to the legendary character Robin Hood, the story will come to life in your child's imaginations. At the forest's visitor centre campers will learn about the mysterious man who robbed the rich to give to the poor. But if the kids want to skip the history lesson, instead you can go on a family bike ride along the forest or spend an hour letting of steam at Amen Corner Go Karting Centre, just a short drive from the site.

Best bits:
Wi-Fi access
Laundry service
Robin Hood market
Price: From £25 per night (staying 1 July – September 2016)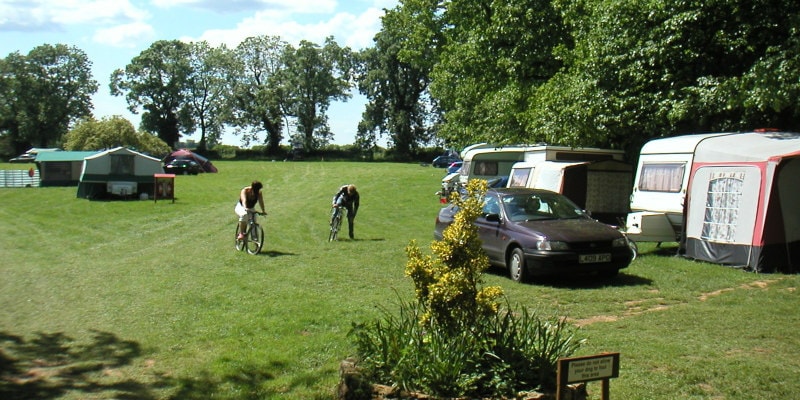 3/9

Wing Hall, Rutland

Family-owned estate Wing Hall is one the UK's cosiest and welcoming caravan sites. Found in the beautiful Rutland countryside, families can make their way to Wing Hall reassured they'll have a fantastic time.

The estate offers traditional camping holidays and cosy holiday accommodation, so while it's perfectly suited to a caravan holiday, it's also a wonderful estate to spend a few days away from home. Wing Hall has an on-site shop which focuses on quality, local produce and an independent cafe-bar serving fresh hearty meals. With years of experience, Wing Hall ensure that their site remains simple and un-spoilt, creating a truly family-friendly environment.

Wing Hall has on-site bike hire (on request), so you and the kids can tackle a few cycle routes – whether you choose an easier or challenging route, you're guaranteed to finish off appreciating nature in a unique way. And being a short drive away from watersports haven, Rutland Water, it would be a shame to give it a miss. There, you and the kids can grab a bite to eat, feed the ducks, or spend a few hours sailing together.

Best bits:
Location
Family-run
Fishing lakes
Water-sports
Price: From £20 a night
Find out more about Wing Hall.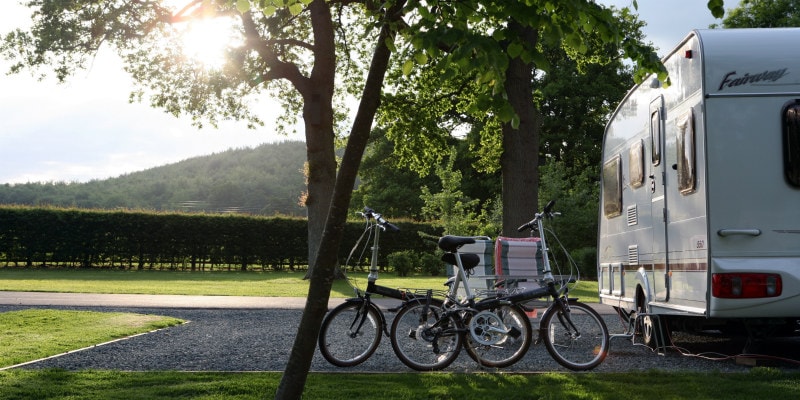 4/9

 Longleat Caravan Club, Warminster

Quirky, fun, and unique Longleat Caravan Club Site in Warminster is a firm favourite caravan holiday park with adventerous families. Where else in the UK can you hear lions roaring at night from the comfort of your bed? And it gets better, the area's famous safari park, Longleat Safari & Adventure Park, is on your doorstep – literally.

The site itself is quite simple, but its location means families can focus on exploring the beautiful surrounding area. If you or the kids are craving a return to civilisation, take a short drive to the lively towns of Bath and Bristol.

With Longleat Safari & Adventure Park minutes away, you won't be able to resist a visit a daytrip to meet the animals. The safari park first opened in 1966; the first of its kind outside Africa. Far greater than a zoo, here animals are able to move freely. And after a tiring day of admiring animals, you can breathe a sigh of relief knowing your mattress is a few minutes away.

Best bits:
Parent, baby and toddler washroom facilities
Wheelchair access
Laundry service
Safari & Adventure Park
Price: From £9 per adult, £3 per child, £11 pitch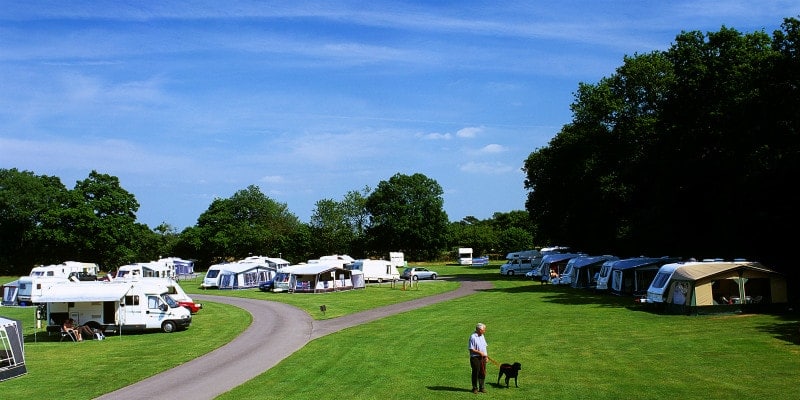 5/9

 Black Knowl Caravan Club Site, Hampshire

Black Knowl Caravan Site is rich in history. It was once the royal hunting forest of William the Conqueror and now a beautiful caravan park. If you visit the site in either spring or autumn, keep your eyes and ears on alert – stags can be heard in the forest, along with owls and other forest creatures.

The site is within easy reach of breathtaking walking tracks, so you and your family can explore the forest on foot, cycle and even horseback. For families with an interest in history, half a day spent by the forests visitor centre will shed life on the fascinating past of this beautiful site.

If you'd like to go explore further afield, Southampton and Bournemouth are both within easy driving distance, with ample opportunity for some retail therapy, not to mention the mouthwatering local restaurants on offer.

Best bits:
Pet friendly
Facilities for wheelchair and walking disabled
Golf within 5 miles
Price: From £7 adult, £3 child, £8 pitch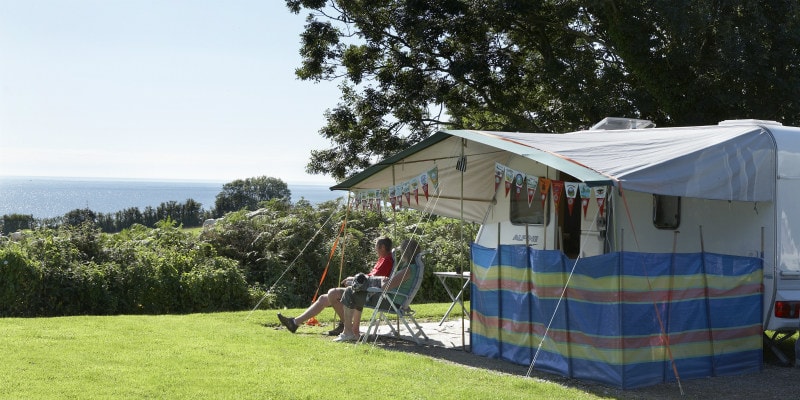 6/9

 Slapton Sands Camping and Caravan Club, Devon

The Slapton Sands Club campsite has all the ingredients for a perfect caravan holiday by the beach. Located on the South Devon coast, the site is the dream setting for families who want to gently relax in a rural setting.

The site is levelled and filled with 115 pitches, scattered seamlessly giving each family enough privacy. The on-site facilities include shower blocks, laundry service, children's playground, and , showers, washbasins, laundry and a children's playground, all the necessities to make your stay idyllic.

Off-site, make the most of coastal area by taking a walk along Slapton beach. If the weather is good enough for a swim, we highly recommended, the beach there is clean and calm, ticking the parent checklist. If you're a family of water sports enthusiast, your encouraged to take part in surfing, windsurfing and canoeing.  

Best bits:
Pet friendly
Laundry service
Beaches
Parent, baby and toddler washroom facilities
Price: From £7 per person, per night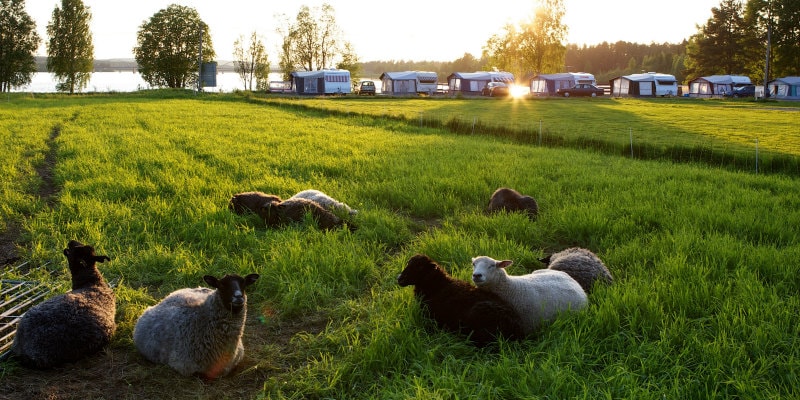 7/9

 Grange Farm, Isle of Wight

One of the few unspoilt, non-commercialised coastal sites with unpolluted sea air, Grange Farm is a beautiful spot to unwind and enjoy a caravan holiday. Situated on the beautiful s.w. coast, with easy access to a sandy beach and picturesque views of our Chine and Brighstone Forest.

The site has shower blocks; with showers, shaver points, toilets basins, slot-speared washing machines and dryers. Also on site a small shop for basics. For the kids, there's a brilliant play area, that goes above and beyond your average swing set, they have a toy trains, a hay-cart and a rope bridge to keep the little ones happy and a small area for sports for your tweens.

The surrounding area is bursting with activities from walking, fishing to fossil hunting – an explorers paradise. Grange Farm is family run, so instinticley, you know your in great hands. And unlike your typical caravan site, this farm is packed with unusual animals included: micro-pigs, water buffalo, alpacas and donkeys. No guesses, but we're sure animal-mad kids will be in heaven.

Best bits:
Pet friendly
Laundry service
Location
Price: From £14.50 per night for a standard pitch (two adults with a car and tent/motorvan/caravan) up to £22.50 per night in high summer season; child from £2.50 extra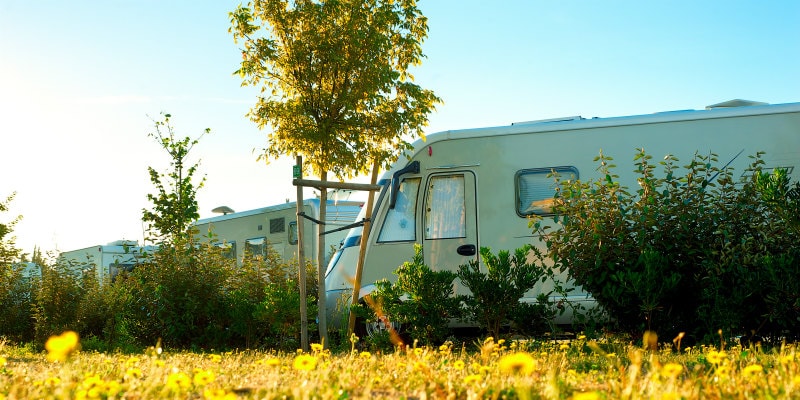 8/9

 Dunnet Bay Caravan and Camping Site, Scotland

Dunnet Bay is a good choice for families looking to stay in a beautiful location, overlooking a sandy bay. This is a spectacular spot where families can truly unwind from their everyday life.

The site has shower blocks with toilets, shower and laundry facilities and there's an onsite shop with local produce. Beyond that, Dunnet Bay doesn't offer much in terms of bells and whistles. But the simplicity of this site is what makes it so special.

Minutes from the beach, you and your family can enjoy the exclusivity of the location. So take a kite, bring the games and make it a trip the kids will remember for years. The local restaurants are well worth a visit and if you have a day to kill, some island hoping by both boat and coach is ideal – it's the perfect way for you and your family to take it the beauty Scotland is famous for.

Best bits:
Pet friendly
Watersports within 5 miles
Tent campers welcome
Laundry service
Price: Adult £6.30; child £1.30; pitch £5
9/9

 Burnbake Park, Dorset

Known for attracting repeat visors, Burnbake Park sets the benchmark for its competitors. Minutes from sandy beaches and a short drive from cycle paths, children will fall in love with this caravan site.

On site facilities include, shower blocks, laundry service, baby-changing room and a small shop stocking camping facilities. And t0 satisfy those hunger pangs, the on-site cafe is a dream come true for hungry campers – selling pizza, pastries and vegetarian food, there's a mix for all.

The surrounding area is beautiful, vibrant greenery and fresh coastal air. With Studland Beach just minutes away, there's no excuse for boredom.

Best bits:
Within two miles of beaches
Laundry service
Pet friendly
Camp fire
Price: Pitches from £10 per night for two adults ; extra adults from £5, children from £2
Seeking an escape from busy family life? Check out these incredible quirky retreats on your doorstep!